Sim-racing is a discipline that has grown enormously in recent years, especially with the advent of setups, or rather peripherals, on consoles. It's true that sim-racing used to be virtually exclusive to the PC because game consoles, whether from Microsoft or Sony, were closed platforms, difficult for peripheral manufacturers and developers to exploit.
To get a sim-racing setup on a console (steering wheel + pedals), buy from Microsoft or Sony or take out an official license. Some manufacturers offered this, but customers were few and far between, as few games could exploit such peripherals.
Sim-racing was mainly confined to PCs and remains so today. Of course, many manufacturers of sim-racing peripherals offer products for consoles. Still, you must do your homework to find compatible steering wheels, pedalboards, and bases, especially if you want quality.
As with many sim-racing fans, I do my sessions mainly on PC. Over time, I've built up a setup that suits me perfectly, with the steering wheel, base, pedals, gearshift, and handbrake. But, like many of you, the choice of peripherals was not an easy one. I had to do a lot of research and try several products to get the setup right. Today, I will help you choose your peripherals for a sim-racing design, specifically, a steering wheel from Fanatec.
The McLaren GT3 V2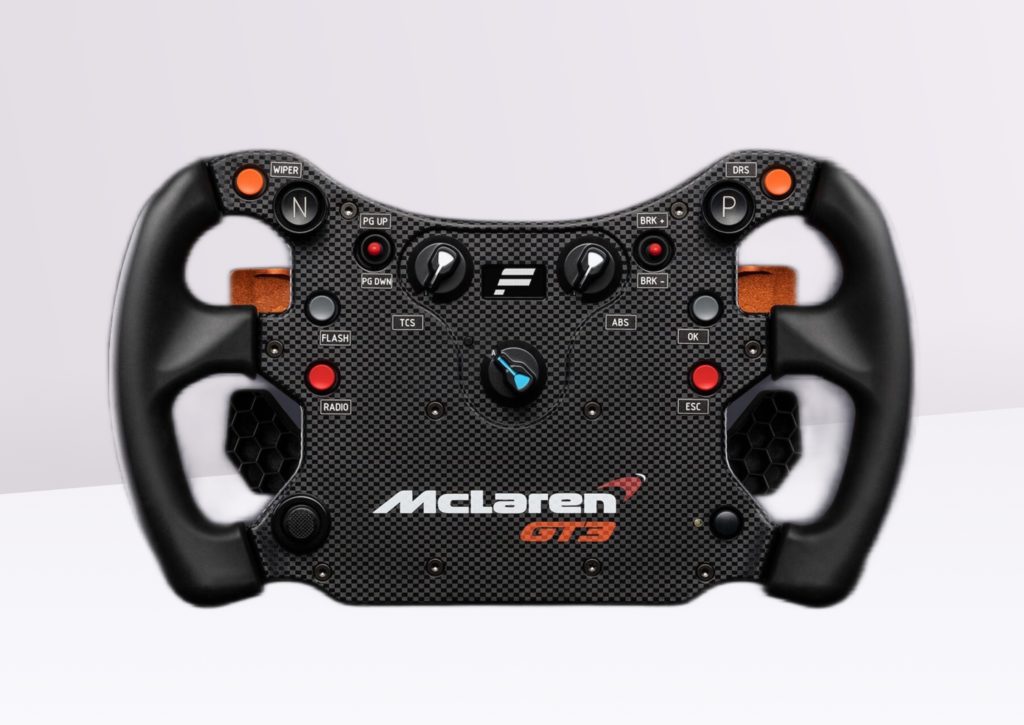 Advantages:
Beautiful design
Official McLaren license
Easy to handle
Disadvantages :
Let's start with a steering wheel. I like the McLaren GT3 V2. This is a mid-range steering wheel from Fanatec, but it is worthy of the brand's top-of-the-range range as far as I'm concerned.
Made entirely of aluminum, except for the Quick Release, and I'll return to that later, this steering wheel is ideal for people who want to get into sim-racing on a small budget.
Its design is an official replica of the steering wheel of the McLaren 650S GT3and it shows. The wheel is 30 cm in diameter; even a beginner can get to grips with it. Admittedly, people who are used to car steering wheels (the round ones) will be a little confused by the shape of the McLaren GT3 V2but just a few sim-racing sessions and its handling will become second nature.
This steering wheel is officially licensed Xbox, which means it will work perfectly on the consoles of Microsoft and PC. Almost all sim-racing peripherals have worked perfectly on the PC since this discipline began on this platform. The advantage of having a steering wheel natively compatible with Xbox is that it has all the buttons and functions of the console's controllers.
In terms of construction, this steering wheel is made of aluminum, as I said earlier, as are its paddles. There are 4 of them, including two analogs. Just like on a real McLaren, the paddles of GT3 V2 are bi-directional: this means you can both shift and downshift with a single paddle.
Let's turn now to the major drawback of this steering wheel: its Quick Release. As standard, it's fitted with the plastic QR 1 Lite, giving it a dead zone of a few degrees when you turn the wheel: this distorted immersion and the gaming experience. But don't worry; you can remedy this by getting the aluminum QR.
Ultimately, the McLaren GT3 V2 is an excellent steering wheel for Fanatec, which I highly recommend to sim-racing fans and beginners alike, for just €200.
Please read my full review of the Fanatec McLaren GT3 V2.
ClubSport Steering Wheel GT Forza Motorsport V2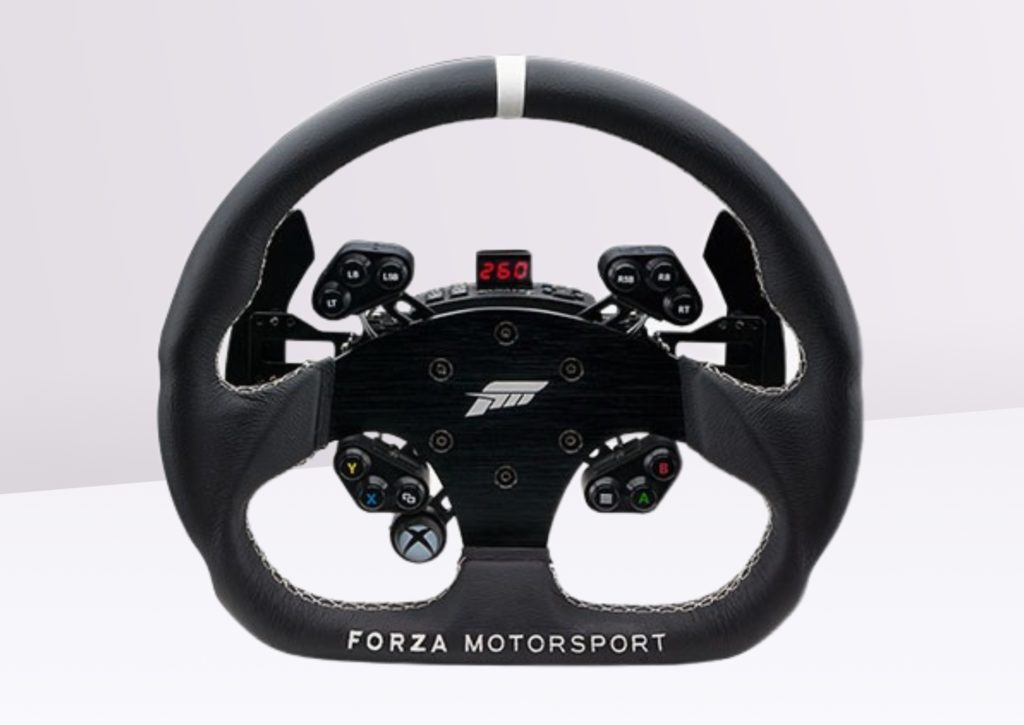 Advantages :
Incredible force feedback, combining power and fluidity
Noble building materials
Disadvantages :
Relatively high price for the bundle
If you're looking for native PC compatibility, you can't do better than the Fanatec ClubSport Steering Wheel GT Forza Motorsport V2. This steering wheel is officially licensed for Forza Motorsport and compatible with Xbox and PC.
Combining anodized aluminum and leather, this steering wheel will give you a grip worthy of a racing car. And it doesn't stop there. With a diameter of 33 cm, the wheel is just the size of a steering wheel found in a Supercar, which is the location of the buttons. It's important to remember that this steering wheel is a "kit": you have the wheel and a hub that attaches to it behind and on which the buttons, screen, and paddles are located. It's a bundle of sorts.
The paddles are large, like those on a GT-R, and magnetic. This ensures precision shifting and, above all, realism. Unlike the McLaren GT3 V2, the ClubSport Steering Wheel GT Forza Motorsport V2 has an aluminum Quick Release QR 1. With it, you can forget about dead zones and the relatively regular disconnections I noticed during my sim-racing sessions.
Let's talk about on-board technology and, more specifically, force feedback. The ClubSport Steering Wheel GT Forza Motorsport V2 incorporates Dual Hall from Fanatec, which offers two sensors at the flywheel level: one mounted on the motor and another on the axle. This provides better force feedback, combining power and smoothness when needed.
Regarding price, we're no longer in the same range as the McLaren GT3 V2. You'll need to spend no less than €500 to buy this little gem, excluding special offers. But fortunately for us, this steering wheel is often at 399.95 €. That's still a pretty hefty price, especially as you only get the steering wheel and hub in the bundle, but the quality is there, and you won't be disappointed with your purchase. This is a steering wheel I highly recommend for sim-racing fans. It's just excellent in every way.
Podium Steering Wheel R300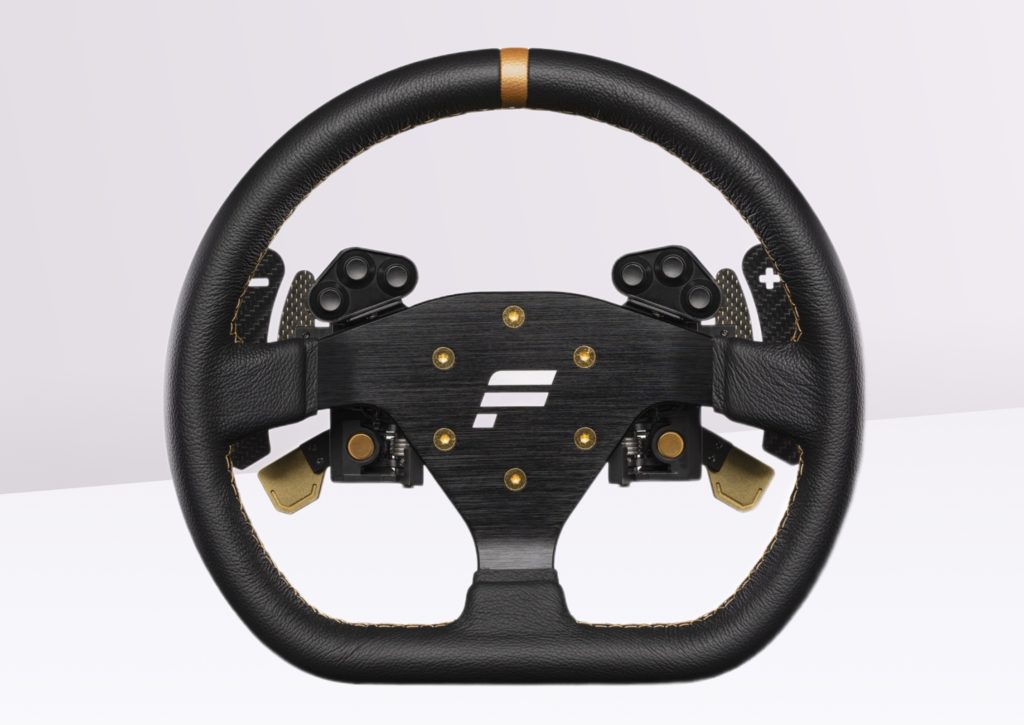 Advantages :
Built with natural carbon fiber
Hub with buttons and paddles
High-quality QR
Disadvantages :
A step above the GT Forza Motorsport V2, the Podium Steering Wheel R300 marks the beginning of Fanatecperipherals Podium. I'm telling you right now: this range is premium, even ultra-premium, in terms of materials, quality, functionality, and price.
As soon as you pick up the Podium Steering Wheel R300You know right away that this is an exceptional steering wheel. The wheel is 30 cm in diameter with a flat bottom, just like in the Supercars. And just like those luxury cars, carbon fiber is used, offering both strength and longevity. It's certainly not a steering wheel you'll change in a few years.
The Podium Steering Wheel R300 is sold as a bundle with the steering wheel, knob, paddle hub, and QR. Everything comes together to form this excellent steering wheel. Incidentally, you can use this peripheral solely with the wheel if you wish. The button hub comprises 13 buttons, with six paddles behind. You can't see them in the pictures, as they're arranged in such a way as to form a single paddle. And, of course, they're magnetic for ultra-fast response.
The QR of Podium Steering Wheel R300 is made of metal for solidity and precision in the rider's actions, unlike the QR 1 Lite, which has a dead zone of a few degrees. Also, you can forget about the plastic Quick Release disconnections that occur too often for my liking.
This steering wheel is fully PC-compatible, as are its functionalities. All the buttons on the steering wheel are configurable, and the small screen mounted above the base gives you detailed information about your car, such as gear engaged, speed, etc. The Podium Steering Wheel R300 is an excellent, premium, and versatile steering wheel, suitable for those who enjoy sim-racing, whether in F1, GT, Drift, or other racing games.
Carbon fiber, leather, metal QR, etc., obviously come at a price. This steering wheel is 559.80 € on the Fanatec. By the way, you can only buy the brand's products on its website. But you can save a little on this steering wheel, as the manufacturer often puts it on special offer, for €59.85 less.
Podium Racing Wheel F1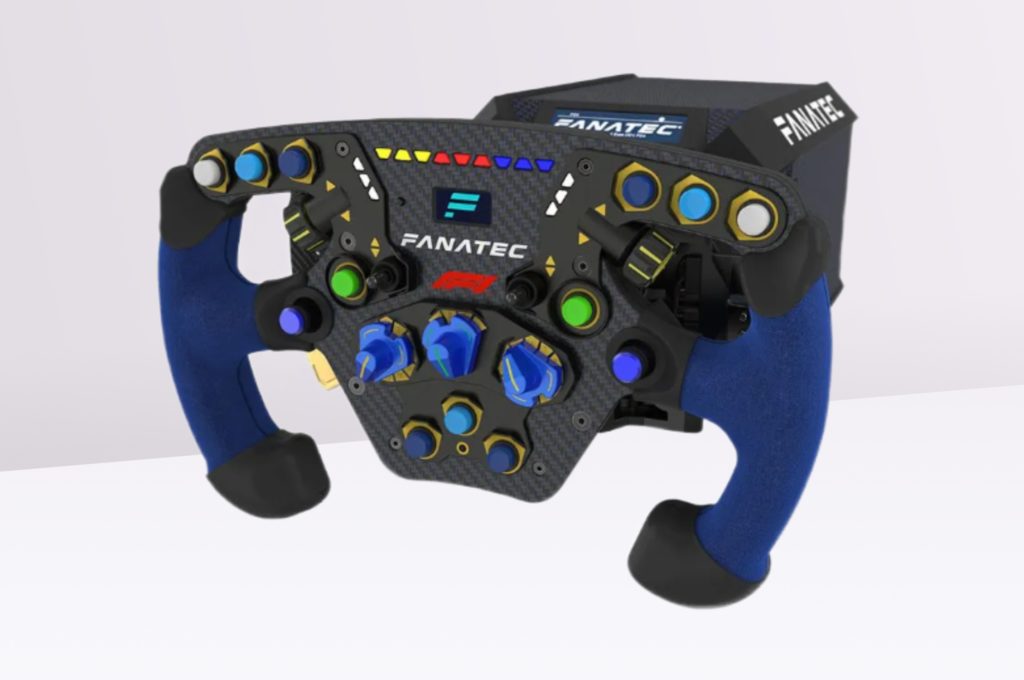 Advantages:
Very high-end Fanatec
F1 Steering Wheel
Direct Drive technology
Disadvantages :
Very high price
Difficult to handle for beginners
Now it's time for the brand's best steering wheel, Fanatecon Podium Racing Wheel F1. I've already told you that the Podium series is at the top of the German manufacturer's range, and the Racing Wheel F1 is at the top.
This wheel is exceptionally well-built, high quality, and much appreciated in the sim-racing community. It has to be said that this device is simply perfect, at least as far as I'm concerned. Beginners to sim-racing will be baffled by the wheel's shape, but it's a perfect fit for fans of the discipline.
Technology-wise, you're in for a treat. The steering wheel features force feedback Direct Drive. This means that steering wheel rotation can be powerful and precise, which is rare in the competition. As for buttons, there are several of them, and they can all be configured using the OLED screen or Fanatics software, FanaLab. There are 11 buttons, two toggle switches, two switches, and one analog joystick. And frankly, that's more than enough.
As with the Podium R300, the Podium Racing Wheel F1 uses carbon fiber for its structure. This ensures strength and lightness and gives the impression of using a device straight out of Formula 1. F1 officially licenses this steering wheel.
The only downsides to this piece of gold are its price and its beginner's grip. If you're new to sim-racing, this steering wheel will take some time. As for price, you should expect to pay 1800 € for this bundle (steering wheel + base).
Please read my full review of the Fanatec Podium Racing Wheel F1.
Which one to choose?
At FanatecThe choice of a steering wheel depends on several criteria:
The base and its force feedback. This element will allow you to attach the steering wheel and feel the sensations. Some commands are compatible with specific platforms (PC, Xbox PS4/PS5), and the same goes for the steering wheels. Force feedback is expressed in nm.
Compatibility. Almost all steering wheels of Fanatec are compatible with PCs. The problem arises mainly on consoles, where this or that peripheral is not supported.
The price. Fanatec is a premium brand, just like its products. A sim-racing setup consists of a steering wheel, base, pedals, gearshift, and handbrake for hardcore fans. If you start shopping at Fanatec, the bill will be high. The best thing to do is get the bundled peripherals with significant discounts.
The critical thing to remember is that sim-racing is a passion that few people understand. Everyone will have their preferences regarding the steering wheel, base, or pedals. The range Fanatec is wide-ranging and appeals to all pockets. Buying according to your budget and intention regarding sim-racing is best. There's no point in buying top-of-the-range if you only spend 1 hour a week on it.
Similar articles