Today, sim-racing is more than just acquiring dedicated peripherals and setting fast times at Monza. Sim-racing is a passion, a story of sensations, a quest for realism. There's a difference between an average gamer and a sim racer, and it shows in the titles and peripherals.
With the wide range of products on the market today, it's certainly easy to sim-race, but it's also hard to choose your setup. You'll get lost in no time between steering wheels, bases, pedalboards, and shifters, and if you choose the wrong peripheral, the experience will be diluted.
The F1 is still the ultimate motorsport discipline, and the same applies to sim-racing. In what follows, I will present you with a list of the best F1 steering wheels available on the market. I'll divide this list into three categories: entry-level, mid-range, and top-of-the-range.
The best F1 wheels at a glance
Fanatec Podium F1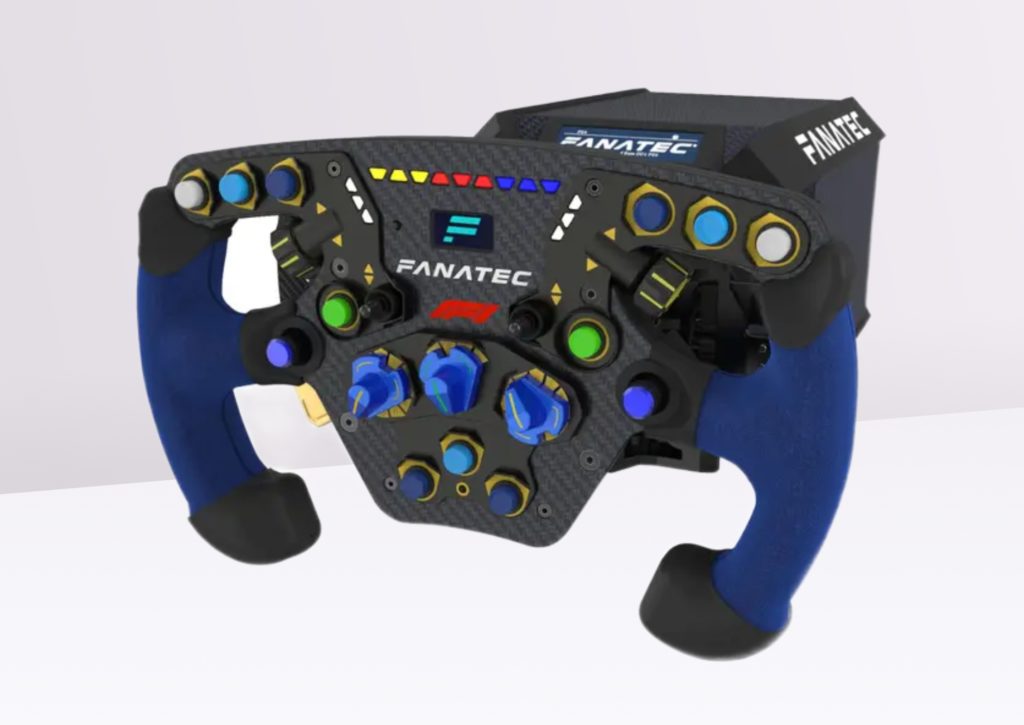 The best high-end F1 steering wheel
Fanatec Formula V2.5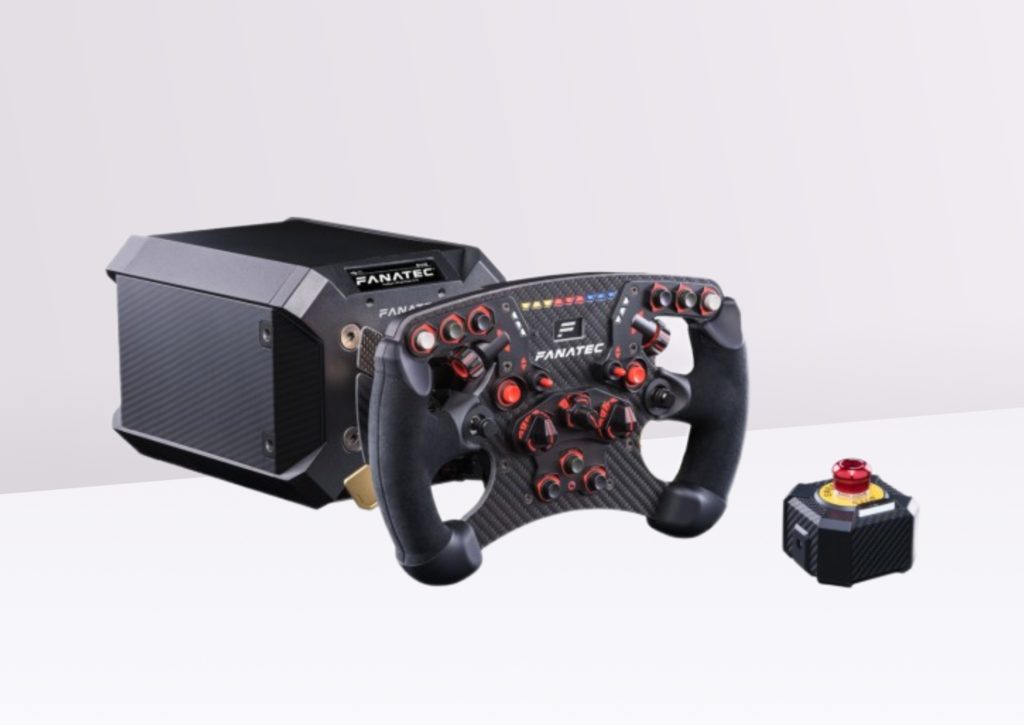 The best mid-range F1 wheel
Fanatec F1 Esport V2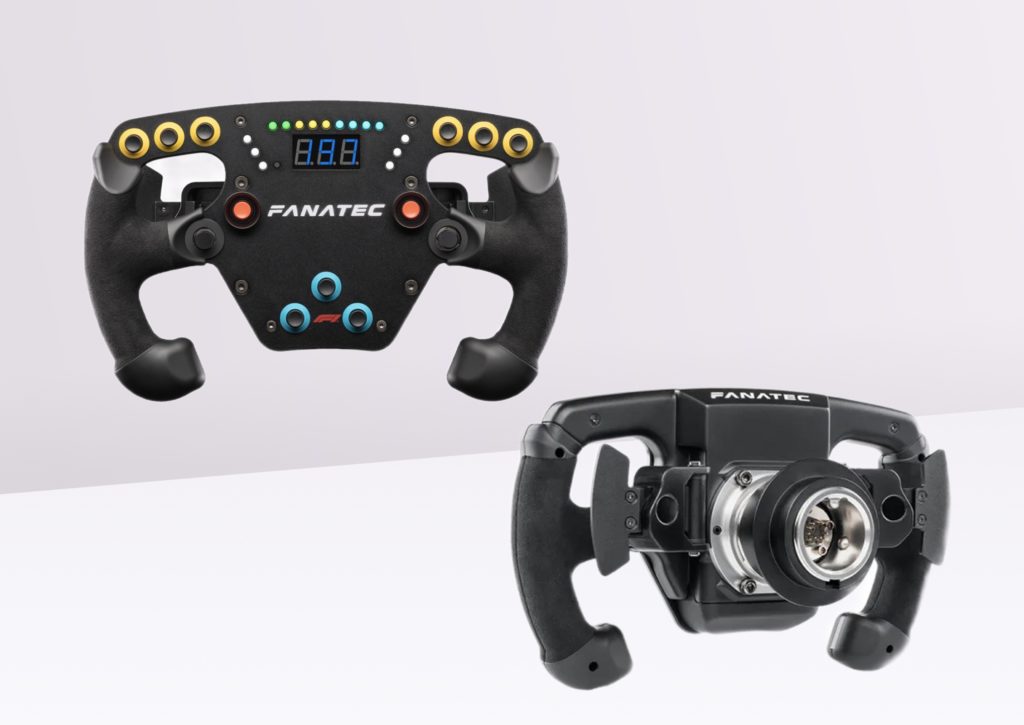 The best entry-level F1 steering wheel
The best entry-level F1 steering wheels (under €300)
The Thrustmaster Ferrari F1 Wheel AddOn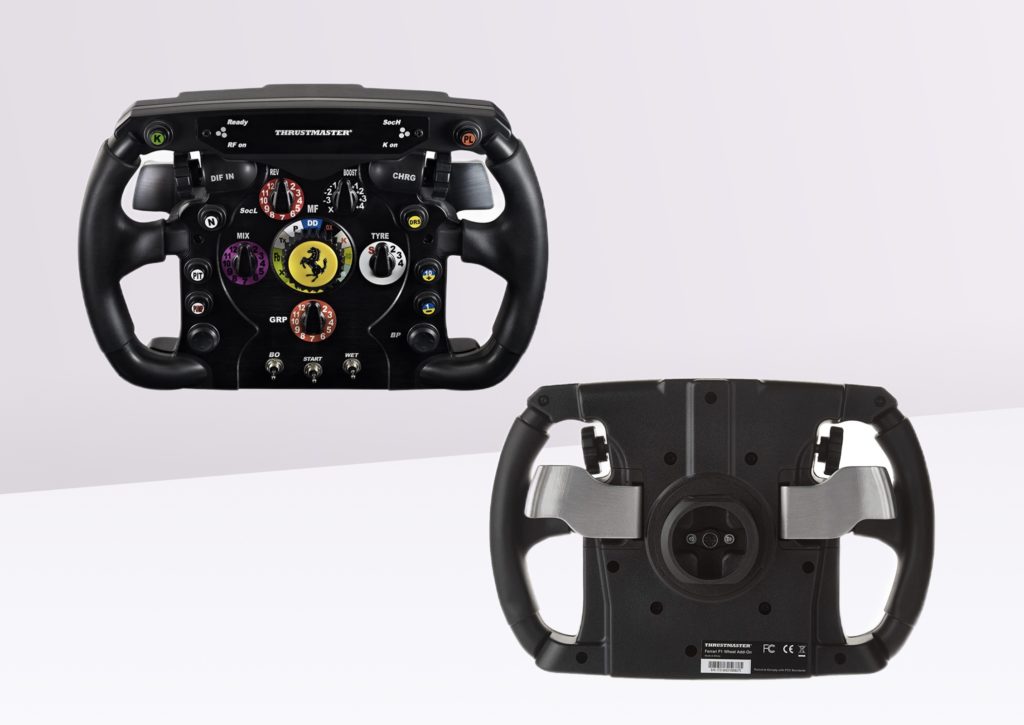 Advantages:
Ferrari F1 licensed steering wheel
Compatible with all Thrustmaster bases
Metal structure
Affordable price
Disadvantages :
Cheap finish, with some dummy switches
We start with a popular yet affordable product, the Thrustmaster Ferrari F1. This steering wheel is sold independently but compatible with all the manufacturer's bases. In terms of design, this steering wheel is inspired mainly by Ferrari wheels, for which it is officially licensed.
The structure is metal, with rubber on the handles. This material is correct, and you won't necessarily need gloves to use it, as is the case with its big brother, the Ferrari SF1000 (which you can see right here). This steering wheel Ferrari F1The Ferrari F1 is solid, with an in-house QR and a host of buttons/switches, including some dummy ones in the center.
The grip is pretty good for a steering wheel, costing just €150. The metal paddles on the back work in a Push-Pull configuration. All buttons and switches are accessible without your hands leaving the wheel, and their layout is well thought out. It's a good, inexpensive sim-racing peripheral that will do perfectly well for a budget-friendly setup. Another positive point of the Ferrari F1 is that it's compatible with all Thrustmaster bases. If you'd like to know more about this steering wheel, I'll let you discover my opinion on the subject by clicking here.
The Fanatec Clubsport F1 Esport V2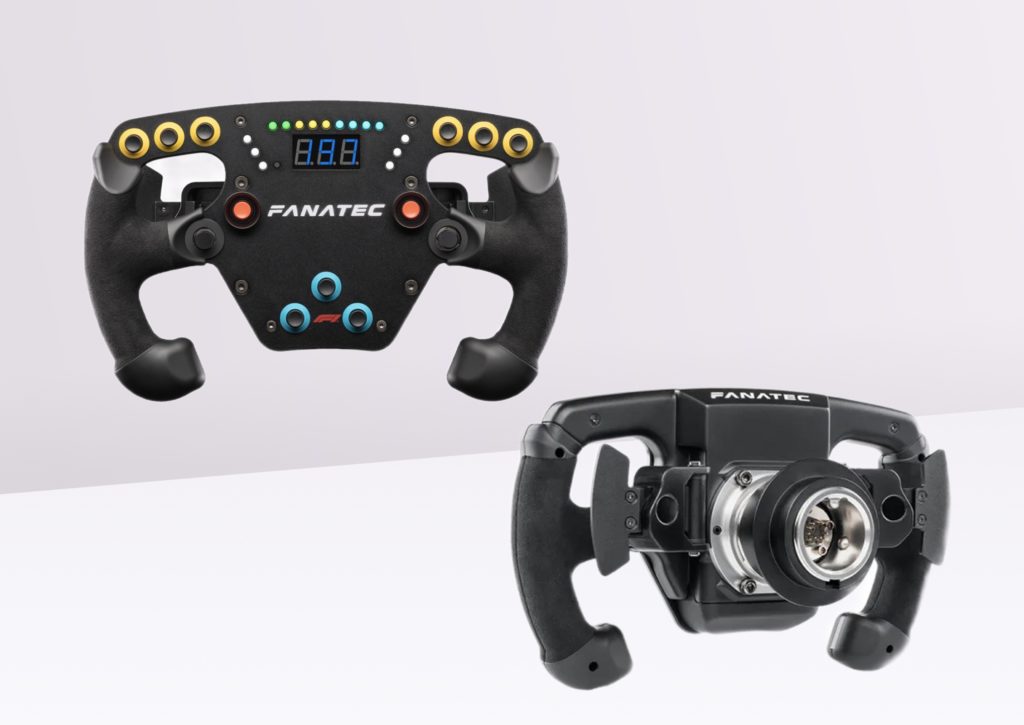 Advantages :
Good build quality
Compatible with the entire Fanatec ecosystem
High-quality materials
RevLED and OLED display
Disadvantages :
Somewhat limited in terms of controls
Fanatec is a significant player in the sim-racing industry, and its Clubsport F1 Esport V2 represents entry-level single-seater steering wheels. The design of this steering wheel is a little flashy, with yellow, red, and blue button circles. Although I'm not a big fan of vivid colors, it's still a good-looking steering wheel.
The frame is in aluminum, and the handles are in Alcantara. In terms of materials, we're already well served, Fanatec style. The shape of the steering wheel is primarily inspired by the wheels found on single-seaters. It's not quite the design found on the new F1 steering wheels, but it does the trick.
In terms of controls or buttons, if you like, there aren't many. There are switches and 11 buttons, with aluminum paddles at the rear. It's very well finished, as usual with Fanatec. In the Clubsport F1 Esport center, there's a small OLED screen with a RevLED just above it. This is very useful for "on the fly" information on engine speed and gear engaged.
Also, the Clubsport F1 Esport V2 is equipped with Metal QR1 from Fanatecand. It's pure joy. This system enables it to attach to all German manufacturers' bases securely. The grip is excellent. The paddles are very close to your fingers, as are the buttons. The Alcantara is well-made, as is the entire steering wheel. For €270, this is an excellent sim-racing peripheral that I'd recommend.
The best mid-range steering wheels (under €400)
Thrustmaster Ferrari SF1000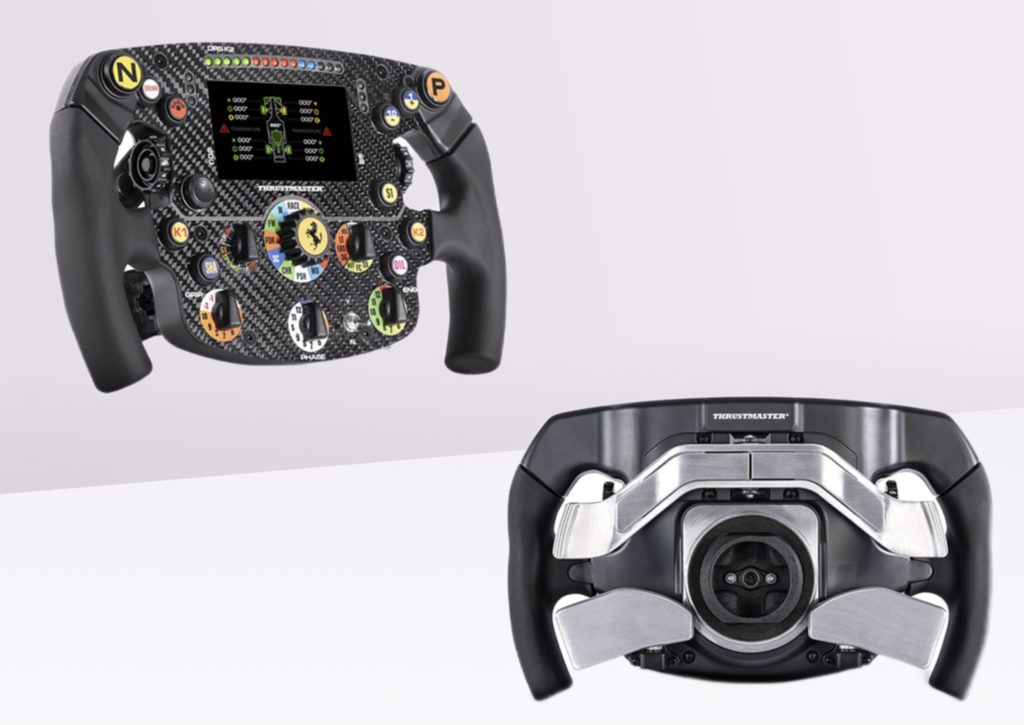 Advantages:
Official F1 Ferrari license
Large center screen with RevLED
Good-quality materials
Four aluminum pallets
Disadvantages :
Some commands only work on PC
Difficult to handle without gloves
The Thrustmaster Ferrari SF1000 is an F1-type steering wheel that's pretty high up in the manufacturer's range, even though it's in that position on this list. But faced with the competition I will present next, it's clear that Thrustmaster still has some way to go.
The Ferrari SF1000 is made with 3 cm thick carbon fiber and rubber on the grips. For its price (€330), I'd have preferred Alcantara, but the budget went into carbon fiber, so it's okay. Speaking of rubber, you should know that this material will quickly become uncomfortable if you don't use gloves during your sim-racing sessions, especially the longer ones. For a quick run, it's okay. But for runs of over 30 minutes, it's not okay at all.
Design-wise, the Ferrari SF1000 is an official replica of a Ferrari steering wheel. You have a large screen in the center, 25 buttons and switches, plus four metal paddles. It's very well laid out, with excellent ergonomics.
Handling the Ferrari SF1000 is rather tricky, especially for amateurs and beginners. But pros will have no problem with it. This steering wheel has a rather old and not at all "user-friendly" QR: you must remove the screwdriver every time you change the wheel.
Overall, the Ferrari SF1000 remains a good choice for F1, especially if you're already in the Thrustmaster ecosystem. Couple it with a good base, and you're all set.
If this summary has made your mouth water and you'd like to discover more about this steering wheel, I invite you to read my full review of the Ferrari SF1000 steering wheel right here.
The Fanatec Racing Wheel Formula V2.5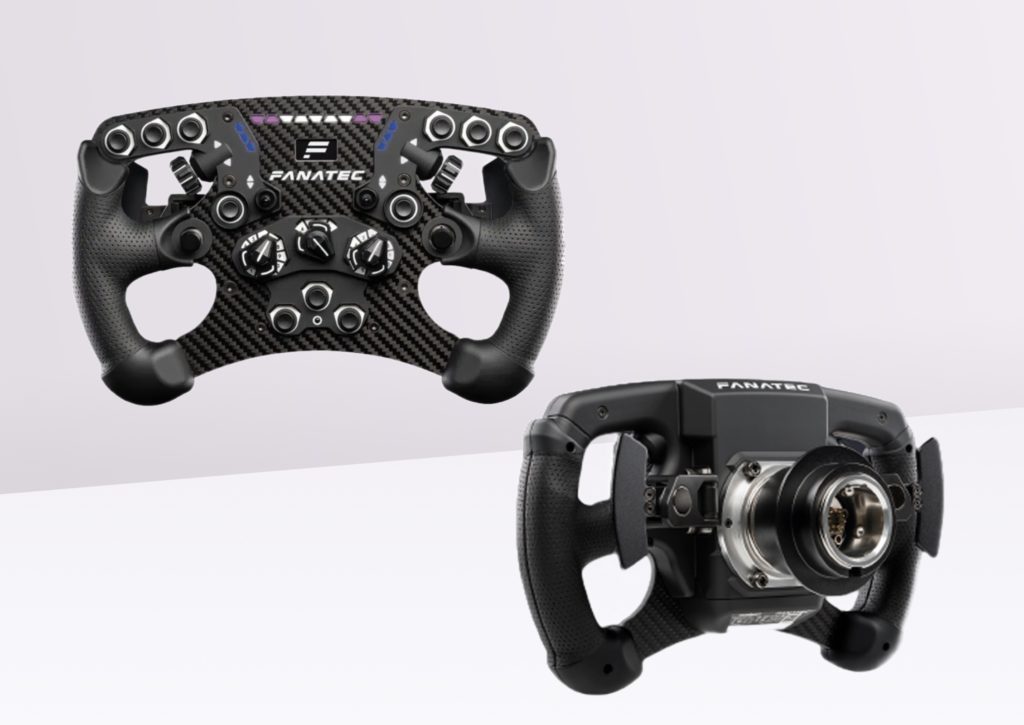 Advantages :
Premium Materials
Compatible with all platforms
Good grip
Disadvantages :
Fanatec is a significant player in sim racing, and its steering wheel, Formula V2.5, is the proof. This wheel is made from carbon fiber and Alcantara, which already earns it the premium badge as far as I'm concerned. Its shape is primarily inspired by the steering wheels used in F1 and other leading motorsport disciplines.
It features a small OLED screen, a RevLED, 11 buttons, switches, and two paddles. For a mid-range wheel, it's decent, and you can add accessories from the Fanatec catalog, like a hub, four paddles, etc. The QR of the Formula V2.5 is made of metal, and it's a great relief to see it because we all know that Fanatec's QR1 Lite doesn't live up to the brand's reputation.
To get to grips with the Formula V2.5even if you're a sim-racing beginner. The finish is simply top-notch, as is the price. Priced at just under €400, the Formula V2.5 remains a premium steering wheel, but one that will suit all F1 fan racers.
Click here to find out more about the Fanatec Formula V2.5.
The best high-end shuttlecocks (over €500)
Fanatec Podium F1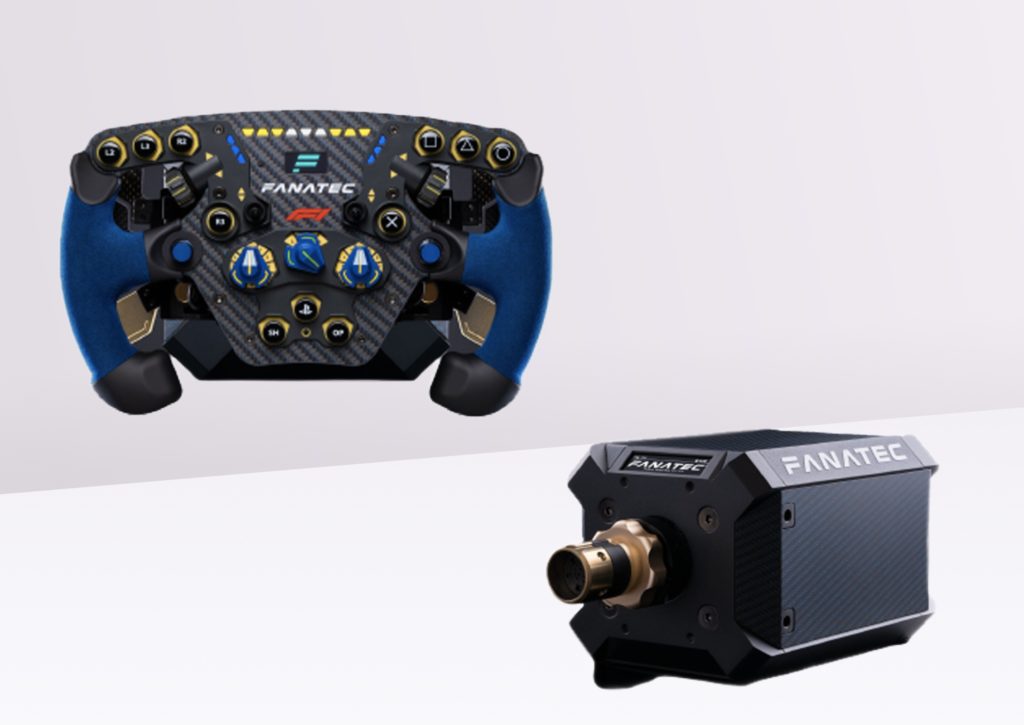 Advantages :
Bundle complete with steering wheel and 20 nm Direct Drive base
Premium finish and build quality
Excellent ergonomics
Disadvantages :
Difficult to get to grips with for beginners
Very high non-price
In this category, the top of the range, I will present the only steering wheel I consider the best: the Fanatec Podium F1. As its name suggests, this steering wheel specializes in F1, and the experience is delightful.
Design-wise, the shape is inspired mainly by single-seater steering wheels with a carbon fiber structure. This choice of materials combines solidity, lightness, and good looks, and I must say that this steering wheel is magnificent.
Although the steering wheel is technically licensed for PlayStation, it can work on all other platforms. The bundle includes the wheel, which cannot be sold alone, and the base—Podium DD1 20 nm- powerful and very communicative about the car's behavior.
Let's finish with the disadvantages of the Fanatec Podium F1. First, this steering wheel is hard to grasp, especially for beginners. It will take you some time to get used to it. The other drawback is the price. Since you're getting a base + wheel bundle, Fanatec is selling this gem at 1800 €, excluding special offers, but it is often available at 1300 €.
Of course, to learn more about this nugget, I invite you to read my full review of the Fanatec Podium F1 by clicking here.
Similar articles