Sim-racing is more than just a hobby. It's become a discipline in its own right, with worldwide e-sports competitions. Moreover, sim-racing is increasingly used in motorsports as a training tool for drivers. And for these two reasons, I believe that this discipline still has a bright future.
To take full advantage of sim racing, you need a setup with at least three peripherals: a steering wheel, a base, and a pedalboard. Without this trio, you might as well play with a joystick and say goodbye to immersion and sensations.
I'm not telling you anything new if I say that the steering wheel is the critical element of a sim-racing setup, just like in a car. With this peripheral, you feel everything the car does: your inputs, the force feedback, the vibrations when you brake too hard, and so on.
Since the late '90s, sim-racing peripherals have come a long way, with more and more technologies being adopted to push realism even further. This discipline has always shone on the PC for various reasons, such as the availability of quality peripherals, fans' enthusiasm, and t, and he power offered by this platform. But things have begun to change since the arrival of the PS3 and Xbox 360, the consoles that have most certainly revolutionized the world of video games.
In what follows, I'm going to introduce you to the best steering wheels available on the descendant of the Xbox 360, commonly known as the Xbox Series X. Before I do that, I'll tell you about the different steering wheel ranges and then what to look for on a sim-racing steering wheel.
The best entry-level Xbox Series X steering wheels
The Fanatec CSL Elite McLaren GT3 V2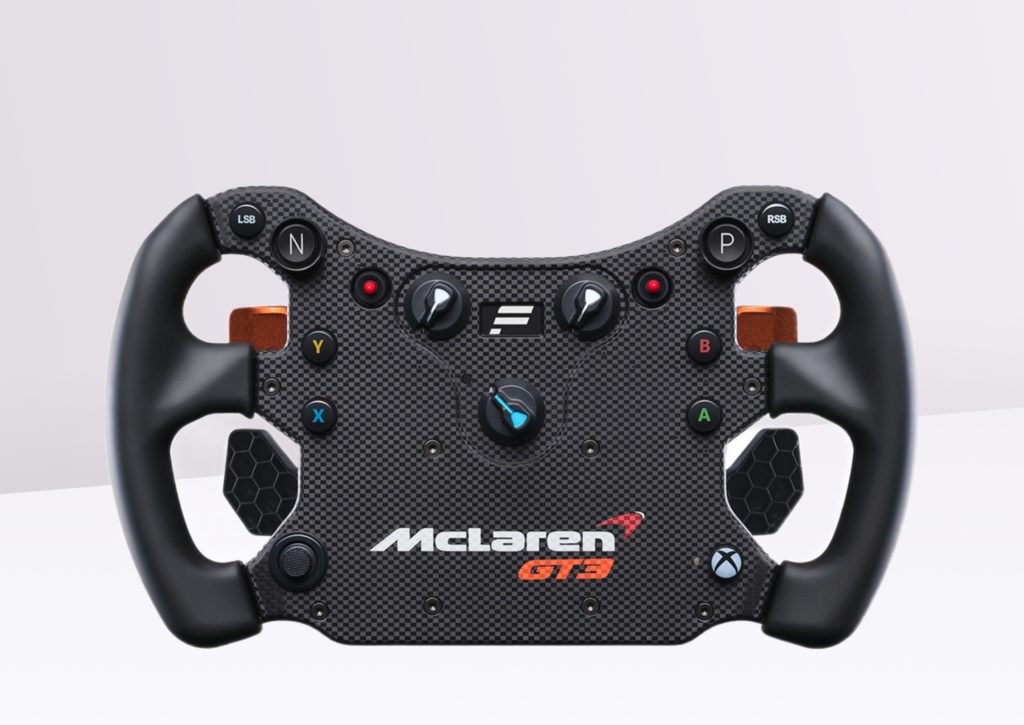 Advantages:
Official McLaren license
Good build quality
Disadvantages :
I'm starting this ranking with a steering wheel that I consider the best in its range, the Fanatec CSL Elite McLaren GT3 V2. This steering wheel is sold on its own, without a base.
So, the CSL Elite McLaren GT3 V2 is an officially licensed McLaren GT3 carbon-fiber steering wheel. The build quality is sublime, worthy of the British supercar manufacturer. The wheel is 30 cm in diameter but not round, given the GT3 specification. On top, you'll find seven standard buttons, switches, and four paddles.
The grip on this steering wheel is perfect, with everything you need in the right place. You'll find it easy to use this steering wheel for all types of sim racing, whether GT or leisurely racing. The paddles are well-positioned, and you can shift gears with one hand.
This steering wheel has a small, one-inch OLED display that shows data such as the gear engaged. Also, the CSL Elite McLaren GT3 V2 is compatible with virtually all Fanatec bases, giving you a wide range of combos.
The only weak point of the CSL Elite McLaren GT3 V2 is its plastic Quick Release. Frankly, I can overlook this, as the price justifies the use of plastic. However, as you know, this QR has dead zones in the center and disconnects when you're driving hard.
Priced at less than €200, this steering wheel remains a sim-racing must-have. Of course, you'll need a matching base (at least €350), but your setup will fare much better with this premium peripheral from Fanatec.
Please read my full review of the CSL Elite McLaren GT3 V2.
The Logitech G923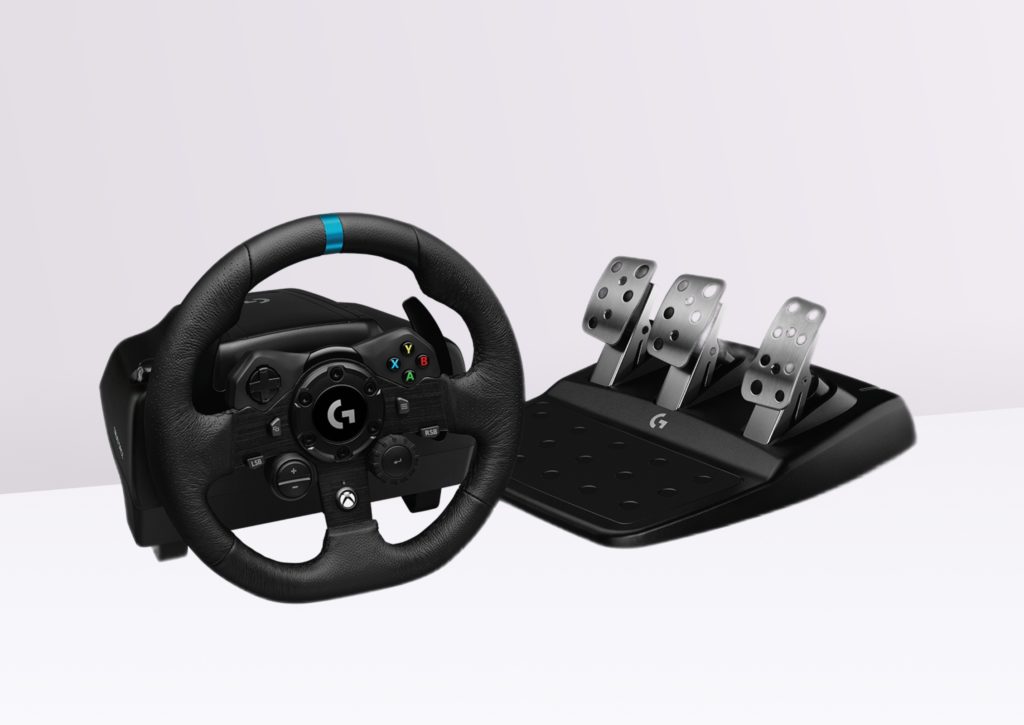 Advantages :
Good build quality
Complete bundle
Good driving feel
Disadvantages :
Force feedback sometimes blurred
Logitech has been a well-known brand in the game of sim-racing peripherals for over 20 years, and the G923 is one of the latest additions to its catalog.
So, this steering wheel is brand new, which is a good thing. I'm not going to lie to you: the G923 is not a new steering wheel but rather a significant upgrade of the G920. This improvement has brought its share of goodies, such as TrueForce, better build quality, improved console compatibility, and so on.
The wheel is 28 cm in diameter and features 15 buttons and two paddles. Logitech used aluminum for the wheel structure and leather for the contour. It looks good and feels great in the hand.
Speaking of grip, the ergonomics of this wheel are excellent. All the buttons are in the right place, as are the paddles, which are just the right size. The pedals supplied are of good quality, with a spring system for force feedback. It feels right and does the job.
As for the chainstay, it uses two geared motors coupled with TrueForce from Logitech. This technology connects directly to the game engine to retrieve data and adjust the force feedback on paper. Sometimes it works well, sometimes it's a blur. I prefer to disable TrueForce, as this technology is not yet perfected. I like to drive without it because I know that the force feedback will always be linear, with no surprises.
Overall, this steering wheel is perfect for Xbox Series X sim-racing enthusiasts. Admittedly, it's expensive (less than €500), but at least you've got a recent, quality product and, above all, a bundle. In any case, I'd recommend it to all sim racers, whether amateurs or beginners.
Please read my full review of the Logitech G923.
The best Xbox Series X mid-range steering wheels
The Fanatec ClubSport Forza Motorsport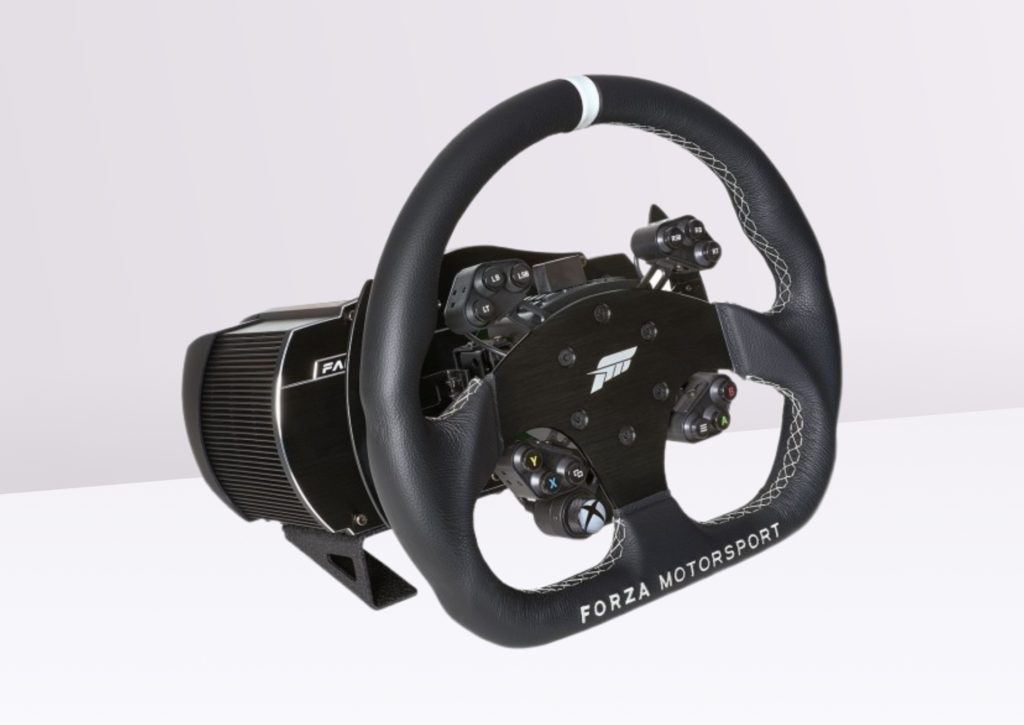 Advantages:
Excellent build quality
Official Forza license
Disadvantages :
I don't need to introduce you to the Forza license, which is undoubtedly one of the most popular video game licenses in the automotive world on Xbox and PC. Fanatec has partnered with her to offer us the Clubsport Forza Motorsport.
This steering wheel is consistently mid-range, part of the ClubSport range from Fanatec. Build quality is excellent, with aluminum and leather used for the revolution. Speaking of the wheel, it's 33 cm in diameter with a flat bottom, sure to please many people.
The design of the ClubSport Forza Motorsport is both sublime and minimalist. There's virtually nothing on the steering wheel except the Forza Motorsport lettering at the bottom, a banner at the top, and the franchise logo in the center. Simple, minimalist, perfect. The leather used is of good quality, as is the aluminum, which is anodized.
The grip of the ClubSport Forza Motorsport is also excellent, as the steering wheel is very similar in shape to that of a real car. There are 13 Xbox buttons on a hub and 16 more above the corner, just behind the small screen.
In terms of feel, you won't be disappointed, as the ClubSport Forza Motorsport uses a metal Quick Release that eliminates any dead zones or disconnections during hard use. Also, the paddles are large, click well, and very well placed. I only wish I'd had four instead of 2 for the price. But then, you can't have everything.
Speaking of the price, this little gem sells for a cool €500. All you get is the steering wheel and button hub at that price. No base, no pedals. However, I'm a fan of this steering wheel, which is excellent value for money.
The Thrustmaster TS-XW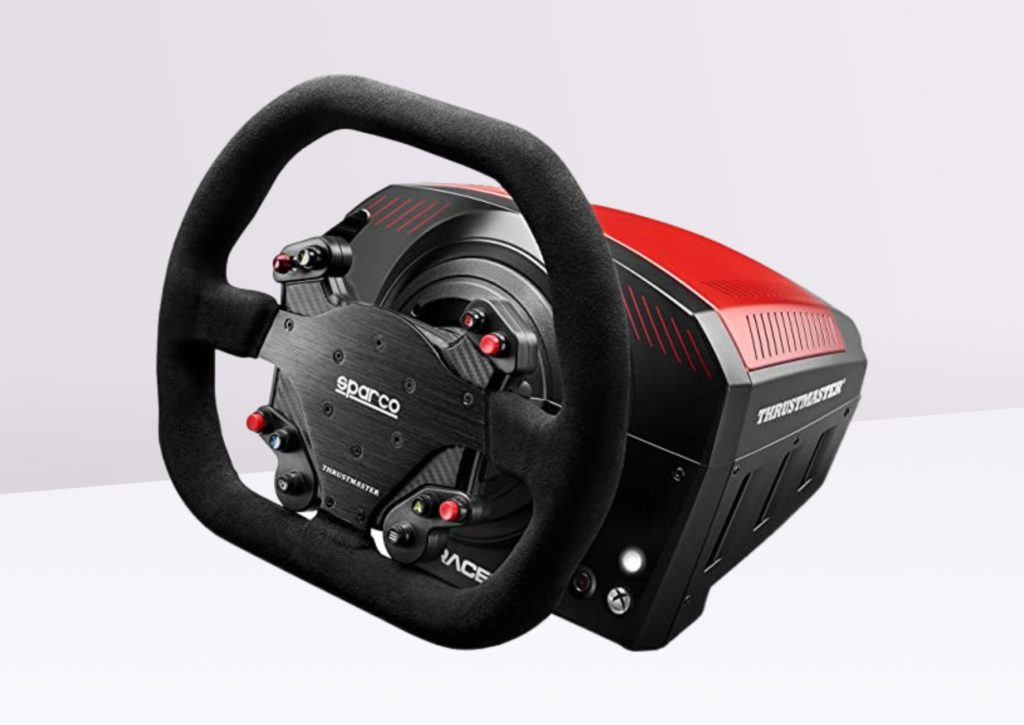 Advantages:
Bundle with base and steering wheel
Powerful force feedback
Disadvantages :
Thrustmaster is a big name in sim-racing and simu in general, with high-quality, well-finished products, and the TS-XW is no exception.
Given the manufacturer's ongoing collaboration with Sparcothe, TS-XW is an official scale replica of the P310and I love it. The wheel is 31 cm long and made of brushed aluminum and Alcantara. It's beautiful, both to the touch and to the eye.
The peripheral design is unique, as Peugeot is doing these days with its steering wheels: the TS-XW is oval and looks pretty good as far as I'm concerned. Even though I'm conservative, I have to say that I like the design of the TS-XW.
At the base of this flywheel is a powerful 40-watt brushless motor that delivers excellent force feedback with a maximum rotation angle of 1080°. The feel is excellent, with force feedback that's both measured and precise. Although I prefer Direct Drive bases, I have to say that this one is an excellent alternative.
The ergonomics of the TS-XW is almost perfect, with nine buttons, a D-Pad, and paddles close to the hands. The only downside is that there are also buttons on the base, behind the steering wheel, which aren't quickly accessible. I'd rather have them on the wheel than on the floor.
Priced at less than €700, the TS-XW remains an excellent option for low-cost sim racing. Its weak point is the absence of QR, which won't please everyone, but when you see that it doesn't have any competition in terms of price, the TS-XW is an excellent choice. TS-XW is a must-have.
The best top-of-the-range Xbox Series X steering wheels
Logitech G Pro Wheel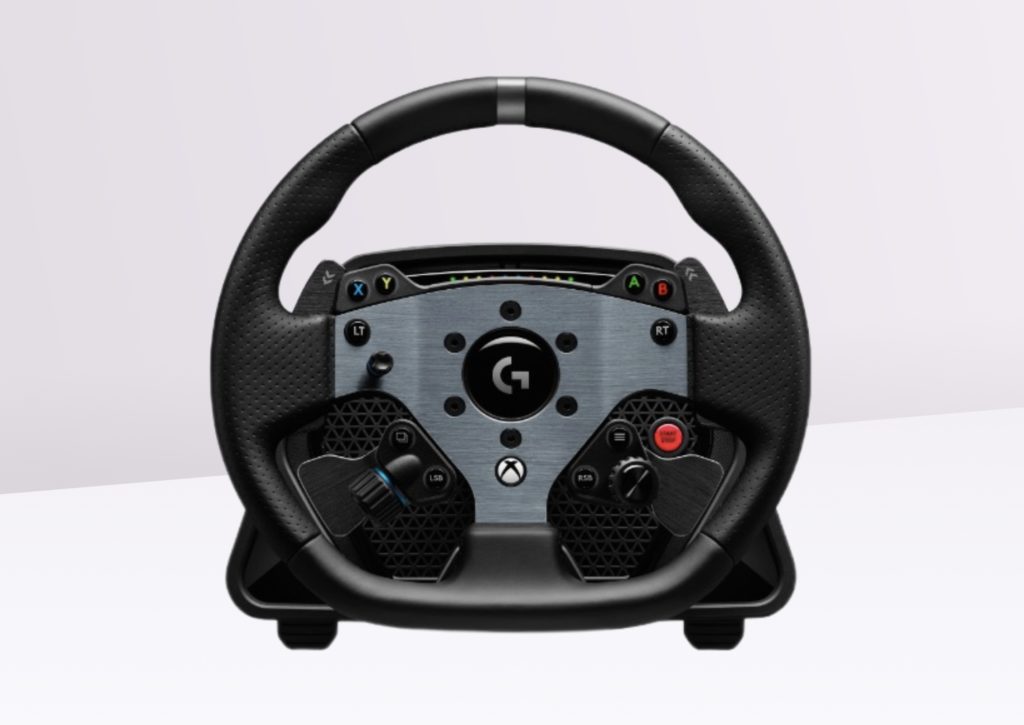 Advantages:
Excellent build quality
Direct Drive motor
Quick Release
Disadvantages :
The price is a little high
TrueForce not yet perfected
Logitech has long hesitated to take the plunge and switch to Direct Drive. But better late than never. The G Pro Wheel is the first entry for Logitech in the world DD, and I must say it's well executed.
The design of the G Pro Wheel is very handsome, with a solid yet premium construction. You've got aluminum and perforated leather on the wheel, giving it a distinctive look, unlike other wheels from the brand.
On the wheel, you'll find ten buttons, a D-Pad, switches, and four paddles for controlling your vehicle in any sinus or racing game. The grip is excellent and worthy of the Swiss manufacturer. All buttons are easily accessible without your hands leaving the steering wheel, and I love that.
The base is the first DD from Logitech, developing a maximum torque of 11 nm. On the sim-racing market, this base is positioned between the Fanatec and Moza, right in the middle. In terms of feel, we're well served, with force feedback that's powerful, precise, and, above all, reliable. When not using TrueForce. If you enable this feature, it's supposed to connect to the game engine to retrieve data and adjust the "On The Fly" force feedback. However in r, in eal life, this doesn't always work, and there are occasional blurbs.
Intended to be high-end, the G Pro Wheel is sold at a premium price: €1,100. You get the 11 nm DD base and a steering wheel with QR for this price. I like Logitech, but I think this product is poorly positioned in terms of price, especially as Direct Drive is a technology that the brand hasn't mastered, as this is its first steering wheel to incorporate it.
The Fanatec Podium Racing Wheel F1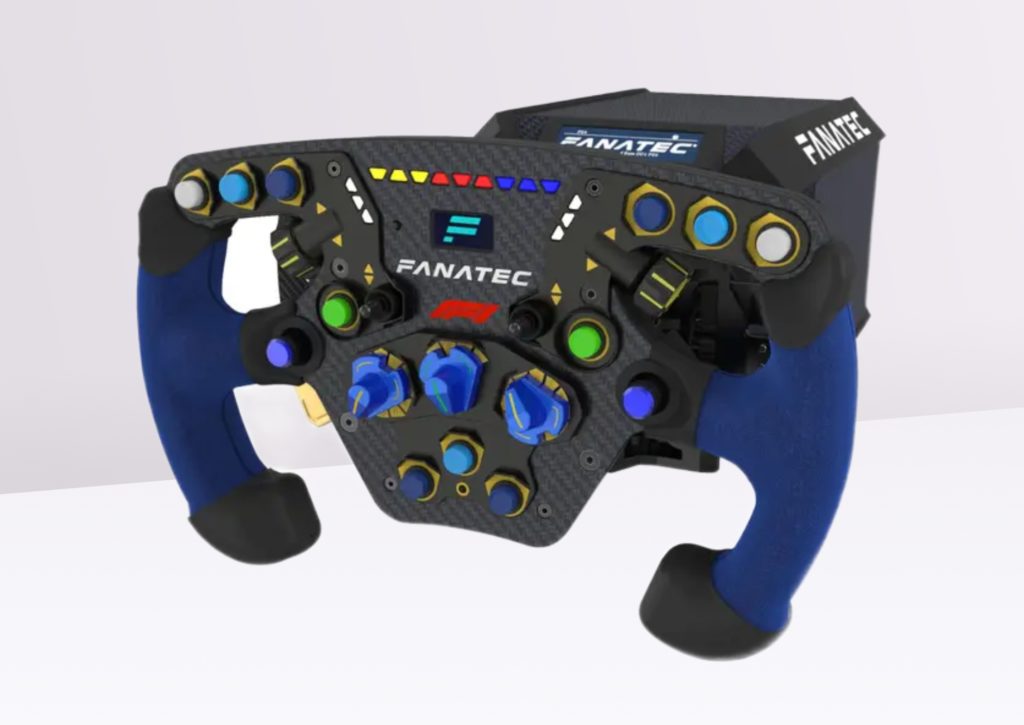 Advantages :
Excellent build quality
Use of carbon fiber
Official F1 license
Disadvantages :
Handling a little difficult
I'll end with the best thing on the Xbox Series X, the Fanatec Podium Racing Wheel F1. The German brand has pulled out all the stops with this wheel for fans of sim-racing, specifically, F1.
The wheel is 27 cm in diameter, uses carbon fiber, and has a rotation angle between 90 and 1080°. There are 13 buttons, an OLED screen, switches, and six paddles, 2 of which are analog. This steering wheel is a sim-racer's paradise.
This steering wheel is a killer, sold as a bundle with the 25 nm max Podium DD base. You've got power and precision in the same package to smash the clock in any racing game. And it's compatible with Xbox Series X to boot.
The design is a bit flashy, but it's very well done—carbon fiber for the structure and Alcantara for the cuffs. The shape won't please everyone, as this steering wheel is typically F1 and could pose problems for other disciplines like rallying.
It's worth noting that you can set everything with this steering wheel, from shifting gears to the degree of aggressiveness of Launch Control, all via the screen and peripheral switches.
The base uses a DD motor that delivers up to 25 nm of torque. That's enough for sim-racing, as a fan, e-sport professional, or even a race driver. The steering wheel is also equipped with motors for road feedback, such as vibrators, increasing the level of immersion.
In absolute terms, the Podium Racing Wheel F1 remains Fanatec's best wheel if you can afford it. Priced at almost €1,800, it's a premium peripheral that will only find takers in a particular fanbase, especially when it doesn't take very long to get the hang of.
Please read my full review of the Fanatec Podium Racing Wheel F1.
The different steering wheel ranges on the Xbox Series X.
As with virtually every product on the market, sim-racing wheels are offered in 3 main ranges: entry-level, mid-range, and high-end. Each product in these ranges targets a different category of sim-racer, from beginner to amateur to fan/pro. This makes perfect sense, as manufacturers of sim-racing peripherals need to ensure a long life for their business.
Three players share the sim-racing steering wheel ranges on Xbox Series X: Logitech, Thrustmaster, and Fanatec. Other brands making peripherals include Moza or Simucube; These focus on PCs and are outside the scope of this article.
Entry-level steering wheels
As they say, everything has to start somewhere. That's why entry-level sim-racing wheels exist. These products are mainly aimed at the novice public looking to take their first step into this discipline, with, of course, inexpensive peripherals.
In this range, you typically find reasonably good-quality bundles for starting in sim racing. The watchword here is compromiseWhether between build quality, functionality, or feel. This is reflected in the price of piles, which is often between €200 and €300.
Mid-range steering wheels
We now move on to the most interesting segment, in my opinion, the mid-range. Here, you have steering wheels or other peripherals that are better than those in the entry-level range and at relatively affordable prices.
The mid-range often incorporates racing-inspired technologies, with Direct Drive-based steering wheels, partnerships with carmakers such as Porsche and McLaren, and the massive adoption of high-quality materials.
If you want to improve your sim-racing setup, you've got to shop this range.
High-end steering wheels
And now, high-end steering wheels are the best products available on the market. These peripherals make virtually no compromises regarding build quality, use of materials (carbon fiber, for example), functionality, technology, or price.
This range is aimed at customers who are fans of sim racing and professional drivers who want to train on PC or, in our case, consoles. As you can imagine, premium products come at a price, and you'll need to spend between €1,000 and €2,000 to access a top-of-the-range steering wheel and base.
Incidentally, this segment has remained dominated by the German brand Fanatec for a long time. But things are beginning to change, especially with the arrival of the first high-end Direct Drive steering wheel from Logitech, which we'll look at below.
What to look for on an Xbox Series X steering wheel?
I say it often enough: sim-racing is a pretty unique discipline preference-wise. What I prefer to have on a steering wheel is probably not the case for you or any other sim racer, and that's why choosing a peripheral is entirely subjective. However, a steering wheel, or any other peripheral, needs certain features to live up to our expectations. I will tell you what I look for in a steering wheel in what follows.
Rotation angle. The rotation angle is measured in degrees and indicates how much the steering wheel can turn on its axis. The rule to remember is that the greater the rise, the closer the sim-racing wheel is to its car counterpart and, therefore, the more significant the immersion. I think you need to look for steering wheels with at least a 900° rotation angle to get an excellent sim-racing experience and immersion.
Solidity. Sim-racing steering wheels are manufactured in different qualities, often in correlation with the range. Good peripherals opt for solid materials, such as steel, aluminum, and carbon fiber, and sometimes for everything structural, sensitive str,essed, etc. So, if you find a lot of plastic used, the steering wheel is not well made and will be fragile to use.
Budget. As I said, sim-racing wheels can cost between €300 and €2000. In my opinion, the best thing is to set yourself a budget for the steering wheel and the other peripherals you will have in your setup, and above all, not to exceed it. Often, the budget goes hand in hand with the sim racer's level of immersion: an experienced person who spends several hours a week in the simu will invest more in his setup than a Sunday racer, and that's logical.
Force feedback. A steering wheel's force feedback is actually in its base, and it's a torque value that the engine produces. Driving a car, you feel everything the front end does through the steering wheel. In sim-racing, it's a technology that tends to reproduce the same thing. Today's innovations involve Direct Drive motors, which produce a resistance commonly known as force feedback. You'll find this on mid-range and top-of-the-range steering wheels, as it's still a relatively expensive technology.
Ergonomics. Not all steering wheels are the same, just like cars. I look for steering wheels that I feel comfortable using while driving. I need to reach all the buttons, switches, paddles, and so on without much effort or moving my hand from the steering wheel.
Which one to choose?
Budget. Choose your steering wheel according to your budget. Don't forget that a sim-racing setup includes a steering wheel, base, pedals, and monitor. I've shown you several different steering wheels to suit virtually every budget.
Degree of immersion. Choose a steering wheel according to the degree of immersion you want. For example, there's no point in buying a top-of-the-range peripheral if you're only sim-racing once a week.
Availability. Some brands, such as Logitech and Thrustmaster, are available almost everywhere, unlike Fanatec, which sells only in its stores. If you're the kind of person who wants to see a steering wheel to test its grip before buying, you need to consider its availability.
Similar items