There's more to sim-racing than choosing a steering wheel and pedals to race down rally stages or smash lap times on circuits worldwide. Sim-racing is a discipline in its own right, even a passion for some, and building a setup takes time, knowledge, and, above all, the right peripherals.
As I said, sim-racing isn't just about having a steering wheel and a pedalboard. You need to consider choosing several other peripherals, such as the screen(s), the cockpit (if you can afford it), the platform, and the gearshift lever.
Many of you may ask, "Why get a shifter when my steering wheel has paddles?" That's an excellent question, the answer to which can be summed up in one word: immersion.
Even if motorsport, in general, is slowly moving towards sequential gearboxes or even automatic DCTs, there's nothing like a mechanical gearbox to push immersion to the max, to feel all the sensations produced by the car. And for sim-racing, it's all the same: a gearshift brings realism, engagement with the simu, and unique trends.
As you can imagine, there are many gearshifts on the market, just as there are steering wheels, pedals, bases, etc., and choosing one is not easy. In this article, according to your budget, I will show you the best sim-racing shifters currently on the market.
The different types of sim-racing shifter
Just as in a racing car, there are two types of gearshift in sim racing. There are 3, but the third is a hybrid.
H-Pattern shifterThis is a standard gearshift, as found in cars with mechanical gearboxes. The gears are arranged side by side in an H pattern, with 6, 7, or 8 bags (including reverse). This type of gearshift can also be used as a hybrid in sim-racing, with the addition of a sequential function.
Sequential shift leverThis is a gearshift lever where the gears are shifted sequentially, i.e., one after the other, by moving the lever up or down on a single axis. These levers are faster when shifting gears and can accommodate cars with 6 or 7 packs or even more (reverse gear not included).
The Fanatec Clubsport SQ V1.5 Shifter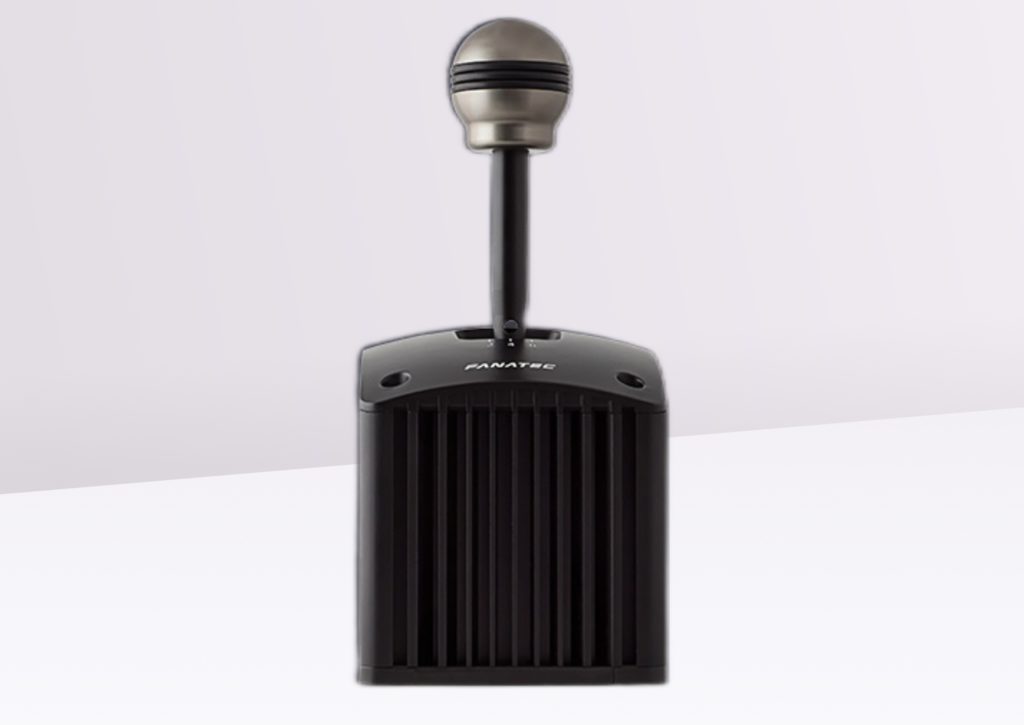 Advantages :
Excellent construction
Premium and hybrid shifter
Excellent feel in use
Disadvantages :
Handling a little difficult
Slightly heavy
Premium price
Let's finish with, as far as I'm concerned, the best sim-racing shifter on the market, if you can afford it because it's not cheap. Fanatec offers excellent peripherals, and the Clubsport SQ V1.5 Shifter is one of them.
Its all-metal construction gives it solidity and a premium feel at the expense of a hefty weight (around 3.3 kg). You'll need an excellent setup to attach and use this shifter.
Like the Thrustmaster TH8A, the Clubsport SQ V1.5 Shifter is a hybrid shifter with H Pattern and sequential mode. Unlike the TH8A, you don't need to modify the shifter to switch from one way to another, as this is done using a small switch.
The Porsche 911 inspires the shifter and features eight gears, including the reverse. Like a Porsche, shifting into R (reverse) is done by pressing down on the lever to prevent accidental shifting—a plus for safety, but not for the 7th. The last gear is also shifted by pressing the lever. For Simus, with only six bags, there's no problem. But for others, handling is hazardous and, above all, frustrating at first. It will take some time to get used to this shifter, and that's a shame.
The feeling is good, with gears that shift firmly and, above all, feel good. However, it's challenging to get the hang of, especially for beginners. You'll get the gears wrong, and it'll take a bit of practice to get used to the shifter.
Mounting is top-notch. Fanatec has a plate to position this shifter wherever you want on your setup, whether on a table or a cockpit. Having this level of flexibility is great, but not so great when you have to buy the plate from Fanatec. 40 €and the shifter makes 250 €.
Let's move on to compatibility. This peripheral is compatible with PC, Xbox, and PlayStation. On consoles, you need a Fanatec base compatible with the platform, which is unnecessary on a PC.
This is the best product for high-level sim-racing or just starting on this beautiful adventure. It's a shifter that I highly recommend. However, it's still premium, with the price that goes with it.
Please read my full review of the Fanatec Clubsport SQ V1.5 Shifter.
Logitech G Driving Force Shifter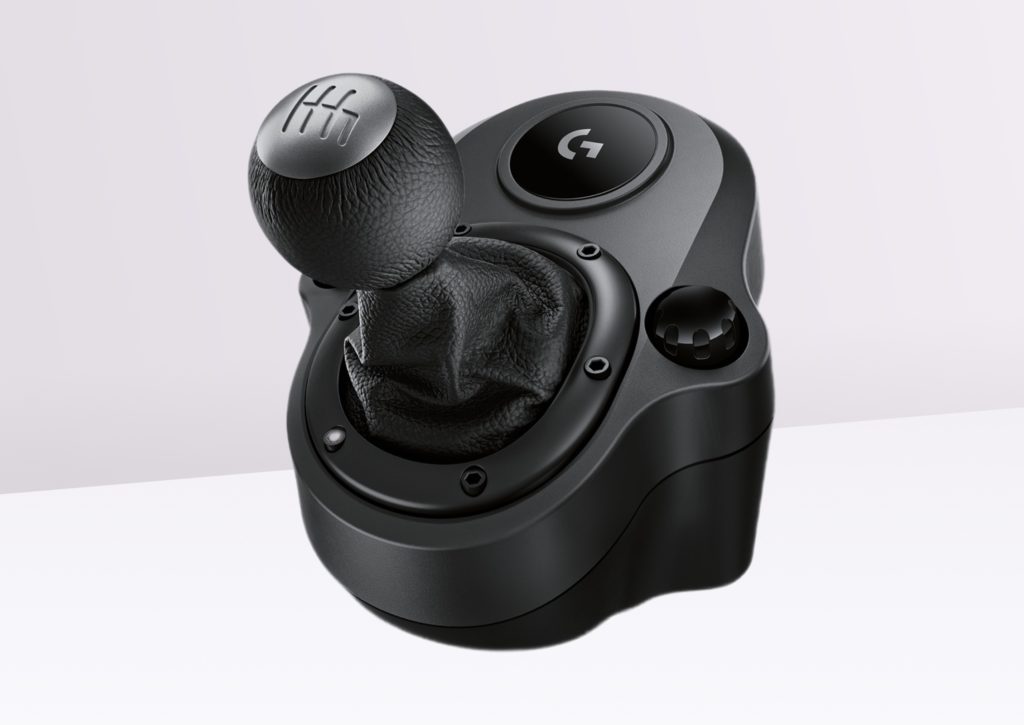 Advantages :
Beautiful price
Ideal for beginners
Disadvantages :
Let's start with a gearshift accessible to everyone, the Logitech G Driving Force Shifter. This inexpensive shifter is ideal for sim-racing beginners who want to add immersion to their setup.
The G Driving Force Shifter The G Driving Force Shifter uses steel and leather for its construction, which is quite a feat considering the price at which it's listed (€65 on the manufacturer's website). This model features seven speeds, including reverse, making it perfect for most sim racers who want a decent peripheral without blowing the budget.
Its construction (steel) gives it good durability, even if you go hard when shifting. Moreover, this G Driving Force Shifter has clamps for table mounting.
Now, let's talk about compatibility. This shifter will work on PCs and consoles (PS4 and Xbox One) if you have one of the brand's steering wheels, namely the G923on G29 and the G920. It's still a good product for the price, mainly if you only use the Logitech ecosystem. Your setup will only cost you around €300 with all peripherals (steering wheel, base, pedals, and shifter).
Please read my full review of the Logitech G Driving Force Shifter.
Thrustmaster TH8A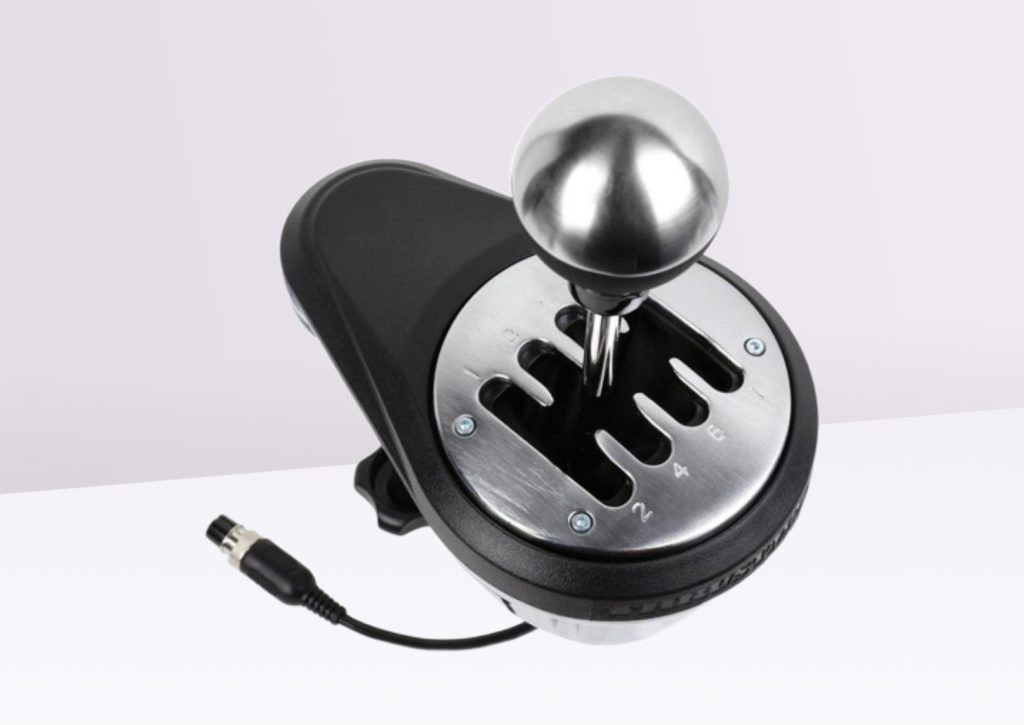 Advantages :
Good build quality
Broad platform compatibility
Sequential mode
Disadvantages :
Handling a little difficult
The second entry on this list is the Thrustmaster TH8A. So, to put it simply, if you're looking for a shifter that will give you a good feel and a decent sensation, this is the one for you, even if it has flaws.
The TH8A is a reasonably old shifter, yes. However, it still incorporates highly developed technologies, such as using a potentiometer, a magnetic sensor for gears, and even a sequential mode, making it a hybrid. For the H Pattern, you get eight bags, including the reverse, making it more versatile than the Logitech we saw. Unlike other, more premium shifters, switching from H Pattern to sequential mode isn't straightforward: you have to remove the top plate (H) and replace it with another for the sequential world. This mode limits the shifter's movements, which is a bit simple in design but works simultaneously.
The design of the TH8A is straightforward, with a metal construction. The mounting system is located on the front of the shifter, works with a screw, and is 360° adjustable, perfect for any setup.
As far as grip is concerned, it's good as far as I'm concerned. I loved using the TH8A for sim-racing, mainly as it is not limited by the ecosystem Thrustmaster. You'll be able to use this shifter with Thrustmaster steering wheels and those of other brands. This is a big plus point for the TH8A, especially if you have different brands of peripherals and want to add this shifter to your setup.
This is the shifter with the best value for money in this ranking, even if getting used to it the first time is confusing. I highly recommend it, especially when you find it for €150.
Please read my full review of the Thrustmaster TH8A Shifter.
Which one to choose?
When choosing any sim-racing device, there are several points to consider, including:
Price. It's imperative to allocate a budget for your shifter to not impact too much on the sim-racing experience. You can't, for example, choose a lever like the Logitech we've seen if you have a high-end setup. The experience will be distorted, as will the sensations.
Availability. Some brands, such as Thrustmaster, are available from numerous retailers, both online and in-store. This makes seeing and testing their peripherals easier before buying, something Fanatec cannot do.
The platform. Typically, and if you stay in the same ecosystem, media don't cause big problems. But it would be best if you still made sure that the shifter you're looking at is compatible with the platform you're using.
Ecosystem. I recommend always sticking with one ecosystem to avoid compatibility or performance issues. If you're on Fanatec, shop at that exact manufacturer.
Conclusion
Adding a gearshift lever to your sim-racing setup will benefit your gaming experience and driving sensations. Steering wheel paddles are more practical in most situations and will cost you less, but the shifter is a sim-racing must-have, and I recommend one.
Similar articles