As with many racers, sim-racing is, above all, a passion that allows us to escape, for a moment, from our monotonous daily lives and immerse ourselves in frantic racing on the world's most mythical circuits. It's not just a discipline to pass the time on Sundays by setting good times, no. It's more than that. It's more than that. You know it, and sim racers the world over know it.
Every driver is unique, with their preferences regarding sim-racing peripherals. I have loved the Fanatec for many years now. The German manufacturer has a wealth of experience in the discipline and offers a host of sim-racing peripherals that are high-performance, beautiful, and, above all, ultra-realistic. It's not for nothing that Fanatec was chosen to equip the steering wheels of the Official BMW GT this year.
Of course, each setup consists of more or less the same peripherals. You've got a base, a steering wheel (depending on which discipline you like best), and a crankset. However, some racers want more advanced setups with handbrakes, shifters, chassis, and VR headsets.
Virtual reality brings its share of additional immersion to sim-racing, provided you choose the right VR headset, because there are many, and not all of them are the same. Some are good for sim-racing, others not so much. In what follows, I will present you with a list of the best VR headsets I find perfect for sim-racing and all its disciplines. I'll tell you about their strengths and weaknesses, and how to choose one.
The Oculus Rift S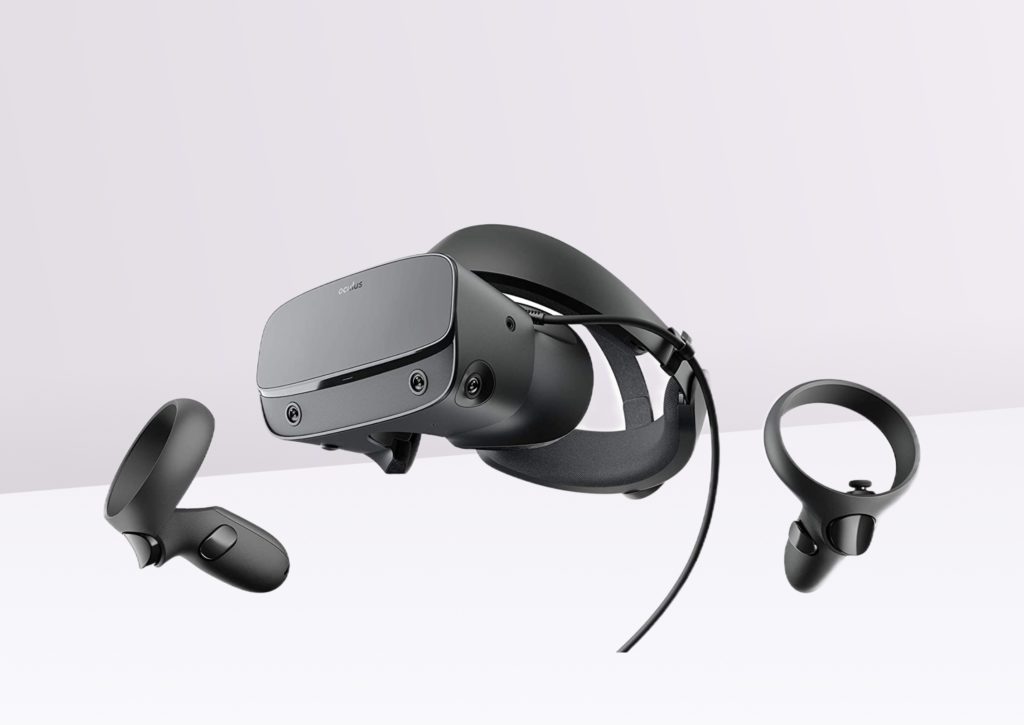 Advantages:
115° wide field of vision
Comfortable to wear for long sim-racing sessions
Good display resolution of 1280×1440 pixels
Excellent value for money
Disadvantages :
80 Hz refresh rate
Motion tracking is not super-precise
I start with the Oculus Rift Sa quality VR headset and, in my opinion, the least expensive on this list. If you're looking for a VR headset that does everything right without necessarily being perfect in a few specific areas, the Oculus Rift S is the ideal choice.
The first positive point of this helmet compared to sim-racing is its excellent 115° field of vision. To put it simply: your eyes will see more, without you having to turn your head, which is less stressful for your body as you'll be making less effort, and more natural too, I think. Coupled with this vast field of vision, the helmet's good resolution means that the average eye will be ideally at ease with the environment. Admittedly, some people might find the 1280×1440 pixels a little limiting, but believe me, between this helmet and another with many more pixels; the difference is less glaring to the untrained eye.
Another positive point of this VR headset is its comfort when you wear it. Ah, that's excellent. Being relatively light, you'll forget you're wearing a VR headset on your head after a while. Its design is such that it adapts to all charges, whatever their shape, while offering a high level of comfort. And what's more, the Oculus Rift S comes with built-in headphones, which further increases comfort as you won't have to wear headphones for sounds, and the built-in headphones aren't bad.
Let's move on to the weak points of the Oculus Rift S. For starters, the refresh rate is 80 Hz. Well, that's better than 60 Hz, but it's borderline and could induce motion sickness in some riders. I preferred 90 Hz, but compromises had to be made, and the refresh rate took a hit.
Another negative point is the motion tracking, which isn't accurate. The main suspect here is the lack of external motion sensors. The Oculus Rift S integrates cameras to determine the wearer's movements, which is excellent on paper but not so good in reality. For sim-racing, this doesn't pose too many problems. But the Oculus Rift S quickly shows its limitations for playing other games, especially in motion tracking.
Overall, this VR headset will please beginner or even amateur sim racers on a budget. The price of Oculus Rift S ranges from €350 to €450 depending on the retailer, and I think it's well worth it.
The Samsung HMD ODYSSEY+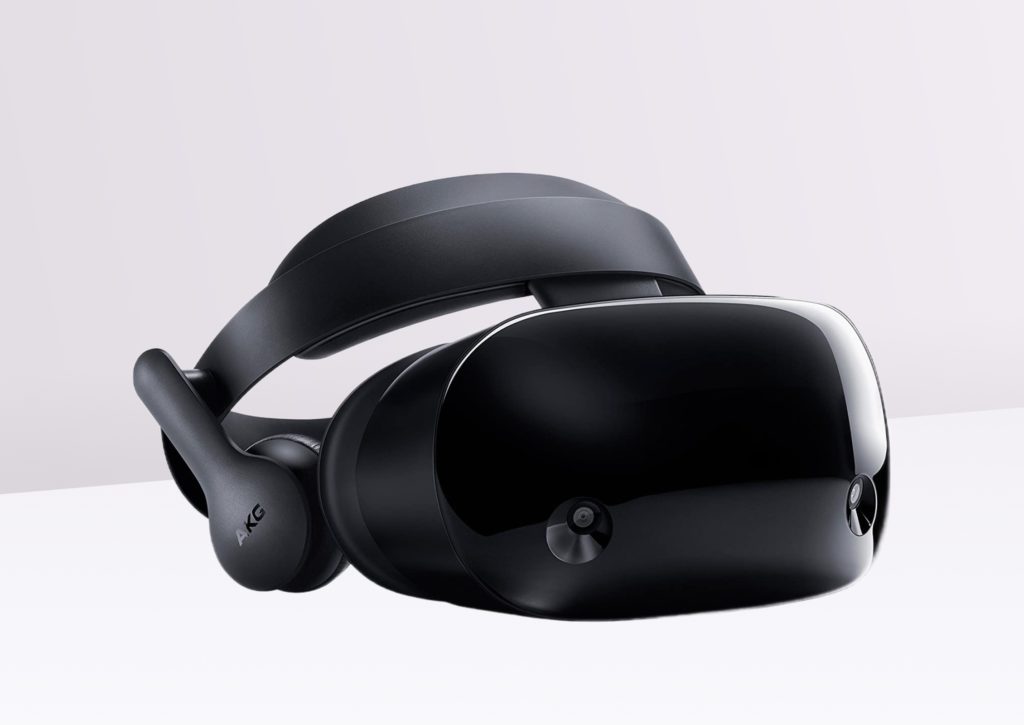 Advantages:
90 Hz refresh rate
1440×1600 resolution
110° field of view
Wired connection only
Disadvantages :
Motion tracking is not very accurate
Samsung is a brand that needs no further introduction, as it is in every market: smartphones, tablets, TVs, computers, and even VR headsets. Quality is always the watchword at Samsung, and this is evident in all the brand's products, such as the HMD ODYSSEY+.
This VR headset takes up what Samsung does best: displays. Indeed, we find a show with a resolution of 1440×1600 pixels, a refresh rate of 90HZ, and a field of view of 110°. These are superb stats, worthy of a premium monitor, and just what you need for sim-racing VR. The 90 Hz refresh rate is ideal for long sim-racing sessions, such as endurance races, as you won't have to worry about the motion sickness experienced on headsets with lower refresh rates, such as the Oculus Rift S.
In terms of comfort, Samsung's headset is quite comfortable, even if its size tends to be chunky. Moreover, you've got an integrated sound system signed by AKG. This allows you to take full advantage of immersive sim-racing—Another positive point of the HMD ODYSSEY+ is that it uses a wired system. Here, you won't have a wireless connection that inevitably induces lag, and that's the last thing you want in VR, even if many people prefer the opposite. I'm all for a wired VR setup.
Now to the weak point: motion tracking. Featuring internal cameras, these are used to detect and determine the movements of the wearer or runner to transcribe them into the game. Like the Oculus Rift S, on paper, it looks good, but in reality, it's not very accurate. If you move smoothly without being abrupt, the headset can follow your movements within its field of vision. If you're quick on your feet, the HMD ODYSSEY+ will be left out in the cold. It's the only weak point I can find in these headphones.
Regarding the price of the HMD ODYSSEY+Samsung's ODYSSEY+ headset, it can be had for around €450, which isn't bad. The only catch is that you'll need to find a new one, given that this little gem was released in 2018. If you can find a new one, it's an excellent choice for sim racing.
HTC VIVE PRO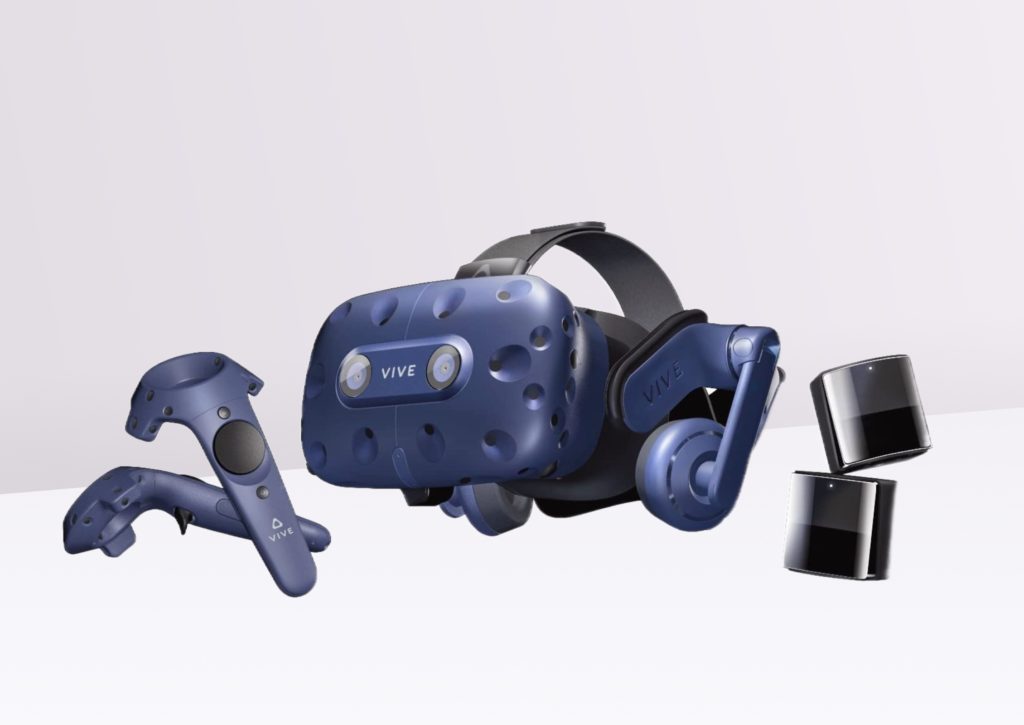 Advantages:
Definition of 1440×1600 pixels
90 Hz refresh rate
High-precision motion tracking thanks to external sensors
Disadvantages :
Long considered one of the most innovative brands in the world of smartphones, HTC has, much to the dismay of purists, withdrawn from the high-end mobile market and releases a mid-range smartphone from time to time. However, the DNA of innovation has not died out at the Taiwanese manufacturer, and HTC has focused on VR, notably with its Vive Pro.
So, the Long Live Pro The Vive Pro is a premium VR headset, and I'll say that right away so that the price doesn't surprise you any further down the line. Its design is somewhat futuristic, reminiscent of the robot in the film "Chappie." Color-wise, you've got blue and gray, but that's not something many people are interested in, given that you will be wearing the headset and not doing a fashion show with it.
The Vive Pro has a resolution of 1440×1600 pixels for each screen, leaving us with a combined solution of 2880×1600 and a refresh rate of 90 Hz. Frankly, that's just about right for a good VR experience. Moreover, the Vive Pro is 110°, more than enough for sim-racing, leaving you highly attentive to your surroundings without moving your head.
Comfort-wise, the Vive Pro is a good student, designed to fit everyone. Sound is integrated into the Vive Pro, making you even more comfortable since you don't have to wear headphones or a special headset. And that's a big plus in my book.
Let's move on to motion tracking. Unlike the other VR headsets I've just introduced, the Vive Pro uses an external motion tracking system with sensor stations that you position strategically in your environment. On the one hand, this system is ultra-precise in determining your movements. On the other hand, it's not useful for sim-racing, and it adds another level of complexity since not only do you have to find the fitting room for RVing, place the stations in the right places, and, above all, use the room only for RVing, on top of the bill that goes up with it.
Speaking of price, the Vive Pro is sold in several kits to suit your budget. With just the headset, the "basic" kit is priced at around €600. If you're looking for the "full kit," i.e., the VR headset, controllers, and two sensor stations, the bill will quickly rise to around €1,000, depending on the retailer. Honestly, that's expensive. But on the other hand, this VR headset is excellent and has been proving its worth for a while. So…
HP REVERB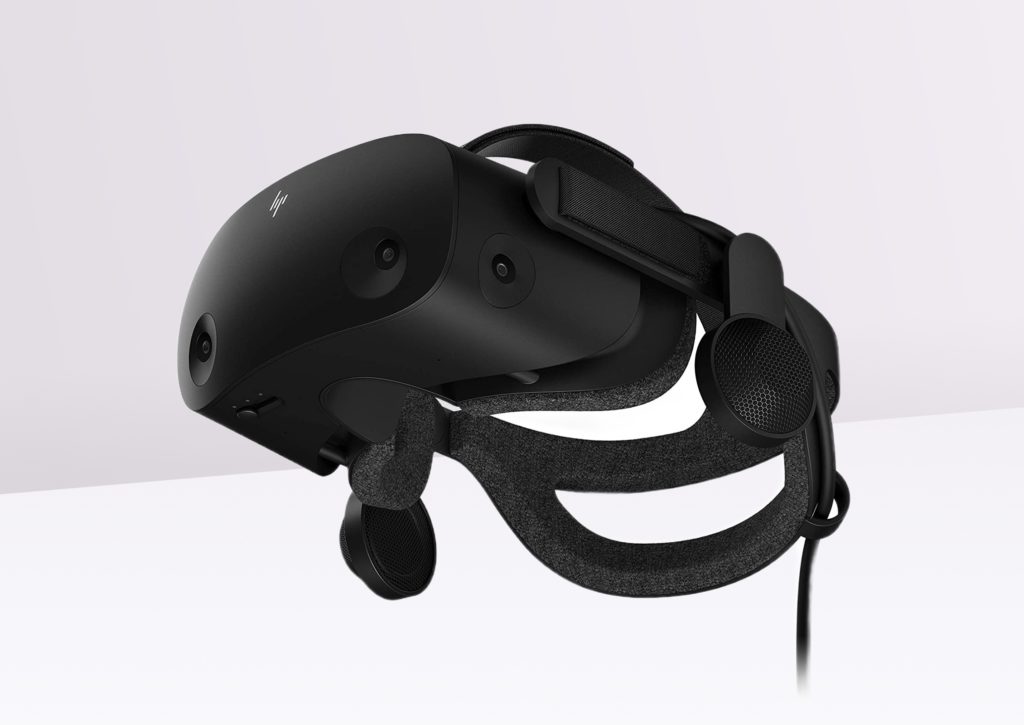 Advantages:
2160×2160 pixel resolution
90 Hz refresh rate
114° field of view
Lightweight
Disadvantages :
Very premium price
Motion tracking can be temperamental
I don't need to tell you the history of the brand HP since you've almost certainly used one of its products. Even if the American manufacturer is essentially dedicated to everything to do with computers, it has to be said that thinking outside the box is sometimes beneficial.
So, the HP Reverb is a VR headset of excellent quality, especially on the technical side. It boasts a resolution of 2160×2160 pixels per eye, a refresh rate of 90 Hz, and a 114° field of view. So far, the HP Reverb surpasses, in terms of specs, any VR headset we've seen on this list, and that's what makes this product so great. Thanks to its high refresh rate, you can be sure you won't experience motion sickness during your VR sim-racing sessions. Moreover, the 114° field of view ensures limited head movement, allowing you to concentrate more on the road ahead.
Let's talk about the design. All in all, it's sober. The helmet is minimalist, with just two cameras on the front and the new HP logo. The helmet's structure is covered in foam, making it comfortable to wear for long periods, and you have a headband above that adds stability for the wearer.
For sound, the HP Reverb has a built-in, adjustable sound system. So you don't have to worry about headphones or other peripherals. However, I must warn you that the HP Reverb is not wireless, so you'll have to get used to wires when shopping. But that's not a problem since all the wiring comes out of the back of the headphones and prevents lag.
Motion tracking HP Reverb is controlled by two cameras on the front of the helmet. This has the advantage of eliminating motion detection stations, like those used for the HTC Vive, and the disadvantage of less precise movements. But honestly, you won't feel that many differences in sim-racing. So it's a plus as far as I'm concerned.
You're probably thinking that such a datasheet, such a beautiful design, and such a famous name must be paid for. The HP Reverb is a relatively expensive VR headset, with prices ranging from €740 to almost €1600 depending on your chosen kit. That's expensive, very expensive indeed.
Which one to choose?
Budget. The first thing to do is to determine a budget that must not be exceeded. This budget is set by considering several points, such as the degree of immersion you want, your current configuration, the time you want to invest in sim racing, and so on. A good VR headset costs a minimum of €350. Anything less, and you're likely to find a lot of compromises.
Comfort. Not all VR headsets are the same, especially regarding comfort. Some wear exceptionally well for a long time, others don't. You may be able to choose an inexpensive headset that's not very comfortable if you plan to do short sim-racing sessions. But for anything longer, it's best to choose a comfortable helmet.
Refresh rate and resolution. If you want a minimum of visual comfort without motion sickness, you should look for a VR headset with a refresh rate of at least 80 Hz. As for resolution, aim for those with at least 1280×1400 pixels for fine detail and less motion sickness.
Compatibility. Not all VR headsets are compatible with all platforms available on the market. So, choosing a headset based on your platform is best to get the most out of sim-racing and VR.
Sound. Most new VR headsets have Sonos systems that allow you to play fully without needing headphones or other sound devices. In truth, this isn't necessary, but it's a significant plus as far as I'm concerned.
Similar articles