As all discipline fans know, sim-racing typically comprises the following peripherals: a base, a steering wheel, and a pedalboard. This is for all setups, and we consider them essential elements. If you don't have these peripherals in your form, you're not sim-racing.
Other products complement the essential elements to bring more realism to sim-racing sessions, such as a curved screen, a VR headset, a cockpit, a handbrake, etc. These products aim to add an extra layer of realism for a more immersive gaming experience. These products are somewhat specialized. In rallying and drifting, you'll need a handbrake to make stylish crosswinds, but this peripheral is useless in F1 or GT. So, on my setup, I add peripherals according to the titles I'm about to play, and that's why I consider them specialized.
Some racers push the realism further by investing in accessories like similar shoes and gloves. These products bring their share of authenticity and allow you to take care of specific peripherals such as steering wheels or gearshifts. Even if some consider them a purely aesthetic investment, they are helpful in some instances. In what follows, I will introduce you to the best gloves available for sim racing.
The best gloves for sim-racing
Let's get to the heart: What are the best pairs of gloves for sim-racing? I've put together a list of what I consider to be the best products, divided into three different budget categories. Because yes, in the end, the gloves' price will most influence your purchase.
The best gloves between €20 and €30
SOLO QUEEN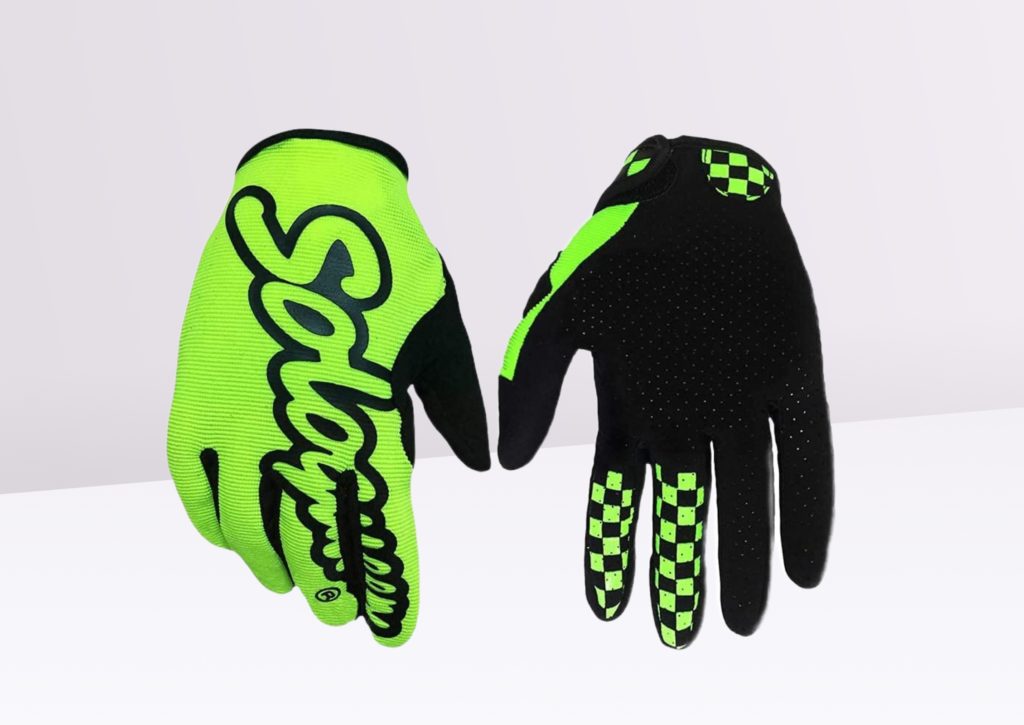 Advantages:
Beautiful price
Three different sizes
Comfortable
Disadvantages :
Small, and you always have to go one size up
I'll start with a product that I consider perfect for sim-racing beginners and even for those looking for gloves that are not expensive at all. The Solo Queen are gloves made from various materials, including synthetic leather, PVC rubber, elastane, and even Lycra. Unlike those used in motorsports, these gloves are relatively short but do the job perfectly.
The manufacturer offers them in various colors, including red, orange, and black. So you're well served if you want to match these gloves with your setup. Comfort-wise, they're reasonable, and the Solo Queen also offers a good grip on Alcantara steering wheels. Breathability is also excellent, so your hands won't sweat too much when you wear them during long sim-racing sessions.
Like many other products of this type, the Solo Queen is available in 3 sizes (M, L, and XL), which should satisfy many of the world's sim racers. In terms of price, the Solo Queen is sold on Amazon at €, 25.99which makes them perfect for beginners and even sim-racing enthusiasts.
The only weak point I find with these gloves is their size, which is a little off. I'd advise you to try them on at a friend's or take a size above what you're used to wearing on your hands. Apart from that, the Solo Queen are gloves I highly recommend.
The best gloves between €30 and €45
Sparco Meca-3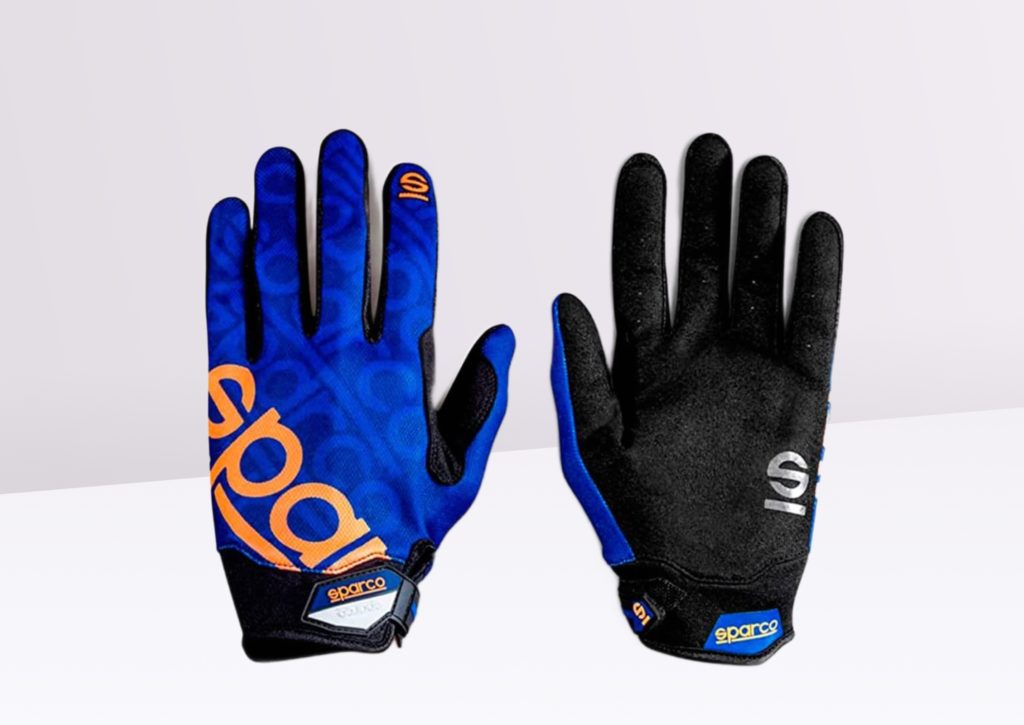 Advantages:
Product from a prestigious brand
Premium Materials
Finger reinforcement
Disadvantages :
The material tends to fluff up after a while
I don't need to make brand presentations. Sparco Sparco remains a significant player in motorsport as a quality and premium equipment supplier.
Sparco has a wide range of products, including Meca-3 gloves for the general public. Technically speaking, these gloves are aimed at people who do mechanical work to protect their hands, but it's perfectly possible to use them for sim-racing, given the quality.
Design-wise, it's a success, with the brand logo, Velcro on the wrists, and five colors. Sizes range from S to satisfy everyone without the problem of smaller-than-expected gloves.
The materials used are suede, polyester, and elastane, as found in virtually every pair of racing gloves. They're relatively sturdy, even if you may have some concerns about lint formation after not very long use. Incidentally, this is the only flaw in the Meca-3, and the latter is purely aesthetic.
Grip-wise, they're perfect for sim-racing. The gloves are breathable, so your hands won't sweat during sim-racing sessions. Another plus point is the price. Meca-3 are sold for less than €33making them an ideal choice for mechanical DIYers and sim-racers. In any case, I'm in.
FOX Dirtpaw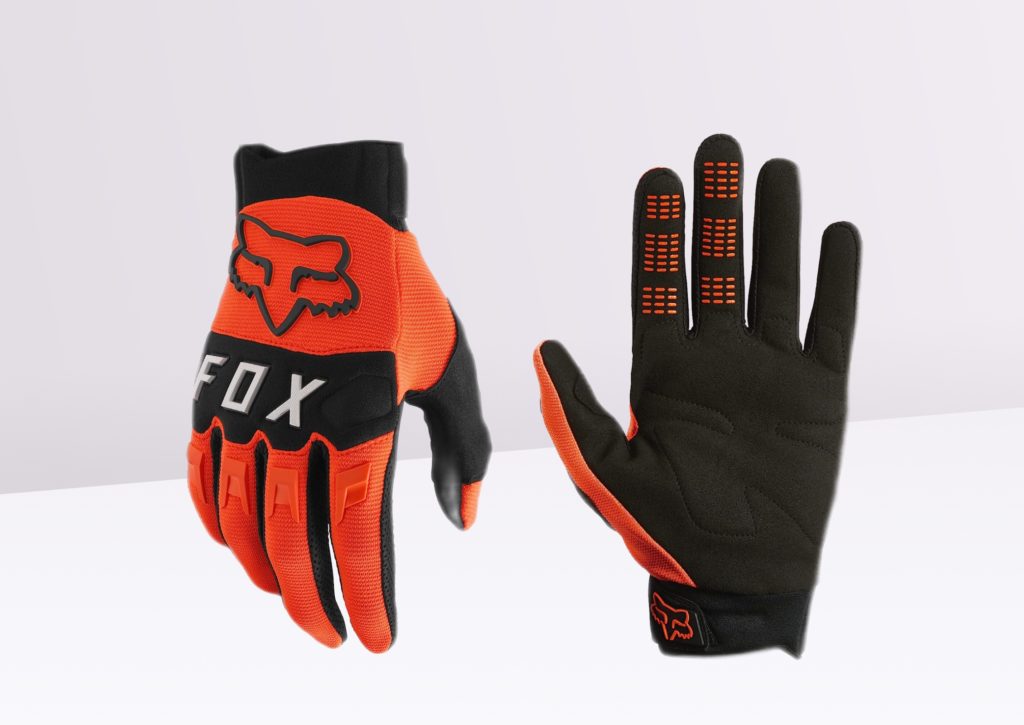 Advantages:
Excellent build quality
Famous brand among sim-breeders
Tough, durable, and breathable
Disadvantages :
The brand Fox Racing is a world-renowned motorcycle and ATV equipment supplier for both men and women. Fox Racing offers a product for everything to do with two wheels.
For this list, I've chosen the Dirtpaw. The Dirtpaw gloves are more motorcycle-oriented but perfectly suited to sim-racing. So, the design of these gloves is pretty good, with a plain color and just the brand logo standing out. It looks perfect, especially if you choose the black version. Speaking of colors, there are seven different ones in the Fox Racing catalog, including red, green, and so on. As for sizes, they range from S to 4XLA, the perfect fit for every conceivable customer.
When it comes to materials, we take great care. The fiber is high quality, resistant, and offers a good grip on the shuttlecocks. I haven't worried about my hands slipping or anything else with the Dirtpaweven on the most extended sim-racing sessions. I also liked that the Dirtpaw is highly breathable, which goes a long way to keeping your hands dry when you wear them.
The Dirtpaw is a safe choice, whether for two-wheeled sport or sim-racing. As for the price, it's very affordable, with a pair costing around €40. If you're looking for an excellent team of gloves for sim-racing and a fan of motorcycles, mountain bikes, and the whole two-wheeled universe, I recommend these gloves. Visit Dirtpaw, and it will not disappoint you at all.
The best gloves for over €40
Sparco Hypergrip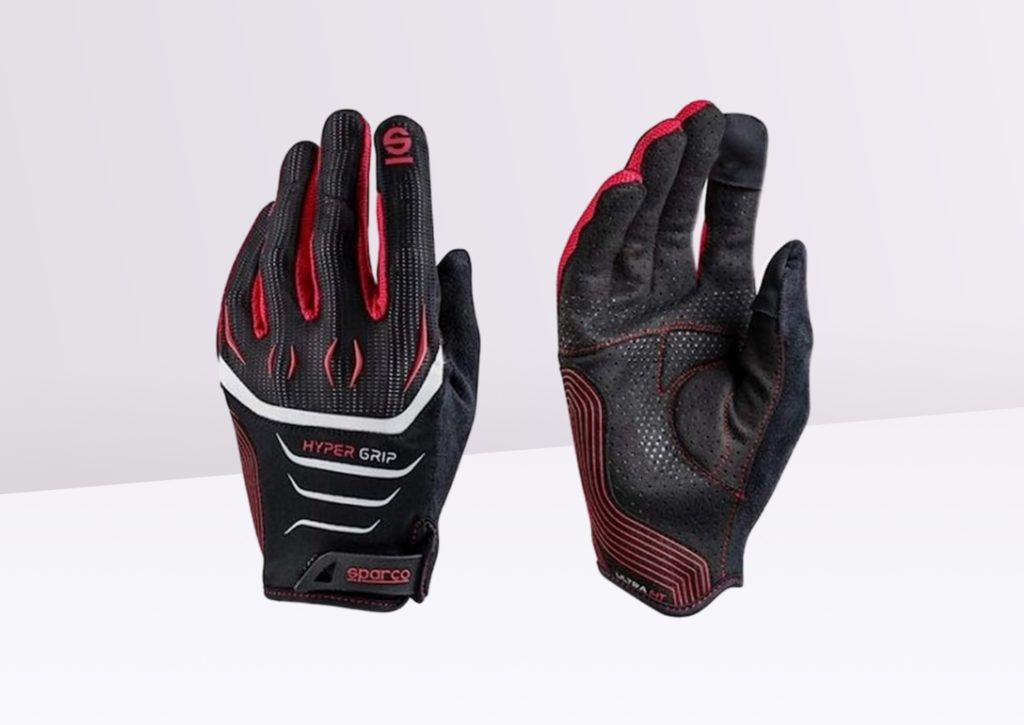 Advantages:
Rubber coating for excellent grip
Highly ventilated gloves thanks to perforated material
Smartphone/tablet use possible without removing gloves
Disadvantages :
The second entry in this list concerns the brand Sparcobut. This time, we focus on a product that targets runners with gloves, Hypergrip. English speakers will quickly understand that this name implies grip taken to the extreme.
Visit Hypergrip, a product designed explicitly for sim racers and motorsport enthusiasts. This makes sense, given that Sparco is a motorsports equipment company. But back to Hypergrip. These gloves are made from perforated material, allowing your hands to breathe easily, whatever the situation you find yourself in.
Although the Meca-3s were excellent all-purpose gloves, in a way, the Hypergrip is aimed solely at sim-racing and motor racing, and it shows when you pick them up. The fingertip coating is reinforced with rubber, allowing the Hypergrip to grip, or gripe if you like, virtually any surface and to a high standard. If you've tried sim-racing gloves before and the steering wheel slipped through your hands, that won't be the case here.
The material used for the gloves is perforated, allowing natural ventilation of the hands. So forget sweaty, clammy hands after a sim-racing session. Your races with Hypergrip will be immersive and, above all, dry on the hands. As for the design, it's relatively sober, with the color black dominating almost the entire pair of gloves. There are also red and gray accents, with a Velcro strip on the wrists. I like it, anyway.
Let's talk a bit about price and sizing. The Hypergrip is sold for less than €49 with only one color available, but several sizes (from 8 to 12). As a result, you have a good choice of sizes, but not for color. It's a shame, but I still recommend the Hypergrip for sim-racers who want to add a big plus to immersion.
Freem SIM21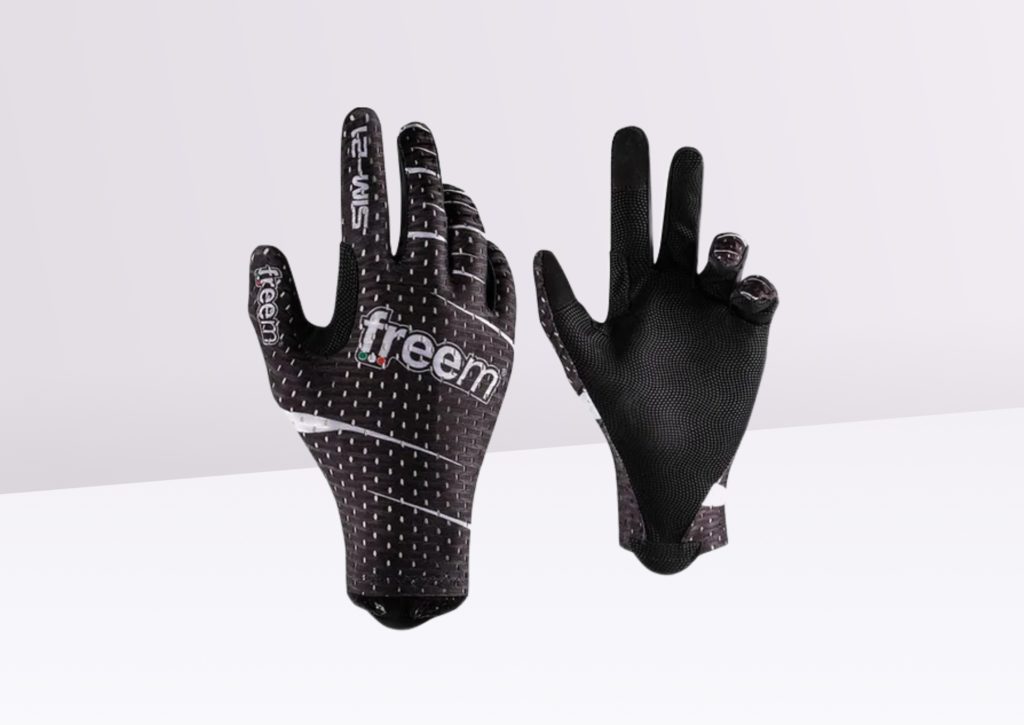 Advantages:
Good build quality
Gloves made in Europe
Excellent driving feel
Disadvantages :
Let's finish with a good product, but with a high price tag, the Freem SIM21. Like virtually all the others we've seen, these gloves are made for sim-racing and motor racing. This is the glove for you if you're a fan of either of these disciplines.
The design is unique. I'm not a huge fan, but as long as the function is there, I won't complain too much. And speaking of operation, the Freem SIM21 does its job very well. On the manufacturer's website, there's only one model available in black, with the brand logo and a kind of white spotted dress.
The material used is breathable, keeping your hands nice and dry during sim-racing sessions, whatever discipline you like. A reinforcement adds extra grip to the gloves between the thumb and forefinger, leaving your hands on the steering wheel and gearshift.
Size-wise, this is one of the most generous pairs of gloves, with seven different sizes, from 2XS to 2XL. You won't have any problems here, that's for sure. However, there is a task on the Freem SIM21and it's the price. These gloves are listed at €55 on the brand's website, which is expensive compared to the others we've seen. But hey, if you can part with that kind of money for this pair of gloves, why not?
Why use gloves for sim-racing?
Although many racers consider sim-racing gloves a fashion accessory, it's important to remember that professional racers wear a whole range of equipment when they race. You've got a helmet, gloves, overalls, shoes, and other clothing designed for the rider's safety and comfort. I don't know if you've ever been in a racing car, but these are designed purely for performance. Air conditioning, heating, adjustable seats, and the rest don't exist in a race car. As a result, the few comforts we can give drivers are a considerable advantage, enabling them to make a difference on the racetrack.
Now, back to gloves in sim-racing. Numerous high-end steering wheels are made from premium aluminum, leather, and Alcantara. If you know anything about cars, you know that these materials are delicate, especially Alcantara, which can quickly deteriorate in the presence of sweat. And so, using gloves in sim-racing also prolongs the life of the peripherals while giving you driving comfort and better grip, especially during long sim-racing sessions (endurance or rallying, for example).
Which ones to choose?
Even if sim-racing gloves are more or less identical, certain elements still differentiate them, and the choice of a pair can be altered as a result.
The price. We've seen that many pairs of gloves are sold for around thirty euros, which is reasonable, especially considering that other sim-racing products cost ten times more efficiently. You can find more expensive gloves, but the choice is yours. I'd prioritize other sim-racing peripherals before choosing gloves that cost quite a bit.
Comfort. Not all gloves are the same, at least regarding comfort. That's why choosing a pair of gloves you can wear without feeling uncomfortable is essential. Choosing gloves you're comfortable with is vital, as you'll almost certainly wear them for hours when sim-racing.
Size. Even though most pairs of gloves come in several sizes, you must choose a model that fits you well. If it's too tight, it'll bother you during sim-racing sessions, and it's the same when it's too big. Another critical point is that some sizes may be distorted by the manufacturer, especially outside the EU. So pay attention to this, and also read the reviews of the gloves you have in your sights. Customer reviews can be an invaluable source of information about a product.
Color. From a purely subjective point of view, glove colors can impact the mind and race performance. Personally, if I run with gloves I don't find stylish, my times will be affected.
Similar articles