A long time ago, sim-racing debuted its PC with brands like Logitech and Thrustmaster, who developed their first peripherals in the 90s. At the time, few titles could benefit from such peripherals, as game consoles had just been democratized. Well, consoles with good graphics for the time, but that wasn't enough to launch the discipline of sim-racing to a broad audience.
In the early days, Thrustmaster was founded to offer products that could enhance the immersion of aircraft pilots, and gradually, the company began to reach a wider audience by developing peripherals for the average person.
Of course, PCs remain an essential platform for everything to do with simulations, particularly sim racing. Today, many players such as Fanatec, Moza, and Simucube offer high-quality, even high-quality, products for sim-racing. Fans of this discipline can be found worldwide, and we even have professional pilots training on simulators with sim-racing peripherals. And I think it's beautiful.
The most crucial element in a sim-racing setup is the steering wheel. Without it, you won't be able to control the vehicle, feel its feedback, and have an excellent immersion in this universe. On the PC, there's certainly no shortage of steering wheels, with peripherals to suit all budgets and levels of passion.
In what follows, I will introduce you to the different ranges of steering wheels available on the PC, the features that such a peripheral must have, and which are the best wheels, in my opinion, currently on the market.
The different steering wheel ranges on the PC
There are several ranges of sim-racing peripherals, just as for any other product. The vision behind this range diversity is to reach a broad audience and not focus on a single cross-section of sim-racing fans. But in reality, some brands focus on a single segment of the peripherals market, such as Simucube. These brands have specific fanbases, such as motorsport teams or hardcore fans.
Apart from that, lambdas fans, you and me, have mainly three ranges of sim-racing wheels: entry-level, mid-range, and top-of-the-range. Each of these ranges tends to satisfy the needs of a particular group of sim-racers so that they can enjoy the discipline to the full.
Entry-level PC steering wheels
Entry-level wheels are products designed to meet the needs of beginner or even amateur sim racers, offering essential performance and feel.
The main aim of these wheels is to offer an inexpensive solution to a public that doesn't necessarily want to invest much in the discipline. With options costing €200 or even €300, you can sim-rac and get a good feel for the sport.
PC steering wheels in the mid-range
This range is mainly aimed at amateurs and fans of the discipline looking for quality products that provide an excellent compromise between price and feel. In this range, technologies such as the Direct Drive, the magnetic pallets, and analogs of the integrated OLED display the Quick Release.
The mid-range remains the best in price, functionality, build quality, and customization. With brands like FanatecYou, you can choose the base, steering wheel, hub, pedalboard, etc. Virtually all peripherals are customizable and interoperable.
PC steering wheels at the top of the range
For this range of steering wheels, the watchword is no compromise. These steering wheels use premium materials and competition-inspired technologies, and you also have products designed in partnership with car manufacturers like McLaren and Porsche.
High-end steering wheels often target a specific audience of hardcore fans, e-sports professionals, and racing drivers because, let's face it, there's a fine line between a high-end setup and a Supercar.
What should a PC steering wheel have?
Steering wheel preferences in sim-racing are somewhat subjective, so what I like to have on my peripheral may not apply to yours. For example, if I don't have an analog palette, I want a switch that lets me control Launch Control. Similarly, you may prefer a removable button hub attached to your steering wheel. I point out that some elements may be essential to the steering wheel while others may not. However, a good peripheral must have the following: at least, that's what I think.
Build quality. A steering wheel, or any other sim-racing peripheral, must have good build quality to last a long time. An all-plastic steering wheel that explodes in just two weeks of use should never be on your wish list.
High rotation angle. The angle of rotation is a value in degrees that designates how much a steering wheel can turn on its axis. The higher the value, the more realistic the steering wheel and the better the feel.
Good ergonomics. Ergonomics is relatively subjective, as it differs from one sim-racer to another. Simply put, you need to feel comfortable using the steering wheel, whether turning the wheel, pressing buttons, or doing anything and everything. Don't forget that you're likely to spend many hours behind the wheel sim-racing, so you might as well make the session as enjoyable as possible.
Welcome back. Force feedback lets you feel what the car is doing in sim-racing. This results from different technologies, all of which use electric motors to provide resistance or force feedback. Depending on the degree of immersion you want, several options are available, such as the Brushless or the Direct Drive. A DD motor is necessary, even if it doesn't make even 10 nm of torque.
Several buttons/switches. Sim-racing is all about immersion, and you need to be able to modify specific vehicle parameters directly from the steering wheel. That's why I recommend getting a device with several buttons and switches for setting functions such as Launch Control, ABS aggressiveness, traction control, etc.
Quick Release. Like in a racing car, the QR allows you to quickly change the steering wheel or wheel while keeping the same base. If, for example, you're a fan of rallying and F1, you can have a round steering wheel to go flat out on the special stages and a rectangular one to smash the times in Monaco. QR is a critical element of sim-racing setups, but it comes at a price.
The best entry-level steering wheels on PC
Thrustmaster TMX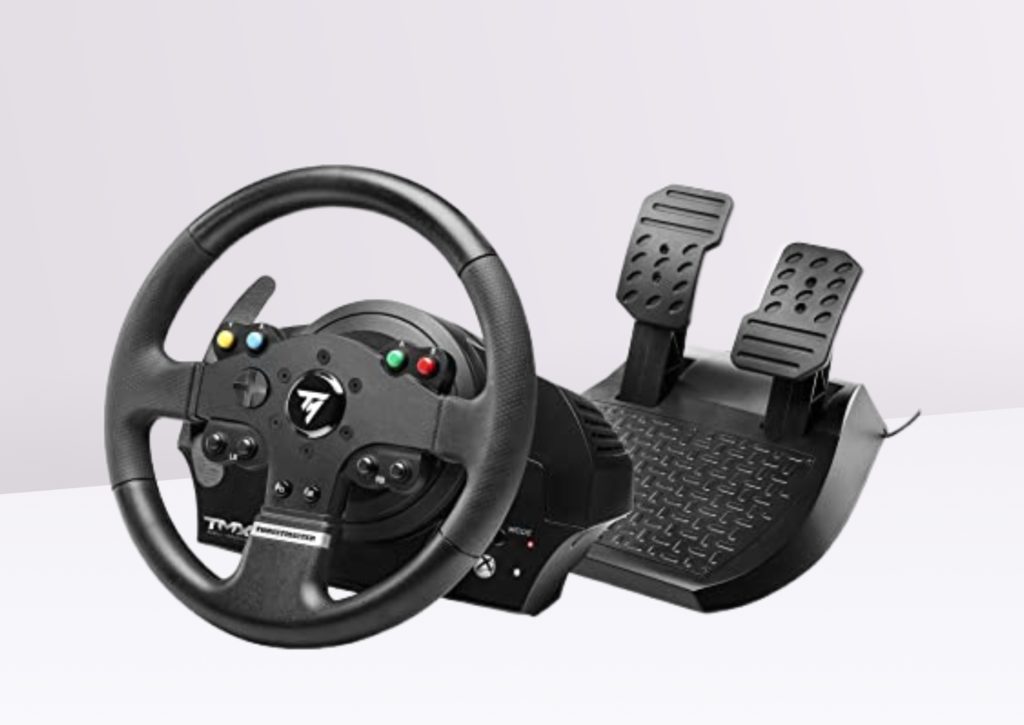 Advantages:
Cheap bundle
Powerful brushless motor
Disadvantages :
Thrustmaster started making peripherals for driving simulators, then dabbled in sim-racing. Today, the brand boasts an extensive catalog of products for the discipline, including the TMX.
This steering wheel is an entry-level product at under €200, which means that compromises have been made, such as on the pedalboard, which is of poor quality. As for the rest of the steering wheel, it's pretty good. For the price.
The wheel is 28 cm in diameter and is attached to a Brushless motor with good power. The maximum angle of rotation is 900°, which is just right. But be careful! Don't buy a wheel with a top grade lower than this if you want a good feel.
The force feedback is quite immersive without the steering wheel being too communicative. You'll get a feel for it, but only within the power limits of the motor. In any case, I prefer this technology to geared motors, which can sometimes be somewhat fuzzy in terms of feel.
The build quality is pretty good, but the product has a lot of plastic. Again, given the price, this is to be expected. On the other hand, ergonomics aren't exactly top-notch. Some buttons are far from your fingers, forcing you to take your hands off the wheel. Also, the base has controls for adjusting motor power, which are located behind the wheel. This is not at all ergonomic for quick use.
All in all, this wheel is perfect for sim-racing beginners who want to have a quiet time. If you like it, I invite you to read my full review of the Thrustmaster TMX by clicking right here. But if you want to go upmarket and get a feel for it, I recommend the following.
The Logitech G920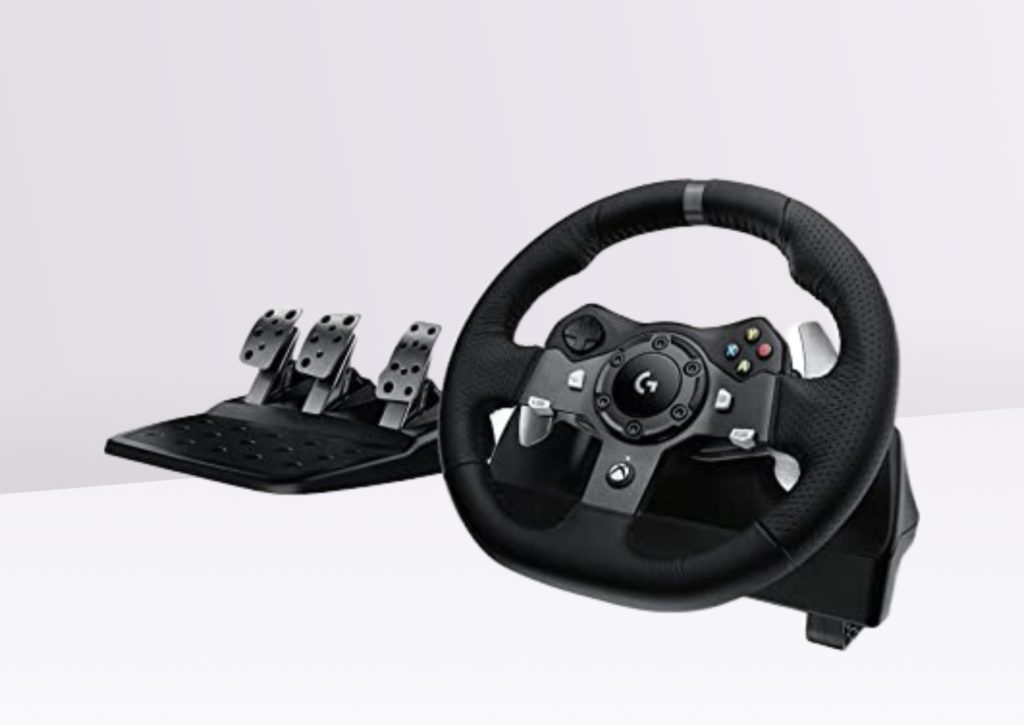 Advantages:
Good build quality
PC and Xbox compatible
Good value for money
Disadvantages :
Force feedback is sometimes unclear
Logitech is a well-known brand in the world of peripherals and has been for over 20 years. The G920 is a relatively old steering wheel but works perfectly on PC and Xbox.
The design of this peripheral is remarkably sober, with an anodized aluminum wheel structure and a perforated coating that acts as leather on the contour. I love it because it's simple and unobtrusive. The steering wheel is attached to the base with two geared motors to provide force feedback. In absolute terms, it works well, but sometimes there's some blurring in the force feedback, but that's not a problem as this wheel is mainly aimed at beginners and sim-racing enthusiasts. Also, the wheel has a rotation angle of 900°, the minimum for proper sim-racing.
The G920 is sold as a bundle with a correct pedal set. You have springs on the three pedals to provide some resistance when you use them. Again, for starting in sim-racing, this does the trick.
I'll pass over the ergonomics of this steering wheel, which are very good. All the buttons are well placed and easy to reach on the wheel. The paddles are large, and you'll have no trouble using them during your sim-racing sessions. Moreover, they're attached to the wheel, which means they rotate with it.
In absolute terms, the G920 remains an excellent choice for sim-racing beginners or even enthusiasts looking for an inexpensive bundle (in the €300 range) to indulge in. In any case, I recommend it.
Please read my full review of the G920.
The best mid-range PC steering wheels
Fanatec Gran Turismo DD Pro 5 nm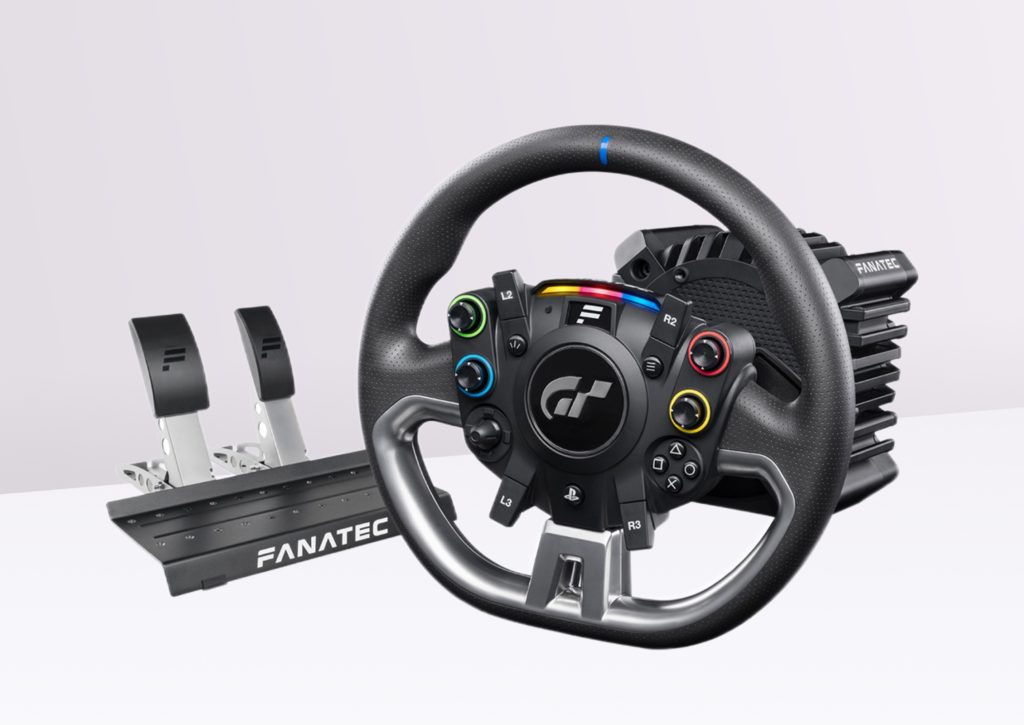 Advantages:
Official Gran Turismo license
PC compatible
Good sensations
Disadvantages
Fans of racing games are familiar with the Gran Turismo series on PlayStation. Fanatec offers a complete bundle (steering wheel, base, and pedals) in partnership with the studio. And frankly, it's well done.
The wheel is 28 cm in diameter, with a flat base and a colored band at the top. The grip is good, even if the steering wheel is relatively large, as far as I'm concerned. Although GT officially licenses this device, it will work perfectly well on PC, so don't worry about that.
The ergonomics of this steering wheel are good, with 11 buttons located all over the wheel and easily accessible with your fingers. The paddles are on the steering wheel and are relatively small for my taste and made of plastic. But to the credit of Fanatec, le Gran Turismo DD Pro is aggressively priced, hence the use of this material.
For the base, it's the CSL DD 5 nm with a Direct Drive motor. This is more than enough for quiet sim-racing, especially when you know that you can boost the torque value with an additional power kit. But if you intend to keep this flywheel, i.e., the Gran Turismo DD Prono needs to switch to base 8 nm because the wheel has one drawback: Quick Release.
The Gran Turismo DD Pro is delivered with the QR 1 Lite from Fanatecand. This one is made of plastic. Of course, this lowers the selling price, but it also introduces problems such as a dead zone in the center and disconnections when turning hard. As I've just said, there's no point in upgrading to the 8 nm motor if you're going to stick with this steering wheel with its QR.
As for the crankset, it's the CSL Pedals with only two pedals (gas pedal and brake). But you can have the model with three or take the last pedal apart. Its metal construction ensures sturdiness and longevity. It's a suitable device in absolute terms, even if it is, in reality, the entry-level model from Fanatec. You'll get good braking sensations up to a certain degree of immersion.
For less than €700, this bundle remains a must-have for PC sim racing. You get quality peripherals that will give you the most bang for your buck. Moreover, thanks to our extensive catalog, you'll be able to upgrade certain elements. Fanatec. Discover my full review by clicking here to learn more about this bundle.
The Fanatec ClubSport Forza Motorsport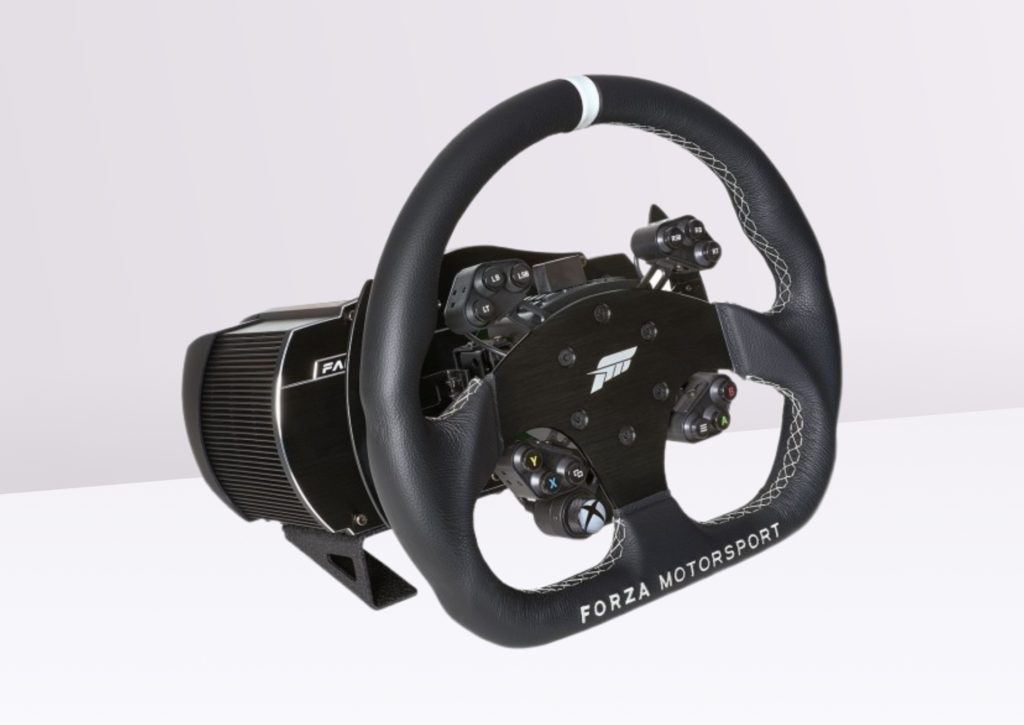 Advantages:
Excellent build quality
Official Forza license
Disadvantages :
The Forza license has dominated the Xbox and PC racing game market for several years. Fanatec has offered us an excellent steering wheel in partnership with the title's development studio.
Let's start with the design of this steering wheel, which is sublime. The wheel is 33 cm in diameter, just like in a real car. It has a flat bottom and no buttons, as these are part of a hub at the rear. The wheel structure is aluminum, with leather all around. It's beautiful, and I love it.
The ergonomics of the steering wheel are excellent, with all the buttons very close to your fingers. The paddles are significant, but there are only 2 of them. It's a shame, but you can do nothing about it. By the way, the paddles are magnetic, which ensures fast, precise shifting. Above the hub, a small OLED display shows data such as current speed.
The Clubsport Forza Motorsport uses the metal QR from Fanatec, which guarantees sturdiness and increased immersion. With it, you won't worry about plastic QRs, such as dead zones or disconnections. However, you should be aware that you'll need to purchase a Fanatec base to take full advantage of this little gem, as the German brand's ecosystem does not allow the use of other products, especially for bases and wheels.
For me, the ClubSport Forza Motorsport is an excellent choice for amateur and even pro-e-sports sim racers. Even if the price is a barrier for some gamers, this steering wheel remains the perfect choice in its segment (in the €850s with a 5 nm CSL DD base). If you take it, you won't need to change peripherals for a long time.
The best PC steering wheels at the top of the range
Logitech G Pro Wheel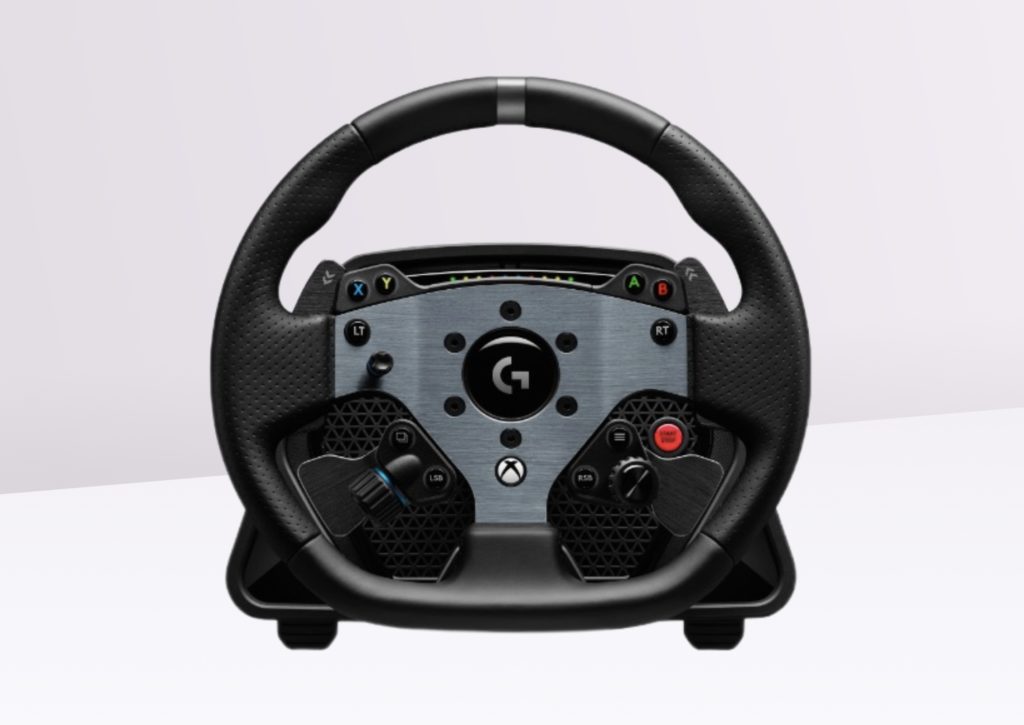 Advantages:
Direct Drive motor
Good build quality
Quick Release
Disadvantages :
The price is a bit high for the features
TrueForce is sometimes blurred in terms of feel
Logitech has long evolved in the entry- and mid-range sim-racing segment, which has worked well for the brand. However, the high-end piece is more interesting from a business point of view, so the manufacturer has decided to take the plunge. Say hello to G PRO Wheelt, Logitech's first top-of-the-range Direct Drive.
Let's face it: Logitech has a knack for design and aesthetics, and this steering wheel is magnificent. Aluminum structure, perforated leather all around, predominantly black color, it's sober and beautiful simultaneously. The grip is excellent, thanks to a flat-bottomed wheel 30 cm in diameter. The buttons are positioned on the edges of the revolution, making them easy to reach. And the same goes for the paddles (of which there are 4) right at your fingertips. Perfect, as far as I'm concerned.
The base is the manufacturer's first DD, with 11 nm torque. Even though it's pretty significant, it doesn't feel like sim-racing, as it looks like a car's dashboard instruments. The sensations are there, with a linear and powerful motor capable of reproducing great immersion in sim-racing. However, Logitech has added its TrueForce, which, in theory, gives a better rendering when racing, but only when it works properly. I always turn off this feature because it's often blurry when driving.
The only weak point of this steering wheel is its price. Priced at €1100, the G PRO Wheel is expensive, I think. Admittedly, it's LogitechThis is a premium model with a DD motor, but it's the first time the brand has entered this segment with such technology. Only time will tell whether this steering wheel is reliable and, above all, whether its price is justified. But what's nice is the addition of a QR that most certainly heralds a range of steering wheels from Logitech, and I can't wait to see that.
The Fanatec Podium Porsche 911 GT3 R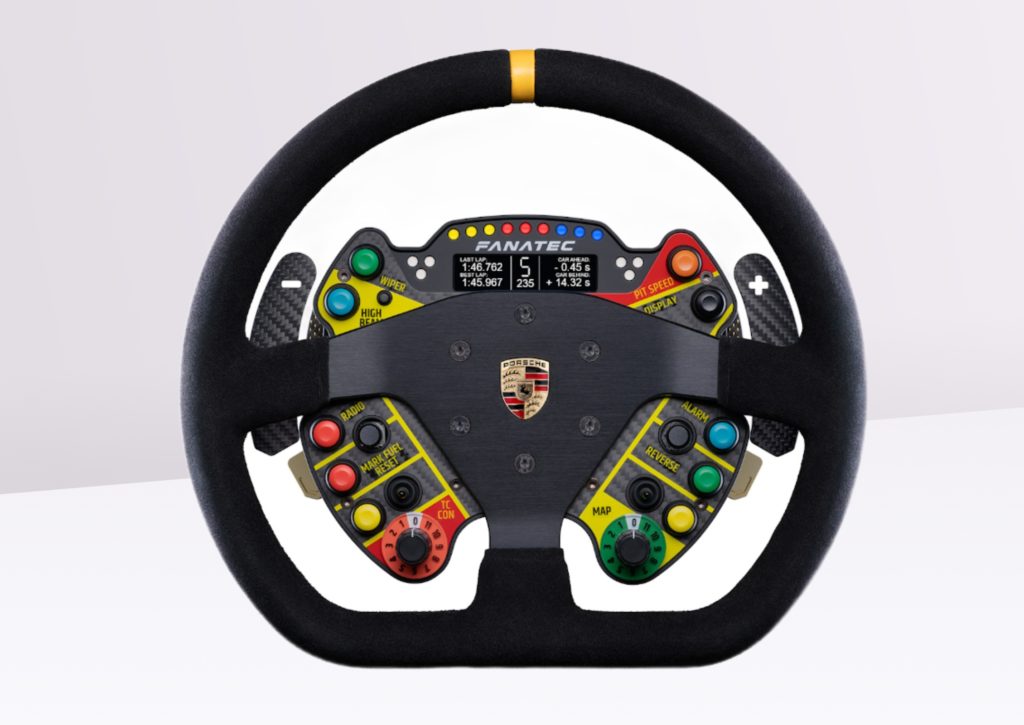 Advantages:
Excellent build quality
Premium Materials
Exceptional grip
Disadvantages :
Let's finish with an excellent steering wheel from Fanatec, le Podium Porsche 911 GT3 R. This steering wheel is part of the German manufacturer's top-of-the-range range and is developed in partnership with Porsche, and it's great to see such passion in sim-racing.
The wheel is 32 cm in diameter and uses aluminum and suede leather, and it's just gorgeous. The watchword is minimalism, as there's nothing on the steering wheel except the Porsche logo. All the controls are on a hub that attaches to the rear, with ten buttons, switches, six paddles, a large OLED screen, and a RevLED. It's perfect, GT-like, and specially designed for sim-racing pros.
Handling the Podium Porsche 911 GT3 R is excellent, with perfect ergonomics. It will be easy to spend hours behind this steering wheel in GT3 or any other discipline. The feel is there, provided you pair it with a high-torque base (Podium DD, for example), made possible by the metal QR on the steering wheel.
There are six paddles, including two analogs for Launch Control. Made of anodized aluminum, these paddles are large, sturdy, and click very well, thanks to the magnetic sensors on the steering wheel. Fanatec.
This steering wheel is sold alone, with only the Podium Button Endurance Module, for the princely sum of €650. But for that price, you get an excellent steering wheel that adapts perfectly to any sim-racing setup. For me, it's the ultimate all-round sim-racing wheel.
Which one to choose?
Budget. Choose a steering wheel according to your budget. A sim-racing setup includes several peripherals; the steering wheel remains the most important. For example, please don't buy an expensive steering wheel and couple it to an entry-level base.
Degree of immersion. Sim-racing is all about immersion. The more you want, the more you'll have to look in the higher ranges. This point goes hand in hand with budget, so do your homework.
Ecosystem. The ecosystem is a product that brands promote for their peripherals. Try to shop from a single manufacturer, even though it's possible to have products from different brands that work on PCs, except that it's not always optimal.
Bundle. For beginners and novices, I recommend buying bundles. You'll get more for your money, especially all the peripherals you need for sim racing.
Similar items