We're all passionate about sim-racing. We all know it's much more than a Sunday pastime or a quiet evening out. It's a passion that drives us to improve, learn more, and share with others, and I love that.
As with racing cars, sim racers are unique. Everyone has their driving style, favorite tracks, and brands of peripherals. Personally, when it comes to brands, I'm a fan of Fanatec. The manufacturer has been in the game for two decades and manages to surprise me with every product launch. It has to be said that Fanatec has extensive experience in the field of sim-racing peripherals, as does Playseat and its cockpits.
Since every racer is unique, our needs in terms of sim-racing peripherals differ from one person to another and from one discipline to another. For example, my F1 setup doesn't include a shifter, as it's a useless peripheral in this discipline. However, I need a handbrake and a sequential gearshift lever to feel the total immersion if I'm rallying.
In their quest for immersion and feel, some racers take their setup further by having curved screens, cockpits with (dynamic) jacks, VR headsets, and even specific shoes for racing. If you've noticed, Sébastien Loeb doesn't wear Jordans when he's going flat out on rally stages, nor Lewis Hamilton in his Mercedes. Racing drivers wear special shoes, which enable them to perform well in their discipline.
In what follows, I will present you with a list of shoes specially designed for sim racing since we sim-racers are also professional drivers behind our screens.
Abruzzi Pro1 Karting Boots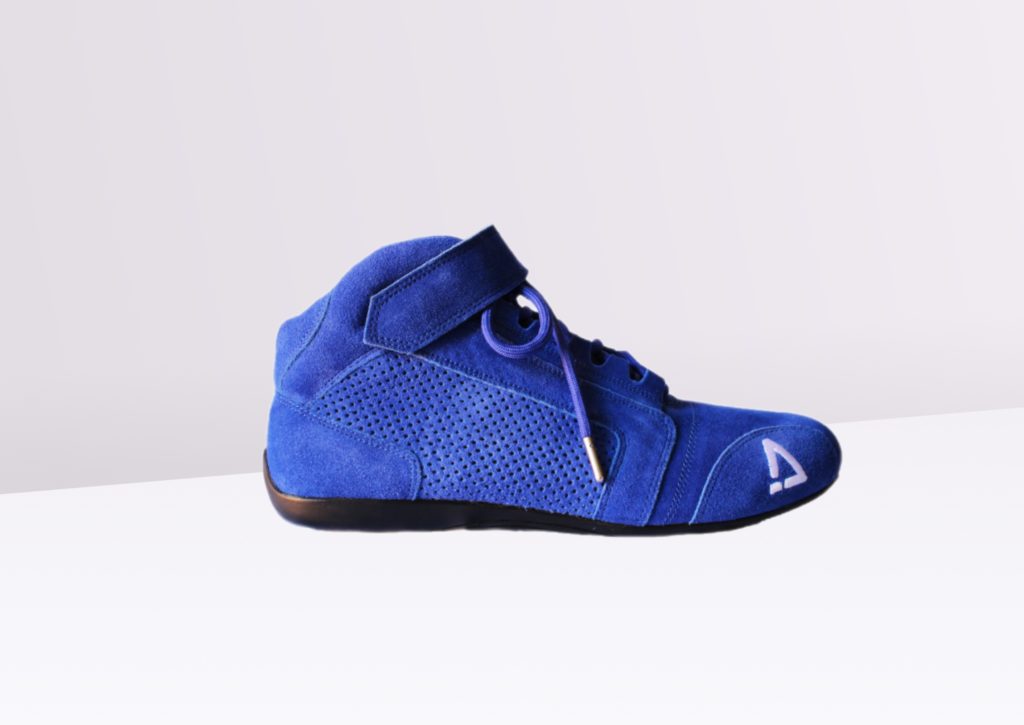 Advantages:
Good build quality
Good value for money
Available in larger sizes (46 and up)
Slight
Disadvantages :
Only available on the manufacturer's website
Specific sizes are made to order, which can take up to 6 weeks.
I'm starting with a pair of karting and sim-racing shoes that are good-looking and affordable yet offer good grip. The Abruzzi Pro1 Karting Boots are exceptional racing shoes perfect for sim-racing.
Orders can only be placed on the manufacturer's website, which frankly isn't great if you're the kind of person who goes into a store to see and try on a pair of shoes. It's the only negative point I can find in the Abruzzi Pro1. These shoes are ideal for sim-racing and karting for the rest if you're into both disciplines.
Their design is unique since you can customize virtually anything on these shoes. Motifs, inscriptions, logos, flags, numbers, you name it. You can afford custom shoes, and I love that about Abruzzi. The brand has been in this segment for many years, and there's no lack of experience.
Concerning Pro1These shoes are made from top-quality leather and suede, are breathable to prevent your feet from overheating when running, and are light and tight. As for the overall colors of the shoes, you have blue, black, and red, which should appeal to almost any sim-racer. Wearing them, you'll experience an unrivaled feeling of lightness, especially if you've never worn running shoes before.
As for the sole, I have to say that the level of grip is just very high. Whether you have a crankset with plastic or metal pedals, I can assure you that your feet won't slip at all, whatever the circumstances of the race. By the time you get to this point, you've got to tell yourself that the Abruzzi Pro1 must cost an arm and a leg. Well, they don't!
Abruzzi Abruzzi is a well-known brand in the running shoe industry for its quality products and affordable prices. Visit Pro1 is priced between €60 and €85, depending on the shoes you choose (standard or custom). That's practically the price of a pair of Nike or Adidas shoes, which is not bad at all and is what has made the reputation of Abruzzi at the same time.
Goodyear CLUTCH-E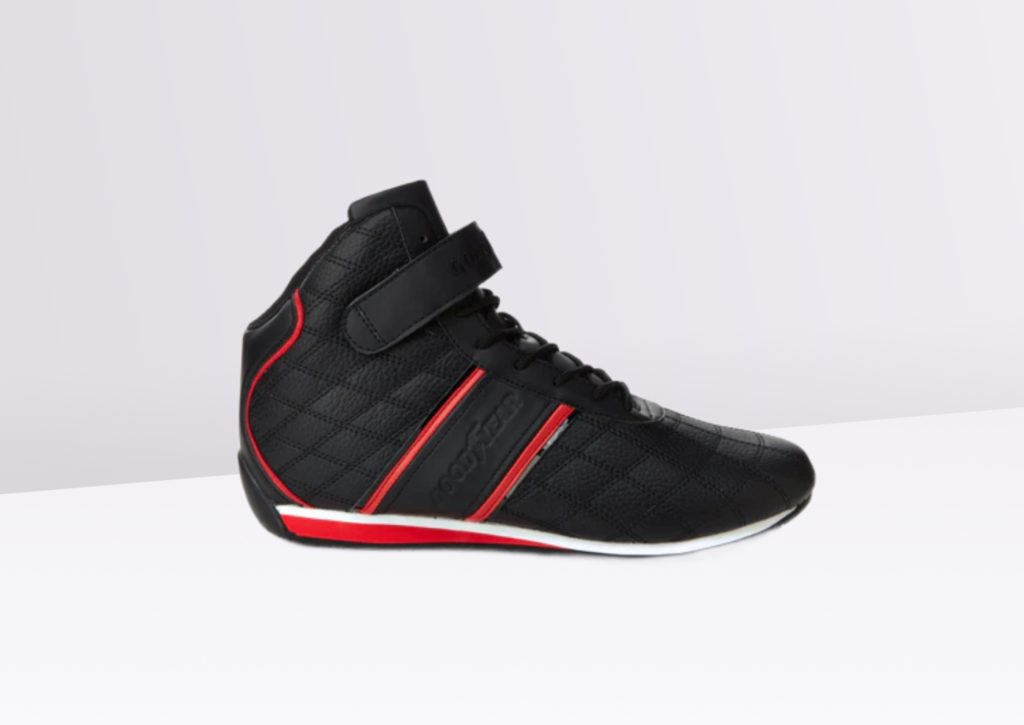 Advantages:
Good value for money
Outsole with excellent grip on all surfaces
Disadvantages :
Shoes are not very flexible and can be uncomfortable over time.
Did you know that Goodyear makes more than tires? The brand does some of everything in the automotive segment, from tires to oils to racing shoes. Visit Goodyear CLUTCH-E, which are karting, racing, and sim-racing shoes with a mid-top design. This design results from the preferences of car racers who don't like shoes that are too high, as they can rub on the ankle, especially if the material is not of good quality.
The Goodyear CLUTCH-E are mid-tops with a clear opening at the ankle; frankly, I like it. The style of these Goodyear is relatively sober, with a solid color (black or white) and colored accents. It's adorable, straight, and all-purpose. But then, design is a subjective element that differs from person to person.
We have well-made synthetic leather for the materials used by Goodyear on its CLUTCH-EWith CLUTCH-E. I'd have preferred genuine leather, but it's pretty good. The design is sober, with squares covering practically the entire surface of the shoe. What's more, the inside of the boots is made of breathable fabric to keep your feet cool during sim-racing.
Let's move on to comfort. The Goodyear CLUTCH-E are sold as comfortable shoes thanks to using two types of soles: an outsole and a midsole. This promises less foot fatigue, especially in the talent department. But in reality, it's not the same story at all. Both insoles indeed offer better cushioning, but only for a limited period. If you're doing long sim-racing sessions, you will feel discomfort as both insoles become complex.
Where Goodyear makes up for it is the price. The CLUTCH-E is sold for around €80, which isn't outrageously expensive. They're in the same price bracket as the Abruzzi we've just seen. Overall, the Goodyear CLUTCH-E remain good shoes for sim-racing, even if they are a little uncomfortable in the long run.
OMP KS-3 Shoes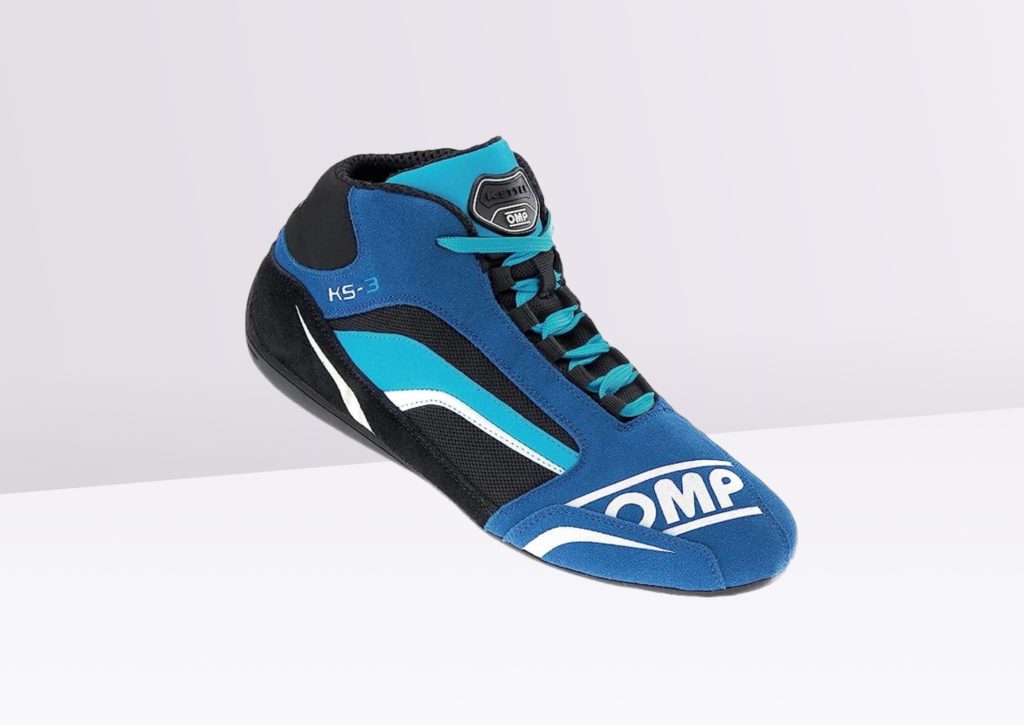 Advantages:
Use of premium materials for this pair of shoes
Excellent manufacturing quality
Good foot support
Disadvantages :
OMP is a significant player in motor racing, especially karting. The company manufactures quality products specifically for kart racing, including shoes that are among the best in the world. For sim-racing connoisseurs, OMP is the equivalent of Fanatecand; that's saying a lot.
Keen readers will undoubtedly have noticed that karting shoes make excellent pairs for sim-racing, as the difference between this motorsport and the discipline we all love is almost non-existent. Visit KS-3 Shoes are shoes developed for karting, but it's perfectly possible to use them for sim-racing because of their quality, materials, and comfort. It's simple: anything good for karting or motorsports is excellent for sim-racing.
So, back to the KS-3 Shoes. OMP has used suede leather for the material of this pair of shoes. It's premium, well-made, and gives the impression of a quality product. It's more than just an impression because the KS-3 Shoes are quality and recent shoes. The suede leather of the KS-3 Shoes offers them a relative lightness because these shoes are about 3 kg, but the comfort is there.
The KS-3 Shoes are mid-top pairs, which means they avoid any ankle problems, and that's what I love most about these shoes. As I'm sure is the case for many of you, high-top pairs hurt my ankles, especially on long sim-racing sessions due to the tilt of my feet. But with KS-3 Shoes, this problem does not exist.
Concerning the breathing of this pair, I can tell you that I didn't feel any excessive heat in my feet. The reason is that a mesh on the sides allows natural breathing, preventing heat and sweat. Incidentally, if a pair of shoes doesn't have this, I wouldn't even consider them for sim-racing. As for the sole, it's thin and fragile without compromising comfort. Moreover, it offers a high level of grip on the pedals, which I could test in sim-racing.
My only weakness with the KS-3 Shoes for sim-racing is their weight. At 3 kg on the scale, they're not huge but pretty heavy, mainly if you're used to lightweight shoes. As for price, expect to pay around €120, depending on the retailer. That's a hair more expensive than the Goodyear or Abruzzi, but the KS-3 Shoes are high-end shoes, too, and I think the price is right.
Alpinestars TECH-1 T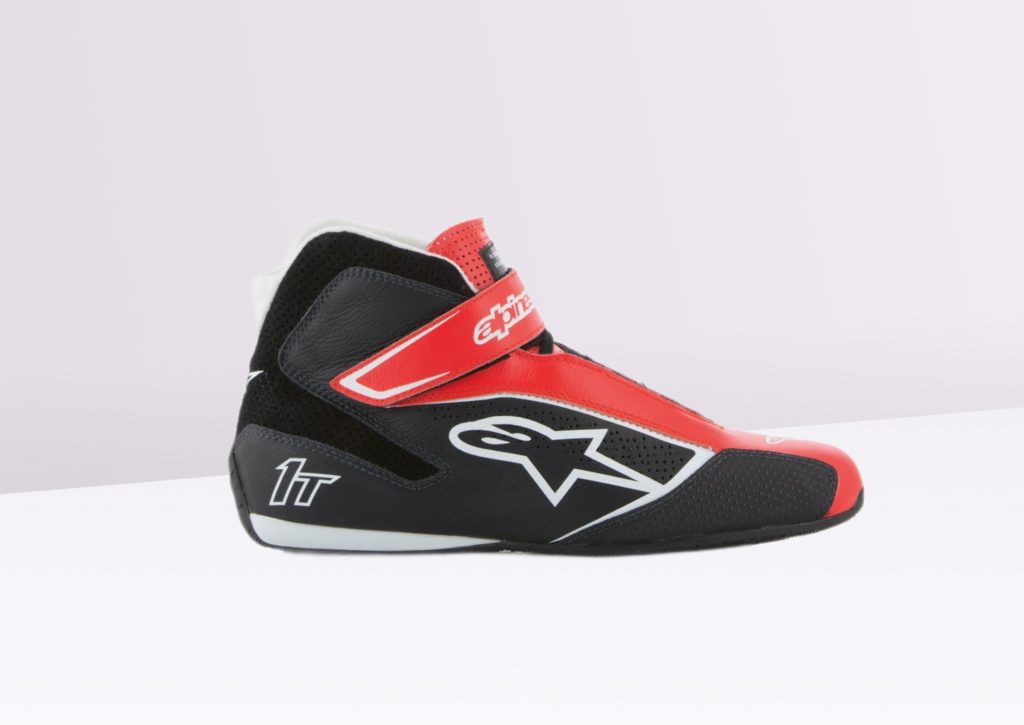 Advantages:
Excellent build quality
Premium materials used
Lightweight
Non-slip outsole
Disadvantages :
Premium price
Not very breathable
Like OMP, Alpinestars is a trendy brand in the world of motor racing clothing and a very premium one. Offering a vast catalog of unique and exceptionally well-finished products, Alpinestars is a brand that has made a name for itself in the world of karting and motorsports.
Among the shoes offered by the brand, I've chosen the TECH-1 T, which is exceptional. The materials used are bovine leather and suede, which gives you an idea of the price of these shoes, but I'll come back to that below. The brand has incorporated several features into its boots that make them uniquely comfortable. TECH-1 TA suede collar at the ankles to give them high support.
The watchword when designing TECH-1 T was lightweight, and it is. That's to be expected, given that Alpinestars is a well-known brand in motorsports, especially karting. By the way, the leather is fireproof, which gives you an overall idea of the quality of Alpinestars products. TECH-1 T.
The sole of this pair of shoes is thin, allowing you to feel virtually all the sensations provided by the crankset of your sim-racing setup. You can see for yourself that the sole of the TECH-1 T is skinny at the front, thickening towards the heels.
Design-wise, comparing this pair of shoes to others we've seen is not sober. You have two color combinations: black and red and black and white, with each color taking up about half the shoe. Plus, you've got the brand's logo on the side and the collar. You've got to love TECH-1, and I'm someone who prefers simple things, not flashy at all. But that's a subjective element that shouldn't bias the choice of shoes for sim-racing.
As for the price, you'd better hold on to your keyboards because the TECH-1 T is expensive. Retailing at almost €250, this pair of shoes is the most costly. Given the materials used (cowhide and suede) and, above all, the brand's reputation, it is logical. Alpinestars. However, you can easily find them on special offers at around €180 or even €190. It is still expensive, but still less than €250.
Which one to choose?
Need. First of all, you need to know whether you need a pair of sim-racing shoes or not. If, for example, you only do short runs of 30 minutes or so a day, all year round, a pair of sim-racing shoes won't do you much good, as you don't play enough to feel the benefits. On the other hand, if you do long sessions, especially at weekends, you'll need a pair, mainly for the well-being of your feet.
Budget. We've seen that many options are inexpensive yet comfortable and practical. You need to stick to a budget and not exceed it, as there are other priorities when making a sim-racing setup.
Size. Many brands of karting and motorsports shoes are located abroad in countries that don't necessarily have the same system for measuring dimensions. The best thing to do is to research the brands, find out where they're located, and determine your shoe size measurement system so you won't have any surprises once you've got your pair.
Comfort. Not all sim-racing shoes have the same level of comfort, and this point is closely related to need. If you barely do an hour's sim-racing a day, you can take a pair of shoes that are known not to be very comfortable when worn for long periods, as long as the price remains advantageous. Otherwise, choosing a comfortable pair, whatever you use, would be best.
Design. This point is prchoosingstill lovely to wear a pair of shoes yo, would be best like. Some brands are sober, others completely the opposite, and it's up to you to see which suits your eyes and style best.
Similar items