Sim-racing fans are well acquainted with the players in the game, with brands like Thrustmaster and Logitech which offer products aimed at the general public. While the peripherals from these brands are of good quality and provide a decent feel, they are nonetheless intended for the general public, aimed mainly at the lower and mid-range.
Fans of sim-racing are well aware that other manufacturers of premium peripherals target the mid-to-high-end of this discipline, such as Fanatec. With over 20 years' experience in the field, this Germanyearsacturer has established itself as the market leader and is considered by almost all sim-racers to be the best. And what's more, Fanatec has established its dominance in the sim-racing peripherals game through partnerships with several racing car brands, such as Porsche and McLaren, to name but a few.
In this article, I'm going to zoom in on the history. Fanatec would like to introduce you to our three product ranges and tell you how the German manufacturer has become the best in sim-racing peripherals.
The Fanatec story
It all began with Thomas Jackermeiera German, who had a real passion for simulation games. This was in the 1990s, and Thomas noted, with some sadness, that this discipline was limited in quality and, above all, accuracy ps. At the time, a good-quality simulation product was impossible, which added to Jackermeier's frustration.
Determined to end this and above all indulgent for imul, action, Tho, mas Jackermeier embarked on the Fanatec adventure, first leaving his job in the bicycle trade. In 1997, he founded Endor, which specialized in first manufacturing high-end peripherals for PCs, and consoles were later added to the catalog of platforms supported by the brand.
Thomas aimed to offer premium simulation peripherals capable of producing realism, immersion, and performance. And it must be said that this was a success for the founder of FanatecAfter its products went on sale, it Fanatec. Before, the brand was considered the best in sim racing.
In fact, it was in 2006 that Fanatec devoted itself to this discipline, namely sim-racing, offering top-quality peripherals. Today, 25 years after the company was founded, Fanatec boasts an extensive catalog of top-of-the-range sim-racing peripherals, including steering wheels, bases, shifters, pedalboards, and numerous access stories closely line discipline.
How did Fanatec become the best sim-racing brand?
Becoming the market leader or the best brand in a product range doesn't happen overnight. It takes passion and, above all, innovation. As I mentioned, the company's CEO, Thomas Jackerm, is passionate about simulation in general and simulation in particular. Moreover, sim-racing is also passionate about sim-racing and is a social network entity dealing with this discipline. All this is the perfect recipe for developing products that are both high-quality and, above all, meet the expectations of sim-racing fans.
When it comes to innovation, Fanatec has been a pioneering brand in the game since its inception. The manufacturer's main source of inspiration is motor racing and the world of motorized competitions. Many racing-inspired technologies can be found in Fanatec products. FanatecThese include the Quick Release, which removes the wheels from their base, direct drive to reproduce force feedback perfectly, magnetic paddles to ensure both ideal and precisions in use, and so on. All these innovations have contributed significantly to fanatics' domination of the world,
Another point worth mentioning is the partnerships forged between car brands and Fanatec. The manufacturer offers many products, such as facial licenses, BMW, Porsche, and McLaren. This partnership brings realism and immersion to sim-racing, especially for enthusiasts.
The Fanatec brand has not only allied itself with car brands, as numerous partnerships with game d studios have seen the birth of licensed Gran To or Forza products.
All this is to say that Fanatec's success is based not just on its quality products, but on a unique approach, combining innovation, passion, partnership, ecosystem, and listening to customer feedback.
The product segmentation approach
If you're looking for a sim-racing setup, you know you'll need one steering wheel, one base, a pedalboard, and a gear lever. Typically, for beginners or fans of sim-racing, a configuration with the steering, swim racing, and pedals is more than enough to have a good time for sim-racing pros, a cockpit, shifter, and even greater realism.
Unlike other well-known brands for sim-racing prosket, such as Logitech, which generally sell bundles, Fanatec segments its products and accommodates as many fans as possible. This means you'll find packs, or piles, with steering wheel + base and pedalboard at Logitech. At Fanatec, it's a different story: all the brand's products are segmented into categories and also sold individually. In other words, the manufacturer will sell you the steering wheel on its own, as well as the base and pedalboard, and all these peripherals work perfectly together, whatever range you choose. However, Fanatec also offers bundles with a base, steering wheel, and pedalboard, for example, but these are often from the same content and, therefore, of the same quality.
This segment, station app, roach brings more significant choices to users or players, who can create a setup according to their desires and, above all, their budget. Bdesires and ducts are premium, and so are their prices.
Also, this segmentation, just as it is with Apple products, creates a kind of imprisonment for users who find themselves looking only for Fanate setup because only this brand's peripherals work perfectly with each other. In other words, you can't have a Fanatec base and a steering wheel from another manufacturer – it won't work.
Let's talk a little about the ecosystem on the platforms. As you know, sim-racing is popular on PC and consoles (Xbox and PlayStation). For many years now, Fanatec has offered console peripherals even though the brand made its PC debut. All the manufacturer's bases are PC-compatible, which is not the case for consoles. However, Fanatec offers a good part of its catalog on all platforms, and you need to have the base or wheel compatible with the console you have. But, on your console, "PS Ready" bases and Xbox, and look for "Xbox Ready" wheels.
The range of products on consoles is a bit limited compared to PC, but that doesn't stop the sim-racing enthusiasts on Xbox or Playstation to enjoy top-quality peripherals. The final point in this chapter is the use of Quick Release. As in many motor sports, Fanatec steering wheels use Motorsports Quick Release to attach them to the chainstays. It's fast, convenient and, above all, ideal for quick wheel chan,ges. For example, a top-of-the-range steering wheel or wheel can be attached by the QR (Quick Release) or a mid-range chainstay. This allows a wide variety of configuration options and various wheels and is, among other things, what has made Franatec famous.
Fanatec product ranges
Like any good manufacturer of premium products, Fanatec offers its customers a range of products, targeting the entry-level, mid-range, and high-end segments. In fact, if we compare the entry-level predicates to those of Logitech, we can see a glaring difference in manufacturing quality. And this is why the two manufacturers are not in the same market segment. One focuses on budget-friendly products, while the other always aims for perfection through innovation and premium products.
So, Fanatec has three product ranges: the CSL, the ClubSport, and the Podium. We'll look at them in more detail below, with the flagship products from these three ranges.
The CSL range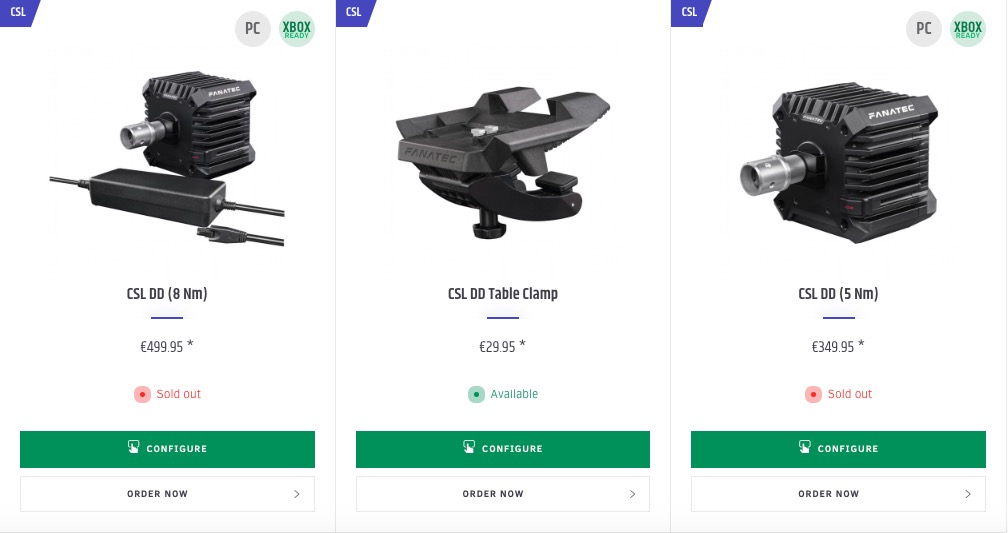 The range CSL offers products aimed primarily at sim-racing enthusiasts or beginners wishing to get started in this discipline. According to Fanatec, CSL products are "entry-level," but in reality, and especially when compared with products from other brands, this is not the case, whether in terms of feel, build, or price.
Fanatec is a premium sim-racing brand, but to appear attractive to a broader clientele, the CSL range had to see the light of day. For obvious reasons, this range uses less noble materials, such as plastic. This has been done simply to retain the immersive spirit of sig, unlike other brands that seek only to make sales.
Features of the CSL range include for example, bases with relatively low force feedback (between 5 and 8 nm) compared to the other two ranges, the use of belt-driven motors on some models of Direct Drive, etc. Compromises had to be made, but this range is nonetheless excellent and much appreciated by the sim-rate.
It's worth noting that some products in the CSL range inherit technologies from the ClubSport, such as the DD engines, and that's the great thing about Fanatec: in one product range you have another segmentation that brings more realism at a lower price.
The Clubsport range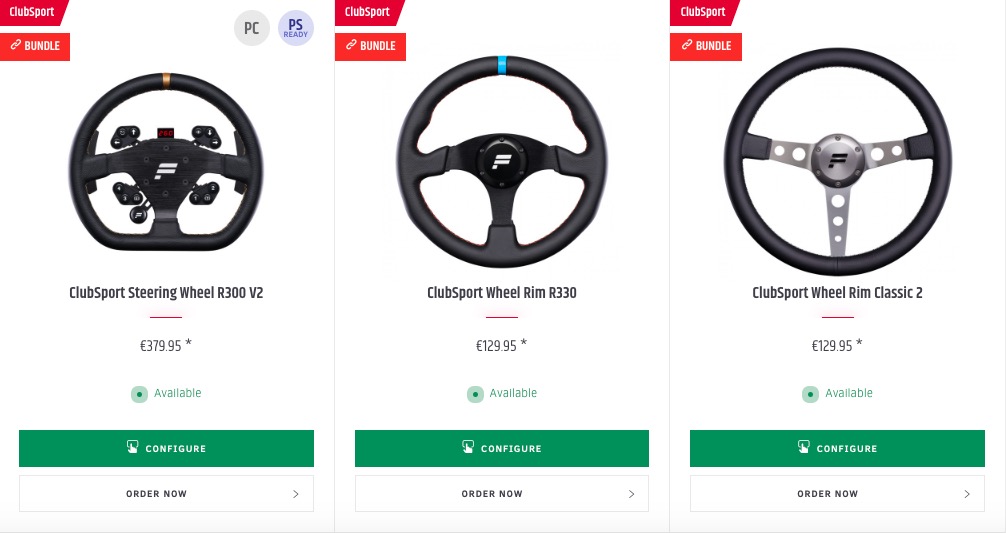 The range ClubSport is a step up from the CSL. It offers far better products regarding technology and materials used, regarding technology and materialsacing enthusiasts. ClubSport products provide the best value for money because you get everything you need for high-level sim racing without delving into these racing cockpits, triple-screen setups, etc.
In addition to DD bases, you'll find a wide selection of steering wheels, hubs, and accessories for sim-racing at relatively low prices. I say sim racing because Fanatec is notorious for offering peripherals that are far from affordable.
It's worth noting that Fanatec's three product ranges include products developed in partnership with carmakers such as BMW, McLaren, Porsche, and others.
Podium range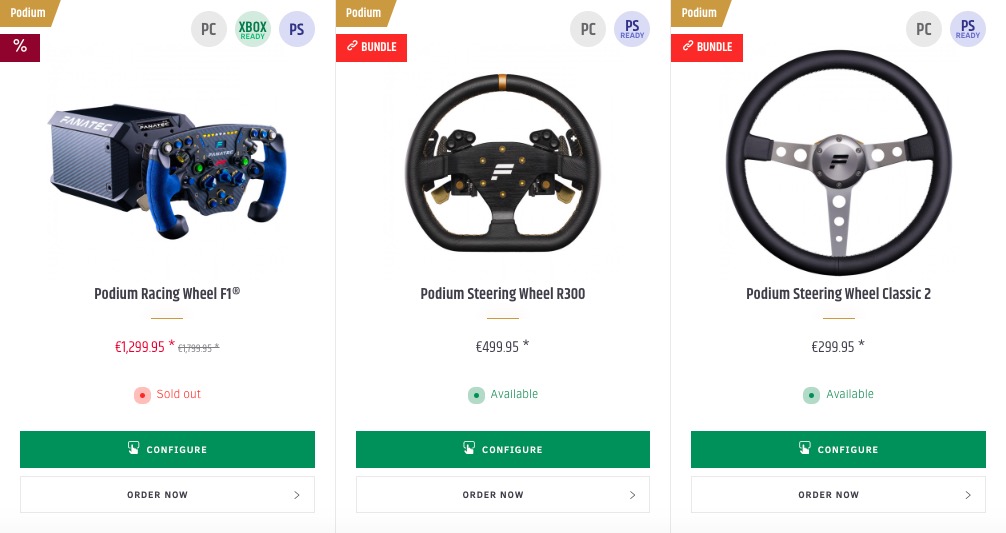 Now it's time for the Big Daddy, Fanatec's top-of-the-range Fanatec Products Podium. No compromises have been made with this range regarding build quality, choice of materials, technologies, partnerships, and so on. These are the best products for iThese-racing fans without entering the realm of professional sim-racing.
In this range, you have only Direct Drive (DD) motors with torque up to 25 nm. As for the materials used, you'll find Alcantara, anodized aluminum, carbon fiber and more. Nothing but the best. And when it comes to driving feel and sensations, it's pure realism at every level.
The range Podium is for true sim-racing fans who want to get fully involved in this discipline and have the means to do so. The program is expensive, costly indeed.
Fanatec steering wheels
Let us now turn to a vital subject: the steering wheels Fanatec. In what follows, I'm going to introduce you to the best steel in each of the manufacturer's ranges, namely a CSLa ClubSport and a Podium with bases that are also best-in-clasPodium here are not to compare bases and tell you which steering wheel is best for you but to present the best the German manufacturer offers.
CSL DD WRC 8 nm for Xbox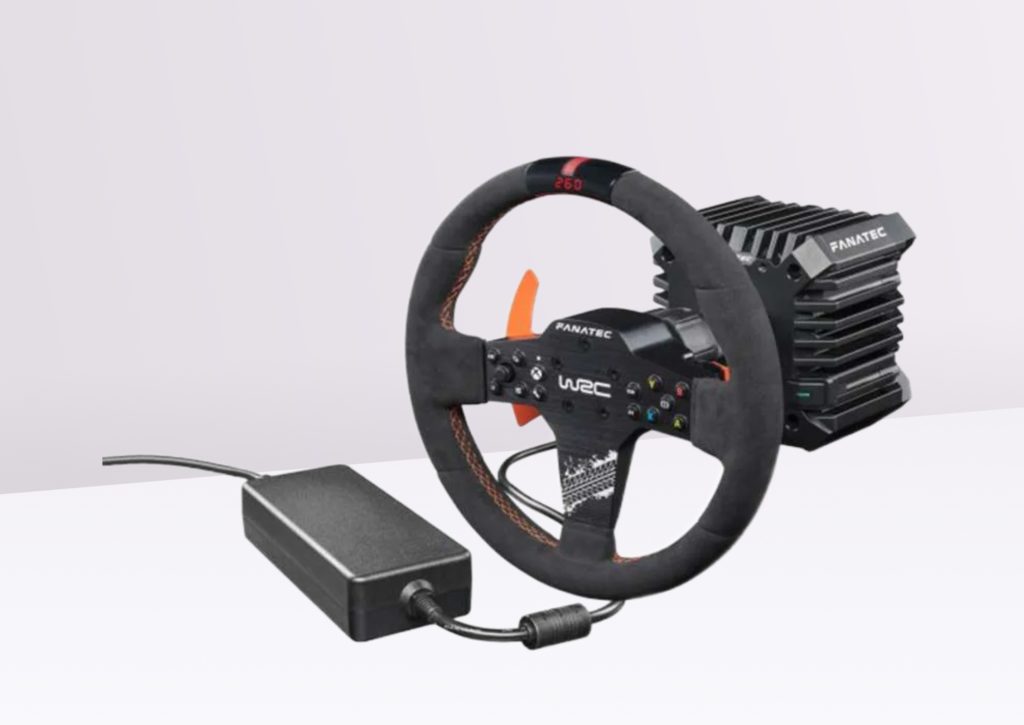 Advantages:
Excellent feel
Premium materials and artistry
8 nm force feedback
Disadvantages :
So, the CSL DD WRC is a bundle from the CSL range, with an officially licensed WRC and Xbox steering wheel and a CSL Direct Drive base in an 8 nm version. This is the best base + flywThisCSL range if you're looking for an all-round wheel. If you're looking for a GT-type (rectangular) wheel, you're better off with the CSL Elite McLaren GT3 V2 (à right here) which is just as excellent.
Ts bundle includes the WRC steering wheel, which is 30 cm in diameter, and an 8 nm CSL DD base. This pack is excellent for sim-racing beginners, amateurs, and fans alike, and that's what's so great about the CSL range.
The steering wheel is aluminum for its structure and Alcantara, ensuring grip and a good feel. The buttons are those of Xbox controllers, with the addition of large aluminum paddles. I like them, but not their color (bright orange). The top of the wheel features a small screen, handy for quick information on the car.
This wheel is perfect, except for its Quick Release, which is made of plastic and has dead zones of a few degrees. For beginners and amateurs, this may not be a problem. But for fans, it's a different story. Incidentally, this is the only weak point of this steering wheel.
The ClubSport Steering Wheel GT V2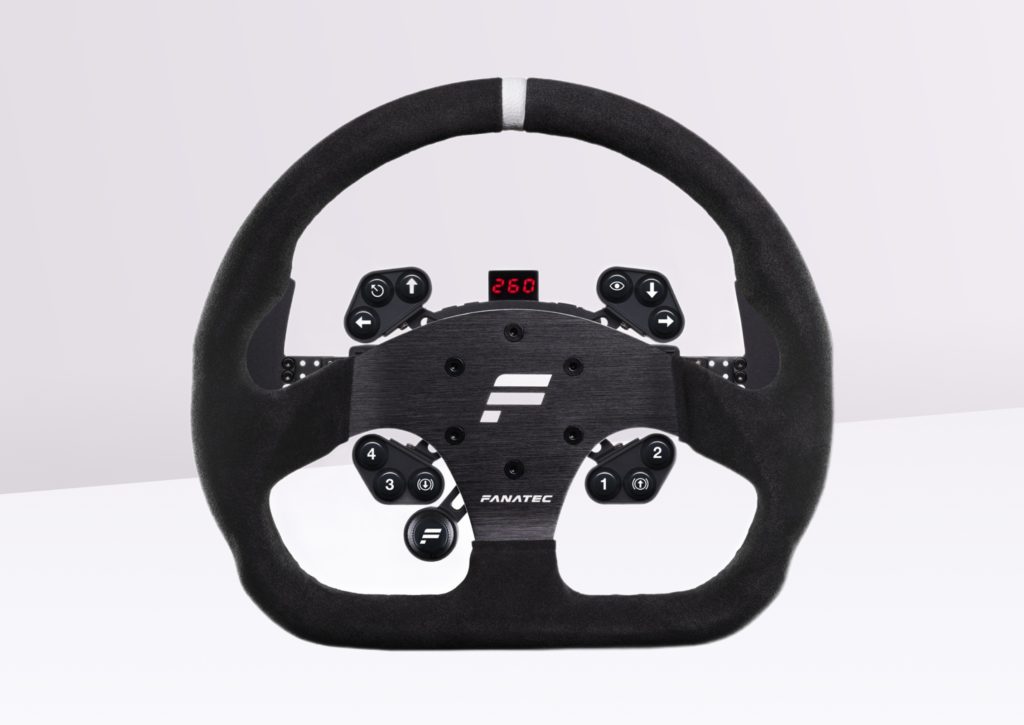 Advantages:
Excellent finish
Premium materials
Disadvantages :
Another steering material I consider excellent and part of the range ClubSport is the Steering Wheel GT V2. This steering wheel is a bundle with a 33 cm diameter flat-bottomed wheel and a hub of buttons and paddles.
The design is remarkably sober, and I love it. You have aluminum for the structure and Alcantara for the rest. As far as I'm concerned, it's still very premium, worthy of Fanatec. The wheel is straightforward in design and has no buttons, as these are part of the hub at the rear.
The hub is highly configurable and includes several buttons and paddles. It's an excellent accessory that can be adapted to several Fanatec flywheels, and also features a metal Quick Release. You don't have to worry about dead zones or disconnections from the plastic QR.
Above the hub, you'll find a small screen displaying data about the car. It's handy, but it's still a small screen, unlike the Podium hub. Nevertheless, it does the job of sim-racing without breaking the bank.
Let's talk about the price. This bundle (steering wheel + hub) costs close to €500, excluding special offers on the Fanatec website, without the base. You'll have to pay between €350 and €500 for a five or 8-nm base. In the end, the bill will be at least €850, and you'll also have to spend at least €400 for a pedalboard. ClubSport. As I said earlier, Fanatec products are not cheap.
Racing Wheel F1® Podium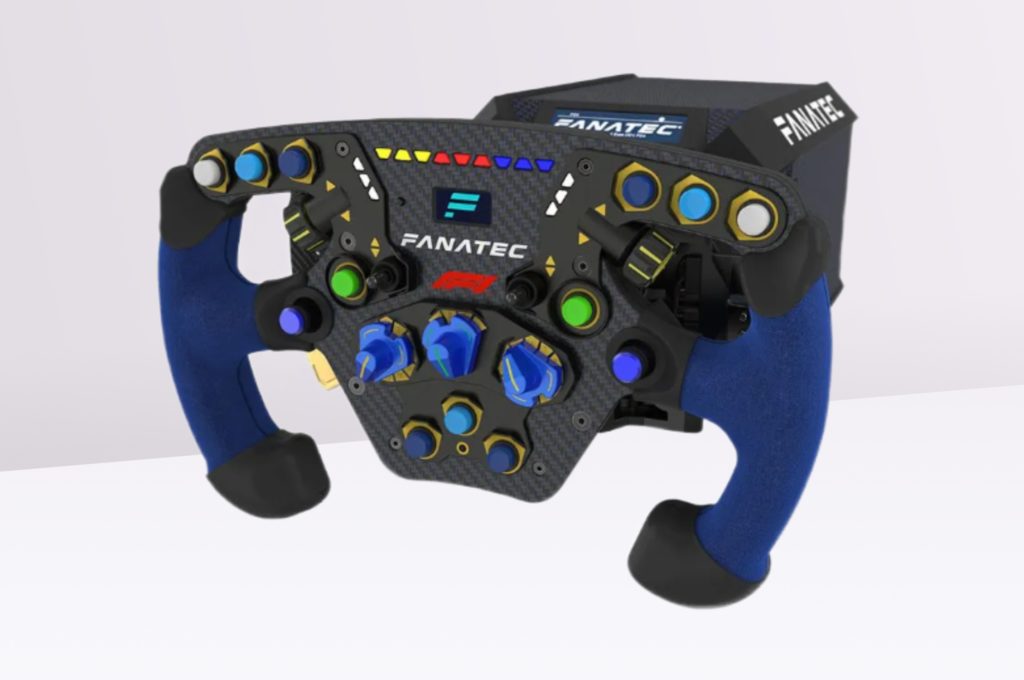 Advantages:
F1 license
Premium finishing and manufacturing
Virtually unlimited configuration
25 nm force feedback
Disadvantages :
Very high price
Difficult for beginners to get to grips with
I now turn to Fanatec's top-of-the-range flywheel, the Podium Racing Wheel F1®. As the name suggests, this steering wheel is mainly intended for sim-racers who want to race F1 cars, but it can also be used for any simu. Nothing stops you from using it on Gran Turismo or Dirt.
This steering wheel uses the Podium Wheel Base DD2 with a maximum torque of 25 nm. You can take this wheel with the base which is only 20 nm, which is already huge, ofracing. The wheel has a unique F1-inspired shape. It's hard to get the hang of, especially if you're a beginner. Even with my hundreds of hours of sim-racing, I had a bit of trouble adapting to the positioning of the various buttons and switches, and to the general shape of the wheel. I use the wheel's generally shaped wheels.
The wheel's structure is modern fiber, as with racing wheels. This gives it strength, lightness, and looks, of course. Wherever your hands are positioned, you'll find Alcantara. Speaking of positioning, you've only got the 9H15 position, which makes it a little difficult to grip.
In absolute terms, this is the best steering wheel available Fanatecand at an equally attractive price. Priced at almost €1800, this steering wheel is clearly aimed at sim-racing enthusiasts or onals, as are the products in the Podium.
Read my full review of the Fanatec Podium Racing Wheel F1.
Which one to choose?
Budget. First, choose a steering wheel according to your total budget for your sim-racing setup. Overall, the Fanatec range is divided into three budgets:

In the €500 range for a steering wheel and entry-level base (CSL), without pedals or shifter

900 – 1000 € for a steering wheel and mid-range base (ClubSport), also without pedals and floor

In the €1,800 range for a top-of-the-range steering wheel and base (Podium), also without pedals and shiffloorThe degree of immersion. Even if all Fanatec products offer a high level of immersion, there is still some difference between the ranges, if only on the Quick Release. So, if you want to get involved in sim-racing, consider this when choosing your products.

Compatibility. Not all Fanatec wheels are compatible with all platforms except PC. It would be best to choose a spin and a base that is compatible with the platform you're using.
Ergonomics. We've seen that some steering wheels don't feel right in the hand, especially for beginners. You should start with a round steering wheel to maintain good ergonomics.
Availability. Fanatec sells its products only in its store. You won't find them in stores unless you buy them second-hand. Also, many steering wheels, bases, and other peripherals are often out of stock with the manufacturer, which doesn't help their availability. Please make your choice and go for it when the products are back in stock.
Conclusion
In its 25 years of existence, Fanatec has come a long way to reach the top of the Podium. Between innovation and passion, the brand has established itself as the leader in sim-racing, known by all fans of the discipline and even motorsport professionals.
A steering wheel is the critical element of a sim-racing setup, and Fanatec knows it. If you're looking for a quality peripheral with a high level of immersion, Fanatec's wide range of products will undoubtedly appeal to you.
Similar products