Even if the genesis of sim-racing was on the PC, it's undeniable that game consoles (Playstation and Xbox) have greatly helped the discipline's popularity, with generalist licenses such as Gran Turismo and Forza now easy enough to sim-rac at home without blowing your budget.
The PS4 is a famous console that has sold very well. With over 115 million units sold worldwide during its career, it has to be said that the market for PS4 peripherals is juicy, very juicy indeed.
Sim-racing is a discipline that originated over 20 years ago. Like you and me, there are millions of fans of this discipline, just like motorsports and video game fans. I grew up with licenses like Need For Speed, Gran Turismo, and WRC. etc., titles that marked my youth and forged my passion for sim-racing.
To do sim-racing properly, you need a setup. The simplest ones include a steering wheel, a base, and a pedalboard. And for the more advanced ones, you also have a gearshift, a handbrake, multiple screens, and a cockpit. As you'd expect, each setup is unique in terms of peripherals. It's worth noting that not all sim-racing steering wheels are identical, nor are the bases, pedalboards, and so on.
The steering wheel is the most crucial element of any setup. It's how you control the car's trajectories, feel the vibrators, the force feedback (for the base), etc. It's a critical element of the racing experience. It's a crucial element of immersion in sim-racing, and it's the peripheral you should have first, in addition to the pedals, of course.
There's no shortage of steering wheels on the PC, and there have been since the late 90s and early 2000s. But on consoles, it wasn't the same. Thanks to players like Logitech and Thrustmaster, it took some time for sim-racing peripherals to be democratized on game consoles (Xbox and PlayStation).
In this article, I will introduce you to the best steering wheels currently available for the PS4 based on three ranges (entry, mid, and high). I'll also tell you what to consider when choosing a steering wheel.
The best entry-level PS4 steering wheels for under €400
Logitech G29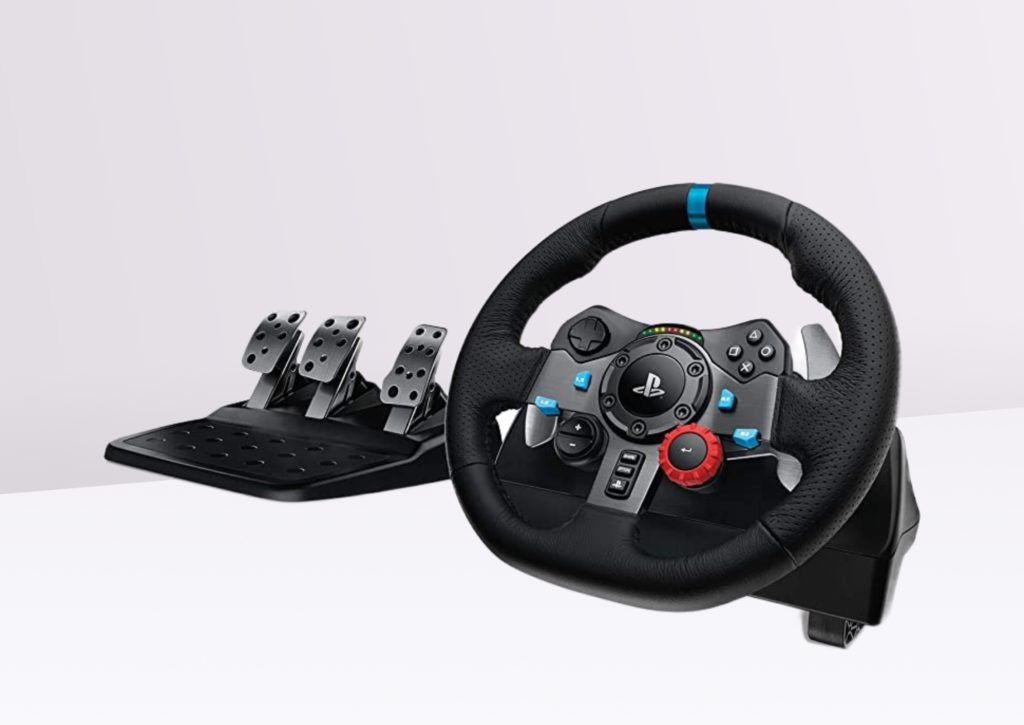 Advantages:
Complete bundle for a reasonable price
Beautiful design
Easy to handle
Disadvantages:
Non-linear force feedback
I start with a perfect steering wheel, Logitech, compatible with the PS4 and the G29. This is an entry-level device offering excellent value for money. The bundle usually includes a wheel, crankset, and base for under €300.
Although this wheel is aimed at beginner sim racers, Logitech hasn't skimped on materials. This device uses aluminum and metal to structure the wheel and crankset, giving it solidity and better immersion in sim-racing. The wheel is flat-bottomed, and I love the design.
The ergonomics of the G29 are excellent, even though the wheel is only 28 cm in diameter. It's small, but it won't pose any problems when driving. On the steering wheel, you have all the PS4 controller buttons positioned so that they're not too far from your hands and the paddles.
As I said, this bundle also includes a pretty good-quality pedalboard. Constructed from metal, this solid peripheral will provide you with pretty good sensations. The pedals are fitted with springs (Load Cells) to provide force feedback, especially for the brake. In absolute terms, it's okay, even if the settings aren't great. But then, for less than €300, you shouldn't expect a revolution either.
Concerning the base, it uses two motors with a gear system to produce the force feedback. It's the best this range offers, even if Thrustmaster offers a worse system on some of its steering wheels. The only weak point of this base is its non-linear force feedback: sometimes, it's well-dosed, and sometimes it's abrupt.
The Logitech G29 is an excellent wheel for beginners and amateurs alike. You've got everything you need to start in this discipline and for very little money. I'm sure you'll like it.
Please read my full review of the Logitech G29.
The Thrustmaster T300RS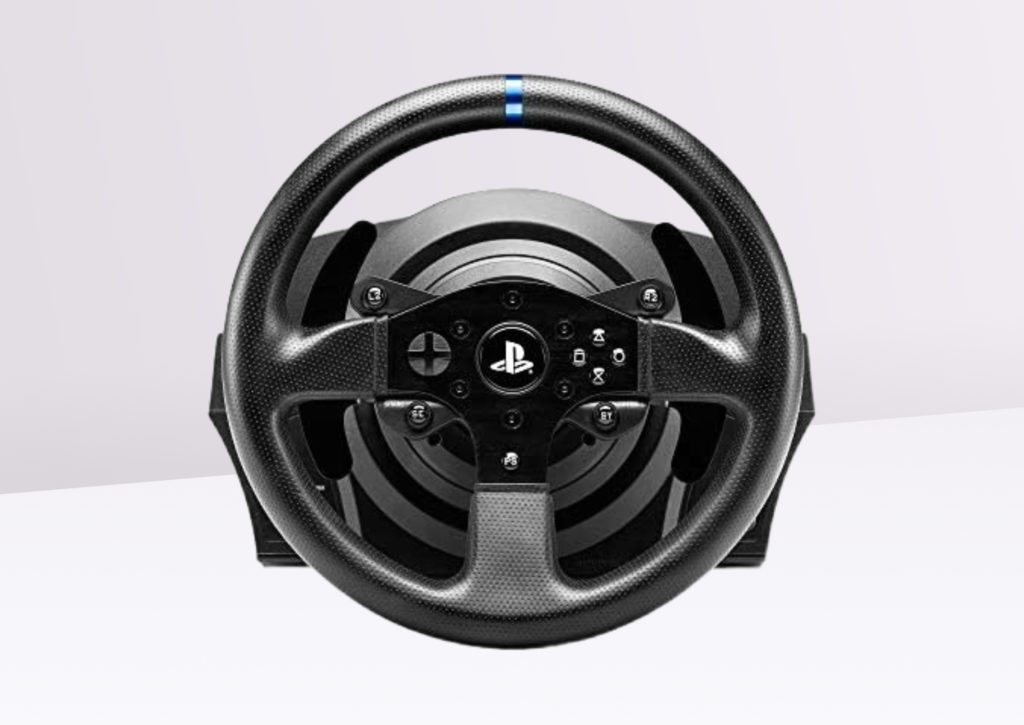 Advantages:
Compatible with PS5
High-quality brushless motor
Excellent build quality
Disadvantages :
The Thrustmaster T300RS is, theoretically, a mid-range steering wheel if we are to believe the manufacturer. However, I prefer to add it here on this ranking, as there's only the T150, which is considered entry-level, and the latter is not a good choice as far as I'm concerned.
So, the T300RS is an excellent flywheel for its price (in the €400 range) and includes a flywheel, base, and pedalboard. The command uses a brushless motor to produce the force feedback, and it's pretty good as far as I'm concerned. Unlike the G29 and its return of force, which can sometimes be non-linear, that of the T300RS is very good.
The wheel is round, with a diameter of 28 cm. Again, I find this small, but it doesn't change the excellent ergonomics. The 13 buttons are well placed, as are the paddles. You'll have no trouble getting to grips with this steering wheel for amateur or beginner sim-racing.
The base of this steering wheel provides smooth force feedback for sim-racing. It's linear, smooth, and, above all, realistic. I enjoyed using it during my sim-racing sessions, even though I've grown accustomed to Direct Drives from Fanatec. Admittedly, it's not the same degree of immersion, but it's good enough for everyday sim-racing.
Let me now turn to the weak point of this steering wheel: its pedals. All the budget has gone into the motor and wheel, leaving nothing for the crankset. It's a plastic structure with just two pedals. If you're going to be doing sim-racing regularly, I'd advise you to get a different crankset, as the one on the T300RS is bad, and I'm friendly with it. At Thrustmaster, you'll find pedal shovels; you have the T300RS, which has precisely the same steering wheel with a higher-quality crankset. Of course, this model, the T300RS GTis more expensive than the normal one, so it's up to you.
Honestly, I like this steering wheel for amateur sim racing. It's not expensive, offers a good driving experience, and, above all, excellent immersion. Just make sure you buy it when it's on sale, otherwise it'll cost you over €400.
Please read my full review of the Thrustmaster T300 RS.
The best mid-range PS4 steering wheels (under €800)
Logitech G923 Trueforce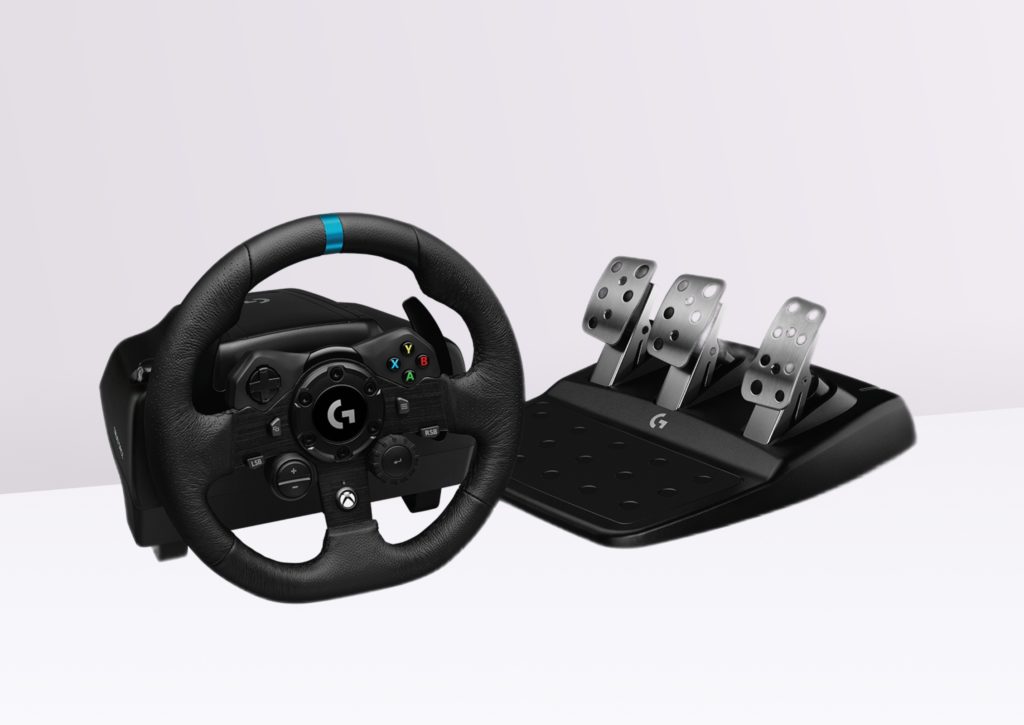 Advantages :
Good value for money
Good build quality
Disadvantages :
Trueforce system not up to scratch
The G923 is, in fact, a significant improvement of the steering wheels G29 and G920. Logitech's latest steering wheel is based on the same principles as its predecessors but with the addition of new technologies and, above all, more excellent compatibility.
If you didn't know, Logitech made two steering wheels, identical but compatible for each console. The G29 for Playstations and the G920 for Xboxes. With the G923A single steering wheel for both platforms. This simplifies purchasing and manufacturing. But the changes don't stop there. The G923 incorporates a new technology concocted by Logitech, namely Trueforce. In theory, this technology provides greater immersion for the player by connecting directly to the game's physics engine, retrieving information, and transmitting it via the steering wheel.
For example, if you drive over a vibrator, you will hear it, and the steering wheel will vibrate from right to left, just like in real life. However, this system is still in its infancy and pretty realistic when it works.
Design-wise, the G923 resembles the steering wheels it replaces, with a 28 cm diameter wheel and all-metal construction. Frankly, it looks great and feels great in the hand. Logitech has also added a RevLED to the wheel and a Launch Control function, which is very popular these days.
I'll pass quickly over the ergonomics of this steering wheel, which are excellent, as were those of its predecessors. Everything is in the right place, within easy reach. Also, the crankset is of better quality than that of the G29. The springs are sturdy, which will give you a better driving feel.
It's a big step forward for Logitech especially for sim racers. The G923 is an excellent steering wheel that I recommend mainly to amateurs and fans of the discipline. If you're new to sim racing, I'd recommend the G29 or G920, which are less expensive and will delight you.
Please read my full review of the Logitech G923.
The Fanatec Gran Turismo DD Pro 5 nm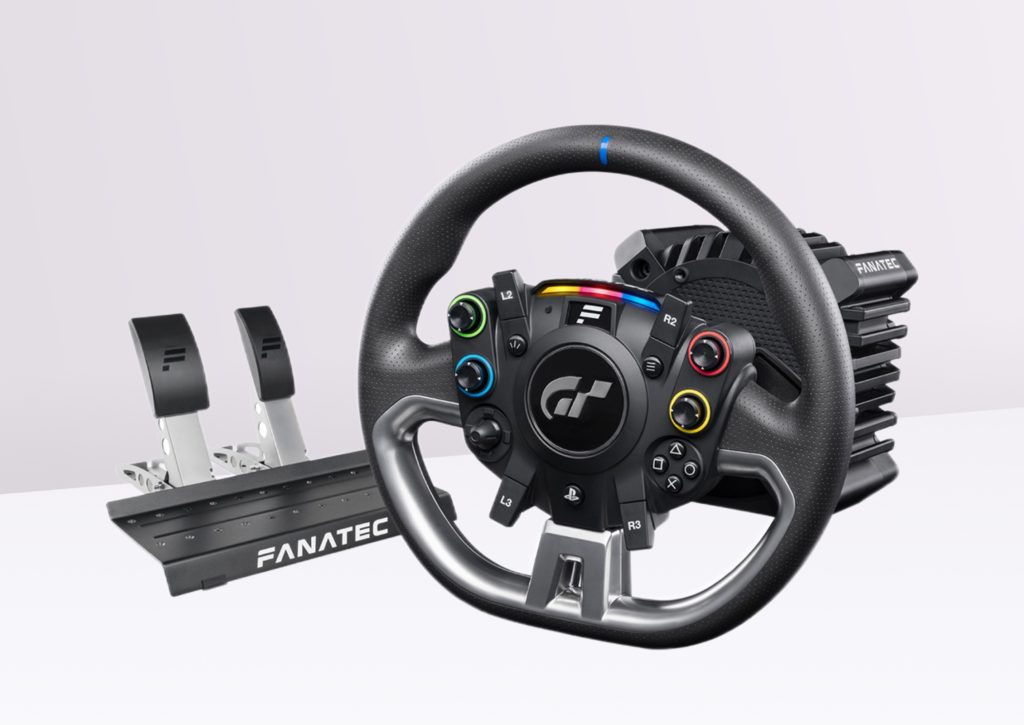 Advantages:
5 nm Direct Drive motor
Official Gran Turismo license
Excellent build quality
Disadvantages :
Fanatec is a well-known brand in the sim-racing world, offering top-quality peripherals for fans of the discipline and even for professional drivers. Although Fanatec debuted on the PC, the German brand soon added console compatibility to its catalog to attract a broader customer base.
The Gran Turismo DD Pro is an officially licensed steering wheel manufactured in partnership with Sony. The wheel is 28 cm in diameter, giving it a very compact appearance. Moreover, it has a flat bottom, which will please many a sim racer. The design is simply sublime, with noble materials such as aluminum.
The bundle includes the steering wheel, DD base, and pedals. The base, the CSL DD 5, is excellent and, above all, robust. It's mastered technology by Fanatec, so there's nothing to worry about here. The pedals are also metal, giving the rider a good feel thanks to the Load Cell pedals.
The ergonomics of this steering wheel are excellent, with a concentration of buttons at the edges of the wheel and paddles at the rear, which are, incidentally, a little small for my taste. There's also a RevLED on the steering wheel, handy for knowing when to shift into manual mode.
It's a near-perfect steering wheel for the PS4 and the PS5 if it weren't for its plastic Quick Release. The QR 1 Lite is notorious for having a dead zone of a few degrees when you turn the wheel and disconnecting a little too often when you drive aggressively.
On the price front, Fanatec fans know that the brand's products don't come cheap. Count on 700 € for this bundle in the 5 nm DD version, which is correct, and 850 € 8 nm DD version. I recommend the 5 nm version if you want to use the plastic Quick Release. If you opt for the metal QR, the 8 nm version is an option. Otherwise, this steering wheel is excellent, almost perfect in standard configuration.
Please read my full review of the Fanatec GT DD Pro.
The best high-end PS4 steering wheels (over €1000)
Logitech G Pro Wheel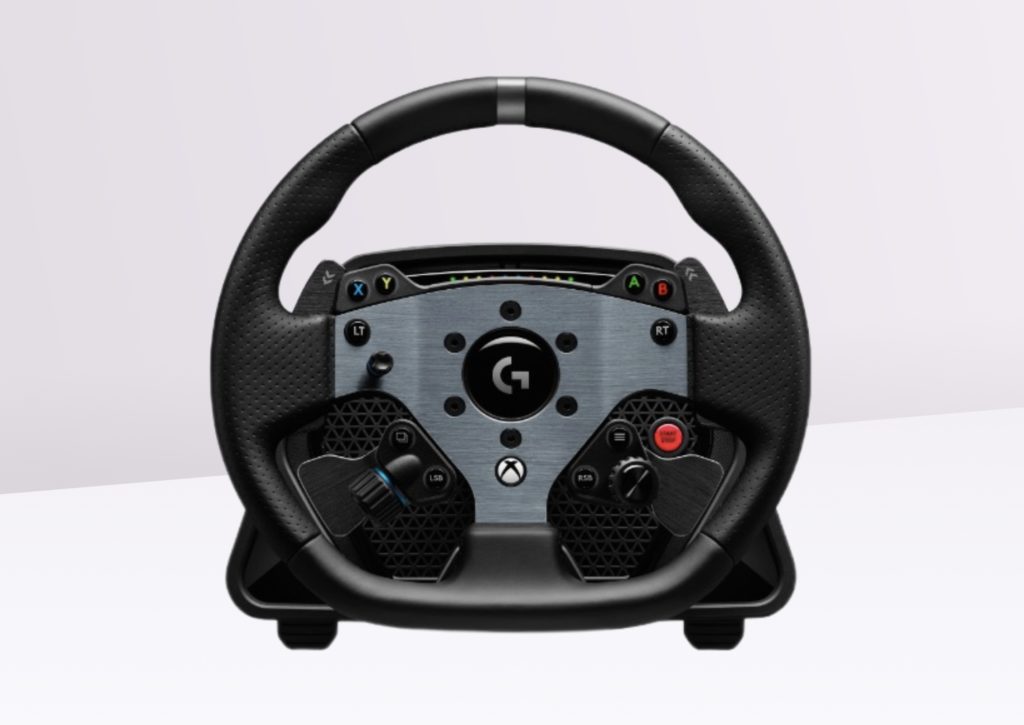 Advantages:
11 nm Direct Drive
Excellent build quality
Steering wheel with Quick Release
Disadvantages :
In the past, Logitech was mainly present on the entry and mid-range, but the manufacturer wants to change that by offering a range of products that will thrill Fanatec, the G Pro.
So, the G Pro Wheel is Logitech's first Direct Drive wheel with 11 nm force feedback. It's an excellent start, especially when there's no real competitor on the same performance level. Faced with Logitech, you've got Fanatec with its 8 nm CSL DD and Moza with its 9 nm R9 base, both of which deliver less torque.
The design of the G Pro Wheel is sublime, practically all in black, with only the wheel structure in anodized aluminum. I love it. This steering wheel is available in 2 versions, including one for the PS4/PS5, with superbly positioned console buttons. Another positive point is the G Pro Wheel integrates four paddles attached to the steering wheel, which will be very useful for Launch Control, etc. Also, the G Pro range finally uses a Quick Release for its steering wheel, which leads us to believe that Logitech is preparing a whole series of steering wheels utilizing this system. That's a big plus in my book.
And now for the price. Priced at €1100, the G Pro Wheel is a little expensive for my taste, mainly as it's sold as a wheel + base bundle. Admittedly, the Direct Drive makes 11 nm of torque, but this is the first time Logitech has used this technology, and only time will tell whether it's reliable. Without hesitation, I'd recommend this wheel if the bundle was sold with the G Pro pedalboard (which costs almost €400). But €1,100 for the base and steering wheel is a bit steep, especially compared to the following.
The Fanatec Podium Racing Wheel F1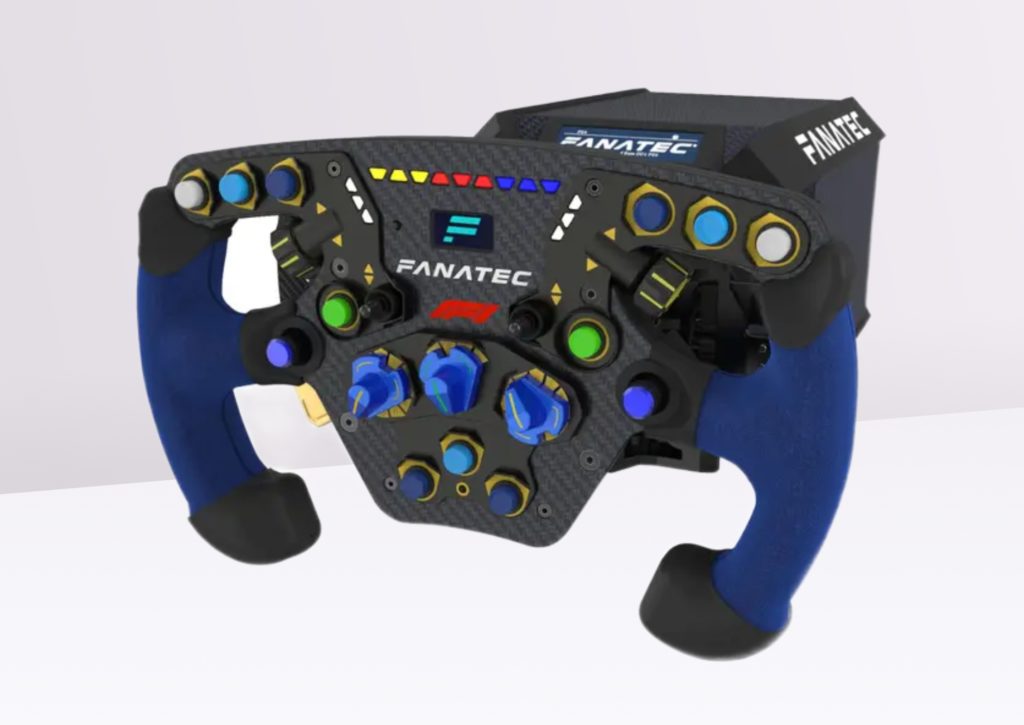 Advantages :
Premium Manufacturing
F1 license
Highly configurable
Disadvantages :
Difficult to handle
Very premium price
I'll end with the best Fanatec steering wheel if you're an F1 fan: the Podium Racing Wheel F1. To cut a long story short, this wheel is simply perfect. It's a little hard to get used to, but perfect in every detail.
So, the wheel is made entirely of carbon fiber, with a diameter of 27 cm. Frankly, that's small, especially compared to other German manufacturers' steering wheels. On the wheel, you've got buttons, switches, a RevLED, an OLED screen, and six paddles, including two analog ones. It's simply a sim-racer's paradise, especially for those who want to parameterize everything.
The base of this steering wheel is a 20 nm DD, which is simply enormous. You'll be able to feel everything the vehicle does with force and, above all, precision. Fanatec knows what to do with Direct Drive bases, and the Podium Racing Wheel F1 is the ultimate proof.
This steering wheel is aimed at hardcore fans of the discipline, even if it's a little tricky to get the hang of at first. Its only weak point is the price. Displayed at almost 1800 €This steering wheel is ultra-premium, especially when you consider that all you get is the wheel and the 20 nm DD base. However, it is often in the promo at 1300 €like now. I'd rather add €200 than take the G Pro Wheel.
Please read my full review of the Fanatec Podium Racing Wheel F1.
The different steering wheel ranges for PS4.
Currently, in the sim-racing market, all peripherals are divided into three main ranges: entry-level, mid-range, and high-end. Some brands are present in all three fields, such as Logitech recently, while others, such as Fanatec, focus on the mid-and high-end.
Entry-level
The entry-level range of steering wheels for PS4 is distinguished mainly by two brands: Logitech and Thrustmaster. This range aims to offer inexpensive products that will encourage people to start sim-racing. And as far as I'm concerned, that makes sense because you can't expect the average person to spend over €1,000 on a setup when they know nothing about sim-racing.
Typically, entry-level steering wheels come in bundle form, with a steering wheel attached to a base and a pedalboard. On the steering wheels, you find all the buttons of the compatible console (PS4 in our case), plus paddles. These steering wheels are simple, let's face it, and cheap too, with prices typically under €300 for the most popular. Since we're talking about entry-level peripherals, the primary force feedback technologies are often geared or belt-driven motors.
These technologies are correct but provide somewhat blurred force feedback, often with dead zones in the center. On the other hand, steering wheels are usually reasonably good quality and relatively solid if you shop at well-known brands like Logitech. As for cranksets, well, they're ultra-simple. Configurations are often three pedals, sometimes 2, with springs for resistance.
All in all, the entry-level sim-racing wheels are there to see if you want to continue in this discipline or if you'll do it every Sunday without blowing your wallet too much.
The mid-range
This range is the most popular in sim-racing, especially with players like Fanatec. Mid-range sim-racing wheels are much better than entry-level ones in many ways.
Firstly, the build quality is far superior. You use noble materials like aluminum, leather, and Alcantara. Typically, these steering wheels are designed in partnership with brands such as BMW, McLaren, and Porsche to provide official replicas that are very well made.
These wheels have access to better technologies, such as magnetic paddles, OLED screens, RevLED, Quick Release, Direct Drive bases, etc. This is the range to shop for if you're an amateur or sim-racing fan.
In this range, especially with brands like Fanatecwe, we're starting to see some product segmentation. This means you'll have steering wheels, bases, and pedalboards sold separately. The vision behind this practice is to customize setups with the peripherals you like best, and this is very much in evidence at German manufacturer Fanatec.
Regarding the price range for mid-range setups, you'll need between €500 and €1,000 to get the whole package (steering wheel, base, and pedals). This is considerably more expensive than the entry-level setups (3 times more in some cases), but the immersion is much better.
Top of the range
This is the big leagues, and on the PS4, it's mainly Fanatec, which dominates the game. In this range, you'll find top-quality peripherals using materials such as carbon fiber, aluminum, Alcantara, and often official racing wheel replicas.
For the bases, the technologies are exclusively Direct Drive, with force feedback that can go up to 25 nm. I can guarantee that immersion is the order of the day. These flywheels are also packed with features like vibration, OLED screens with tons of information, button hubs, 4 or 6 paddles, including two analog ones to control Launch Control, and so on.
I love high-end steering wheels because you get a better driving feel and immersion. But, often, the price of these peripherals stands in the way of many sim racers who want to improve their setup. Top-of-the-range sim-racing wheels start at least 1000 €to titillate the 2000 €.
Which one to choose?
Budget. As with other peripherals, you need to set a budget for a steering wheel. While we've seen several bundled options, some manufacturers, like Fanatec, offer an extensive catalog of standalone steering wheels for the PS4.
Availability. Some brands are only available via their online store (Fanatec, among others). If you want to see a steering wheel before you buy, you need to consider this.
Compatibility. I'd advise you to choose a steering wheel compatible with both PS4 and PS5 to have a product that will serve you over several years. Even if we currently have PS4-compatible titles, this won't happen for some time.
Similar articles