More and more people want to get into sim racing, and I understand them perfectly. It's a discipline I fell in love with a few years ago, even more so today. Between quality peripherals, an incredible community, and sim-racing on different platforms, everything is there to adore this discipline.
Connoisseurs know that to have an excellent sim-racing setup, you need time, resources, numerous peripherals, and hours of research. This was the case for me, and I want to help as many people as possible.
Sim-racing peripherals often mean the steering wheel, cockpit, pedals, gearshift, and handbrake. Of course, you can't forget which platform you're on (PC or console). However, many fans overlook a crucial element of any sim or game, the screen. I don't know if it's by omission or pure chance, but monitors are often overlooked when it comes to sim racing, and that's a big mistake.
When I'm sim-racing, I'm looking at a monitor, and if the monitor isn't up to par with the other peripherals I have in my setup, immersion won't be at its best. Worse, it may even be completely distorted. To help you avoid all this, I've prepared this article to help you consider an excellent monitor for your setup.
The best sim-racing monitors
As with the type of screen to choose, I will divide this part into three sections to show you the best monitors by category.
Single monitors
The SAMSUNG ULTRA WQHD 34" screen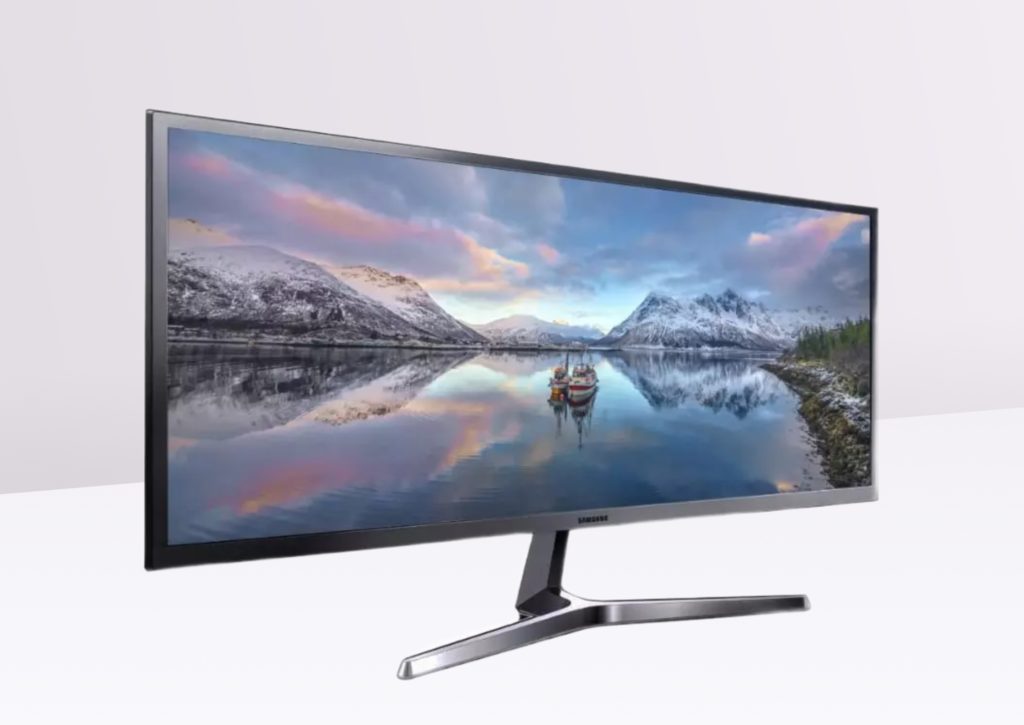 Advantages:
Lightweight
High contrast ratio
FreeSync
Disadvantages :
I'm starting with a screen that I find very good for sim-racing in a 1-screen configuration, the Samsung Ultra WQHD, and honestly, it's good value for money.
This monitor is a hair over 34″, ideal for sim-racing. Incidentally, I forbid you to buy a screen with a 1-monitor configuration smaller than 32″, as this diagonal is the minimum for immersion.
The resolution of this monitor is 3440 x 1440, and you need an excellent platform to run it at max. So console sim racers may not be able to enjoy it, even on Next-Gen.
The only black spot is its refresh rate, which is 60 Hz. I'd say this monitor is more for budget sim racers who don't want to put a ton of money into a crazy setup. If you couple this monitor with a decent machine, it's right up there, especially considering its price, which is often on special offer at less than 300 €. In any case, I validate.
The Samsung Odyssey G7 Incurvé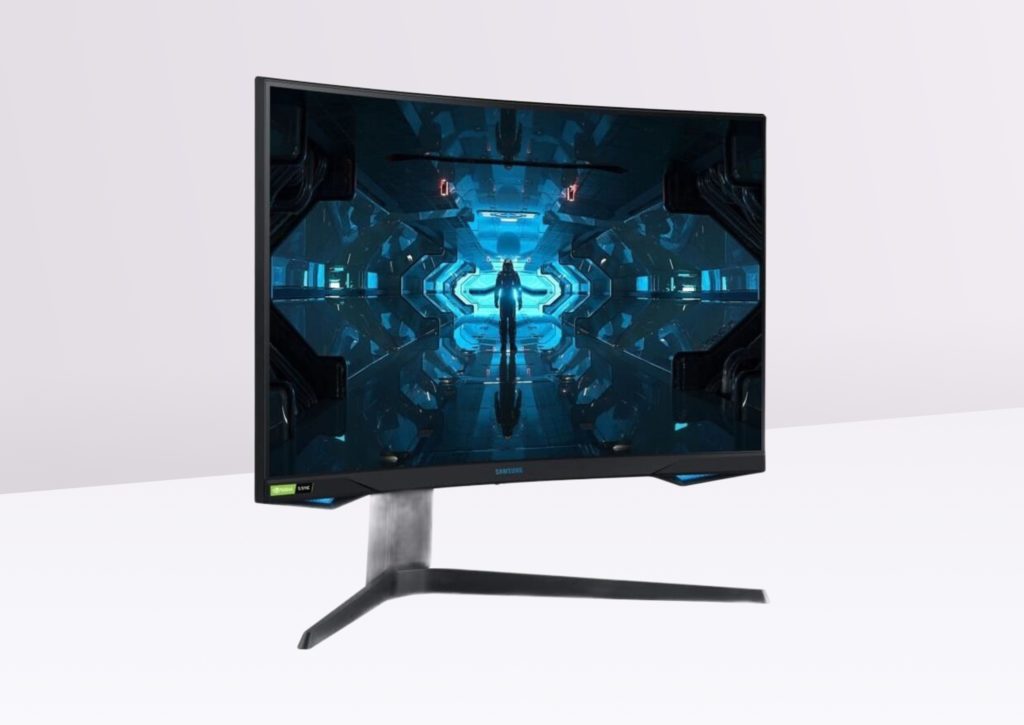 Advantages:
240 Hz refresh rate
Solid, high-quality support
Low price
Disadvantages :
The Samsung Odyssey G7 Incurvé is, as far as I'm concerned, the best screen you can have in a single-monitor setup, even if the size is at the minimum of what I can tolerate, 32″.
The panel is QLED, with HDR 600 certification, which is excellent for sim racing. But the difference with its cousin, the ULTRA WQHD 34"is that the G7 has a refresh rate of 240 Hz, which is just enormous. On the other hand, to push 240 Hz, you need a compelling platform, only a high-end PC with an RTX 3090, or even more in some cases, especially if you max out the resolution at 1440P.
Another positive point is that this display is compatible with AMD FreeSync premium, giving you a wide range of features, such as a millisecond response time. Honestly, you're not going to see any difference with this response time (1 ms), as it represents an asset in competitive games like CS: GO and company. In sim-racing, it's nice to have.
Regarding the price of the G7, you'll need to spend around €600 to get your hands on it. Admittedly, this is almost twice the price of the ULTRA WQHD 34" from Samsung, but at the same time, you get more performance. As I said, the WQHD 34" is primarily intended for form-racers with a limited budget regarding peripherals, platform, and monitor. The G7 is a range above the rest, aimed at people who are prepared to invest in an excellent sim-racing configuration.
Ultra-wide curved screens
The Samsung ODYSSEY G9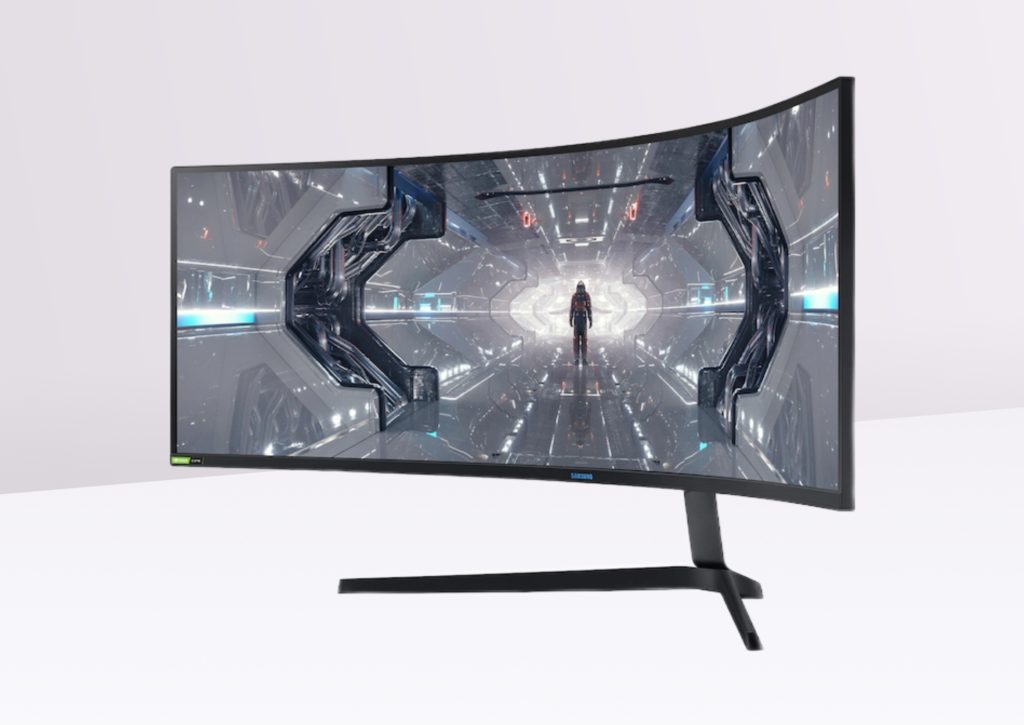 Advantages:
240 Hz refresh rate
HDR 1000
NVIDIA G-SYNC and FreeSync
Disadvantages :
Premium price
High weight
I'm starting this category with an excellent screen, the Samsung ODYSSEY G9. Well, it's 49" diagonal, which is enormous, especially for a curved screen. This size does have its drawbacks, such as weight, but it does add a high level of immersion to sim-racing.
This screen is designed for gaming, with a 1 ms response rate, 5120 x 1440 resolution, 240 Hz refresh rate (depending on resolution), and a flurry of ports to run on any platform.
If you're into sim-racing and content consumption (video and otherwise), you'll love this display's HDR 1000. Thanks to this and the 10-bit QLED techno, you've got a superb slab that displays many colors, sharp ones. Quite simply, it's magnificent.
Let's move on to the drawbacks. First, over 1400 €on Samsung ODYSSEY G9 is not for everyone. Not only do you have to be able to afford it, but you also need the machine to run it. Also, at 49″ in 32:9 format, the screen is heavy. The Samsung ODYSSEY G9 displays 15 kg on the scales, and you need a solid, broad set to use and enjoy it. Nevertheless, I like this monitor, which is still excellent.
ASUS ROG Strix XG49VQ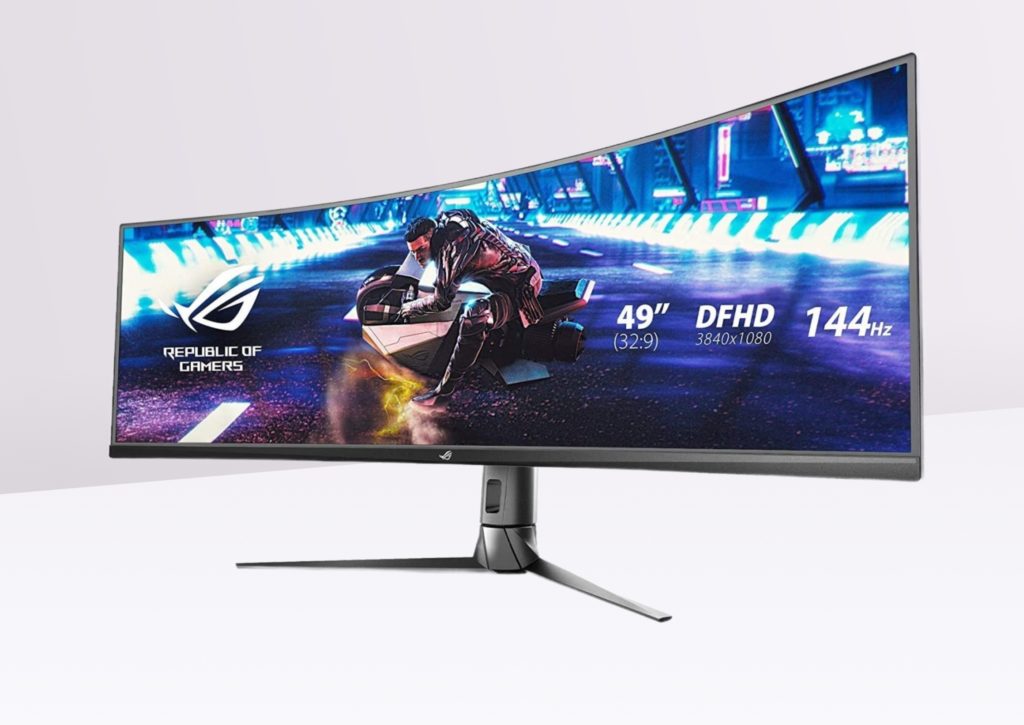 Advantages:
144 Hz refresh rate
Solid support
Excellent viewing angles
Disadvantages :
In recent years, Asus has begun to diversify its product catalog. In addition to motherboards and graphics cards, the manufacturer offers a range of top-quality gaming peripherals, such as the ROG Strix XG49VQ.
This monitor is 49″, just like the Samsung G9, with an excellent viewing angle. However, the Asus screen is unlike the Samsung; its refresh rise of 144 Hz instead of 240, its resolution of 3840 × 1080 instead of 5120 x 140, and its response time is 4 ms instead of 1 ms. I wonder if Samsung isn't more geared toward gaming…
Regarding onboard technology, the ROG Strix XG49VQ integrates FreeSync 2, HDR 400, which is relatively weak for its price, and Shadow Boost, an in-house technology that enhances detail in dark areas of the screen.
Although the design of this screen is excellent, especially its superbly beautiful stand, this monitor pales in comparison with the competition, unless you can find it on special offer in the €600 or €800 range. If that's the case, I'm in.
Multiple screens
Acer Nitro XV272U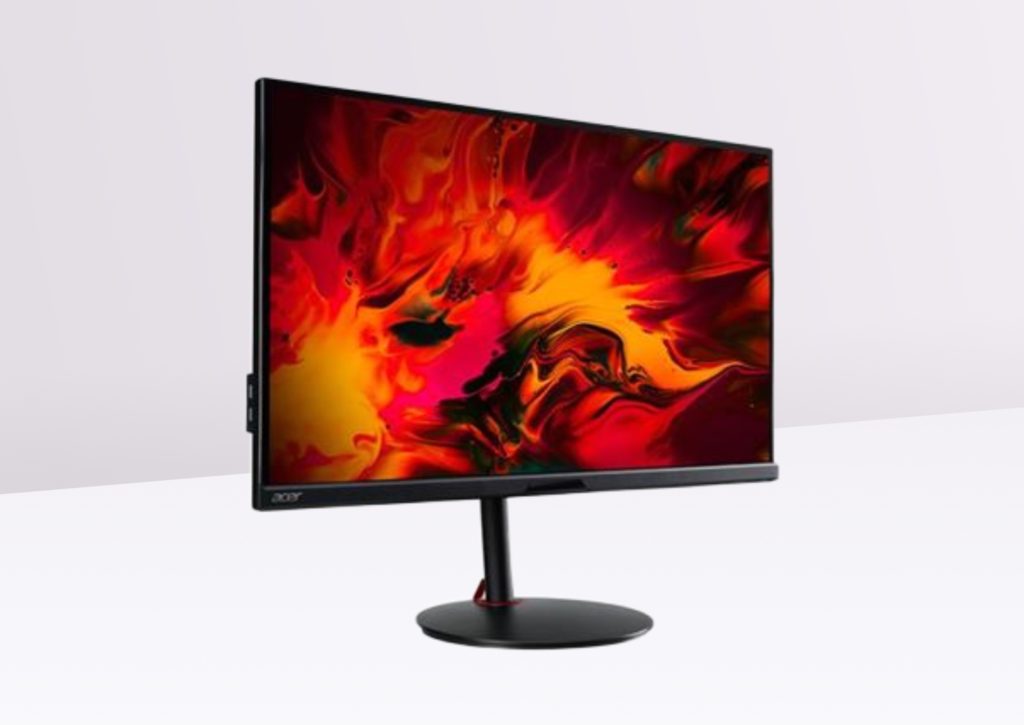 Advantages:
1440P
144 Hz refresh rate
1 ms response time
Disadvantages :
Regarding multi-screen setups, I'd like to introduce you to the Acer Nitro XV272U. It's a 27", FHD, 144 Hz panel with a response time of 1 ms. Classy.
This Acer is, I think, excellent for sim-racing for its specs, but also for the fact that it has super-thin side borders, given that you're going to use several of them for your setup. This is why I prefer a large screen of at least 34″ or an ultra-wide curved one to avoid dead zones around the edges.
The Acer is still an excellent product for sim-racing, thanks to its compatibility with G-Sync and FreeSync base resolution of 1440P and a response time of 1 ms. Typically, this response time can be achieved on a smaller resolution (FHD) and at less Hz. But that's not the case with this screen, and that's why I've put it on this list.
Price-wise, you're looking at around €300 for this monitor. However, and this is where it hurts, you need to buy 2 or 3 for an excellent sim-racing setup. At that price, you might as well go for a big screen or ultra-wide curved if you ask me.
The Alienware AW2721D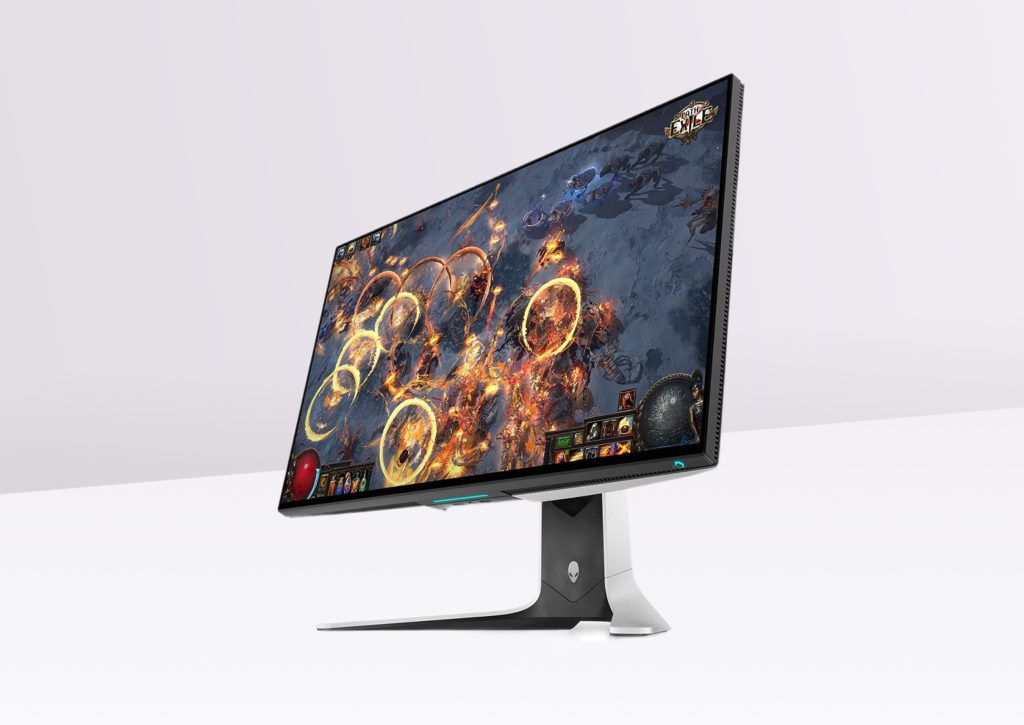 Advantages:
27" screen
240 Hz refresh rate
G-Sync
Disadvantages :
Alienware has been an established brand in the gaming world for many years. When you think of an "out of the box" gaming PC, you immediately think of Alienware.
The screen I'm going to introduce to you now is the AW2721DThis. If you put the price aside, this is an excellent product for sim racing. In my opinion, this is its only weak point. This monitor has a 27″ diagonal, making it ideal for a triple-screen setup. The edges are thin, reducing dead zones in front of you.
On the tech side, the AW2721D is Nvidia G-Sync compatible, has HDR 6nel, is IPS and not VA like many other monitors, and has DisplayPort 1.4 and 2 HDMI 2.0. Its resolution is 2560 × 1440, with a refresh rate of 240 Hz and a response time of 1 ms. So far, so good, as far as I'm concerned.
In use, even outside sim-racing, this screen is superb. The colors are vivid, and the contrast is short (1000:1) compared to Samsung monitors, but it will do the job perfectly.
Design-wise, I like it. It's pretty sober, but you have to select the color. The edges are black, but the rest of the monitor is light gray. But that's not the most important thing.
I'll pass briefly on the stand of this monitor, and it's great. You can adjust the monitor's tilt and height. What's not great is its price. Posted at €770 on Amazon, it's expensive for what you get, especially when a Samsung G7 is better, for €100 less and curved.
What type of screen to choose?
First and foremost, you need to decide what type of screen you want for your setup. The choice of screen type considers budget, configuration (cockpit or table), preferences, and the space you have available. Currently, sim-racing is done with three screen options or types if you like: single screens, ultra-wide curved screens, and multi-screen setups (usually 2 or 3).
Single screen. This option is relatively simple and won't take up much space in your setup, nor will it be super-expensive. However, having a single screen quickly shows its limitations, as the field of vision is reduced; you can only see what's happening in front of you. Peripheral vision is almost non-existent.
Ultra-wide curved screen. It's been fashionable for some time now to take a single ultra-wide curved screen for a sim-racing setup. This option is almost perfect, as it provides a broader field of vision than the single-screen configuration and eliminates the borders you get with multiple screens (we'll come back to this shortly). However, there are several drawbacks:

Price: These screens are expensive, even costly.

Space: Curved screens are enormous.

Performance: Curved screens make enormous demands on the platform due to their resolution.

Multiple screens. This is a trendy sim-racing setup with 2 or 3 screens connected to your platform (typically PC). Each screen covers a different field of view, giving you greater immersion. If you put several screens next to each other, you'll have dead zones in the middle where the borders are, even if they're only 1 mm wide.
Then, as with any other sim-racing peripheral, the choice of the screen depends on the sim racer's needs. If your setup can accommodate an ultra-wide curved screen and you can afford it, and above all, the desire to invest time and money in this discipline, why deprive yourself?
If not, I can see 4 points to clarify before taking the plunge and buying a screen for sim racing.
Budget. It is imperative to always shop depending on your budget; the same goes for sim-racing monitors. Even if the monitor allows you to see the race, don't forget that you must have a steering wheel and pedals to accentuate immersion, and if you blow your entire budget on vision, you'll be forced to race with a joystick.
Screen size. The bigger, the better. For 1-screen setups, aim for 32 or 34" minimum, and don't exceed 49" in curved configuration if possible. However, for 3-screen arrangements, avoid exceeding 27″. However, don't exceed specific sizes at the risk of hurting your design. As far as I'm concerned, a 32-34″ curved panel is more than sufficient for almost all sim-racing arrangements.
Refresh rate. It's simple: this parameter goes hand in hand with the platform you have. The best is to have a monitor with 144 Hz or more, but this rate is difficult to achieve on some machines, especially consoles. So, as I say to anyone looking for a monitor, shop according to your device. For example, if you're on a console, which is perfectly fine for beginners, it's best to get a 120 Hz screen. It'll work perfectly for the current console, and you'll have some margin for later. Don't go for a 240 Hz screen when this refresh rate is unattainable on consoles, even in FHD.
Dimensions. Consider the dimensions available in your setup when buying the correct screen size. The larger the diagonal, the larger the monitor. Check dimensions such as height, width, and depth, not forgetting weight. On a cockpit, there are weight limits for monitors, just as there are on a table.
Conclusion
The screen is often a neglected point for sim-racing beginners because they tell themselves that they already have a screen (often of the most straightforward computer) and that investing in a steering wheel or pedalboard is better. But choosing the right screen will significantly influence your sim-racing experience forever. The choice is vast on the market, as it is for any other peripheral.
If you're looking for your first screen for a sim-racing setup, I'd advise you to try curved monitors. There's no need to go ultra-wide like the Samsung G9, but a G7 at 32″ is excellent. It's a great screen for the price, giving you great gaming experiences and even greater immersion.