Fanatec has been a significant player in the sim-racing industry for many years. The brand has just celebrated its 25th anniversary and offers excellent promotions on some of its products.
The manufacturer offers a wide range of products: steering wheels, bases, pedals, shifters, handbrakes, all of the highest possible quality. To put it simply, Fanatec is premium and, above all, quality; you can feel it right from the first time you hold it in your hand.
Usually, the world of sim-racing is reserved exclusively for PC fans and enthusiasts. It has to be said that this platform is open and accessible to everyone, from peripheral manufacturers to developers. But this is slowly beginning to change, with the major brands of sim-racing peripherals now supporting consoles.
Recently, Fanatec partnered with Sony to release compatible steering wheels with both PS4 and PS4 Pro. As a PC sim-racing fan, I have to admit that I'm very happy for players on Sony consoles because at least they'll be able to experience the immersion that this discipline brings.
On the PC, sim racing is simply an ocean of peripherals, and I'm only talking about those from Fanatec. In its 25 years, the manufacturer has released dozens of models in different categories. I can fully understand those enthusiasts who want to take the plunge but can't find their way around the myriad of peripherals available on the market and only from Fanatec. Between bases and wheels, it's easy to get lost. I'm getting lost even today, yet I've been a fan of the brand for a long time.
Today, I will introduce you to the most popular steering wheels compatible with PS4/PS4 Pro. I hope this guide will help to clear up the fog that hangs over the world of sim-racing and steering wheels. Fanatec.
CSL Elite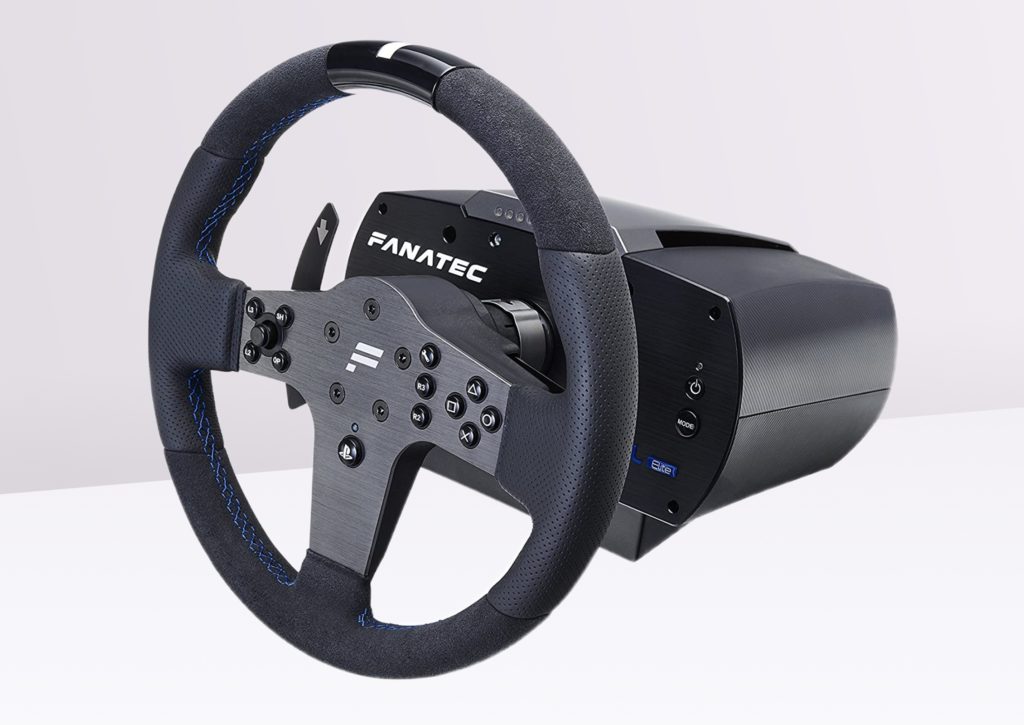 Benefits
6 nm strength
Realistic feel
Practical LED display
Quick Release
Disadvantages
The first entry in this guide, I start with the Fanatec CSL Elite. This steering wheel is compatible with both Sony consoles and PCs. Compatibility with the PS4 is not simply at game level but is native. This means you'll find this steering wheel in the console menu, and it's also visible on the Playstation on the wheel.
With a diameter of 30 centimeters, the steering wheel is just perfect as far as I'm concerned. Between grip and feel, everything is there to make me believe I'm driving a real car, with all the sensations.
The construction of the CSL Elite is made of aluminum and leather, which, for my taste, enhances realism. It's light years ahead of the plastic steering wheels I've tested and an absolute pleasure to use. Fanatec knows its stuff. With 12 racing-style buttons, including those on PS4 controllers, the steering wheel is accessible to everyone and, above all, highly configurable.
A screen at the top of the wheel displays information such as the gear engaged. Also, the paddles are large and highly responsive, thanks to the Snapdome from Fanatec. Regarding force feedback, the steering wheel base incorporates technologies from the Clubsport of the brand with a 6 nm force. It's decent, but nothing more. I'd have liked more nm, but for a price of just €400, that's already a lot as far as I'm concerned.
If you're a fan of console sim racing, I'd strongly advise you to pick up the CSL Elite. This is an excellent steering wheel for those who want to get started in this discipline. However, expect to pay more for a pedalboard, as the CSL Elite is sold independently. But for this price, it's perfectly understandable.
The GT DD Pro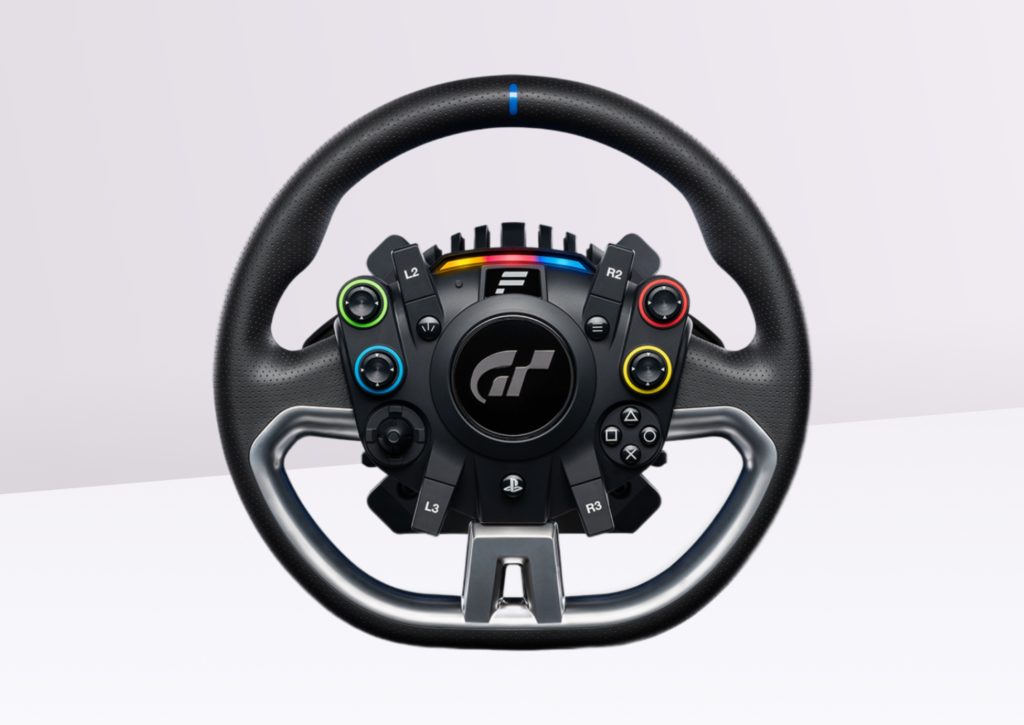 Advantages :
Compatible with PS4/PS5, PC and Xbox
A direct-drive steering wheel
Good in-game sensations
Disadvantages :
Plastic construction
Plastic QR
This "bundle" is relatively entry-level, even if its price certainly isn't for some people. In this list, it's the only one to include a pedalboard. Fanatecwhich isn't bad for €699.95. The German brand's products are expensive, and we can do nothing about it.
In terms of design, this steering wheel is officially licensed by Gran Turismo, whose logo is placed in the center of the wheel. The only negative point is the use of plastic on this steering wheel. Admittedly, the price is high, but compromises had to be made to stay under the €700 mark.
The bundle includes a Direct Drive base with up to 8 nm maximum torque and a special performance-boosting kit (sold separately). In standard configuration, the torque is 5 nm, which is correct. There's also a base mounting system, the Gran Turismo steering wheel, and a pedalboard to put it on your setup.
The wheel is 280 nm, a hair smaller than the one we've seen before, but it handles very well. You've got buttons (11 in all) on the steering wheel, with an OLED screen and a RevLED for the rev counter. Since the base is a DD, you can change wheels as you please, thanks to the Quick Release system from Fanatec. However, it's the QR 1 Lite, made of plastic and known to have a few degrees of play at the steering wheel. If I were you, I'd invest in an aluminum QR to put aside any play-related problems.
As for the crankset, it's all aluminum with magnetic sensors on the brake and throttle. This device is designed to take shock and abuse without plugging in, and it's worthy of Fanatec.
Separately, this bundle costs another €200 if you're tempted to buy the wheel, base, and crankset. I think this price (€700) is still a good investment for getting started in the world of sim-racing. You've got everything you need to play on PS4 or another platform, and you can even swap the wheel for an aluminum one later without blowing your wallet.
Please read my full review of the Fanatec GT DD Pro.
Podium Porsche 911 GT3 R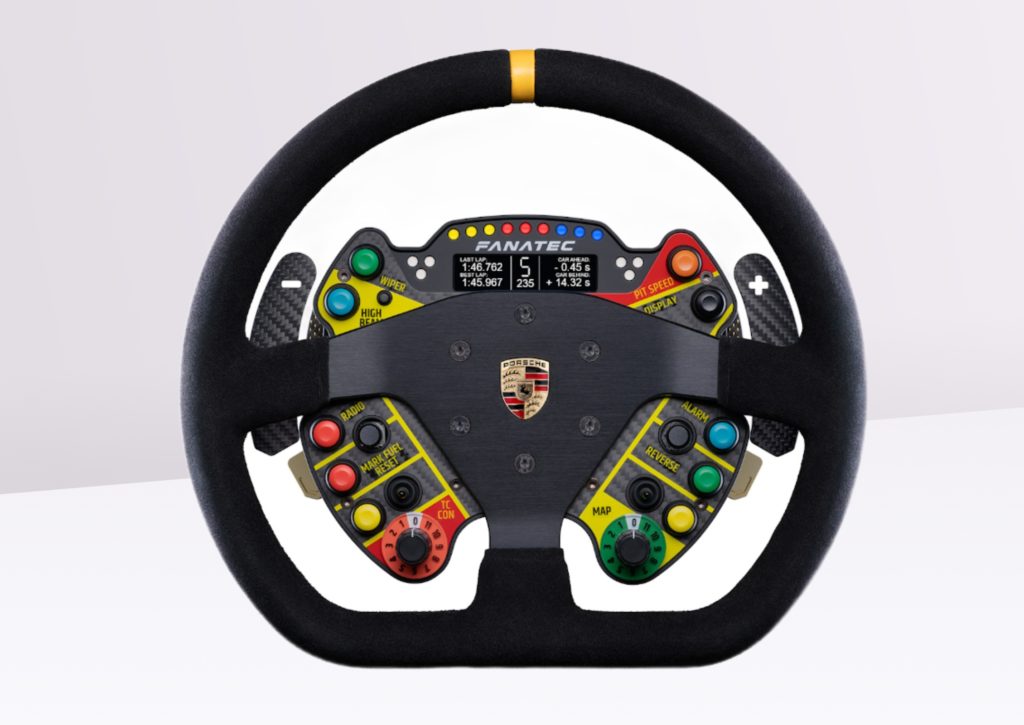 Benefits :
Replica steering wheel Porsche 911 GT3 R
Luxury materials
Incredible feel in hand
Disadvantages :
Sold alone
Instead, a high price
The two models we have seen were entry-level and mid-range. We now move on to the top-of-the-range Fanatec, namely the Podium and, more precisely, the 911 GT3 R.
So, this steering wheel is, in reality, an amalgam of parts: you've got the flat-bottomed steering wheel, the hub or QR, the paddles, and the button plate. Fanatec obligatorily, you can buy these accessories separately, but this will cost you almost €80 more. Regarding bundles, the German brand knows what it's doing.
The palettes of Podium Porsche GT3 R are sublime and, above all, configurable. You can use them in 4 different modes:
"Mode Advanced Clutch Bite Point "to configure when gears change
"Mode Clutch/Handbrake "for drift fans
" Fashion Brake/Throttle "for those without pedals
"Mode Mappable "to do what you want with it
The button plate features a 2.7″ OLED screen for displaying the vehicle's vital data, ten buttons, three switches, and a RevLED. The wheel, or steering wheel, is 32 cm in diameter and made of high-quality aluminum and suede, worthy of a Porsche.
In terms of feel and grip, this steering wheel is simply excellent. Everything is perfect, whether shifting gears with the paddles or changing parameters with the buttons. The sensations are there right from the first touch. You know its quality just by looking at it, and if you're lucky enough to use it during a sim-racing session, you'll know why. Fanatec is among the leaders in this industry.
It's PS4 compatible, as well as PC. Strangely, the Podium Porsche GT3 R is not compatible with Xbox. PS4 fans must be overwhelmed with this information, but let me calm you down immediately. This steering wheel's compatibility is undoubtedly there, but it's limited. This means all its features, buttons, and modes may not work on Sony's console. Some games will natively support the Podium Porsche GT3, while others won't. And I'm not even talking about the OS versions of the PS4. Folks, on this point, it's best to keep your console up to date.
Let me now turn to the price. Listed at €649.95, this bundle is expensive. And that price doesn't include the base, which you'll need to attach to the steering wheel or the pedals. As for the pedalboard, you can use the paddles in " " mode. Brake/Throttle, "But it depends on the game and your platform.
The Podium Porsche GT3 R is an excellent steering wheel for fans of both German brands, Fanatec and Porsche. The bar is so high on this device that it's hard to believe that the manufacturer could develop anything better. If you can afford this gem, I highly recommend it. You won't regret it.
The Racing Wheel F1 Podium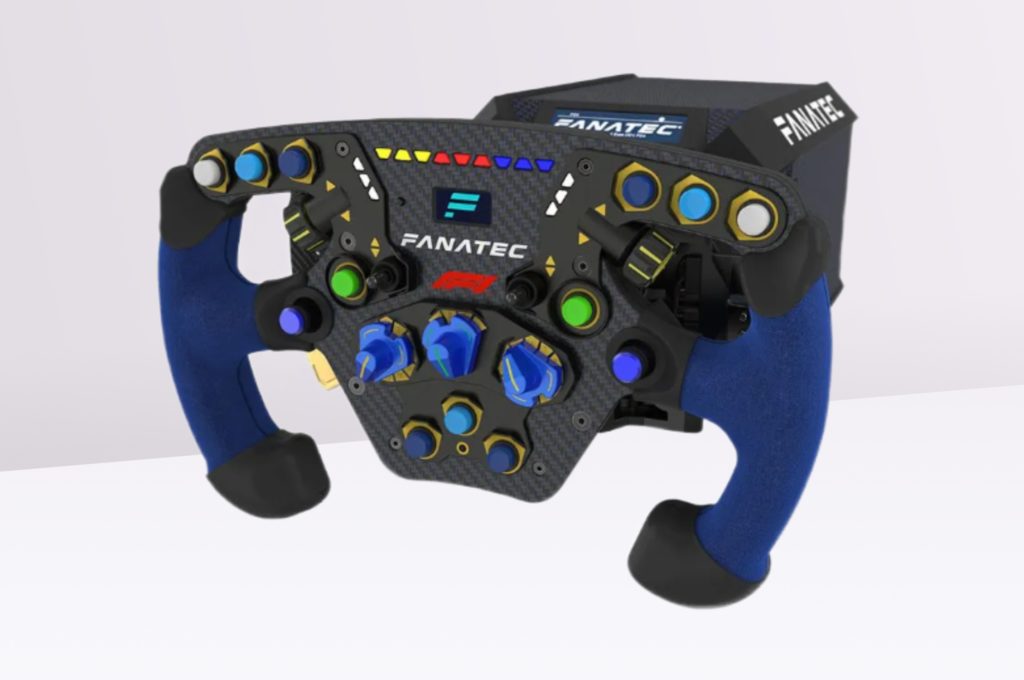 Advantages :
The brand's best steering wheel, Fanatec
Excellent build quality
Disadvantages :
Very high price
Handling is not easy for beginners
So yes, Fanatec can do better than Podium Porsche GT3 R. Now it's time for the best Fanatecon Podium Racing Wheel F1. As the name suggests, this wheel is directly inspired by official Formula 1 racing. This means that the FIA has given its authorization, as has Sony, for this Direct Drive Force steering wheel to run on PS4 and PS5, and that says a lot about Fanatec.
Its construction is just as premium as it looks. On the menu: use of carbon fiber. Yes, you read that right. On this sim-racing steering wheel, the manufacturer has used carbon fiber to enhance immersion further, and it's an absolute success—a masterpiece,
The paddles are made of aluminum and offer a feel worthy of a racing car. There are 11 buttons, three switches, and toggle switches, plus a 2.7″ OLED display for vehicle telemetry data.
The grip of this steering wheel is perfect, as are its ergonomics. All buttons are ideally placed for ease of use and increased immersion during a sim-racing session. It's THE steering wheel, a must-have for all hardcore fans of this discipline.
Compatibility-wise, you're in for a treat. The Podium Racing Wheel F1 will run on PS4, PS5, PC and Xbox. However, you must check the base's compatibility with Microsoft consoles. On PC, it will work Plug & Play without the slightest problem.
As you can imagine, such a steering wheel, Fanatec, has a price, and I advise you to hold on to your screen. The Podium Racing Wheel F1 makes no less than 1800 €! For this price, it's more than premium. It's even more than a decent PC. But fortunately for us sim-racing fans, Fanatec often puts its steering wheel on special offer at €1300, which is quite expensive.
Please read my full review of the Fanatec Podium Racing Wheel F1.
Which one to choose?
Well, that's up to you. Practically, it depends on your budget and willingness to spend money on a sim-racing setup. If I were in your shoes and looking for a good steering wheel Fanatec PS4 compatible, I'd take the GT DD Pro. This is an excellent bundle with the steering wheel, base, and pedals. Admittedly, the steering wheel is plastic, but it's not a shoddy product.
Now, if you've got a bank account that can back you up, I'd personally take the CSL Elite with a CSL DD base of 5 nm and a pedalboard to keep the purchase price relatively low. Otherwise, for maximum sensations, the Porsche 911 GT3 R and a CLS DD base from 8 nm this time.
Remember that if you take any steering wheel, FanatecYou won't be disappointed with your purchase. This brand's products are of excellent quality, and you'll be able to enjoy them for many years.
Similar products