Sim-racing has gained much momentum in recent years, especially with the advent of cockpit setups and the exploitation of this discipline by motor racing teams. Like airline and fighter pilots, racing drivers now train on simulators, usually using consumer peripherals. You read that right: F2, GT, and other racing drivers introduce steering wheels you can buy online, not with Thrustmaster or Logitech, but with more immersive products.
I started sim-racing many years ago, and like you, I was lost in the choice of peripherals. Everything is there to dissuade the most persevering between steering wheels, pedals, essential technologies, and gearshifts, and I know what I'm talking about.
The world of sim-racing has recently become an ocean of peripherals, and it's straightforward to get lost without a bit of help. In this article, I will introduce you to the best sim-racing wheels on the market, trying to appeal to all pockets so as not to make anyone jealous.
Entry-level wheels
Let's start with so-called entry-level steering wheels. These steering wheels are most often sold as a bundle of base + steering wheel and pedalboard, and Logitech and Thrustmaster dominate this segment. I'm not going to talk about wheels alone because you need a base to use it, and in this segment, it's simply impossible to get an excellent sim-racing peripheral for less than €200.
The Thrustmaster Ferrari 458 Spider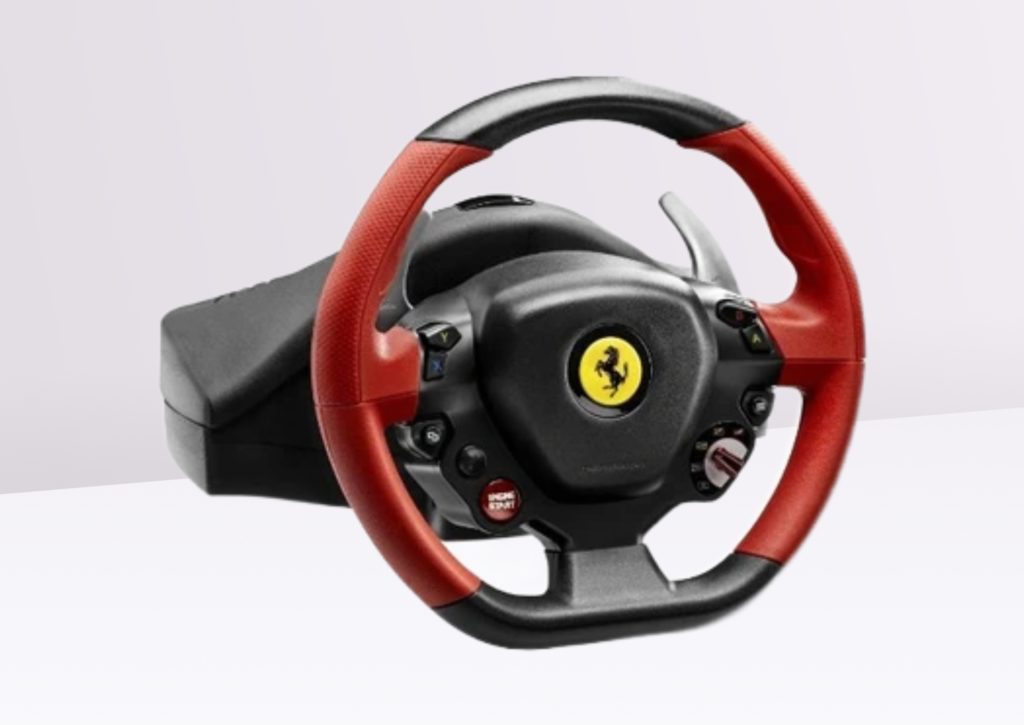 Advantages:
Excellent for beginners
Beautiful price
Disadvantages :
Quality not up to scratch
Mediocre driving feel
The Thrustmaster Ferrari 458 Spider can be considered an entry-level or low-end steering wheel. Its plastic construction means it can be purchased for barely 110 €. For comparison's sake, you can get more expensive controllers than this Thrustmaster, and that's saying a lot.
In terms of build quality, it's borderline a children's toy, to be honest. Nothing goes right on this wheel, and I wonder why the manufacturer markets it. The wheel is pretty with its red and black and the Ferrari logo in the middle, but that's about it.
Driving sensations were sidelined in the design of this steering wheel. But why? For the simple reason that there's no force feedback, that's why. The steering wheel uses a spring system or something to reposition it in the center, giving it a semblance of resistance.
If you want to try sim-racing for really cheap, the Thrustmaster Ferrari 458 Spider can be considered. But if I were you, I'd take another steering wheel of much better quality than this one. And for those interested, it's compatible with both PC and Xbox.
I've put it on this list purely for its price, which is often around €100, and that it's a decent way to get into the discipline.
Please read my full review of the Thrustmaster Ferrari 458 Spider.
The Thrustmaster T150 RS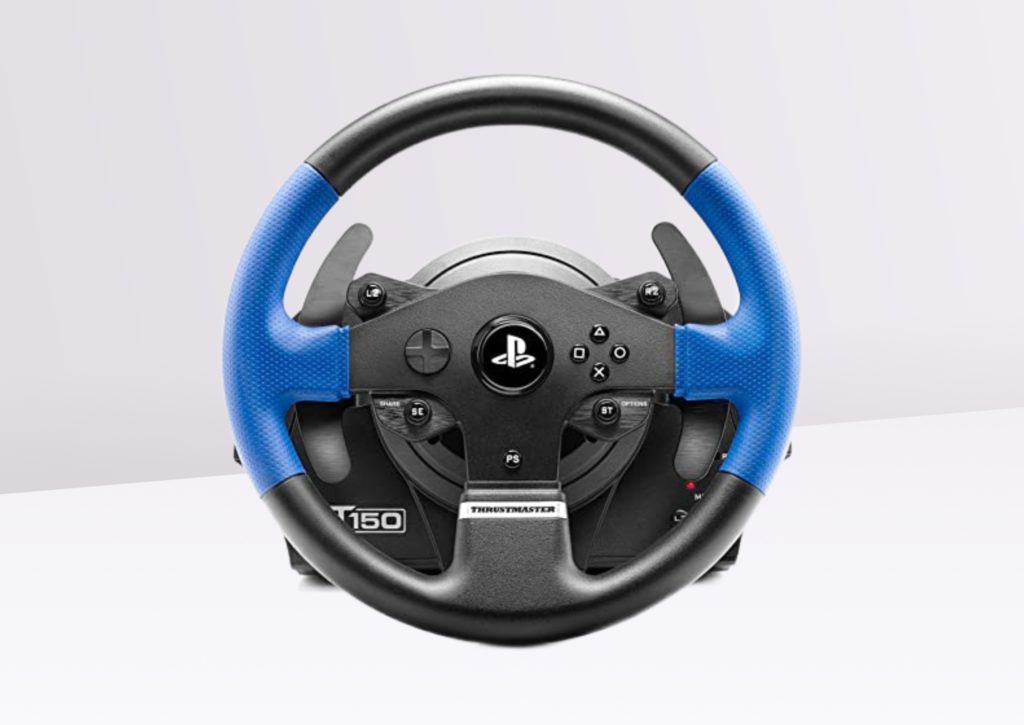 Advantages:
Good feel for beginners/amateurs
Force feedback
Attractive price
Disadvantages :
I'd choose the Thrustmaster T150 RS to get started in sim racing. It's an excellent wheel for the price, especially with what comes with it.
The bundle includes a steering wheel attached to a base and a pedalboard, which is of half-doubtful quality. Unlike the Ferrari 458 Spidert, the T150 RS has a belt-and-gear force feedback system. It's not the best technology for feel and sensations, but it's the best available in the €200 range.
This steering wheel is compatible with Sony consoles, uses a lot of plastic in its construction, and is decent for starting in sim-racing. The wheel is 28 cm in diameter, and the grip is good, even if the leather is a little too sticky for my liking.
The paddles are integrated, also in plastic, but that's a plus for beginners. So, you won't have to buy a shifter to increase immersion. As for the pedals, they, too, are made of plastic and look cheap. Don't try heavy braking with it; you'll have only one working pedal. I wouldn't say I like it, and I'm afraid I'll break it every time I use it.
In terms of feeling, it's okay, but nothing more. There's some force feedback and resistance, but not much. Again, for the price, that's understandable and forgivable, too.
Please read my full review of the Thrustmaster T150.
Mid-range steering wheels
We're now moving on to mid-range steering wheels, with prices between €300 and €400, and sometimes €500 for specific models starting to reach the top end of the market. I know it's a bit expensive for some people, but the mid-range of sim-racing wheels is made up of direct-drive or belt-drive bases, depending on your budget.
The Fanatec CSL Elite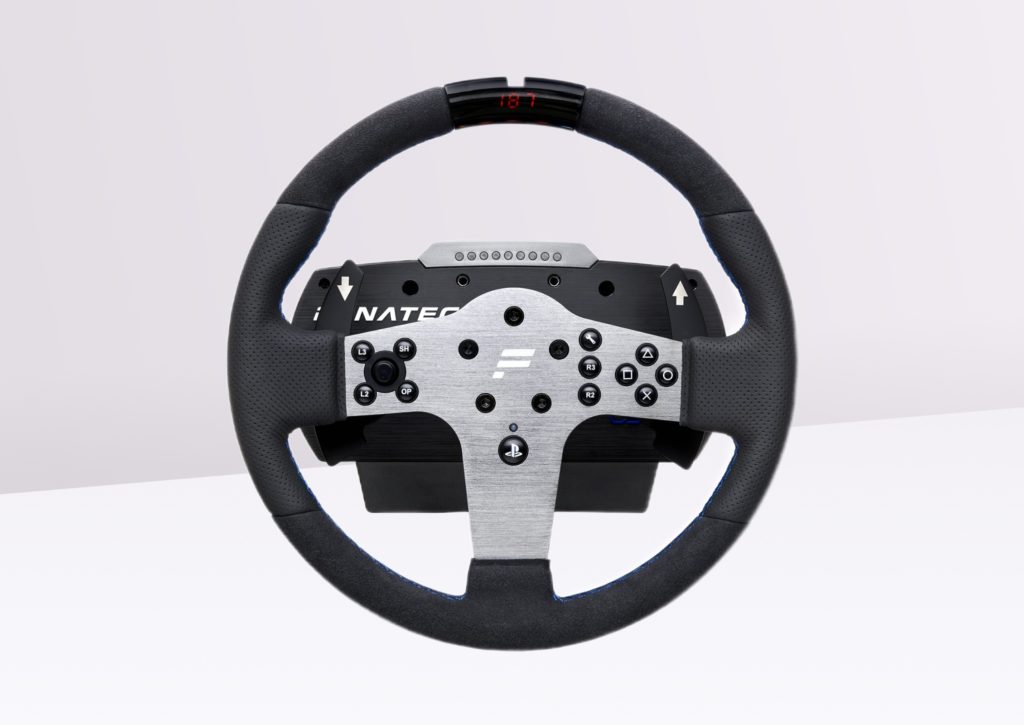 Advantages:
Reasonable force feedback and an excellent feel
Superb build quality
Disadvantages :
Fanatec is a brand known for offering top-quality products and is considered by many, myself included, to be the best in sim racing. With over 20 years of experience in the game, the German manufacturer has always been a pioneer in the discipline's technologies.
The steering wheel catalog of Fanatec is enormous, with products to suit all budgets and platforms. One of its peripherals, the CSL Elite, is considered the best for the money.
This steering wheel has a charming design, and the wheel diameter is 30 cm, like most car steering wheels. A plus point for realism. Its aluminum construction gives it sturdiness and a premium look.
Gear shift fans will be delighted that the CSL Elite incorporates two steering wheel-mounted paddles Snapdome from Fanatec. Although the CSL is, in fact, the German manufacturer's entry-level range, the latter, and this is what I like about it, integrates technologies from much higher degrees, such as the Clubsport.
Thanks to this, you have a servomotor in DirectForce that delivers incredible driving sensations and force feedback worthy of a top-of-the-range base without breaking the bank. Sim-racing fans know that the products Fanatec are expensive, which is also true of the CSL Elite. Priced at almost €400, all you get is the base and steering wheel, which can be easily replaced thanks to the Quick Release system. It's not cheap, but at least you have a quality product to keep you sim-racing for years.
The CLS Elite is a wheel I recommend for all sim-racing beginners and fans of the discipline.
The Logitech G923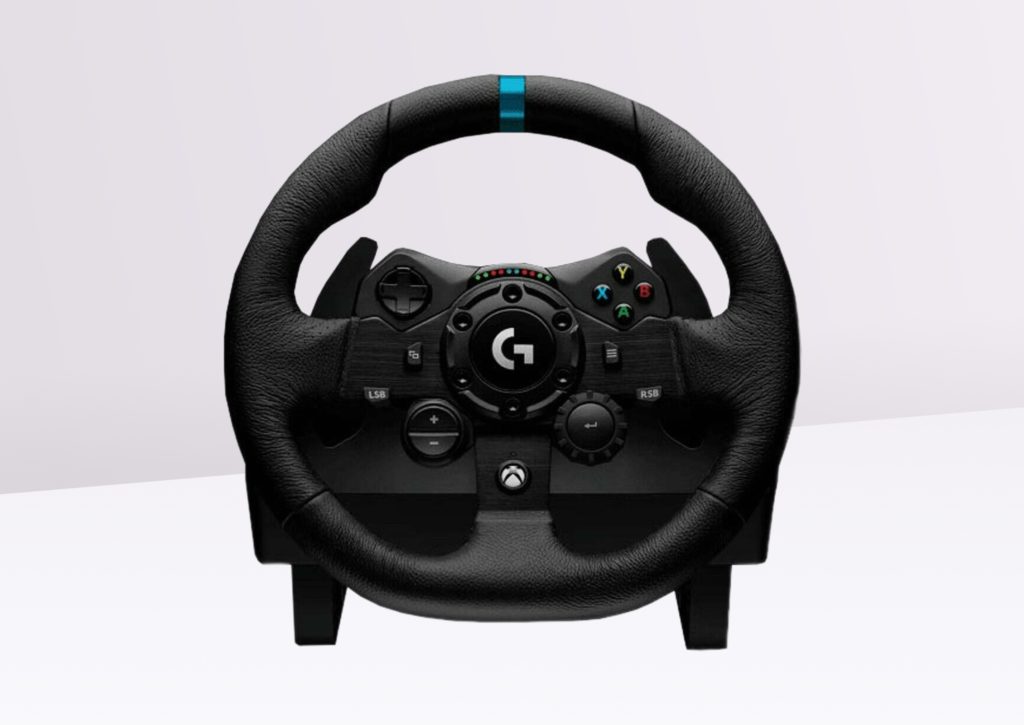 Advantage:
Bundle with pedals and steering wheel
Good finish and build quality
Correct feel
Disadvantages :
The G923 is a very good flywheel + crankset bundle for €350 – €400 (depending on the retailer), at least for those who want to get started in the discipline. Based on the exact mechanisms and sauce as the steering wheels G29 and G920 with gear-driven force feedback and a beautiful price, the G923 is well on the way to becoming Logitech's bestseller, at least in the mid-range segment.
The finish is good, with leather and aluminum on the wheel and steel on the steering column. For those who think this steering wheel isn't solid, Logitech has proved the contrary with the materials used.
Unlike the CLS Elite, which is sold at almost the same price, the G923 is delivered in a bundle with a high-quality pedalboard. The technology of this device is a Load Cell with sensitive springs to simulate a car's braking. There is some feeling in reality, but it's not on the same level as other braking systems, such as hydraulic ones. But, don't get me wrong, it's quite correct for the price.
Logitech has done well to add a RevLED to this steering wheel, just above its center. It's beneficial for checking engine speed, especially if you like manual shifting with paddles. Another positive point is the steering wheel's compatibility. The G923 will run on all platforms: PC, Xbox One/Series, and PS4/5. If you're looking for sim racing, this is for you.
For a mere €400, this is a good steering wheel, especially when it comes with a pedalboard. Don't expect to feel like you're in a race car, but it's excellent for the price. I enjoyed using it, as I do with all our products. Logitech. I recommend it for limited budgets.
Please read my full review of the Logitech G923.
High-end steering wheels
Let's move on to the top-of-the-range sim-racing wheels that will blur the line between simu and real racing. With the wheels I'm about to introduce, you won't know whether you're sim-racing or training on the Green Hell.
You won't find a bundle with pedals on this range of steering wheels. It will be wheels and bases only because those who race at this level are looking for premium or even ultra-premium products.
The Fanatec Podium F1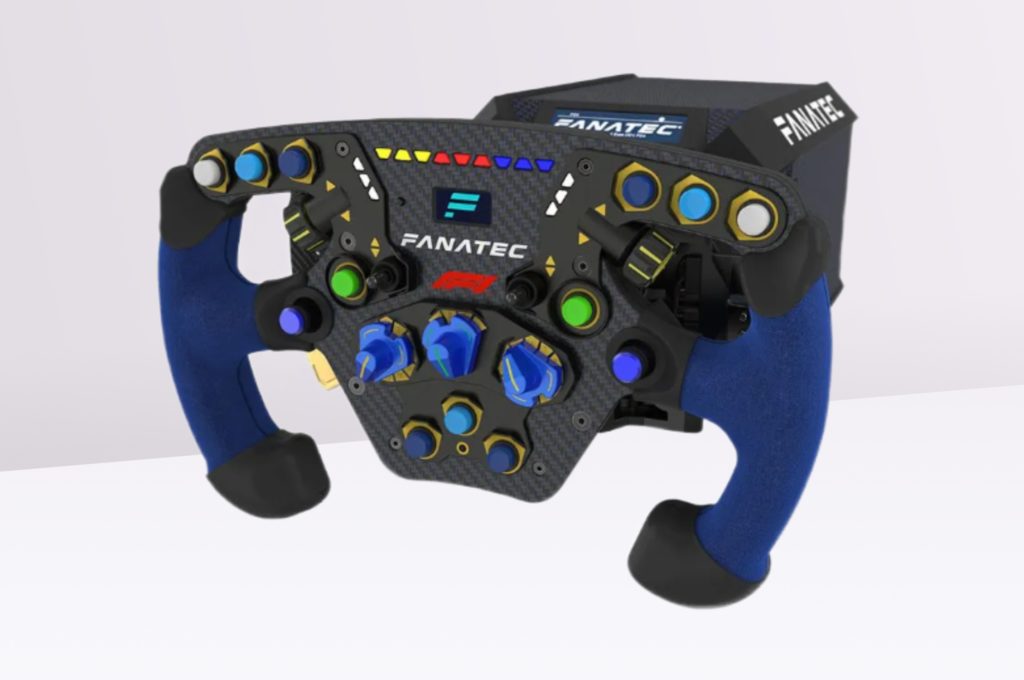 Advantages:
Official F1 license
Carbon fiber
High force feedback
Disadvantages :
High price
Difficult to get to grips with, especially for beginners
The Fanatec Podium F1 is the German manufacturer's top-of-the-range steering wheel. It's the best in its range. The wheel diameter is 27 cm, as are racing wheels, adding an extra layer of realism.
The bundle comes with its Direct Drive 2 base, which offers a max torque of 20 nm, which is enormous for a sim-racing peripheral aimed at the general public. Simucube can indeed go higher into the 25 nm range, but this brand's peripherals are primarily intended for racing drivers, and so are their prices.
On the F1 podium, you've got a flurry of buttons and switches, allowing you to control everything precisely. Everything is done via the steering wheel or Fanatec software, from Launch Control to Traction Control to Dual Clutch. It's a complete, high-performance ecosystem.
The paddles on the Podium F1 are magnetic, of course, and will give you a high degree of intensity when sim-racing. The only weak points of this steering wheel, besides the price, of course, are its ergonomics and grip. The wheel's shape is confusing for sim-racing beginners, as is its grip, especially with the buttons and switches.
It will take some getting used to, even if you have some sim-racing experience. Nevertheless, you're certainly not going to buy this steering wheel if you're looking for your first setup. Displayed at almost 1800 €on the F1 podium is a costly steering wheel, but it's often on special offer at €1300 if you can find it in stock,
Last but not least, compatibility. The Podium F1 works on all platforms: PC, Xbox, and PlayStation. So, all sim-racing fans can use this magnificent steering wheel.
Please read my full review of the Fanatec Podium F1.
Fanatec Podium Racing Wheel Formula in 25 nm version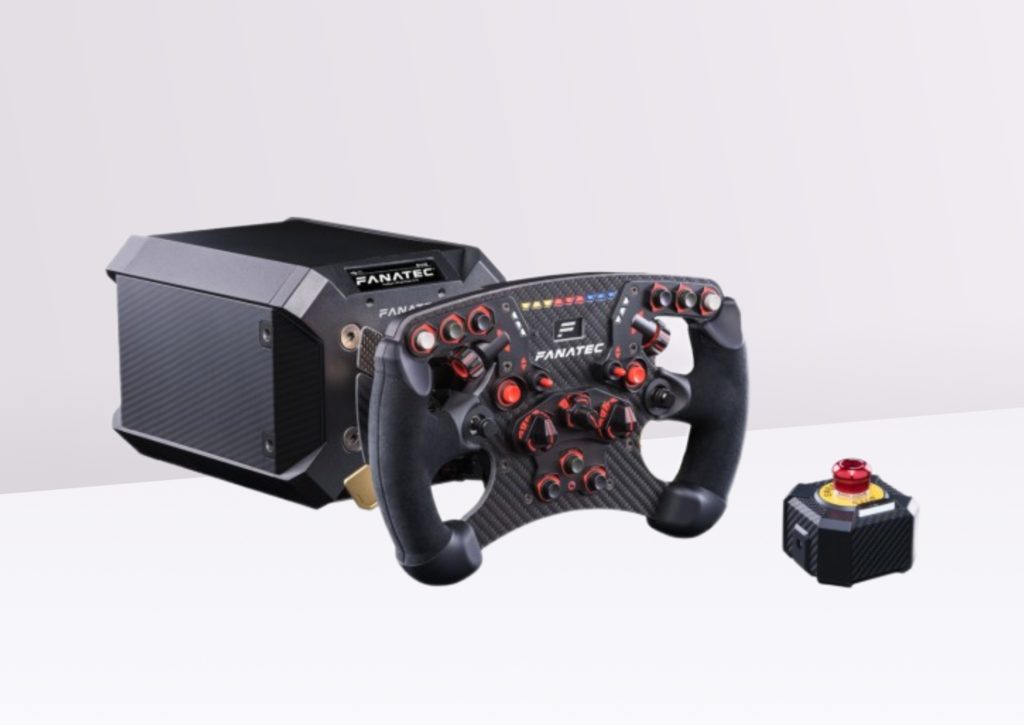 Advantages :
Excellent feel and build quality
25 nm force feedback
Bundle with wheel and base
Disadvantages :
Let's move on to another premium product, Fanatecon Podium Formula, which offers 25 nm. As the name suggests, this wheel has a base that develops 25 nm of torque, which is even more immersive than the 20 nm Podium F1 we've just seen.
Technically, this bundle uses parts from the Fanatec catalog, namely the steering wheel ClubSport Steering Wheel Formula V2.5 X, the Podium Advanced Paddle Module, and the Podium Wheel Base DD2, all for over €2,000. For those who can afford such a device, I invite you to read on.
The wheel's ergonomics are superb, and I'd say it grips better than the Podium F1's. On the menu, carbon fiber is used for the construction, and aluminum is used for the base and paddles. Speaking of paddles, there are 6, including two analog ones. These allow you to control Launch Control, the clutch, and several other parameters. This steering wheel is designed for professional sim-racers.
The steering wheel has a small screen in the center to display essential car data and button settings. Above the screen is the RevLED lap counter.
If the wheel isn't your liking and you'd prefer another round or flat-bottomed, you can change it thanks to Fanatics Quick Release. The QR supplied with the Podium Formula is made entirely of metal, as you'd expect from a top-of-the-range product. So, there are no dead zones during use. It's welded at the base.
It's the ultimate sim-racing flywheel with 25 nm of torque in this configuration. Fanatec has shown the competition, notably Simucube, that he is still in the game, and that's not likely to change.
Please read my full review of the Fanatec ClubSport Formula V2.5.
Sim-racing steering wheel components
Before presenting you with the best steering wheels I consider for sim-racing, I must address an important subject: the components of a steering wheel. Depending on the range you're aiming for, you'll have peripherals with a steering wheel + base forming a single piece, and you'll also have separate steering wheels and bases.
Steering wheel and base in one piece
This range of peripherals is trendy in sim racing, especially for beginners who don't want to invest much money and time in a setup. A base + steering wheel combo is adequate for console gamers with Forza or Gran Turismo; that's what I think.
Typically, these combos, or bundles, are available at prices in the €100 to €200 range, with even pedalboards for some models. The sensations are essential due to the motor technologies for force feedback, and these flywheels are only for beginners wanting to spend a few hours a week sim-racing.
Steering wheel and separate base
This is where sim-racing begins, with the mid-range and top-of-the-range. The principle is simple: you have a base with its motor (either direct drive or belt-driven) and a steering wheel that can be attached to it using a Quick Release system.
To give you a good idea of all the sim-racing wheels you can choose from, I will present 3 product ranges in the discipline. In reality, there are four ranges of sim-racing peripherals, but the last one is essentially aimed at racing drivers (the top of the professional range).
Which one to choose?
So choosing a steering wheel for sim-racing depends on several factors, including:
The platform. It would be best to choose a steering wheel compatible with the platform you're using. For example, at the very top end of the market, you'll find wheels that only work on PCs, and this is one of the first things to bear in mind.
Budget. For sim-racing beginners, I recommend a budget of €300 to €400 and, if possible, a bundle with the steering wheel, base, and pedals. Remember that the higher you go, the higher the price while getting less bang for your buck.
Availability. Fanatec and Simucube flywheels, for example, are only available in the stores of the two brands. There are no physical retailers for Fanatec, so you won't be able to see the wheels or try them out before you buy. However, I would remind you that the products from these brands are excellent, so don't take any chances.
Ergonomics. Some wheels are not easy to handle, especially for beginners. We're used to wheels; sim-racing on a rectangular one can confuse many people. That's why you need to choose a wheel you feel comfortable with.
Ecosystem. This point depends on your desire to do sim-racing. If you want to break into this discipline, I advise you to stick to a single ecosystem (products from the same brand) to avoid compatibility problems. Having only Fanatec works better than having Logitech and Fanatec, for example.
Conclusion
Steering wheels are essential peripherals in any sim-racing setup. They connect you to the game while giving you feedback on what your car is doing. Choosing one is a crucial thing to do, especially for sim-racing beginners.
The first thing to consider is how much you want to invest in sim racing. If you're going to run a few errands on a Sunday afternoon, you'll want an entry-level or even mid-range setup. But if you're passionate about it, moving up to the top end over time is best.