Sim-racing configs are numerous, and each person has their preferences. Some choose to have the minimum with a steering wheel and pedals, while others opt for a complete setup and add a gearshift, handbrake, cockpit, etc. This differs from case to case, but the primary motivators are the degree of immersion and the budget.
Sim-racing is like buying a car: you do it according to your needs, and the money you feel is adequate to put into a setup. If you have the inclination and means, you can buy a top-of-the-range model with a cockpit, all peripherals, several screens, and other accessories. But if you don't have much free time to devote to this discipline, nor the budget, you won't go for the very top of the range.
Personally, a sim-racing setup without pedals makes no sense. I won't invest my time and money to cut sensations and immersion in half. Nor am I going to accelerate and brake with buttons or paddles. I'd stick to my suitable old controller if I wanted to do that. I like the immersion, the sensations, and the feel of a racing car, and that's why a sim-racing setup without pedals is simply unthinkable.
In this article, I will introduce you to the best sim-racing pedalboards currently on the market. I will only focus on two entry-level products and two top-of-the-range ones.
The Fanatec CSL Pedals LC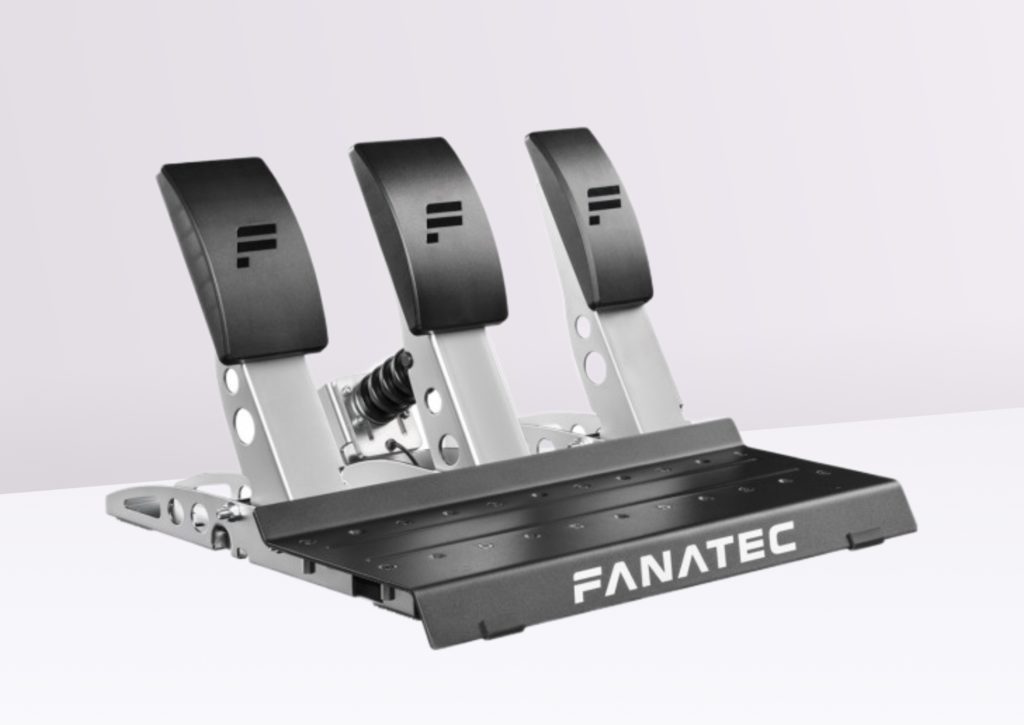 Advantages:
Adjustable pedals
Configurable brake load (Load Cell)
Attractive price
Solid construction
Disadvantages :
The slight dead zone in the pedals
I'll start with a product that I think is excellent for its price: the Fanatec CSL Elite Pedals LC. This device has three pedals and is constructed from solid materials (aluminum). The pedals are covered with rubber sleeves to ensure grip and no damage to the metal underneath. It's like being in a real car, and I love it.
Each pedal is horizontally adjustable to fit sim-racers, something that's pretty rare for an entry-level product, but Fanatec always has something extra over the competition. Also, the brake pedal has a Load Cell that supports up to 90 kg of force and is configurable. This means you can adjust the braking force to your liking, and I love it.
This is an excellent pedalboard for just €200 that will work on all platforms (PC and console). However, it is not without its faults. First, it comes disassembled, which means you have to assemble it yourself. This wasn't a problem for me, but others may not appreciate it. Secondly, as this is an entry-level product, there is a dead zone on all three pedals. The device will not register tiny impulses of one millimeter. It's a shame. But it's still an excellent product for those wishing to enter the discipline and amateurs.
Compatibility-wise, this pedalboard will work perfectly with other products from Fanatec, like the manufacturer's bases.
Please read my full review of the Fanatec CSL Pedals LC.
The Thrustmaster T-LCM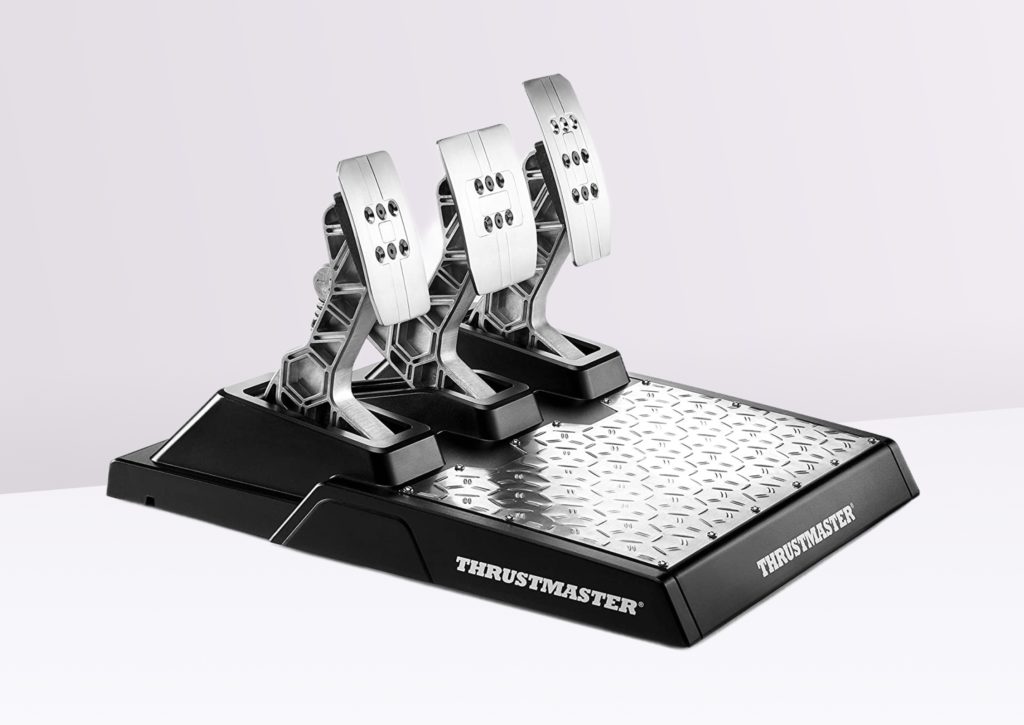 Advantages:
Attractive price
Braking load up to 100 kg
Various settings
Disadvantages :
The second entry is the Thrustmaster T-LCM. Like the Fanatec we saw first, this pedalboard costs less than €200, making it an excellent product. The materials chosen are of good quality (metal), and the feel is spot-on.
I like that Thrustmaster includes six different springs for adjusting the brake pedal, which is right for you. Moreover, the Load Cell's 100kg maximum load capacity is an excellent pedal for heavy braking without plugging in.
Metal construction, as is customary with this sim-racing device, is excellent. Unlike the Fanatec CSL Elite, the Thrustmaster T-LCM Has no rubber coating on the pedals. It's metal directly, with no middle ground. Also, I noticed that the Thrustmaster is a bit big, but that's no problem. On the contrary, the wide footrest area is excellent, leaving me comfortable and close to the pedals.
If you're looking for drawbacks to this device, I haven't found any. For its price (in the €180 range), it's just perfect, whether for amateurs or fans of sim racing. It's a must-have for any configuration.
Please read my full review of the Thrustmaster T-LCM.
Heusinkveld Sim Pedals Ultimate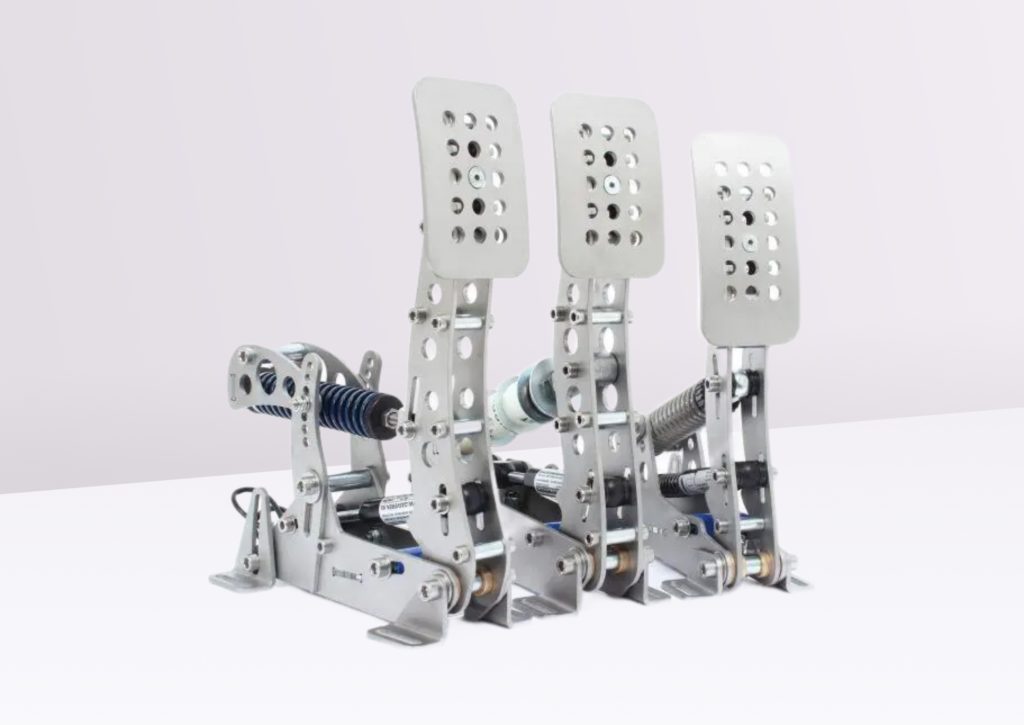 Advantages:
Hydraulic shock absorber
All-metal construction
Available with 2 or 3 pedals
Disadvantages :
I'd now like to turn to what I consider to be a high-end device: the Heusinkveld Sim Pedals Ultimate. When using this sim-racing pedalboard, the difference between its feel and that of a racing car is extremely slight, and some of you won't even know the difference.
This pedal set is built entirely of metal (aluminum) to offer rigidity unmatched in the segment. It's just a piece of jewelry. And to top it all off, the maximum braking force is 200 kg, twice as much as the pedals we've just seen.
Unlike the others, the Heusinkveld Sim Pedals Ultimate offers an immediate pedal response with no dead zones or anything else. It's downright exhilarating. Of course, all this comes at a price. The Heusinkveld Sim Pedals Ultimate is priced at just over €1,000 in a 3-pedal configuration and less than €900 in a 2-pedal format. I'd recommend the 2-pedal version if you don't want to add a shifter to your setup unless you're a drift fan.
Also, this pedal set is more geared towards motorsports professionals than sim-racing fans, both in price and build quality.
Please read my full review of the Heusinkveld Sim Pedals Ultimate+.
SIMTAG Hydraulic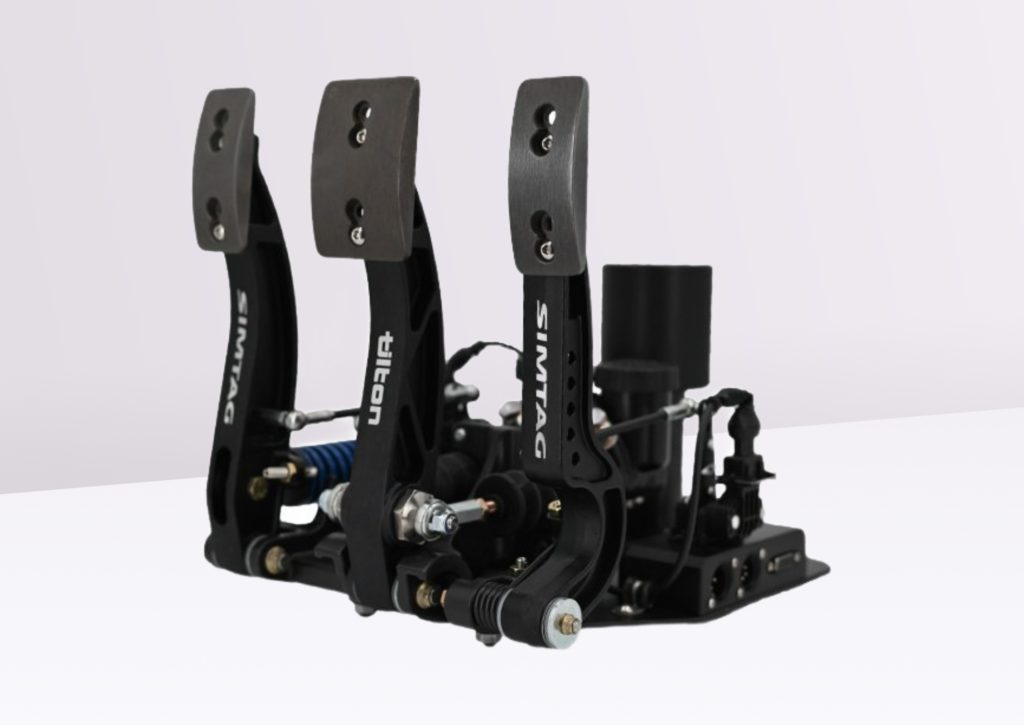 Advantages:
Complete hydraulic system
Pedal positioning sensor
Outstanding build quality
Disadvantages :
Very high price, especially on the 3-pedal version
Let's get down to business. I present the SIMTAG Hydraulic pedals, which, as its name suggests, are hydraulic. Simply put, there are currently two types of pedals in sim-racing: those with Load cell systems and those with hydraulic systems.
Load Cell pedals are simply pedals with springs/dampers that allow braking forces of up to 200 kg for specific peripherals. It looks good on paper, and in practice, it's pretty realistic, given that manufacturers always include several springs and other accessories to adjust the braking feel.
As far as hydraulic pedals are concerned, these are much closer to car braking systems, which are also hydraulic. And the SIMTAG Hydraulic is, and I mean it, the best sim-racing braking system.
Like many other high-end peripheral manufacturers, SIMTAG uses technologies and systems taken directly from racing, which is the case with this pedal set. It's made from forged aluminum, known to be ultra-strong even under the heaviest braking.
The hydraulic system is not just for the brake pedal but for all the pedals on the device, ensuring precision, feel, and consistency when you press your foot down to accelerate, brake, or clutch.
Honestly, there's nothing better on the market as far as I'm concerned, except perhaps the Simucube ActivePedal. This product is in a different range, intended mainly for F2, F3, GT3 teams, etc.
A hydraulic system for a pedal set is expensive, especially if you do it on all three pedals and add top-of-the-range sensors from Bosch. How much is the SIMTAG Hydraulic? Well, it's no less than 1200 € for the two pedals and almost the full double for the three pedals. A configuration with this type of system can easily top €10,000.
Which Pedals to Choose?
Like with a steering wheel or a base, you must first understand your needs. If you're a weekend warrior and do your sim-racing on Forza or Gran Turismo, you shouldn't go for the top-of-the-range models like the SIMTAG Hydraulic with its hydraulic system. A Load Cell pedal set is more than sufficient for this setup.
However, here are my recommendations for choosing a pedal.
Budget. As I always say, first specify a budget for a peripheral that you don't want to exceed. There's no point in researching a €1,000-plus pedalboard if you only have 200 for that sim-racing peripheral. Set a budget for a pedalboard based on the other peripherals you also have (steering wheel, base, shifter, screen, etc.).
Availability. Many products are available or distributed via popular retailers such as Boulanger, Darty, Amazon, etc. So, if you want a pedalboard functional immediately, try brands like Thrustmaster and Logitech, which offer excellent sim-racing peripherals at reasonable prices. Names like Fanatec and Simucube only sell via their store, which can cause stock availability problems.
Compatibility. Always try to stay within a single ecosystem for the best possible compatibility. I should point out that some sim-racing manufacturers, such as Fanatec or Simucube, offer product ranges that are not compatible with consoles. Typically, high-end or even very high-end sim-racing peripherals are only compatible with PCs because this is the only platform capable of pushing FPS to the max and because of the greater availability of sim-racing games.
Feeling. So, this point is related to the first, budget. If you want an excellent pedal, feel you can't beat Load Cell pedals for value. Hydraulic systems are in a much higher range, typically aimed at hardcore sim-racing fans and racing professionals.
Pedalboards are an essential part of sim-racing setups, right up there with steering wheels and bases. It's simple: you'll have virtually no feel if you don't use pedalboards. It's like driving an electric car; it goes fast, but the driving feel and sensations just aren't there.