Sim-racing is a discipline that began many years ago with enthusiasts who always wanted to feel more at the wheel of real racing cars in digital format. These enthusiasts have collaborated in creating numerous brands, such as Logitech, ThrustmasterFanatec, etc., big names in the world of simulation in general.
Like the many players in the game, Thrustmaster was founded long before the 2000s, in 1990 to be precise. Although the brand has been around for over 30 years, it's certainly not the oldest in the business. Suppose you run into a gamer at a trade show, or anywhere else for that matter, and you're talking about simulator peripherals. In that case, this is the place to be. Thrustmaster is the first brand that comes to mind, and that says a lot about this manufacturer.
In sim-racing, we have different players focusing on different market segments. For example, Simucube and Fanatec, which are in the high-end, even very high-end, segment. Logitech mainly targets "budget-friendly" configurations, even if their recent products are beginning to show some willingness to titillate the big names as far as Thrustmaster Thrustmaster is a trendy brand in sim-racing. Everyone loves it, and that's unlikely to change.
Today, I will tell you about Thrustmaster's history, how it seduced many sim-racers, and its flagship products.
Thrustmaster product ranges
Thrustmaster offers many sim-racing products to its fans. However, their categorization is a little odd, in my opinion. Thrustmaster indeedis divided into three main categories: Main, Sparco, and Ferrari ,entry-level, mid-range, and top-of-the-range products. These are the flagship products. But in the manufacturer's catalog, you'll find other products that don't fit into these three ranges and are more often than not specific. And that's why I find the catalog Thrustmaster a bit strange and easy to get lost in, even for a connoisseur of the discipline.
The Main Range
At ThrustmasterThis range represents the gateway to the world of sim-racing peripherals. This range is characterized by affordable products, almost unbeatable in price, reasonably good quality, and, above all, delivered in bundles for the most part.
The main range is by far the most popular at Thrustmaster for the reasons I've just mentioned, but also because it also focuses on consoles. To tell the truth, if you have a PS4, Xbox One, or the most recent ones, you're certainly not spending more than €200 or €300 on a sim-racing setup, and Thrustmaster has precisely what you need at this price range.
Console sim-racers prefer products from Thrustmaster for their attractive price and compatibility with Sony and Microsoft machines. Spending €1,500 on a steering wheel and a base to play Need For Speed makes no sense. At least, that's what I think.
Sparco range
Racing fans know that Sparco is an automotive equipment manufacturer. The brand manufactures steering wheels, seats, gearshift knobs, etc., and has partnered with Thrustmaster to create sim-racing peripherals specifically geared towards rallying. You're not limited to rally sims, but these products were designed with that in mind.
Sparco products are the mid-range from Thrustmaster, with unbeatable prices in the segment. The quality is much better than that of entry-level products, and the emphasis is on sensation and feel. If you want to get into sim-racing without breaking the bank, this is the range you should aim for from Thrustmaster.
The Ferrari range
The Ferrari range came into being thanks to a partnership with the iconic car manufacturer. Here again, you have several products replicas of racing Ferrari steering wheels, making them excellent peripherals to use in sim-racing, especially if you're a purist of the prancing horse marque.
Ferrari products from Thrustmaster are numerous, with different prices. You can have, for example, a base and a steering wheel TS-PC Racer Ferrari 488 Challenge for around €600 and a steering wheel Thrustmaster Ferrari 599XX EVO for €250. But it's still top-of-the-range, with excellent materials and build quality.
Thrustmaster steering wheels
I'll now move on to the subject that interests you most: steering wheels. Thrustmaster. The strength of this brand lies in its vast catalog of products. There's something for every taste and price, even if it doesn't necessarily thrill the game's big bosses, such as Fanatec.
In what follows, I will give you a presentation of the shuttlecocks I consider the best in each range of Thrustmaster and give you their advantages, disadvantages, price, etc. I won't provide you with a buying guide with several options, but only on products with excellent value for money.
The Thrustmaster T300 RS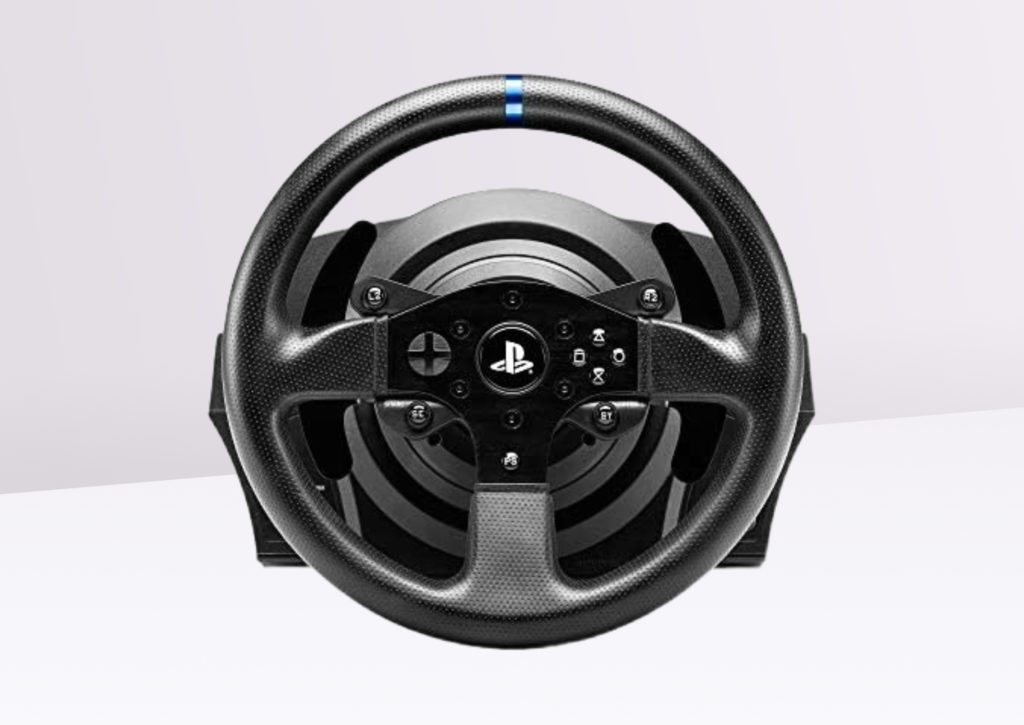 Advantages:
Excellent force feedback for the range
Good build quality
Quick Release
Disadvantages :
Use of some relatively cheap materials
I'm talking about a bundle (steering wheel, base, and pedals) from Thrustmaster's main range that I consider excellent, the T300 RS. This is a complete steering wheel with all the peripherals you need for sim-racing on PC or Sony consoles. Unfortunately, this steering wheel is not compatible with Sony consoles. Microsoft, as Sony officially licenses it. It's a shame, but it's not the end of the world.
The build quality is excellent. You've got metal for the whole wheel structure and textured rubber for the cover. It's a bit cheap, but you can't expect too much for the price (around €350), especially with a complete bundle.
The T300 RS is based on a brushless motor. This industrial flywheel provides excellent sensations and feel. Several sensors are integrated into this flywheel to read the rider's inputs and react accordingly perfectly. There's nothing better in this segment. Another positive point is that this base incorporates a Quick Release system for using another manufacturer's wheel.
The T300 RS is an excellent wheel for beginners or sim-racing enthusiasts. You also have a fantastic product that doesn't fit into any range, the Thrustmaster T-GT II ( to discover cl, check here). Still, it's almost twice as expensive as the T300 RS, and I wouldn't necessarily recommend it if you're starting in sim-racing.
Please read my full review of the Thrustmaster T300 RS.
The Thrustmaster Competition Wheel SPARCO P310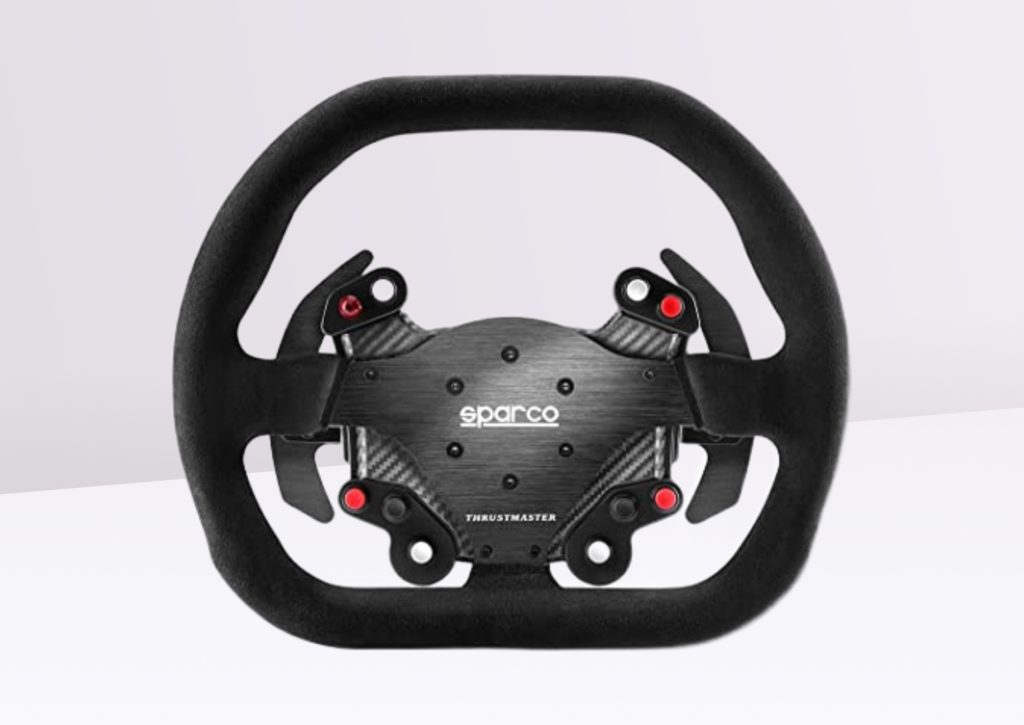 Advantages:
Powerful force feedback
Premium build quality
Official Sparco steering wheel replica
Disadvantages :
The range of Sparco from Thrustmaster is vast, with many products, and I find that the Competition Wheel SPARCO P310 is the best, at least in terms of value for money.
Design-wise, it's just sublime. The steering wheel is 31 cm in diameter and has been developed in close collaboration with Sparco to replicate one of the OEM's steering wheels. The shape won't please everyone, but I like it. You've got the metal wheel structure and a black suede leather covering of excellent quality, which would make high-end steering wheels from other manufacturers envious. I have to say that Thrustmaster has pulled out all the stops on this wheel.
The controls are located on a hub at the rear of the wheel, and the paddles are of excellent quality in brushed aluminum. Frankly, the shifting feel is perfect, even for a mid-range wheel.
The base motor is brushless with 40 Watts of power. It's decent and provides a good feel with reasonable force feedback. In addition, there's a cooling system to keep the motor in optimum temperature conditions so you can enjoy many hours of sim-racing.
Let's talk about platform compatibility. This steering wheel and its base are compatible with PC, Playstation, and Xbox, making it an excellent sim-racing peripheral for all gamers. It's a superb wheel from the brand for around 160 euros.
The TS-PC Racer Ferrari 488 Challenge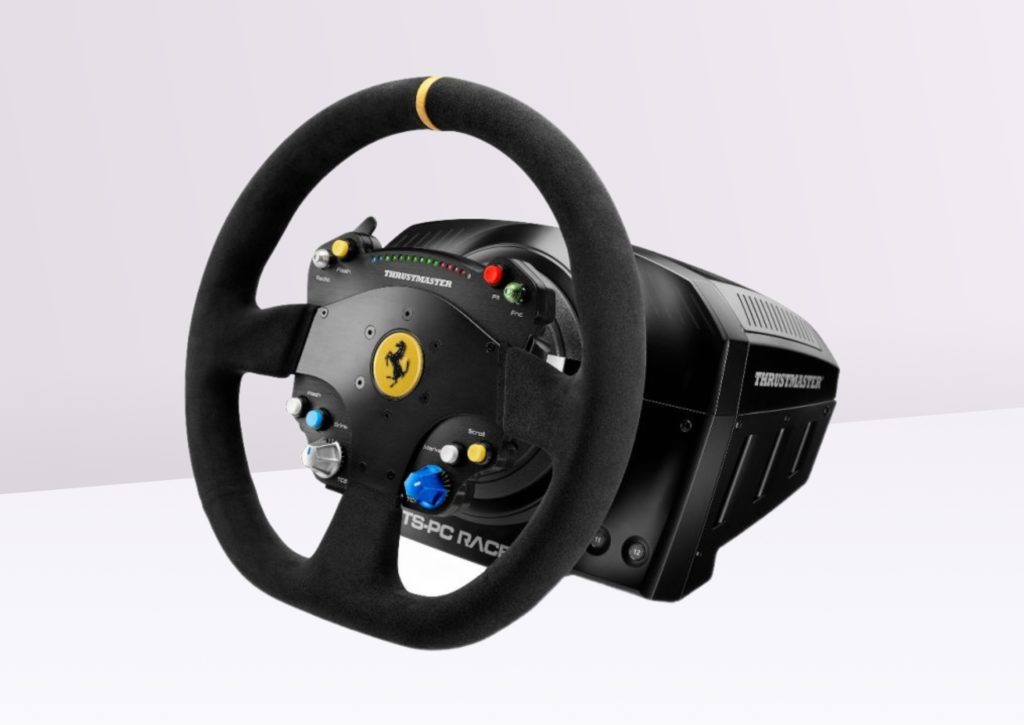 Advantages:
Official Ferrari license
Powerful, responsive force feedback
Disadvantages :
Premium price
Supplied without crankset
I want to finish with an excellent Ferrari-licensed Thrustmaster steering wheel, the TS-PC Racer Ferrari 488 Challenge. I'll say it now: it's not the most expensive in the Thrustmaster range, as many of the manufacturer's products don't have a degree, such as the T-GT 2 at over €700.
Like the Sparco we've just seen, the TS-PC Racer Ferrari 488 Challenge features a hub at the rear with all the buttons and paddles. The wheel structure is made of metal with Alcantara all around, giving it a premium touch. I love it, anyway.
On the hub, you have a RevLED, two paddles, and a flurry of buttons for menu navigation and vehicle settings. The base is the TS-PC with a 40-watt motor, as are many Sparco motors. The feel is good, as is the force feedback. Moreover, you have good motor cooling technology to keep it running smoothly for many hours.
The grip on this flywheel is perfect. The wheel is 32 cm in diameter, a little large, but round with a flat bottom. This allows it to be used in many sim-racing games, and I love it. The only drawback is that it comes without a pedal board. We've become accustomed to Thrustmaster sim-racing products with all peripherals, and that's a bit of a shame.
I love this wheel and recommend it to amateur sim racers or fans of the discipline. You won't be put off by its shape or grip when you use it.
Please read my full review of the Thrustmaster TS-PC Racer.
The History of Thrustmaster
It all began in 1990 when American engineers founded the Thrustmaster from various professions. The brand is American, and its members, at the time, were part of the Army, Navy, and NASA. It has to be said that founding a company with people from these organizations is a recipe for success, and it was.
The company's aim at the time, which hasn't changed nowadays, was to offer simulation peripherals to help pilots train better with their aircraft. Just like racing pilots, pilots of airliners and fighter jets spend hundreds of hours in simulation to hone their skills, and they needed top-quality peripherals that could reproduce 100% of what the aircraft felt like.
But as you know, the simulation world didn't stop with the professionals and moved on to the general public with numerous games. Today, this discipline is very popular with gamers, especially sim-racing. All over the world, Thrustmaster is a brand that is very much appreciated by the public for the products it offers in its segment. I'll say it right now: Thrustmaster doesn't do high-end or even very high-end. Fanatec has been in the game for 25 years and virtually dominated this segment. Thrustmaster targets entry- and mid-range markets with top-quality products.
A final point in the company's history is its 1999 takeover by the French group Guillemot Corporation. The group bought the gaming peripherals division, not the entire company.
Thrustmaster's approach to peripherals
Sim-racing is a universe unto itself, with players and a fanbase worldwide. Many brands offer products exclusively for sim-racing, such as Fanatec. The Thrustmaster is different: instead of targeting one market segment, the brand offers several gaming peripherals to reach as many fans as possible.
Like Fanatec, Thrustmaster offers its customers sim-racing peripherals, flight simulation peripherals, controllers, and accessories, all running on various platforms, namely PCs and consoles.
It's a unique approach that works well for the brand. Instead of focusing on a single segment, Thrustmaster tries to reach out to all simulation enthusiasts, whether racing or flying and offers other peripherals for gamers. This has made the brand we all know today famous and highly regarded. Even if you're not a sim-racing enthusiast, you know that Thrustmaster manufactures good quality peripherals everyone appreciates. The brand has managed to establish itself in the minds of gamers the world over, and I respect it for that.
Instead of aiming very high and offering products for a particular clientele, Thrustmaster has taken a different approach to seducing its buyers. Simply put, the brand has put everything into the quality-price ratio of its products, which has paid off. Even though Fanatec is the best brand for sim racing, Thrustmaster is still the king of value for money, especially if you shop in its mid-range range.
By offering good-quality products at beautiful prices, you encourage players to come and shop with you, even if you're a rather generalist brand. It's the same with cars: Volkswagen is a generalist brand, but it achieves far more sales than BMW, for example, which is an elitist, more premium brand. The trick is to offer sufficiently excellent peripherals of good quality that work well. It worked for Thrustmaster and will undoubtedly continue to do so.
Another point to consider, and one that has helped dramatically Thrustmaster The key to Thrustmaster's rise to the top of sim-racing brands is its approach to bundles. Thrustmaster is well known for selling many of its products in fortunes, with steering wheel, base, and pedals. And even if you go upmarket, you'll still get the steering wheel and floor. This is a big plus for sim-racing enthusiasts, especially for those new to the discipline who don't quite know where to start with their setup.
You'll have peripherals that work well with each other and are delivered together. This approach is very different from that of Fanatec, for example, which emphasizes customizing peripherals. Of course, you can, for example, have a diverse base and steering wheel from Thrustmaster, which will work perfectly well. But on the bulk of the range, you have bundles. This makes it easier for sim-racers to choose, especially those not hardcore in the discipline.
Thrustmaster and its vision of bundles
As I mentioned, Thrustmaster is a generalist compared to other brands, such as Fanatec or Simucube. In absolute terms, it's not bad, and I even think it's good for her.
Instead of focusing on just one segment of the sim-racing market, Thrustmaster tries to reach as many customers as possible, mainly with products that combine good quality with an excellent price. I won't lie to you; in this segment, Thrustmaster reigns supreme.
The brand's vision is to offer bundles at beautiful prices. These bundles typically consist of a steering wheel, a base, and sometimes a pedalboard, depending on the range. Logitech is also doing the same, focusing on bundles to appeal to the broadest possible audience.
The thing is, it works. If you offer a complete bundle in the same box, potential customers won't look elsewhere. When I first started sim-racing, I began with Thrustmaster because the piles were attractively priced and included a steering wheel, base, and pedals. Of course, the quality was nowhere near that of Fanatecnor the price. The two brands are in two different segments of the sim-racing market.
The Thrustmaster ecosystem
So, let's talk about the ecosystem Thrustmaster. Like all the big names in simulation and sim-racing, Thrustmaster has its ecosystem for all its peripherals. These work superbly together, whatever the range you choose.
Like many other brands, Thrustmaster's Thrustmaster connects via the base using a single USB plug. This is simply perfect, worthy of the market leaders. As well as having just one USB socket used by the peripherals, you can set their parameters using the software from Thrustmaster. You'll be able to adjust steering wheels, gearshifts, pedals, bases, etc. – in short, all the manufacturer's products.
Also, all products of Thrustmaster work very well together, so you won't have any compatibility problems because it's the same ecosystem. It's the same as at Fanatec, where you can, for example, have a Podium base with a CSL pedalboard and a ClubSport steering wheel, and everything will work perfectly at Thrustmaster's the same thing.
Which one to choose?
Budget. Like any other sim-racing peripheral, the steering wheel is chosen according to your budget. The good thing about most Thrustmaster products is that they come in a bundle with the steering wheel, base, and pedals. So you can spend a few hundred euros on your setup.
Immersion. Depending on the range, you can have a reasonable degree of immersion. If you want to do amateur sim racing every weekend, I'd advise you to shop at Thrustmaster's main range. If you want a more immersive feel, there are the Sparco and Ferrari for this.
Availability. Thrustmaster is a trendy brand; you'll find its products in stores, supermarkets, and online. This means you can try them out before you buy, which is a big plus compared with the competition.
Compatibility. On this point, most of the Thrustmaster range is compatible with consoles, and all their products are compatible with PCs. However, remember that some peripherals, such as the T-GT 2 steering wheel, are only compatible with Playstation and PC consoles.
Ergonomics. Almost all Thrustmaster steering wheels feel good in the hand, except those specially designed for F1 or GT3. You have to choose one to suit your tastes.
Conclusion
In over 30 years, Thrustmaster has made a name for itself in the game of consumer sim-racing peripherals. The brand's reputation is built on its high-quality products and affordable prices compared with the competition. On top of this, Thrustmaster's after-sales service is also excellent, bringing peace of mind when shopping with this manufacturer.
This brand is among the best in its segment, and I highly recommend its products.
Similar products