Making a sim-racing setup is quite an adventure: first, you have to set a budget for the peripherals and the platform (P.C./consoles), and then you have to decide whether you're going to use a table, a desk, or a cockpit, then it's the choice of peripherals and the degree of immersion you want. It's difficult to do all that, and I know what I'm talking about.
In my opinion, the most essential peripheral in a sim-racing setup is the steering wheel. This is understandable for the simple reason that it's the steering wheel that allows you to control the vehicle and push the immersion even further. Without a steering wheel, you won't be able to sim-rac. Some might say that with a joystick, it's all the same, but it's not the same thing or the same degree of immersion.
Regarding sim racing, several players offer a wide range of top-quality products and peripherals. Logitech is one of them. This brand is best known in gaming for providing excellent P.C. peripherals, such as mice and keyboards. But sim-racing fans also know that the manufacturer offers more than that to its customers, including sim-racing peripherals: steering wheel, shifter, base, pedals, and more. Logitech touches on everything, and in this article, I will introduce you to this brand, its history, and some of its best steering wheels.
The Logitech product range
In sim-racing, Logitech pales in comparison to Fanatec or Thrustmaster. It's a shame, especially considering that the Swiss brand was one of the first in sim racing.
Although there aren't any product ranges, Logitech offers 3 product categories for sim racing. You have a class for entry-level, one for mid-range, and, recently, another for high-end. These categories don't include several peripherals, as with Fanatec, for example, but just the right amount.
Logitech's entry-level range includes a good-quality steering wheel, base, and pedalboard for around €300. The mid-range also includes a better-quality steering wheel, floor, and pedals, with more precise force feedback, for a higher price (over €400). And the latest top-of-the-range model, the Pro with a steering wheel + Direct Drive base bundle for €1100, and that's without pedals. The latter cost less than €400.
Some might think that Logitech's catalog is minimal, especially compared to Fanatec's, for example. However, one element differentiates the two brands: Logitech focuses on beginners and Sunday sim-racing enthusiasts, while Fanatec targets hardcore fans and sim-racing professionals. These are two different visions which must be understood.
But things could change over time, especially considering that Logitech now offers a premium steering wheel, base, and pedalboard, which can compete well with the range ClubSport by Fanatec.
Logitech steering wheels
If the world of sim-racing doesn't ring a bell, I'm afraid I'll have to disappoint you by saying there aren't many Logitech steering wheels on the market today. The manufacturer has four models in its entire catalog, 2 of which are virtually identical and compatible on different platforms.
Logitech is positioned in the entry- to mid-range segment, with decent steering wheels but nothing more. The idea is to offer an affordable product and a gateway to the world of sim racing. Logitech is the place to shop if you're an amateur looking for an inexpensive steering wheel, base, and pedalboard bundle.
The catalog is straightforward, with products that look very similar, except for the Pro range, which is new and aimed at sim-racing pros. What's more, you won't blow your budget, as prices are very affordable for the discipline, especially when considering the products' quality.
Logitech G29 and G920
Advantages:
Good build quality
Solid materials
Correct force feedback
Disadvantages :
Dead zone of a few degrees
I'm starting with a product that represents the entry-level of Logitech, the steering wheels G29 and G920. These steering wheels are two virtually identical products; console compatibility and design are the only differences between them. The G29 is compatible with Playstation and P.C., and the G920 is compatible with Xbox and P.C. As I said, the two wheels are virtually identical.
Overall, these wheels are aimed at beginners who want to get into sim-racing, but they can also be used by enthusiasts who want to have a good time on Forza or Gran Turismo, for example. There's no absolute limit to using these two peripherals unless you're looking for realism and immersion simultaneously.
Even though these two steering wheels cost less than €300, Logitech has still used quality materials in their manufacture. You have metal for the parts that need to be mobile and solid; the rest is plastic. But then, for this price, concessions had to be made, and I fully understand that. The brand's vision is to offer a quality product at a beautiful price, and I've won.
The grip is good, with buttons and paddles easily accessible without moving your hands too much. The leather on the wheel provides a good grip and feel in the hand, enhancing immersion. The only differences between the steering wheel G29 and the G920 are the buttons, which are for PlayStation and the other for Xbox.
Well, I'll move on to the weak point now. This point is understandable if you consider the price, which is often around €260. A dead zone of a few degrees is in the center of the steering wheel. This means that minor trajectory corrections will not be considered due to the base technology. These two Logitech steering wheels use two motors and a gear system to generate force feedback, and that's not the most reliable technology in the segment.
All in all, I consider these steering wheels perfect for sim-racing beginners and amateurs who want to have a good time.
Please read my full review of the Logitech G29 or read my full review of the Logitech G920.
The Logitech G923 Trueforce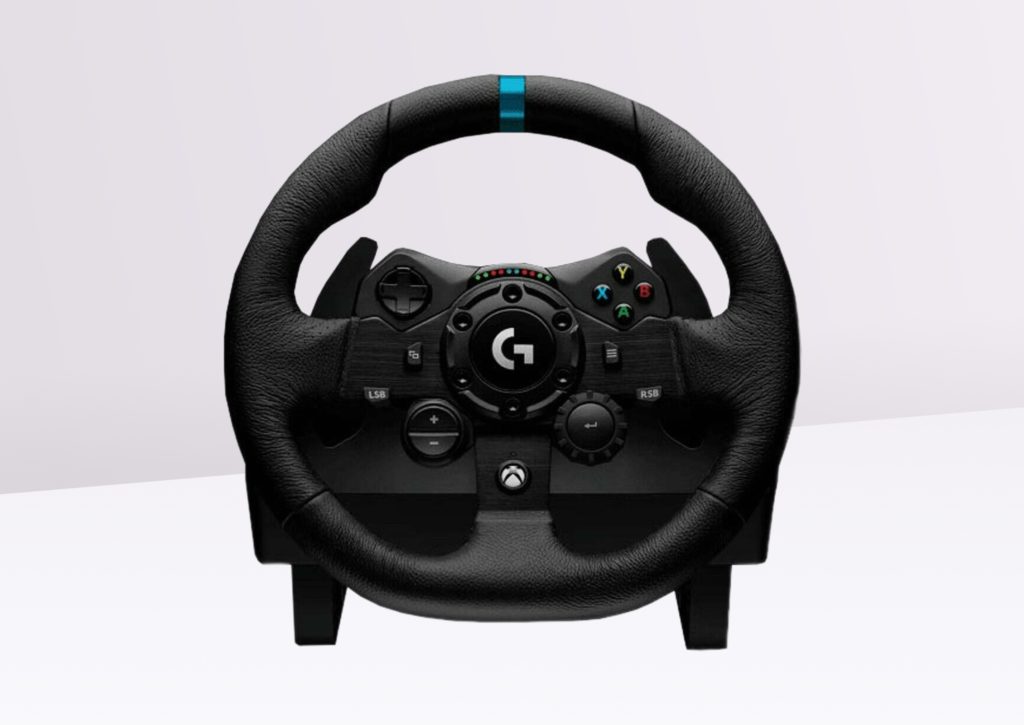 Advantages:
Good build quality
Quality materials
Bundle with base, steering wheel, and pedals
Disadvantages :
Force feedback is sometimes non-linear with Trueforce.
The G923 is an upgrade of the G29 and G920 steering wheels. While it brings new improvements over its predecessors, it also inherits their weak points.
So, the G923 Trueforce is a quality steering wheel for the price (in the €500 range) that uses solid materials. You've got metal for the frame and leather all around the wheel. Frankly, it's premium for the price.
With a diameter of 28 cm, the wheel is a little small for my taste but is easy to handle. Ergonomics are top-notch, and buttons are easily accessible. Moreover, this wheel is compatible with PC, Playstation, and Xbox. Gone are the two models of the same product, now there's just one with better performance.
The difference between the G923 and its predecessors lies in its motor and Trueforce technology. Logitech has developed this technology, which connects directly to the physics engine of the sim you're playing. The result: improved fidelity, increased realism, and performance. Thanks to data from the game's physics engine, force feedback torque is much more precise than before.
On paper, it looks good. But when it comes to application, it's sometimes non-linear. When it works well, the realism approaches that of direct-drive engines. But when it doesn't work, you sometimes get a blurred steering wheel. It's a new technology, and I think Logitech will fine-tune it over time.
I'll now move on to the G923 pedalboard, which is correct. You have three pedals on it, with a Load Cell. The brake is adjustable according to your needs to give you a good feel. It's not entirely up to the level of cranksets with cylinders, but it's decent for the price.
Overall, it's a clear step from the G29 and G920. It's a bundle I'd recommend to amateurs rather than beginners. Immersion is better, as are the sensations experienced.
Please read my full review of the Logitech G923.
The Logitech G Pro Wheel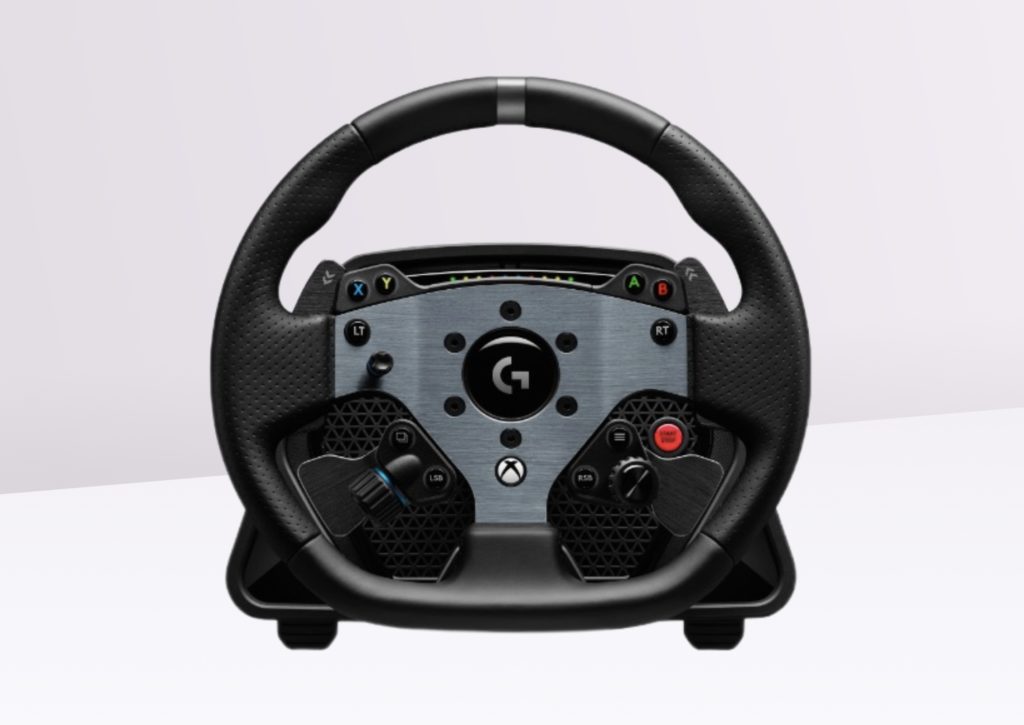 Advantages:
Base Direct Drive
Quick Release
Good build quality
Disadvantages :
The G Pro Wheel is Logitech's first steering wheel in Direct Drive, and I have to say it's a good thing. Competing on the market is always good for consumers, especially considering that Thrustmaster has taken the plunge with its D.D. base.
In terms of design, this steering wheel is available in 2 versions: one for Xbox/P.C. and the other for PS/PC. So be careful before you buy, primarily as the wheel is only sold on the Logitech website.
Ergonomics are excellent, with a flat-bottomed wheel and well-placed buttons/paddles. I love it, especially adding a second pair of steering wheel paddles. Another positive point is that Logitech has finally taken the plunge into Q.R. This implies that the manufacturer is preparing a range of G Pro steering wheels for its customers, and I can't wait to see it!
This new bundle (steering wheel + base) wasand will be released in September 2022. Although Logitech's products are renowned for their reliability, nothing has been proven for this steering wheel, given that it was released just a few months ago. Nevertheless, I'm not too worried about it. On the other hand, I think its price positioning (€1,100) is not ideal, especially when you know that you're getting Fanatec opposite with an 8 nm CLS DD and virtually any mid-range steering wheel for a total of €700 or €800. Of course, you'll say that G Pro Wheel is 11 nm, but the technology is brand new for Logitech, and Fanatec has mastered it for many years. €1100 without the pedalboard is steep, even if the torque is higher than the competition.
Logitech history
Like other sim-racing players, Logitech was founded before the year 2000, in 1981,. Logitech S.A., the company's name, is headquartered in Lausanne, Switzerland. But, in reality, the company's genesis dates back to 1976, when its two founders, Daniel Borel and Pierluigi Zappacosta, were at Stanford University finishing their degree in software engineering.
In the early days of Logitech, the company focused on software. This makes sense, given that its founders had degrees in this field. And it wasn't until the 2000s that the company turned its attention to computer peripherals such as mice and keyboards. Logitech still makes these kinds of peripherals, and they are considered among the best in the world.
After this first successful foray into the world of computer peripherals, Logitech decided to try its hand at developing products for simulation with its first steering wheel for the PS2: the Logitech GT Force. The brand created a whole range of peripherals for Sony's console and P.C., marking the start of a new era.
At this point, things began to happen for Logitech, with its peripherals enjoying worldwide success. Everyone wanted a Logitech keyboard or mouse because there was nothing better on the market at an offer price. And if we fast-forward to today, the situation remains unchanged: Logitech is the peripherals brand with excellent value for money.
When we talk about cheap sim-racing peripherals, we immediately think of cheaply made, unreliable products that provide virtually no feel and are sold at meager prices—affordable products. But Logitech doesn't share the same vision.
Let's take a computer peripheral as an example: mice. Logitech mice offer the best value for money on the market, especially those with the Hero. They can't be considered the best of all time, but Logitech mice tick many boxes to be good mice and for cheap! That's the brand's logic: to offer an excellent product that ticks as many boxes as possible at a very reasonable price. Logitech has become one of the world's leading brands of gaming peripherals.
Unlike leaders such as Fanatec, who don't necessarily seek to compromise in their sim-racing peripherals to the detriment of prices, which are often high, Logitech is always looking for ways to offer budget-friendly products to attract even more customers. It's worked for years and will continue for a long time.
I'll give an example of the brand's most popular wheels, the G29. It's a bundle that includes a steering wheel with a base and a pedalboard, all for around €200. I'll tell you right now: none of the other competitors do better at this price, especially with a base with force feedback and P.C. and console compatibility (depending on the model). And that's why I love Logitech. In my opinion, it's the only brand that keeps in mind that sim-racing isn't just for the elite and those who can afford a good setup.
Logitech's approach to peripherals
As we saw above, Logitech doesn't just make products for sim racing. The brand is in the P.C. and console peripherals market, with keyboards, mice, mouse pads, headsets, simulation products (racing and flight), joysticks, and even agricultural simulation products.
It's not easy to evolve in such a competitive market as peripherals. You need to know that Logitech Logitech has a relatively broad range of products, mainly divided into three categories: entry-level, mid-range, and high-end. This used to apply primarily to keyboards and mice, but the situation has changed with the arrival of the Pro sim-racing.
This approach is almost identical to Thrustmaster's in peripherals, except that Logitech also makes products for computers and consoles and doesn't focus on simulation peripherals. It's a very beneficial approach for the brand and the consumer, who can end up with the full range of Logitech peripherals and its ecosystem.
Logitech's bundle approach
In sim-racing, brands have different approaches to their products. For example, you have Fanatec and Simucube, which are more focused on customizing setups with steering wheel, base, hub, pedals, handbrake, shifter, cockpit, etc. You can choose any peripheral to suit your needs and preferences. I love this approach, but you must have the financial means to buy these sim-racing peripherals.
Logitech doesn't see things the same way, or at least didn't see them that way. Until recently, all the brand's sim-racing peripherals were sold in bundles, with the steering wheel, base, and pedals. You also get gearshifts, but these peripherals are aimed more at fans who want more immersion. However, the Swiss brand wants to change all that and go head-to-head with the competition with more immersive products, namely a steering wheel featuring a direct-drive base, or as we say in the jargon: Direct Drive.
Logitech's a new experience and, above all, uncharted territory, as the brand has continuously evolved in the entry- and mid-range with gear-driven products. And now, out of nowhere, they're bringing us a top-of-the-range D.D. flywheel, still in a bundle and of good quality. I'll come back to this product below.
The Logitech ecosystem
Like all good peripheral manufacturers, whether sim-racing or not, Logitech has an ecosystem that enables its products to operate harmoniously. In sim-racing, Logitech products all connect to work perfectly via a USB connection. It's convenient and the same as other manufacturers.
Logitech peripherals also work on several platforms, namely P.C.s and consoles. The brand's debut in the world of sim-racing goes back to the days of the PS2, with a steering wheel for Gran Turismo. Just because the manufacturer focuses more on the budget-friendly segment doesn't mean you should be apprehensive about using its products. I can assure you that Logitech products are of good quality, whatever the range.
Which one to choose?
Budget. With its new G Pro has, Logitech finally joined the club of high-end manufacturers of sim-racing peripherals. However, there's something for everyone, with bundles priced at under €300, under €500 and over €1000. So shop according to your budget.
Compatibility. Like other players in the game, Logitech offers products compatible with P.S., Xbox, and P.C. platforms, but not all simultaneously. Be sure to do your research before taking the plunge.
Availability. Apart from the G Pro range, all the manufacturer's other products can be easily found in the store, which is ideal for people who want to see and touch before they buy.
Ergonomics. I find Logitech's products straightforward to get to grips with, whatever your preferred sim-racing style. These wheels fit almost any sim, and you'll have no trouble getting the hang of them.
Immersion. Apart from the G Pro Wheel, the G29, G920, and G923 areimmersion  almost identical and correct, but nothing more. If you're looking for a good time in sim racing, you've got the three models I mentioned earlier. You've got the G Pro Wheel if you're looking for even more immersion.
Conclusion
Logitech has always been a brand that offers good quality products at unbeatable prices. The target segment has always been entry/mid-range, but things are slowly changing.
The Swiss brand wants to take on the Big Bosses of sim racing with its range G Pro, which already includes a steering wheel, a base, and a pedalboard. All that remains is to develop the ecosystem that goes with it to compete with the others. The future looks even brighter for the discipline, and Logitech intends to be part of it.
Similar articles