The consoles of Microsoft have been very popular since they first appeared. Admittedly, it's hard for them to beat Sony regarding sales, but they remain capable, popular, and, above all, easy-to-use platforms.
Gone are the days when you had to have a Dream Team of developers to be able to release games on consoles, and it was Microsoft who got the ball rolling in November 2005 with its Xbox 360. From then on, development studios favored the Xbox since it was so easy to create games on this platform, as was the manufacture of peripherals.
Sim-racing is a discipline that has been around for many years, and its major players are Logitech, Fanatec, and Thrustmaster. These three brands have a virtual monopoly on peripherals (steering wheel, pedals, shifter, etc.) for sim-racing setups. Nowadays, there's a vast choice of steering wheels on Xbox One, And I'm still heading for the Fanatec. The German manufacturer has always set itself apart from the competition by offering quality peripherals that always push back the barriers of immersion.
Evolving mainly on PC, I will change my habits today and introduce you to the steering wheels Fanatec, which are compatible with the Xbox One.
ClubSport GT Forza Motorsport V2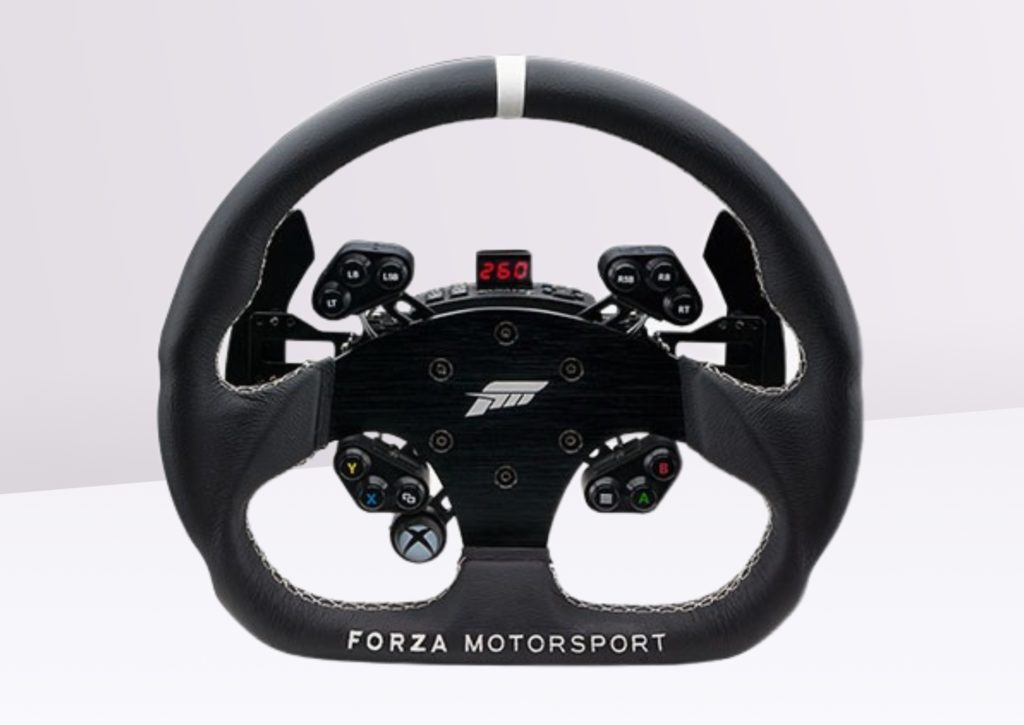 Advantages :
Powerful yet fluid force feedback
Excellent build quality
Metal QR
Disadvantages :
Let's start with a wheel designed to work on Xbox and PC because it is officially licensed. Forza Motorsport has established itself as THE racing game on Microsoft's platform for many years.
Visually, the wheel is 33 cm long and has a flat bottom, just like many racing cars. All along the wheel's diameter, soft leather covers the aluminum underneath. As you'd expect, the build quality of this wheel is exceptional.
Fans of Fanatec will recognize the ClubSport Wheel Base V2.5 from which the GT Forza Motorsport V2 takes its inspiration. Whether you're an amateur or a sim-racing fan, the grip is perfect. This is not the "rectangular" type of steering wheel like other peripherals from the brand. The steering wheel is sold with a hub with the following buttons: Xbox and a screen. The seat attaches to the back of the steering wheel and can also be removed in a matter of moments.
Let's talk technology. Equipped with a belt-driven brushless servomotor, the GT Forza Motorsport V2 offers unique driving sensations and force feedback that's both powerful and fluid, depending on your mood. This is made possible by the servomotor and the following technologies: Duall Hall and DirectSensor from Fanatec. On the flywheel, there are two sensors: one on the motor (or servomotor) and another on the axle, and the torque varies according to your steering strokes. Having spent many hours on it, I can tell you that the sensations are there for all to see.
I spend a lot of time on consoles on Forza, and this steering wheel is perfect for the game. If you haven't heard, Forza simulates ABS braking by emitting vibrations on the joysticks. As soon as the anti-lock braking system is activated, the lever vibrates, as does the brake lever. GT Forza Motorsport V2. This steering wheel is equipped with vibration motors, and if you have a compatible crankset, you'll even feel the vibrations on the brake pedal, just like in a car with ABS.
Now for the price. It all adds up between build quality, official Forza license, vibration, total sim-racing immersion, compatibility on Xbox One, Xbox Series X/S, PC, and more. The GT Forza Motorsport V2 is displayed at 499.90 € on the Fanatec. Please note that you do not have a steering wheel and hub for this price. There is no base and no pedalboard either. So you'll have to buy them separately and take the ones compatible with Xbox One.
Nevertheless, the GT Forza Motorsport V2 is one of my top 5 steering wheels Fanatec for sim-racing, whether on PC or Xbox. If you can afford it, it's a must-have.
The CSL Elite WRC Steering Wheel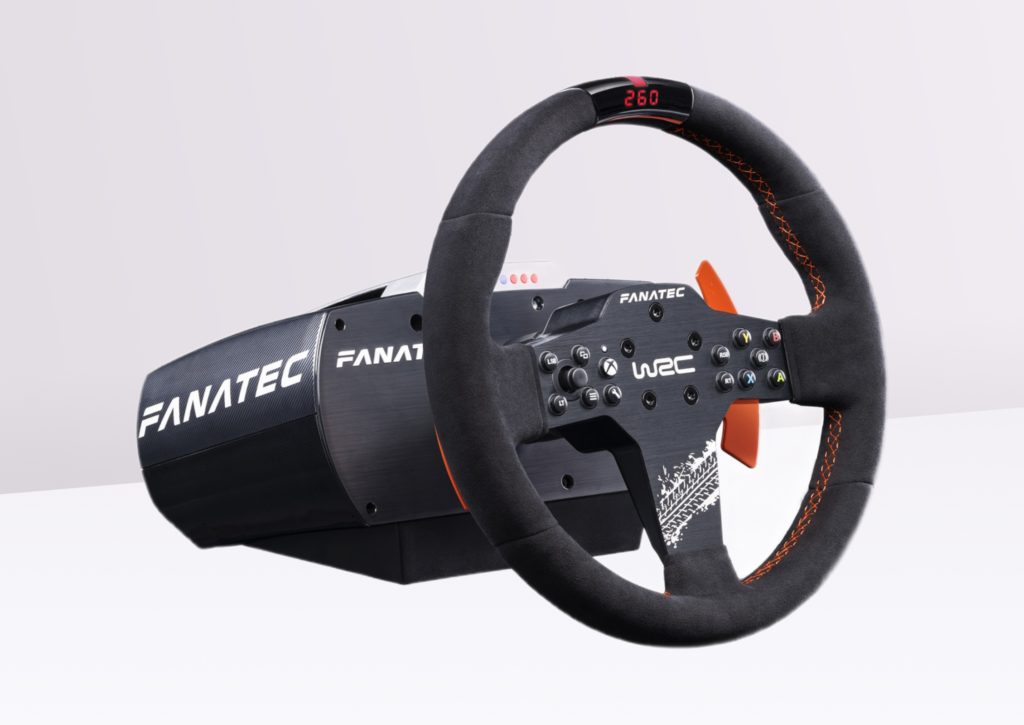 Advantages:
Beautiful design
Excellent build quality
Disadvantages :
Although this steering wheel features the WRC logo right in the middle of the wheel, it's not just for rally fans. Its 30 cm diameter makes it an excellent reel for sim-racing, whatever your setup.
Fanatec didn't skimp on materials, as we found aluminum for the wheel structure and genuine leather, which is expected on the German brand's peripherals. In terms of design, I find the steering wheel quite sober. Black predominates, with a red band above an OLED screen and orange paddles. You'll also find the WRC in the middle of the wheel and a tire design at the bottom.
Regarding buttons, the steering wheel has the Xbox ones, which is good enough for me. You can change them with the Racing Style and the CSL Elite WRC Steering Wheel. You'll need an Allen wrench to adjust the vanes, but the operation is relatively quick and easy, with just two screws for each vane.
Overall, I like the design of this steering wheel, especially the orange stitching, which reminds me of an actual Supercar steering wheel. On the other hand, I'm not a fan of the bright orange paddles. It gives the CSL Elite WRC Steering Wheel a; I don't know, flashy look.
Feel-wise, it's a steering wheel worthy of Fanatec. All the buttons are very well positioned, the paddles are exceptionally responsive, and the grip is superb, mainly due to the diameter of the wheel. However, the QR 1 Lite is the Achilles' heel of this steering wheel, like many entry/mid-range wheels. Fanatec. The QR 1 Lite is made of plastic and offers limited force feedback, so you'll need to choose a suitable base. Secondly, when you turn it a few degrees, there's a dead zone. For just 200 €on CSL Elite, the WRC Steering Wheel is still an excellent steering wheel for sim-racing.
Regarding compatibility, this steering wheel is officially licensed by WRC to run on Xbox One, Xbox Series S/X, and PC. On another point, you'll need to purchase a base for sim-racing sessions, as this wheel is sold independently. Fanatec is not lacking on the manufacturer's site, and you will easily find what you are looking for, such as the CSL DD 8 nm, to keep with the mid-range theme. If you use another base with higher force feedback, you'll need a metal QR because the plastic one won't do. Get the metal QR in the first place to solve the problem of dead zones and steering wheel disconnections.
Formula V2.5X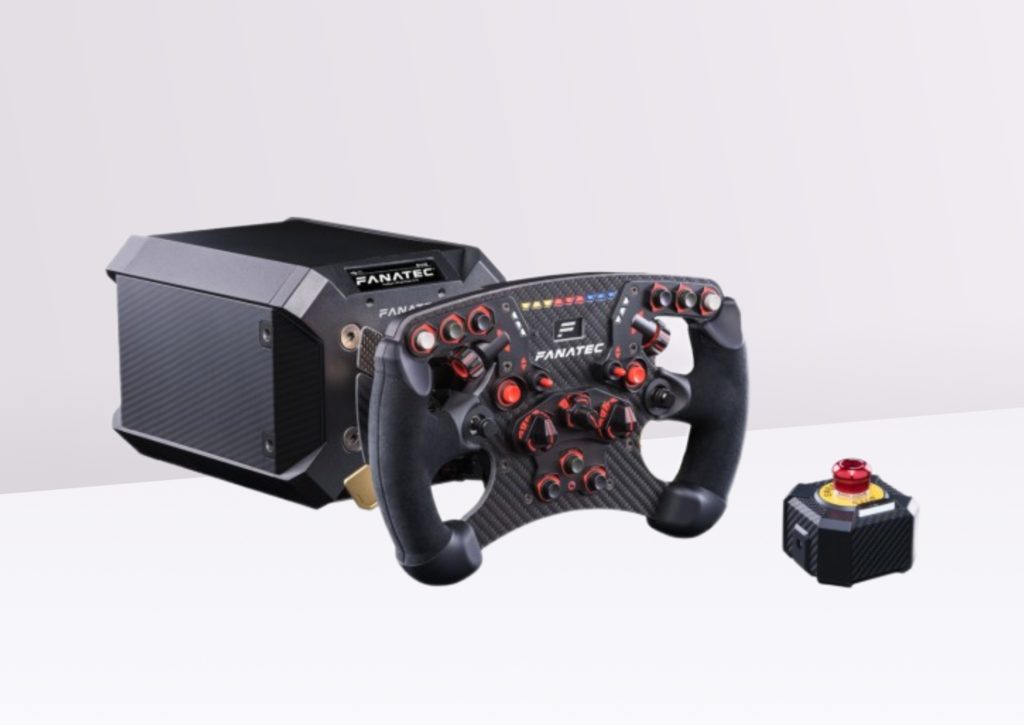 Advantages :
Excellent build quality
RevLED
Carbon fiber
Metal QR
Disadvantages :
Handling a little difficult for beginners
Let's move on to a steering wheel I like, the Formula V2.5X. In over 20 years of existence, Fanatec has released several sim-racing peripherals, and the Formula V2.5X is one of them.
Like many other peripherals, Fanatecon Formula V2.5X uses carbon fiber for the wheel structure. This material is ultra-resistant and light, even though the entire wheel weighs 1.7 kg. There are four aluminum paddles, including two analogs. The wheel rim is made of Alcantara to provide a pleasant grip, and it does.
The Formula V2.5X is officially licensed for Xbox but will work perfectly well on PC and even Playstation, provided you have a console-compatible base. Sony. This problem doesn't exist on PCs, as almost all databases run on this platform.
Regarding buttons, you have 11, including Xbox ones, switches, and an analog joystick. Honestly, that's more than enough for any sim-racing fan. The steering wheel also features two vibrators to ensure the feel of driving.
Of course, when you say premium, you say RevLED. Visit Formula V2.5X, which is equipped to display the engine rpm. This is handy, especially for people who prefer driving with a manual gearbox. This steering wheel is built with "quality" in mind. Unlike the CSL Elite WRC Steering Wheel, the Formula V2.5X has a metal Quick Release for a solid connection between the wheel and base. No more dead spots on the wheel.
All buttons are accessible without your hands leaving the wheel, which is perfect. However, I've seen many sim-racing beginners struggle to get used to the shape of the steering wheel and its grip. I haven't had this problem, but I've got hundreds of hours of sim-racing under my belt.
Price-wise, this steering wheel fits in perfectly with the GT Forza Motorsport V2. Visit 399.95 € to treat yourself to this little gem. It's a bit pricey, but it's still an excellent wheel for sim-racing fans and beginners who want to get started in this discipline.
Please read my full review of the Fanatec Formula V2.5X.
Racing Wheel F1 Podium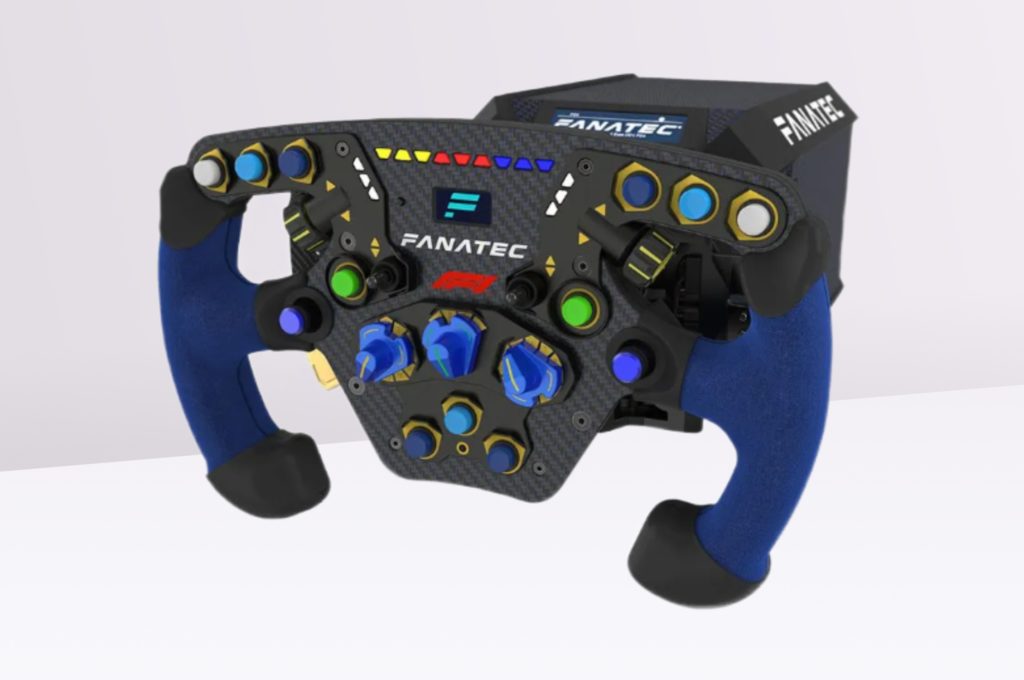 Advantages:
Compelling force feedback
Carbon fiber construction
Highly configurable
Compatible with Xbox Series X/S
Disadvantages :
Steering wheels Podium from Fanatec are considered the brand's top-of-the-range, and the Racing Wheel F1 is the best. Look no further if you're looking for the best steering wheel from a German manufacturer.
Premium is evident from the start, with carbon fiber throughout the steering wheel's structure. It's not a skin or anything; it's natural carbon fiber for even greater immersion. As part of the Fanatec, sold with their base, the Podium Racing Wheel F1 certainly has the best. With a maximum torque of 20 nm, it's fair to say that the sensations are right up there, as is the immersion in an F1 car.
There are 11 buttons, switches, paddles, and an OLED screen. On this point, sim-racing fans will be well served. Almost all controls are accessible without your hands leaving their position, except for a few. The steering wheel is highly ergonomic but a little tricky to get to grips with initially, especially for beginners.
For fans of manual shifting, the Podium Racing Wheel F1 offers six paddles (4 magnetic and two analog). This is very useful for simulations requiring, for example, clutches or the handbrake. But given the steering wheel's price, I imagine real fans have a dedicated handbrake. Yes, the Podium Racing Wheel F1 is expensive. Very expensive indeed.
I don't need to mention the QR because it's made of metal. As a result, you won't experience any loss of feeling when using this steering wheel or, indeed, any of the brand's other premium peripherals. It's one of the best, if not the best, steering wheels on the market. Fanatec is available on Xbox One. Moreover, it's even compatible with PC and Xbox Series X/S, making it an excellent long-term investment, especially considering its price is no less than 1800 € (1300€ on special offer). True sim-racing fans know that a good setup doesn't come cheap and are willing to pay the price to push immersion to the max.
Please read my full review of the Fanatec Podium Racing Wheel F1.
Which one to choose?
Previously, the choice of a steering wheel or a sim-racing configuration was limited on consoles. But since Fanatec offers compatible products for Microsoft and Sony, The game has changed.
Choosing a steering wheel depends on your needs and the games you play. For example, if you're looking for true immersion on F1 22, the Podium Racing Wheel F1 is the ultimate choice. But if you're more into leisurely sim-racing with Dirt or another game, I'd go for the GT Forza Motorsport V2 for its affordable price compared to Podium F1. Don't forget that you also need a pedal board to push the immersion.
And if you choose another steering wheel, remember that your base must also be compatible with Xbox One. Otherwise, the wheel will be used for decoration only.