For several years now, console sim-racing fans have been over the moon for a very good reason. More and more manufacturers of sim-racing peripherals are turning their attention to the platforms of Sony and Microsoft to the point of offering exclusive products.
Fanatec, one of the world's leading manufacturers of sim-racing products, has been offering Xbox Series X/S-compatible steering wheels, bases and pedalboards for some time now, and if you want to take the plunge and build yourself a little sim-racing setup, this is the brand to turn to. With over 20 years' experience in the field, Fanatec's products are the best as far as I'm concerned, in almost every respect.
With nearly 20 million units sold in two years, the Xbox Series X and S are popular consoles, and Fanatec knows this very well. Today, I will introduce you to 4 of the brand's excellent steering wheels compatible with its consoles.
1- ClubSport GT Forza Motorsport V2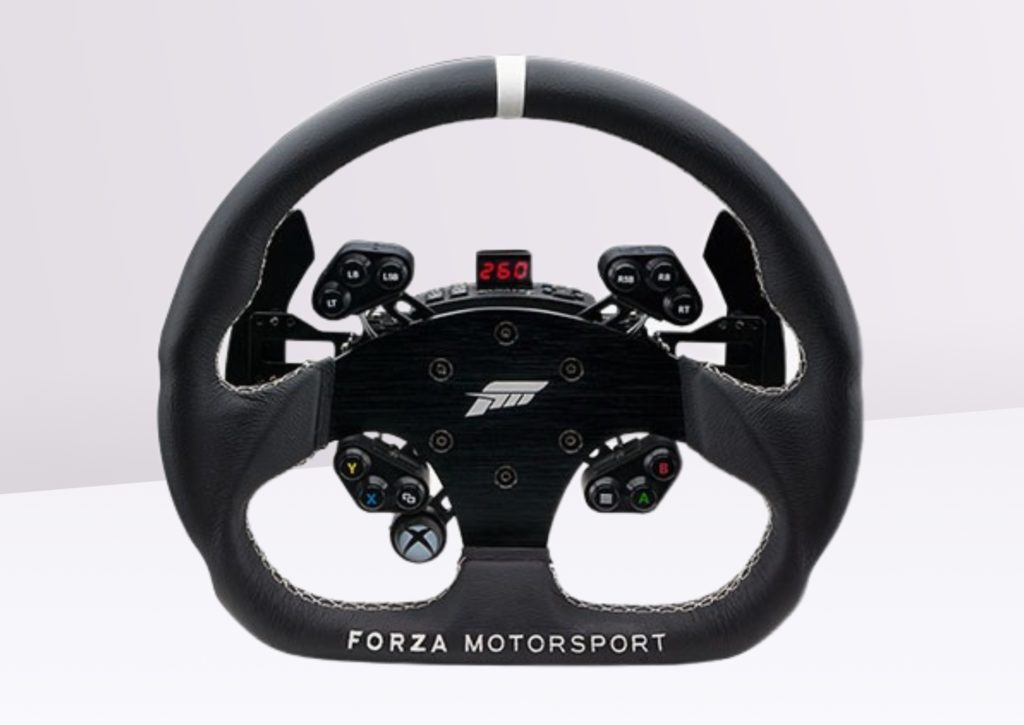 Advantages :
Official Forza license
Excellent return of strength
Exceptional build quality and premium materials
Disadvantages :
I'm starting with an officially licensed Forza Motorsport steering wheel, the Clubsport GT Forza Motorsport V2. From the first glance at this steering wheel, you'll know you're dealing with a top-quality product.
Fanatec has used aluminum and leather to manufacture this steering wheel, and it's genuinely worthy of the German brand. The wheel isn't round like many of the manufacturer's other models but is greatly inspired by racing car steering wheels. The bottom is flat, the diameter is 33 cm, and the grip is proper. Even a sim-racing beginner won't be disoriented, as with other Fanatec steering wheels.
Design-wise, I love almost everything about it. Again, everything is in black with a white bung above it, like a racing/sports car. The only thing I don't like is the "Forza Motorsport" lettering at the bottom. The Forza logo in the middle is more than enough to know that this is an officially licensed steering wheel.
You have a panoply of buttons in the center of the steering wheel and above. In the center are the Xbox controller buttons, and above that is another story. The controls are not part of the steering wheel but of a hub (ClubSport Universal Hub V2 for Xbox), which attaches to the rear of the wheel. Removing the seat will take a few minutes if you want to drive without it. The design is simple, the quality is top-notch, and the paddles are large and magnetic. You'll be immersed.
The ClubSport GT Forza Motorsport V2 is a steering wheel I love to use for sim-racing sessions, whether on PC, Xbox One, or Xbox Series X/S. Even if the price (excluding special offers) is a bit high (€499.90), it's still a steering wheel offering excellent value for money. Another positive point is the addition of the metal Quick Release with the bundle, which is why the price has increased compared to other Fanatec wheels.
The ClubSport GT Forza Motorsport V2 is a steering wheel I highly recommend for anyone wishing to get into sim racing or upgrade from an entry-level wheel from Fanatec. However, since you are on Xbox Series X/SYou need to choose a base compatible with Microsoft consoles.
2- ClubSport NASCAR V2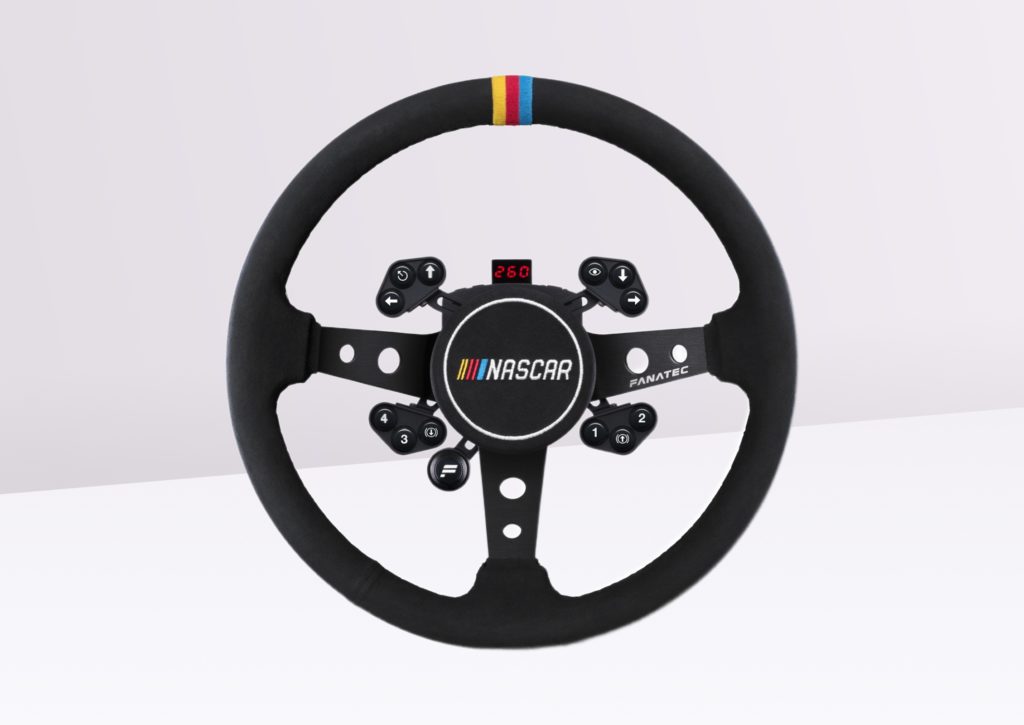 Advantages:
Excellent design and materials
Very premium construction
Disadvantages :
The ClubSport NASCAR V2 is a steering wheel I like for its minimalist design. Three-spoke, round, large (35 cm diameter), and very well made, the ClubSport NASCAR V2 is an official replica of Nascar steering wheels. Even if there aren't many games in this discipline, it's still excellent for sim-racing.
The materials used in the construction of this steering wheel are aluminum and Alcantara, which is very premium for my taste, and that's why I love the products from Fanatec. Like the ClubSport GT Forza Motorsport V2, the ClubSport NASCAR V2 features a button hub that attaches behind the wheel. You have all the buttons you need, plus a screen for sim-racing. Initially, it's a little confusing, but you soon get used to it.
Also, the ClubSport NASCAR V2 features large, magnetic paddle shifters with an excellent shift feel. You can feel and hear the "click" when you pull one of the paddles. It's just too good.
The ergonomics of this steering wheel are excellent, as it's round and has three spokes. However, since it's 35 cm in diameter, you'll have to take your hand away from the wheel to access certain buttons, as they're far from your fingers. This is my only negative point.
If you're worried about the QR, don't worry; it's made of metal. So, there are no dead zones or regular disconnections between the wheel and the base. This is a big plus because I wouldn't say I like Fanatec's QR 1 Lite. It looks cheap on their part, but at the same time, the plastic QR is only offered on the manufacturer's entry-level wheels.
Compatibility-wise, this steering wheel will work on PC, Xbox Series X/S, and Xbox One—basically, all Microsoft. Once again, check that the base is compatible with your Xbox platform. As for price, the ClubSport NASCAR V2 is €499.90, excluding special offers. It's a premium price, but the product is of excellent quality, which justifies the bill. Otherwise, the ClubSport NASCAR V2 is often on special offer on the Fanatec at less than €380, which I think is a better investment.
3- Podium Steering Wheel Porsche 911 GT3 R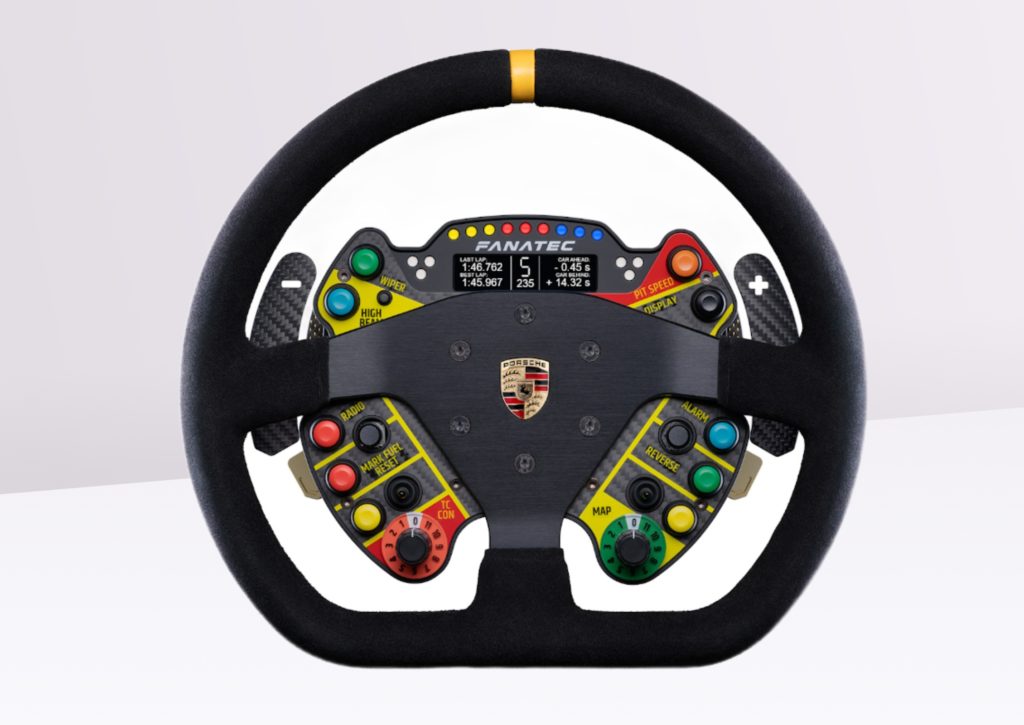 Advantages:
Premium Materials
Official Porsche GT3 R license
Incredible driving sensation
Cons:
If you like sim-racing and Porsches, then the Podium Steering Wheel Porsche 911 GT3 R is made for you. This steering wheel is 32 cm in diameter, has a flat bottom, and is an official replica of the wheels used in the Porsche GT3 R and part of the Podium by Fanatec.
Design-wise, it's a very sober steering wheel. It's too plain for some. There's nothing on the reel except the Porsche logo. That's all there is to it. Those in the know will know that the buttons and paddles on this steering wheel are a hub (the Podium Button Module Endurance) that attaches to the rear of the wheel. Incidentally, if you're into this kind of sim-racing, you can drive with the wheel only.
Fanatec didn't skimp on materials, using brushed and anodized aluminum and high-quality suede leather. It's a beautiful steering wheel for the eyes and hands. The paddles are made of aluminum, with the main ones in carbon fiber. There are 6 of them, including two analogs, and you can use them for Launch Control, brake, gas pedal, and clutch. You name it; we've got it.
The button hub also features a large 2.7″ OLED screen that can display a wealth of data thanks to ITM (intelligent telemetry mode). Moreover, this screen is conveniently positioned just above the wheel, so you don't have to leave the monitor to get the car's information.
Handling the Podium Steering Wheel Porsche 911 GT3 R is intuitive for sim-racing fans. The wheel is neither big (like the Nascar V2) nor small (like the Formula V2.5). All buttons are easily accessible without your hands leaving their position, and the overall ergonomics of the steering wheel are simply perfect. It's a superb racing wheel for sim-racing fans.
Compatibility-wise, this steering wheel will work perfectly on Xbox Series X/S, Xbox One, and PC. On consoles, I suggest you check the compatibility of the base you plan to use, as those of Fanatec do not all work on Xbox Series X/S.
And now, the only drawback of the Podium Steering Wheel Porsche 911 GT3 R is its price. Priced at €730 excluding special offers, this is a costly steering wheel, as is the entire range. Podium from Fanatec. However, you should know this steering wheel is a bundle with a button hub, paddles, and QR. If it might change your mind, this bundle is often on special offer at 650 € on the Fanatec website. I know it's expensive, but you can't beat it for a racing wheel without going over the F1 range. It's a product I'd recommend if you can afford it.
4- Podium Racing Wheel F1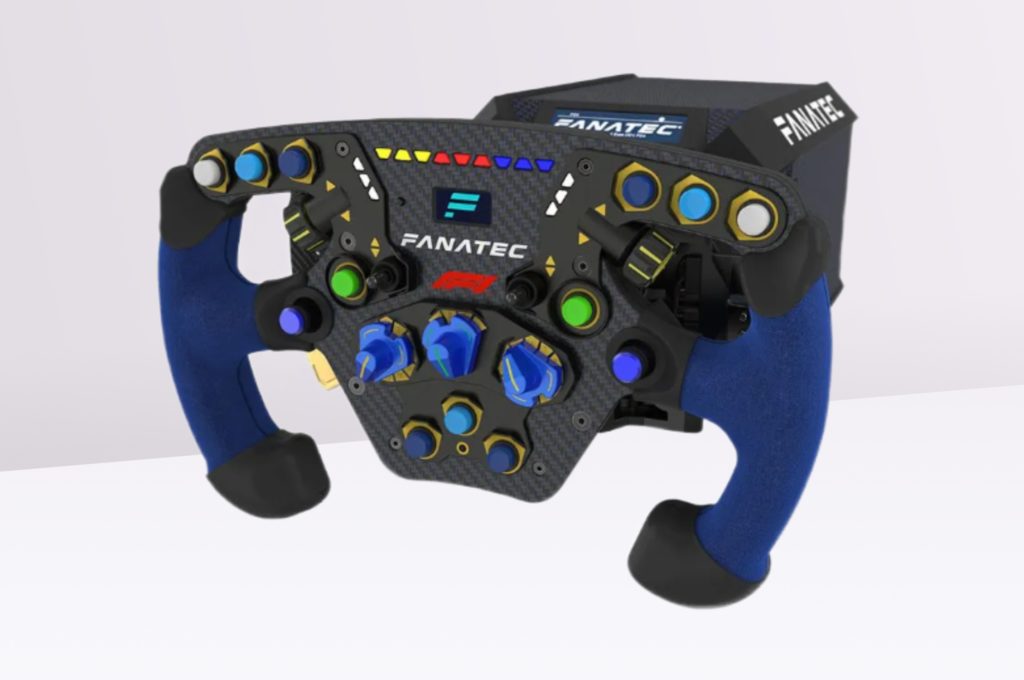 Advantages:
Excellent feel and force feedback
Premium Materials
Disadvantages :
Very high price
Steering wheel for hardcore fans
Now it's time to trade in your beautiful controller Xbox Series X/S for an attractive steering wheel sim-racing. I present the Podium Racing Wheel F1: the best wheel Fanatec offers its customers.
This steering wheel is made entirely of carbon fiber because of its F1 license. Usually, at Fanatec, only a few parts of the steering wheel are made of carbon fiber to look good, but that's not the case with the Podium F1.
Ergonomics are excellent and confusing at the same time. Let me explain. For fans of sim-racing, this steering wheel is easy to get to grips with right from the start. The buttons may take a little getting used to, but nothing too serious. However, for beginners, it will take a long time to get used to the placement of the buttons, the shape of the steering wheel, the force feedback, and the rotation angle (between 90° and 1080°), which is fully parameterizable. A novice would certainly not choose this peripheral to make his sim-racing debut, so the problem doesn't arise.
Now, to the design. You have to like it. I'd have preferred a different color of Alcantara, black, for example, but oh well. Otherwise, the buttons come in different colors, like in an F1 car.
The Podium Racing Wheel F1 is sold with its base, which offers a maximum torque of 20 nm. That's just enormous; with it, you'll get incredible force feedback. For the price at which this bundle is displayed, it's expected that Fanatec offers its best base for its best steering wheel.
This is the German manufacturer's ultimate peripheral by far. There's virtually no competition to the Podium Racing Wheel F1 on the market, and I consider it the best sim-racing wheel around. However, its price is its weak point. Almost 1800 €It's still too expensive for my taste, even though it's compatible with all platforms (PC, Xbox, PS). It's an ultra-premium peripheral from Fanatec, which I like, but I might not use it in my setup.
Which one to choose?
Of course, if we compare this platform with PCs, the choice of steering wheels compatible with Xbox Series X and S is somewhat limited. Nevertheless, many Fanatec models work on Microsoft consoles.
If you'd like to do a sim-racing setup on this console, here's what I recommend:
Choose base Fanatec first to ensure that everything runs smoothly on Xbox.
Choose a steering wheel compatible with the console and floor to avoid problems or conflicts.
Choose the game on which you wish to sim-race. I remind you that some steering wheels offer specific features, such as Launch Control or analog handbrake, and not all games take them into account.
Finally, choose peripherals according to your budget and the time you want to invest in sim racing. If you plan to spend an average of a few hours a week, don't choose the top-of-the-range Fanatec.
That's it; I hope this article sheds some light on the world of sim-racing and its peripherals on Xbox Series X/S.