Sim-racing has long shone on PCs, with ever more realistic simulations. It has to be said that computers are still the best-performing platform in terms of realism, and it's impossible to compare a system costing between €3,000 and €4,000 to a console costing no more than €500. It makes no sense to do such a thing.
However, it's undeniable that consoles are more popular than PCs, if only in terms of price and user-friendliness. For example, you buy an Xbox One, plug in the connections (power and HDMI), and you're good. A PC isn't the same thing.
On a computer, you have to choose the parts individually. The first thing to do is assemble the computer, install the OS and all the drivers, check the system's stability, and then get down to business. However, several steps are involved, which can put many people off.
For a long time, Microsoft's console has been the most disadvantaged in terms of sim-racing peripherals, even if, in reality, it's the one that hosts the most beautiful video titles. Need For Speed, Forza, and the list are all present on the Xbox One, yet few sim-racing wheels are worthy of the name. Fortunately for sim-racers on Microsoft's console, things have changed over time, and we now have a flurry of quality steering wheels and other sim-racing peripherals, with products from premium brands like Fanatec.
In this article, I will introduce you to the best steering wheels available on the Xbox One, the different steering wheel ranges, and the most important things to look for on such a peripheral.
The best entry-level Xbox One steering wheels
Logitech G920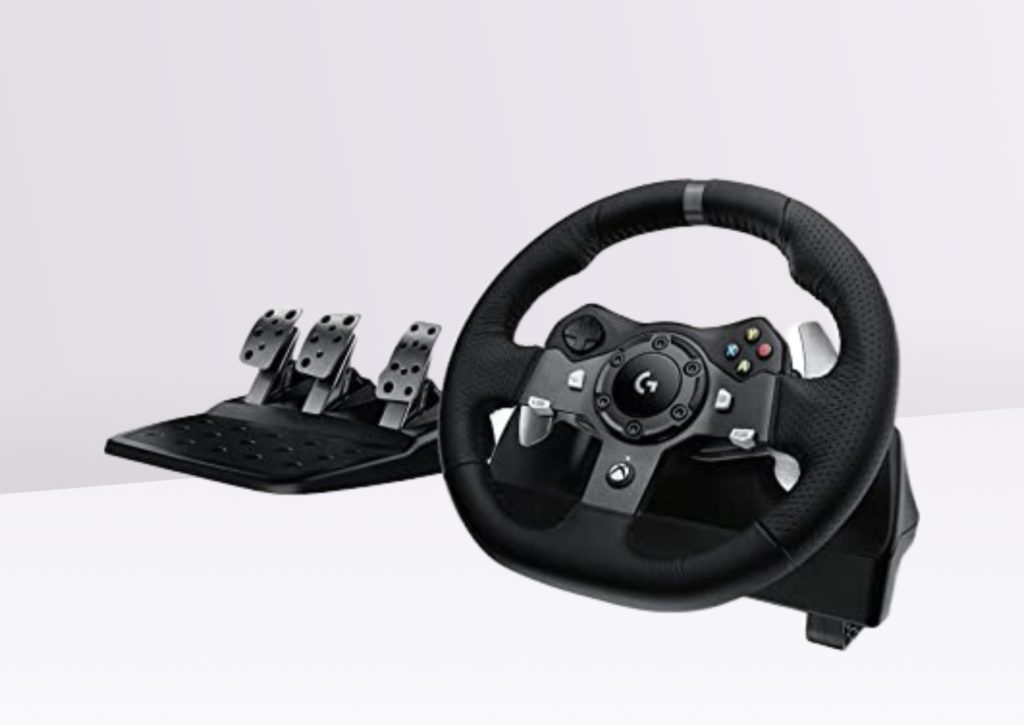 Advantages:
Good value for money
Complete bundle
Good ergonomics
Disadvantages :
We start with a tried-and-tested product, the Logitech G920. This steering wheel shares many features with its brother, the G29, as they are a single device with two versions for consoles (Xbox and PlayStation).
The G920 is a trendy steering wheel for both sim-racing beginners and enthusiasts. Its design is sober, with a black coating and anodized aluminum. Frankly, I love it. The steering wheel's ergonomics are excellent, and it only takes a few moments to get the hang of it.
The dozen buttons are well placed around the wheel, so you don't have to do too much gymnastics to reach them. There are also two good-sized paddles at the rear for quick shifting.
As for the base of the G920this one uses two gear motors to provide force feedback. In terms of entry-level technology, this is the best there is, even if it's not often linear. Let me explain. The motors use two helical gears to provide smooth, silent steering – in theory. In practice, the steering is quite blurred. Sometimes, it works well with the correct dosage, and sometimes, it's entirely off the mark. This is the only weak point I can find in this steering wheel.
Overall, the G920 is an excellent bundle for getting started in sim racing at a meager cost. Often priced at less than €300, this steering wheel remains a must-have in the discipline.
Please read my full review of the Logitech G920.
The Thrustmaster TMX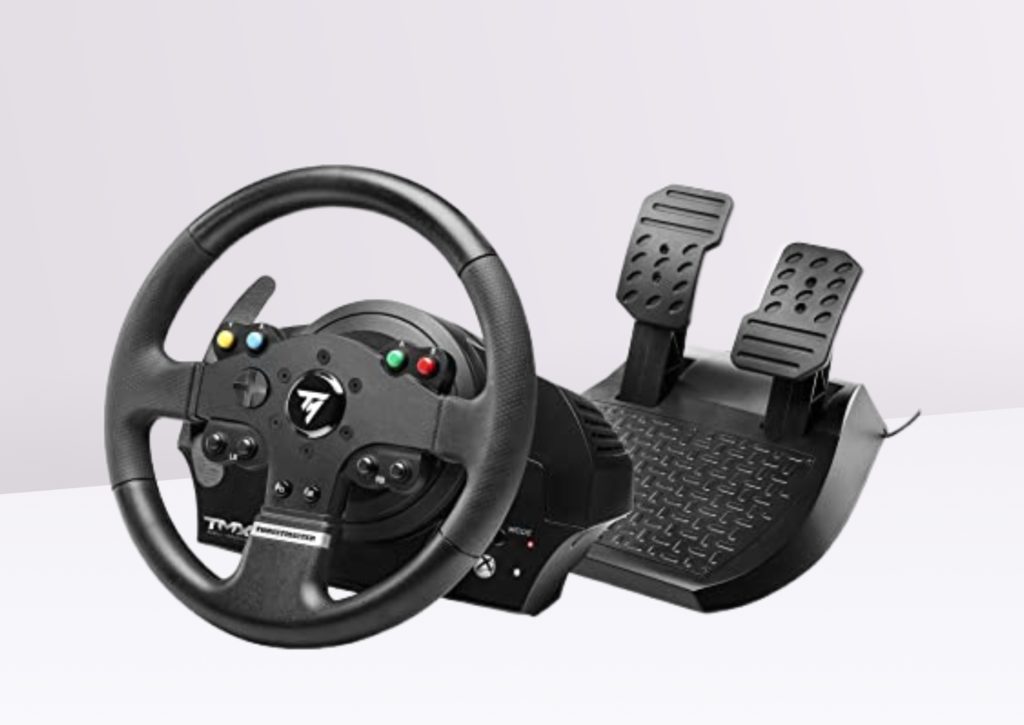 Advantages:
Good entry-level steering wheel
Good grip
Good quality force feedback
Disadvantages :
Thrustmaster is a significant player in the simulation peripherals industry, with products for all disciplines, and the TMX represents the best value for money in the entry-level segment.
The design of the TMX is sober, with a wheel that's 28 cm in diameter, buttons on it, a plastic base, and a crankset too. Overall, it's not at all flashy, and I like that. What I don't like is the overall ergonomics of the product.
Admittedly, the steering wheel is easy to grip, but the buttons aren't very well placed for my taste. You even have some behind the steering wheel on the base, making it difficult to press "on the fly." However, the paddles are significant and, above all, made of metal.
The base of the TMX uses a brushless motor and a belt to provide force feedback. The advantage of this technology is that you can control the power output and, therefore, the force. The torque is linear, perfect for sim-racing, but the motor makes noise while running. Consequently, I recommend noise-canceling headphones for your sim-racing sessions.
As for the pedalboard, it's cheap. I'd get another one if I were you, especially considering this bundle isn't even €200.
Please read my full review of the Thrustmaster TMX.
The best mid-range Xbox One steering wheels
The Logitech G923 TrueForce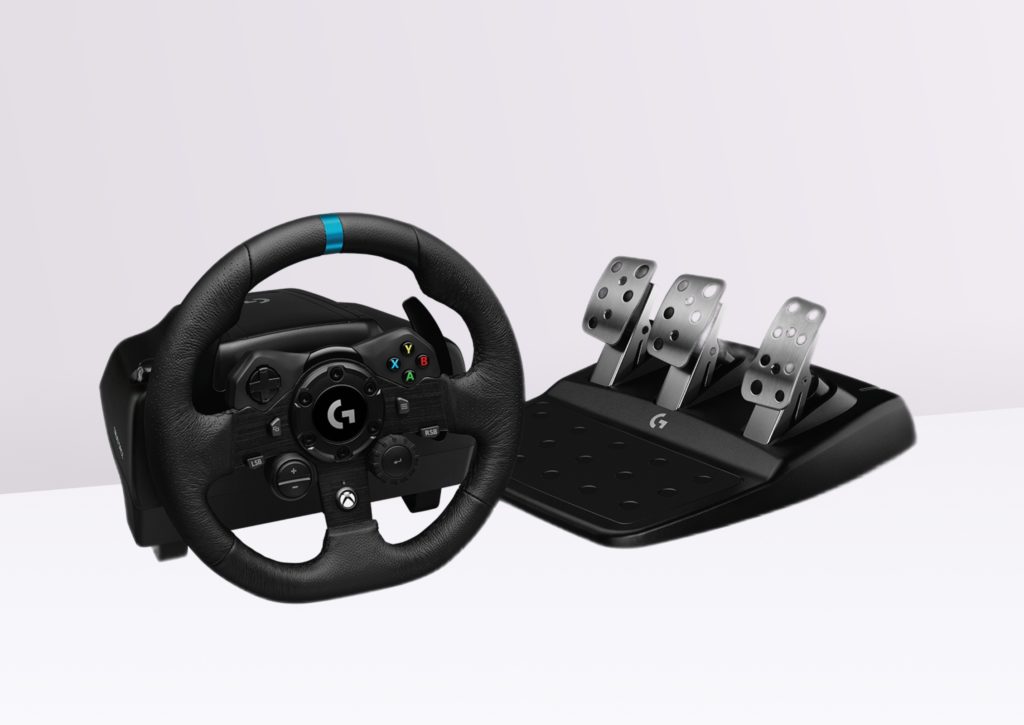 Advantages :
Excellent value for money
Good build quality
Complete bundle
Disadvantages :
Force feedback sometimes blurred
The G923 from Logitech is, in fact, a significant evolution of the G29 and G920. The brand noticed these two flywheels were doing well and decided to improve them instead of developing a brand-new one. It's not stupid, and it works.
So, the G923 takes the design of its big brothers and adds its touch. It's beautiful, ergonomic, sober, and, above all, well-made. The steering wheel is easy to grip, with all the buttons within easy reach. The structure is made of metal, so there's no need to worry about its solidity, and the whole wheel is covered in leather to give it a more premium feel. The steering wheel also features RevLED and programmable Launch Control.
The base is the same as that of the G29/G920, but improved and, above all, with the addition of TrueForce developed by Logitech. This technology connects directly to the game engine to retrieve data and dose force feedback. In absolute terms, it works excellent and dramatically improves the feel, but sometimes it bugs. As this is a new technology, there are compatibility problems with titles, and I hope that Logitech will be able to fine-tune its baby with updates.
Last but not least, the pedalboard. It has three good-quality pedals, with a spring system on the brake to provide progressive and, above all, adjustable resistance. For the price (less than €500), it's an excellent bundle, complete and perfect for amateurs and sim-racing fans. In any case, I like it and highly recommend it.
Please read my full review of the Logitech G923.
The Fanatec ClubSport Forza Motorsport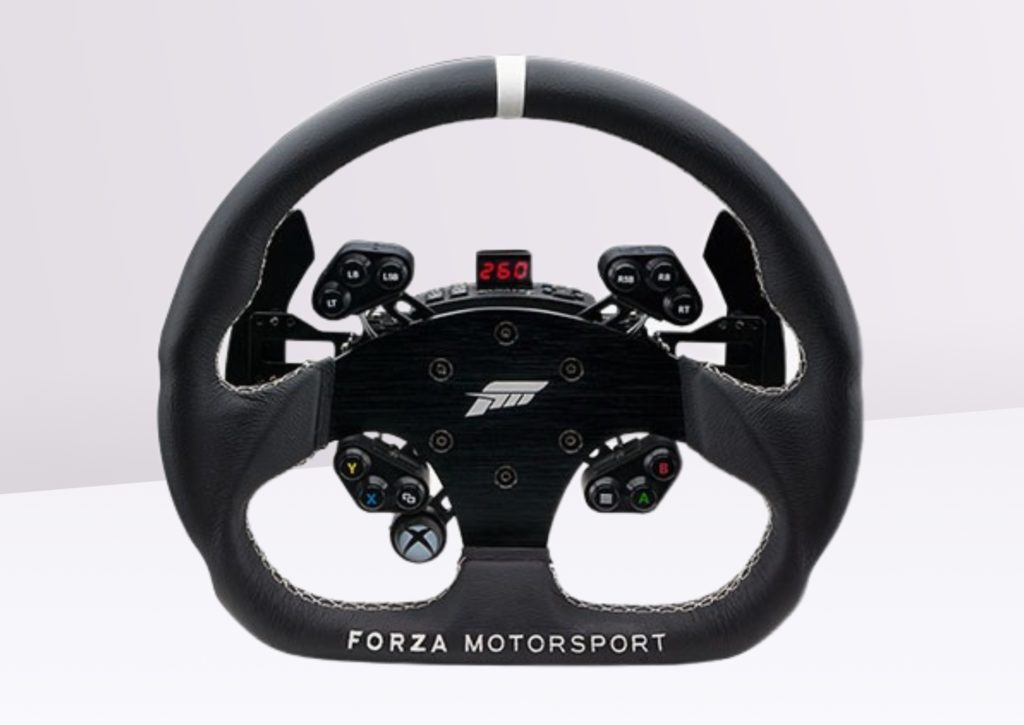 Advantages:
Official Forza Motorsport license
Excellent build quality
Supercar-style button hub
Disadvantages :
The Clubsport Forza Motorsport is an excellent mid-range steering wheel from Fanatec, albeit at a premium price.
Its design is sublime, with a wheel that's 33 cm in diameter (a bit big for my taste), a flat bottom, an aluminum structure, and leather all around. It's sublime and, above all, minimalist, and I love minimalism.
As for ergonomics, the ClubSport Forza Motorsport is very easy to handle despite its size, similar to that of a car steering wheel. You've got a button hub with Porsche and AMG-style extensions to all the Xbox controller buttons, plus 16 buttons on top. Frankly, it's more than enough for even professional sim-racing. Moreover, Fanatec has added a small screen above the ClubSport Forza Motorsport to display critical vehicle data.
The pallets are oversized but only 2 in number. I was expecting at least 4, given the bundle's price. However, the paddles are magnetic, which ensures ultra-fast shifting and lightning-fast responsiveness.
Also, this steering wheel is equipped with a metal Quick Release, which is superb. You won't have to worry about disconnections or dead centers. Moreover, this steering wheel is compatible with virtually all German manufacturers' bases, giving you a wide choice in this respect. You can take a base CSL DD or a ClubSport Wheel Base V2.5 for sim-racing at a very reasonable price (between €350 and €550), although, in reality, the final bill will be at least €850 with the wheel. As I said above, this steering wheel comes at a premium price, but I highly recommend it for Xbox One.
The best high-end Xbox One steering wheels
The Fanatec Clubsport Porsche 911 GT3 R V2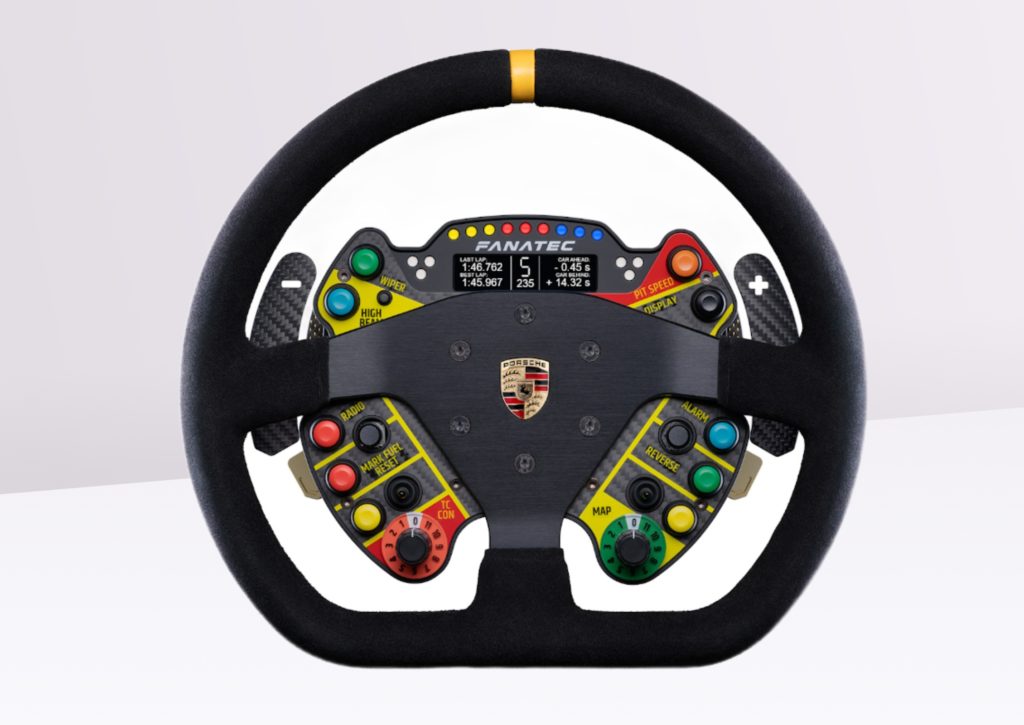 Advantages :
Build quality worthy of Porsche
Official Porsche license
Metal hub and QR
Disadvantages:
Another entry in this list is the Fanatec Clubsport Porsche 911 GT3 R V2. Admittedly, it's part of the German manufacturer's Clubsport range, which is technically mid-range. Still, given its price, it's top of the content, in my opinion.
As its name suggests, the Clubsport Porsche 911 GT3 R V2 is officially licensed. Porsche GT3. Long story short: it's gorgeous. Aluminum frame, leather all around, Porsche logo in the center. It's minimalist and sublime at the same time, and I love it.
The grip is excellent, with a wheel that's 32 cm in diameter and a flat bottom. This steering wheel doesn't have any buttons, as these are part of a hub (the Podium Button Module Endurance), as are the paddles. The seats are inspired by racing and will be confusing for sim-racing beginners. This steering wheel targets a specific audience: hardcore sim-racing fans and professional pilots.
Also present on the Podium Module is a large OLED display showing detailed data on modes, speed, RPM, gear engaged, etc. This is, incidentally, the most giant screen Fanatec offers on its products, and I love it.
Like many other models from the German manufacturer, the Clubsport Porsche 911 GT3 R V2 features a metal Quick Release to ensure reliability and realism. This QR also allows you to attach this steering wheel to virtually any Fanatec base, provided it is compatible with the Microsoft console.
Now for the price. Listed at €720, excluding special offers, this bundle is expensive. That's only to be expected since you're getting peripherals from our catalog Podium from Fanatec and form a premium steering wheel. Don't forget that you need a base Fanatec to use this steering wheel.
This is the ultimate versatile sim-racing wheel available on the market. With it, you can do loads of gaming sessions, whatever the discipline.
The Fanatec Podium Racing Wheel F1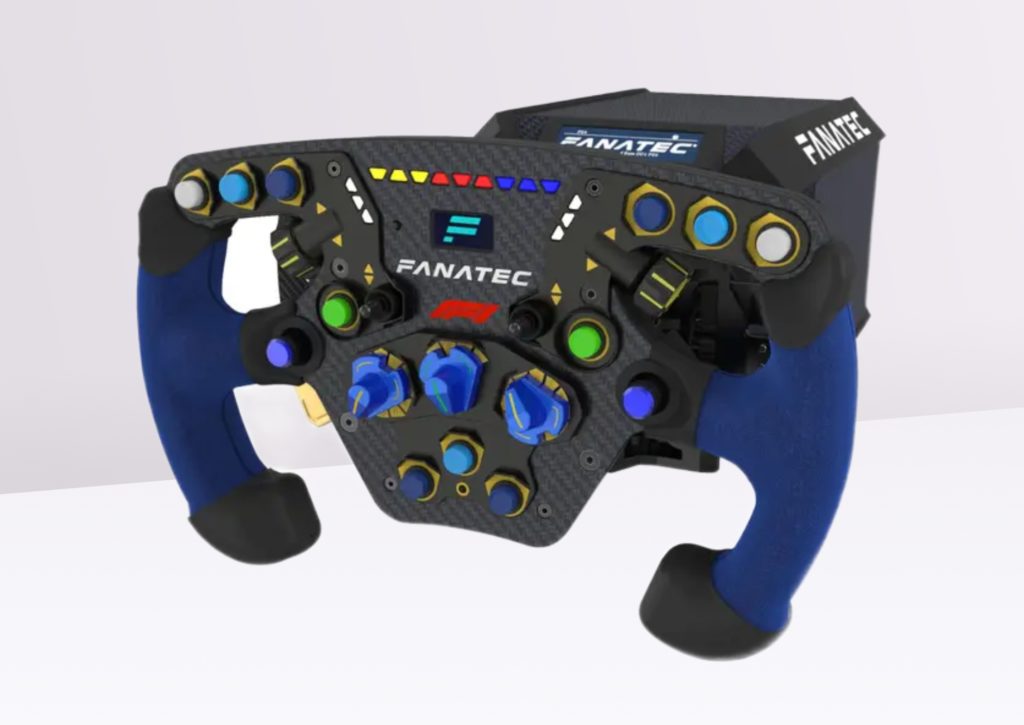 Advantages :
F1 premium steering wheel
High-quality materials
Complete bundle, with 20/25 nm DD base
Disadvantages :
Difficult to handle
High price
I'll end with a superb steering wheel that's not really for everyone, the Fanatec Podium Racing Wheel F1. As the name suggests, this is a wheel primarily designed for F1 fans, and if you ask me, you'll find it hard to do anything else with it. It's Borderline GT2, but it is still a pretty niche steering wheel, as they say.
Design-wise, it's beautiful, but you've got to love it. The steering wheel is carbon fiber, with Alcantara on the wrists to provide grip. You've got 11 buttons, switches, six paddles (including two analogs), and an OLED screen. The colors are flashy, and it's a wheel that won't go unnoticed on your setup, I'm telling you. Wheel rotation can be set between 90° and 1080°, giving sim-racers plenty of options.
The bundle comes with the Podium Wheel Base DD2 with a maximum torque of 25 nm, which is enormous. You'll be able to feel everything your car does, down to the smallest detail.
I've discussed what's good about this steering wheel; now it's time for the negatives. The first is its handling, which is not easy for amateurs or beginners in sim-racing, and this steering wheel is not intended for such people. Even with my hundreds of hours of sim-racing, getting used to this steering wheel took me some time.
And the second weak point is its price. At almost €1,800, excluding special offers, the official F1 license has to be paid for. But at the same time, you get a beautiful carbon fiber steering wheel and a DD base of 25 nm max. The price is justified, especially as the bundle is often on special offer at €1300.
Please read my full review of the Fanatec Podium Racing Wheel F1.
The different steering wheel ranges on Xbox One.
It's worth noting that sim racing is a lucrative market for the right players, and, as such, you have several ranges of peripherals to target the maximum number of people. I have to say, there's no point in selling products to a handful of fans when you can reach the entire spectrum of sim-racing enthusiasts.
Generally, sim-racing peripherals are divided into three ranges: entry-level, mid-range, and high-end. Each sim-racer is unique, which is why the products are so varied. I like to move up to the mid-range because – and this remains my opinion – it's the segment that offers the best value for money. You get good technology and all-around functionality for relatively low prices because it's straightforward to go for a setup costing over €1,000 in the mid-range.
The entry-level
This range is characterized by products and peripherals mainly geared toward people wanting to get started in sim-racing. The leading brands in this segment are Logitech and Thrustmaster, and they often offer budget-friendly options at under €300 for a steering wheel, base, and pedals.
On this range, it's worth noting that options are limited, as are motor technologies and functionalities. For example, in sim-racing, force feedback is more realistic with a Direct Drive motor, which connects the steering wheel directly to a powerful engine. This is not an option for this range for price reasons. You won't buy an entry-level steering wheel + base at over €600, right?
The mid-range
The mid-range in sim racing is the best value for money; you get very well-made, quality products with exciting features without siphoning off your Younk account.
At least at the top of this range, you have peripherals with technologies like Direct Drive motors, RevLEDs, OLED screens, magnetic and analog paddles, leather on the steering wheel, etc. Honestly, this is the range to buy if you're an amateur or fan of sim racing or even a beginner driver. You'll get excellent sensations, as well as a high level of immersion.
Top of the range
This is the place for the big players, with brands like Fanatec more or less dominating the market. This range is characterized by superbly crafted products with an eye for detail. Typically, top-of-the-range steering wheels are made in partnership with brands such as BMW, McLaren, and Porsche or officially licensed for competitions such as GT3, F1, etc.
Regarding technology, you've got all the bells and whistles—direct Drive base, hubs, aluminum paddles, carbon fiber for the wheels, Alcantara, etc. Everything beautiful, expensive, and premium can be found on these steering wheels, with the price that goes with it.
Top-of-the-range steering wheels are luxury products, with prices easily exceeding €1,300 and titillating €2,000. If you haven't already heard, sim-racing can be a costly passion.
What should you look for on an Xbox One steering wheel?
Let's tackle the most critical elements a steering wheel should have, whether on Xbox One or another platform. In what follows, I'd like to point out that these are purely personal preferences, as each sim-racer looks for particular elements.
Ergonomics. Ergonomics is subjective, as each person is unique and views ergonomics differently. In absolute terms, you should look for a steering wheel that is ergonomic and also feels good in the hand. What's more, you need to feel comfortable using it, as sim-racing is a very demanding discipline, just like motorsports in general.
Functionality. Not all sim-racing steering wheels on Xbox One are the same, and most differ in functionality. Your best bet is to look for a steering wheel with the desired features, like a RevLED, OLED screen, four paddles, etc. You need a device that ticks all the boxes in sim racing.
Build quality. I'm telling you: don't look for cheap brands because you'll end up with products made off the shelf. Concentrate on brand-name peripherals made from quality materials. A steering wheel should keep you happy for many years, not just a few weeks before it explodes in a blaze of glory.
Ecosystem. So, the ecosystem is specific to each brand, and each develops its own to work perfectly with its products. If you sign up with one brand, you'll be locked into its ecosystem unless you change all your peripherals. A Fanatec steering wheel, for example, will only work with a base and pedalboard from the same brand, especially on a console.
Bundles. While I'm a fan of customizing peripherals, bundles are incredible for getting started with sim-racing on Xbox One or any other platform. Look for bundles with steering wheel, base, and pedalboard to get everything simultaneously, without looking for compatible ones.
Which one to choose?
The budget. First of all, set a budget for your steering wheel, as well as for all other peripherals. If you're starting in sim racing or want to do a few hours a week, a budget of €300 is sufficient for all peripherals. You're looking at €500 or even €600 for intermediate fans. And if you're a hardcore fan, setups have no limit.
The degree of immersion. Related to the previous point, the degree of immersion differs from one person to another. The higher you go up the scale, the more sensations you'll experience, thus increasing your immersion.
Availability. Brands such as Logitech and Thrustmaster are available in stores, while others are not (Fanatec). If you like to see and touch a product before you buy it, this won't be possible for all steering wheels.
Compatibility. I'd advise you to look for steering wheels that are both compatible with Xbox One, as well as Series X and S. By doing so, you'll have a product that can last a long time, and not just on the console you have.
Bundles. This point is aimed at sim-racing amateurs and beginners: I advise you always to choose bundles with the steering wheel, base, and pedals. You won't have to rack your brains looking for compatible products, and your wallet will be better for it, as bundle prices are often reduced.
Similar products