Sim-racing has come a long way recently, especially with cutting-edge technologies such as steering wheels, Direct pedals in Load Cells, and even dynamic cockpits. It's now straightforward to set up a sim-racing setup; the most challenging part is finding the right peripherals.
Of course, not all racers are the same, even if we share a common passion: sim-racing. The most striking differences lie in the style of racing (F1, rally, GT, etc.), the budget allocated to sim-racing, and the degree of importance we give to this discipline. For example, a streamer specializing in motor racing will have more time for sim-racing than an employee who can only devote himself to it at weekends.
As I said earlier, technological advances have enabled us to have increasingly realistic sim-racing peripherals, pushing immersion even further. One of these advances is the development of direct-drive steering wheels, commonly known as Direct Drive. These wheels are becoming increasingly widespread and sometimes even affordable for specific setups. In what follows, I'll introduce them to you and prepare a list of the six best, in my opinion, available on the market. This list will be divided into three categories: entry-level, mid-range, and high-end.
The best entry-level direct-drive steering wheels
Fanatec CSL DD 5 NM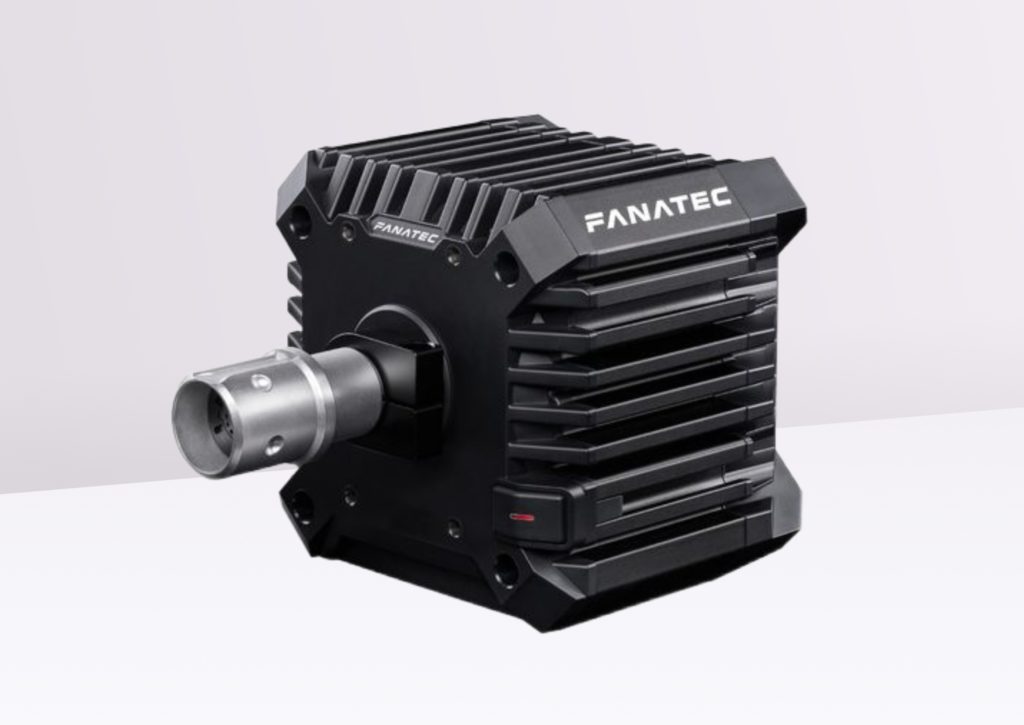 Advantages:
Excellent build quality
Correct power for the price
Comprehensive, product-rich ecosystem
Compatible with all platforms
Disadvantages :
Compatible only with other brand peripherals
So, let's start with a product that's famous and renowned in the industry: the Fanatec CSL DD 5 nm. German manufacturer Fanatec is a significant player in the world of sim racing, having emerged in the 2000s to become one of the market leaders. With over 20 years of experience in the game, Fanatec has succeeded in developing its products and, above all, conquering the hearts of amateur and professional sim racers.
The Fanatec CSL DD 5 nm The Fanatec CSL DD is a relatively simple base that serves as a gateway to the Fanatec ecosystem. The motor's maximum torque reaches 5 nm, which isn't bad. Speaking of the engine, it's tiny and housed in a beautiful metal case. It's stylish, solid, and also acts as a heat sink.
In the play, the Fanatec CSL DD 5 nm The Fanatec CSL DD is a peripheral that reproduces all the sensations of the car in front of you. Thanks to Fanatec, the CSL DD is compatible with all the manufacturer's peripherals, including steering wheels, pedals, and gearshifts. If you're interested, I've been able to test a few nuggets that you can download here By clicking here.
The Fanatec CSL DD 5 nm is a high-performance base for very little money. Priced at €350, it's a Direct Drive staple I recommend to all sim racers.
The Moza Racing R5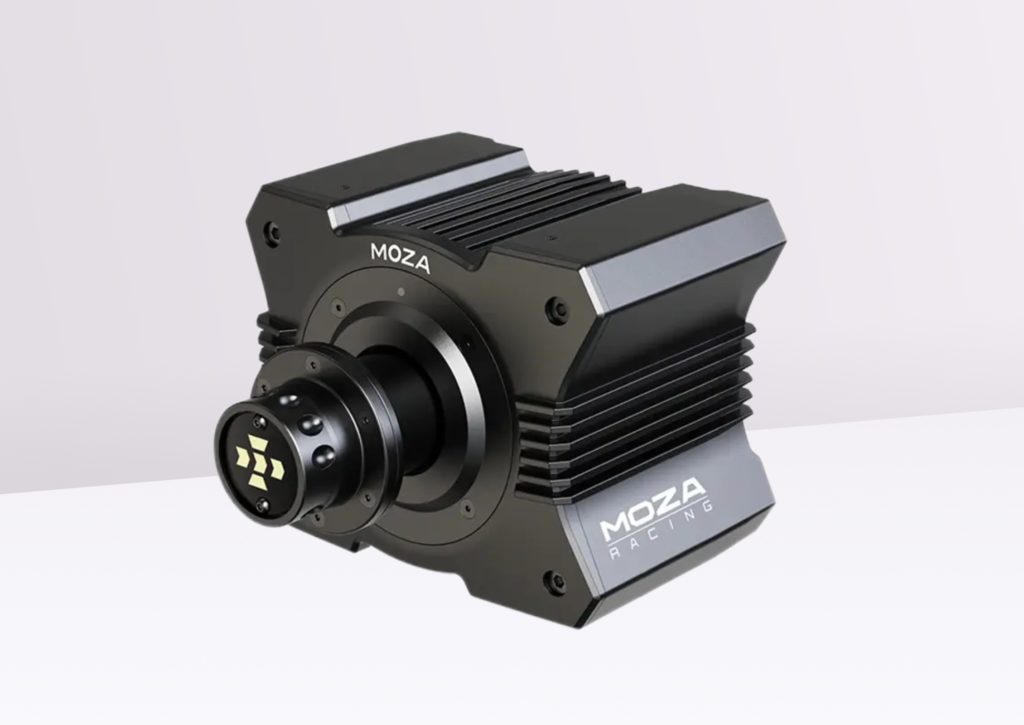 Advantages :
Excellent build quality
Complete ecosystem
Welcome back
Disadvantages :
Moza Racing is a relatively young player in the sim-racing world, as the brand was born in 2021. Honestly, that's not many years in the game, but the brand is a division of a camera stabilizer manufacturer with over ten years of experience.
The Moza R5 is a Direct Drive base developing a maximum torque of 5.5 nm and thus competes directly with Fanatec's CSL DD 5 nm. It was rather daring but well executed nonetheless. The R5's design resembles that of the CSL, but that's a good thing as far as I'm concerned.
Performance-wise, the R5's engine develops a max torque of 5.5 nm, which is decent for its target segment. Don't forget that this is a typical entry-level model, and sim-racers in this category can't necessarily afford a more advanced setup.
In terms of feel, the engine communicates well with everything the car does in sim-racing. It's precise, well-proportioned, and, above all, responsive. I enjoyed my time on the Moza R5 and found it an excellent alternative to the well-established brands in this segment. However, the R5 does have its shortcomings, notably its PC-only compatibility. It's a real shame to limit it to just one platform, especially with a price tag of $319 before tax, equivalent to around €400, including VAT. And let's not forget that the brand is young, and only time will tell if its products are made to last.
The best mid-range direct-drive steering wheels
Thrustmaster T818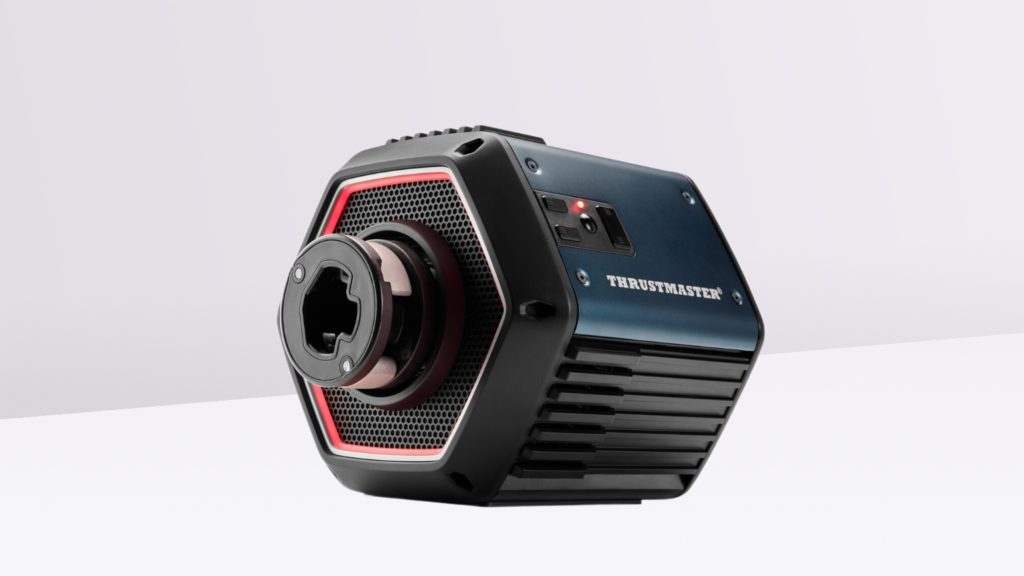 Advantages:
Good build quality
Powerful, precise steering wheel
Good value for money
Disadvantages :
PC-compatible only
Higher price than the competition
Thrustmaster has been a significant player in sim-racing peripherals for over 20 years. The brand is mainly present in 2 segments: entry-level and mid-range, with steering wheels that have always been geared and belt-driven. Both technologies are acceptable but quickly show their limitations.
The T818 is the brand's first Direct Drive base, and it must be said that it took them a long time to bring it out. Thrustmaster fans have been clamoring for a DD steering wheel for years, and the manufacturer certainly didn't disappoint.
So, the T818. The design is quite successful, with two predominant colors (black and blue) and a few red accents. It's very handsome as far as I'm concerned and will go wonderfully well with all setups. The base includes an in-house QR system, which allows the manufacturer's wheels to be attached without a hitch. I was worried that Thrustmaster would come up with a QR that wasn't compatible with its wheels, but that wasn't the case.
Power-wise, the T818 develops a maximum torque of 10 nm, more than its main competitors, the Fanatec CSL DD Pro and Moza R9. It's not glaring, and only sim-racing pros will feel the difference.
In terms of feel, it's realistic, even with the Force Feedback and its settings. There were no surprises during my tests, and the feedback was genuine and worthy of the competition in this segment.
Another advantage of the T818 Compared to the competition is that the Thrustmaster ecosystem is relatively inexpensive, especially considering that this base is sold at a higher price than others in its segment. Yes, there had to be a blemish on an almost-perfect picture. The T818 is priced at €650, €150 more than the CSL DD Pro and R9. Another negative point of this base is its unique compatibility with PCs, where Fanatec supports all platforms.
Apart from these two "minor" shortcomings, the T818 is still an excellent base to buy. If you're a Thrustmaster fan, I can't recommend it enough, even at the slightly higher price.
The Fanatec CSL DD Pro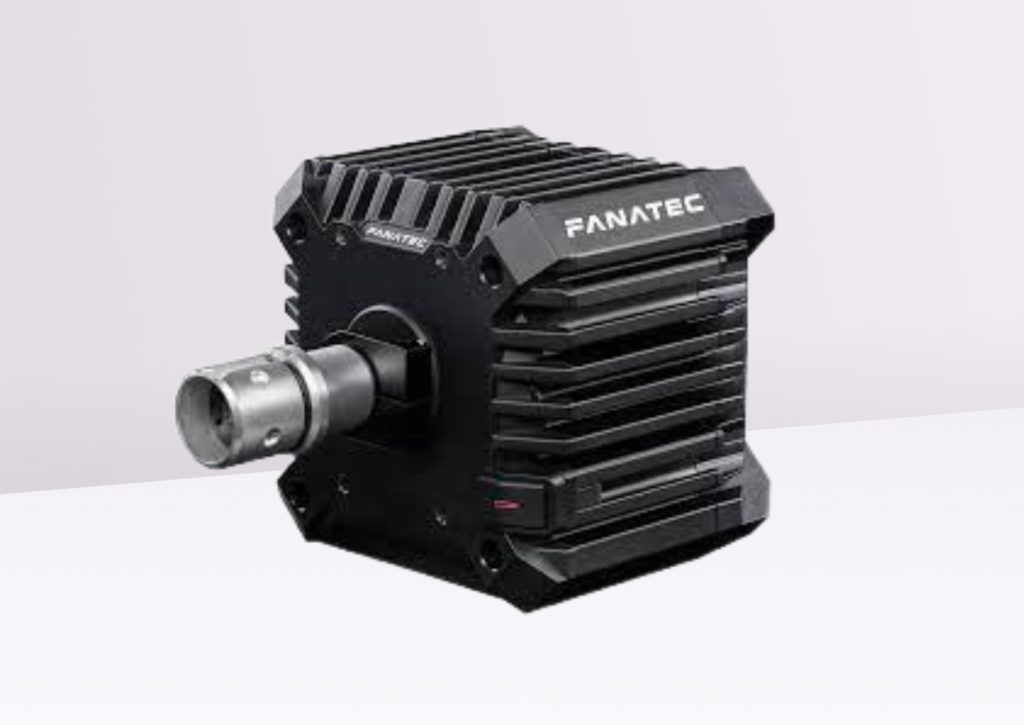 Advantages:
Excellent value for money
Good driving feel
Correct force feedback
Disadvantages :
I'm not lying; Fanatec is a significant player in the sim-racing peripherals game, especially in the Direct Drive base market. The CSL DD Pro is Fanatec's answer to a hotly contested segment of DD bases, that of the over 5 nm and under 10 nm range.
This base develops 8 nm and is just a standard CSL DD boost kit, which outputs 5 nm. The difference lies in the power supply, which is now increased to 180 w to output the maximum 8 nm torque. As a result, the design of the CSL DD Pro is identical to that of its less powerful sibling, and I won't go into that here.
Let's talk about engine power and feel. In terms of feeling, it's pure bliss. You feel everything the car does, with greater intensity this time. Force feedback is more subtle yet powerful in some cases, especially if you're on a track like F1 22, Asseto Corsa, etc. Moreover, Fanatec is targeting sim-race fans of immersive racing games with the CSL DD Proeven if this base is still relatively affordable for the average person.
Nothing changes from the 5 nm version regarding build quality: it's very well constructed and designed to last a long time, even if you don't take care of it. Moreover, Fanatec products are renowned for keeping their shape after many years.
As for the ecosystem, virtually all the manufacturers' products are compatible with this base, and that's nothing new. The only problem is that the Fanatec ecosystem is relatively expensive, especially if you opt for all the products in the catalog.
Now for the price. So, the CLS DD Pro is sold at €500 on the Fanatec website, which is pretty good for a base that develops 8 nm. The value for money is excellent as far as I'm concerned, and the brand is a safe bet if you shop with them. In any case, I recommend this base without the slightest hesitation.
The best high-end direct-drive wheels
Logitech G Pro Wheel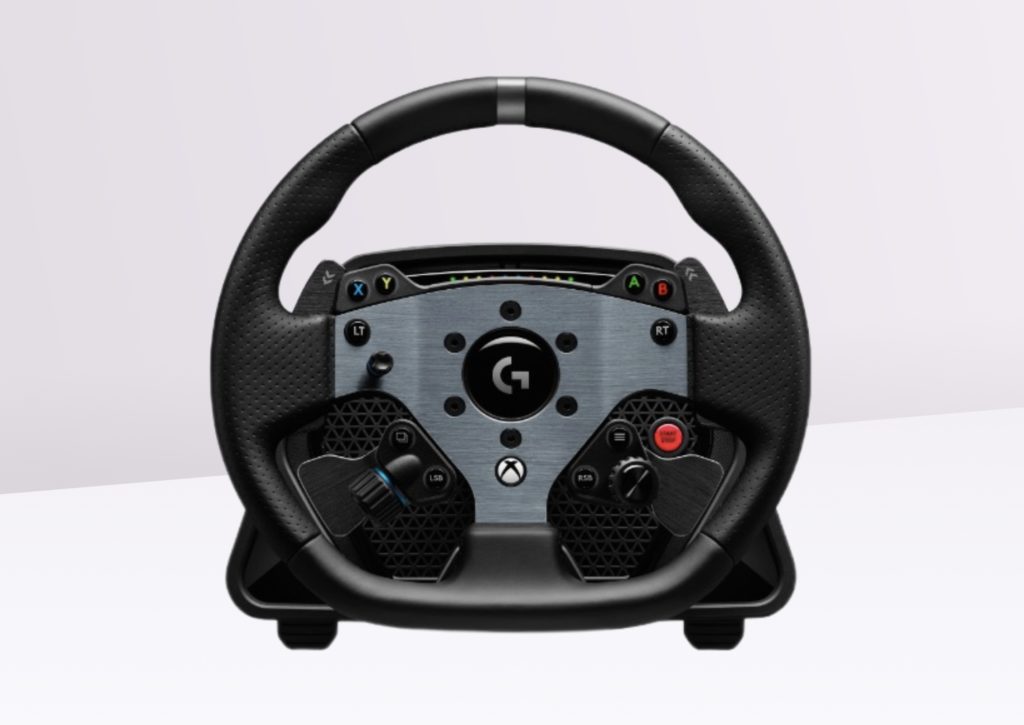 Advantages:
Bundle with base and steering wheel
Compatible with all platforms
Premium materials used
Disadvantages :
Virtually non-existent ecosystem
Power is limited to 11 nm
The price is a bit high for the features
We've seen that Thrustmaster released its first DD base, the T818, and set its sights on the mid-range of sim-racing peripherals. Logitech did the same thing, targeting the high-end with its G Pro Wheel.
So, the G Pro Wheel is a bundle with a Direct Drive base + steering wheel, or base + steering wheel + pedals, aimed at the top end of the segment, aiming to thrill the Moza R16 and Fanatec DD1. The design is a success, as are the materials. But performance-wise, it's a miss. Unfortunately, the G Pro Wheel is less potent than the two bases it was aimed at, with only 11 nm of maximum torque developed. That's not much, especially at the price this device is sold at, and I'll come back to this point below.
Design-wise, it's a success, even if the base is significant for my taste. The steering wheel is sleek, in brushed aluminum, with leather and four aluminum paddles. It's beautiful, in keeping with Logitech's style code.
Regarding sensations, it's suitable for a first intrusion into the world of Direct Drive bases. The steering wheel is precise, providing much feedback on what the car is doing. What's more, I didn't notice a dead zone in the center or anything. Overall, the G Pro Wheel is a perfect choice for sim racing, but its price is premium at €1100…
Fanatec Podium Wheel Base DD2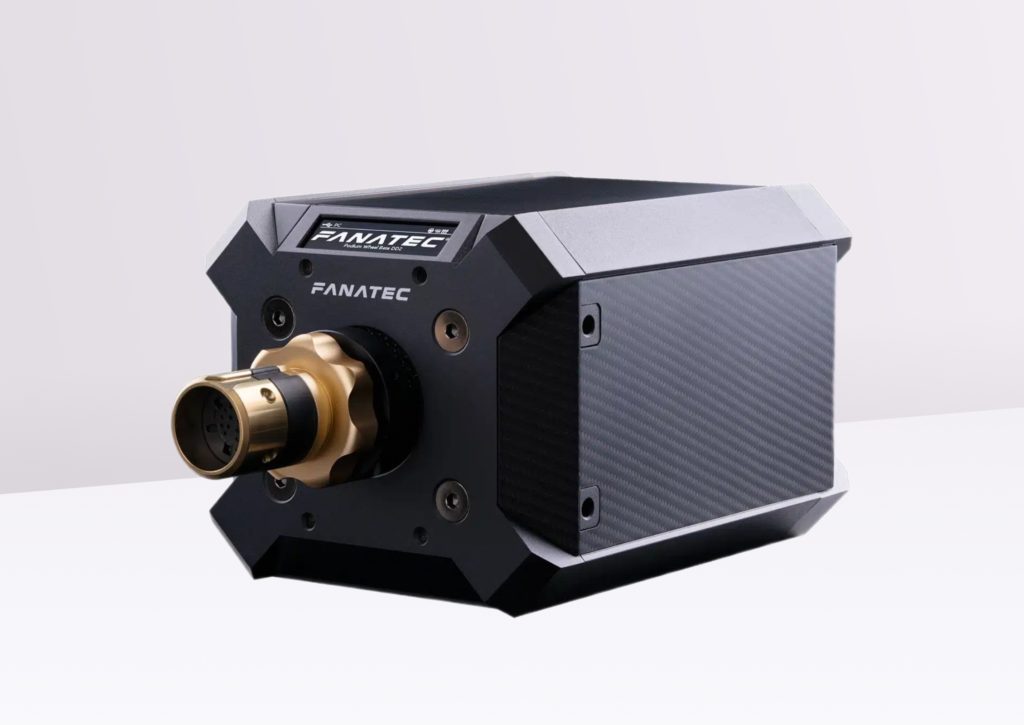 Advantages:
Very high-end base with 20/25 nm torque
Exemplary build quality
Perfect for pro-sim-racers
Product-rich ecosystem
Disadvantages :
Premium price
PC and Xbox are compatible only
And finally, the Fanatec Podium Wheel Base DD2. I believe this Direct Drive base is the best on the market for the general public and pro racers.
Depending on the version you buy, you get 20 or 25 nm of max torque developed by this base's powerful motor. That's just enormous, and you'll need an excellent cockpit to take advantage of it and a well-filled bank account. The main advantage of the DD2 is that you can configure the maximum torque output (in percentage), allowing you to adapt this base to your preferences.
As for force feedback, it's simply ultra-realistic. You'll need big muscles if you set the base to max power because it's tough. The sensations are so realistic that the line between sim-racing and reality becomes blurred. This base is precise, immersive, and perfectly transcribes the various changes in trajectory, grip, bumps, and all the rest of what the car in front of you is doing. It's thrilling, and I can't think of any other words to explain how I feel when I use the DD2.
Not everything is perfect with this base, and among its shortcomings, we find compatibility limited only to Microsoft platforms, namely PC (Windows) and Xbox. Another negative point is its price. Fanatec is a premium brand, and the Podium Wheel Base DD2 is priced at €1499.95, and all you get is the base. That's a high price to pay, but on the other hand, it's still by far the best Direct Drive base on the market, with no entry into the professional peripherals segment. If this summary has made your mouth water, I've also written a review of this base, which you can find by clicking here.
What is a direct-drive steering wheel?
A direct-drive flywheel, or Direct DriveDirect Drive, is a type of base or steering wheel that uses a powerful electric motor to transmit force feedback from the time you're facing. This is done by connecting the engine directly to the steering shaft, giving a better, more realistic feel and, above all, less blur.
This technology is reserved for a specific category of sim-racers because Direct Drive steering wheels are expensive, at least if we compare them to other technologies available on a more conservative segment for our wallets. For example, the most famous steering wheels currently on the market are the Logitech G29 and G920 (which you can discover right here), which are gear-driven products. This technology generally employs one motor, and in the case of the G29/920, two engines are connected to a series of gears to produce torque or force. The advantage of such a solution is that the whole system is not very complex with a small motor. But it also has drawbacks, such as noise, reduced precision, and power.