Sim-racing isn't like it used to be when you had to connect peripherals to your platform (PC or console) and then go about your sessions in peace. It was undoubtedly simple back then, but our setups lacked elements that could push immersion and realism. For example, no one had a curved screen at the time or a VR headset to feel like you were in the cockpit of an F1 car.
We can have a complete setup with products available to the general public. If you now decide to make a sim-racing setup for yourself, you'll only need a few hours to order the products from the comfort of your sofa.
These days, manufacturers of sim-racing products aim to push realism to the limit with technological innovations and peripherals that draw heavily on motorsports. For example, you can visit the website of Playseat and order a cockpit for your setup. Doing this will significantly increase the immersion of your racing sessions, especially if you have a good-sized curved screen. But what if I told you that it was possible to push realism even further with dynamic racing simulators, commonly known as jack-up cockpits? Well, that's what we're going to see. I'll introduce them, tell you what they should have and which are the best.
The best dynamic racing simulators
As you can imagine, several players in this segment have several models. I won't leave you alone in the wilderness, looking for a jacked cockpit. I've compiled a list of 5 dynamic racing simulators that I consider the best on the market today.
Next Level Racing Motion Platform V3 (motorized platform)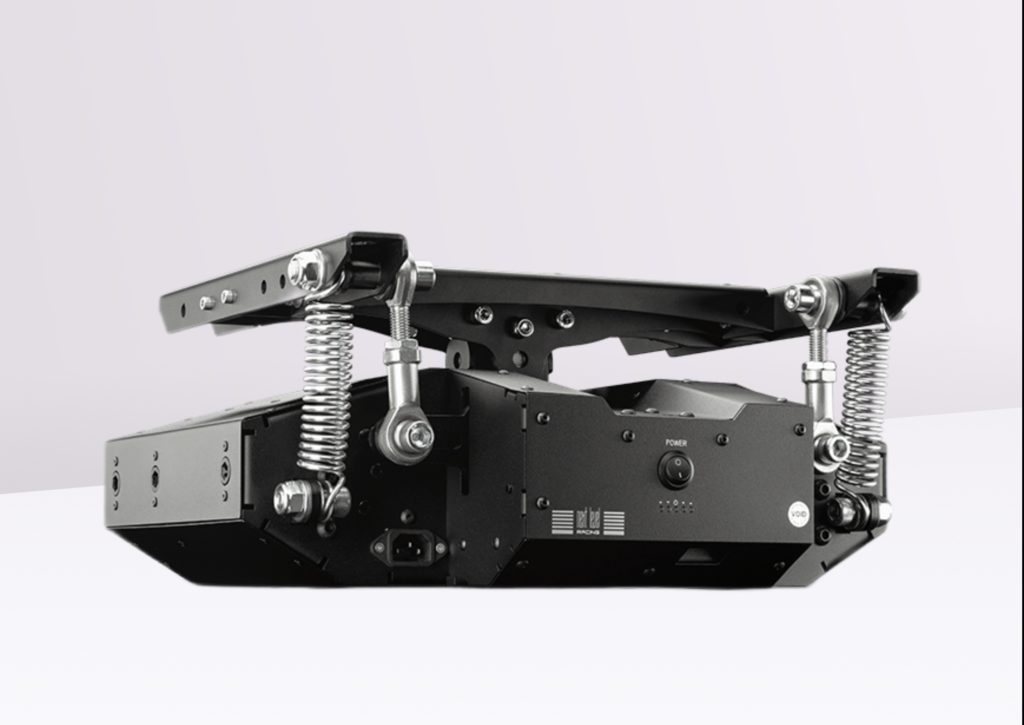 Benefits :
Compatible with Next Level Racing cockpits and those of other brands
Compatible with virtual reality platforms
Fast, fluid, and realistic movements
High-performance in-house software
Attractive price compared to the competition
Disadvantages :
Limited maximum supported weight (130 kg)
Let's start with a brand I like in the cockpit world, Next Level Racing. The motorized platform Motion Platform V3 is a product I've enjoyed using, thanks to its compatibility with many of the brand's cockpits (NLR) and chassis from other competitors.
The platform is relatively compact (45.72 x 50.8 x 22.86 cm), weighing almost 25 kg. The Motion Platform V3 supports a maximum pitch and roll angle of +/- 10°, with a maximum acceleration of 360°. Frankly, that's not bad at all for such a small platform. Movements are fast, fluid, and, above all, very realistic, even if you're playing a fast simu such as Dirt, where you'll be doing one curve after another at full throttle.
The Motion Platform V3 is compatible with many of the brand's cockpits, including the highly acclaimed GT Ultimate Cockpit. Next Level Racing has developed software for this platform to be easily integrated with all sim-racing titles available on the market, such as Asseto Corsa, F1, and Project Cars, but flight simulations such as Flight Simulator. In my opinion, the Motion Platform V3 is a complete platform that's relatively affordable (less than €3,400) but still has its shortcomings, the most notable of which is the maximum weight support of just 130 kg. This means you'll have to choose your cockpit and sim-racing peripherals carefully, and above all, get back into the sport if you've got extra kilos because, frankly, 130 kg is quickly reached with an average-sized person and a very simple cockpit.
The RS1 M4A BLACK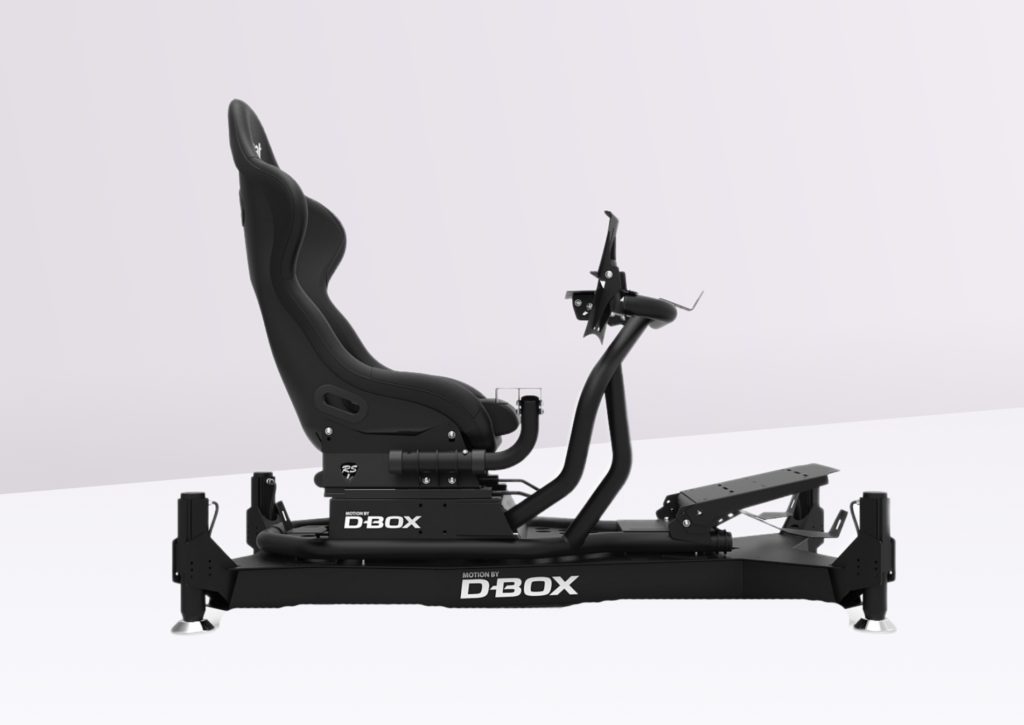 Advantages:
Full cab with racing seat
All brackets are included in the box, even the gearshift bracket
Excellent build quality and finish
Solid design
Disadvantages :
A rather high price
Quite heavy
Let's turn now to the dynamic racing simulation cabins. As I said earlier, these are complete, all-in-one products. So you have the motorized platform, brackets for sim-racing peripherals (base, pedals, etc.), and a racing seat. One of these cabins is the RS1 M4A BLACK, which is a good product for the price, even if the latter is relatively high.
The chassis of the RS1 M4A BLACK is made entirely of stainless steel, with four cylinders handling the cockpit's movements, located in the four corners of the cabin. You'll find the base, pedals, gearshift, tablets, and keyboard/mouse support in the box. Overall, it's more than most others offer with their products, and it's excellent as far as I'm concerned.
Now to the heart of the matter: performance. To put it simply, the RS1 M4A BLACK is the very best. This motorized cockpit can reach a maximum speed of 100 mm/sec, with a maximum acceleration of 1g. Frankly, that's excellent for such a product, especially at the price it's sold for.
As for price, the RS1 M4A BLACK doesn't come cheap. You'll need to spend around €16,800 to buy this little gem, and it's only available to order. On the one hand, it's expensive – well, not too expensive compared to other models – but you can customize it with different paints. If you can afford it, the RS1 M4A BLACK is a motorized chassis that I recommend to fans of dynamic simulators.
The RS G1 1500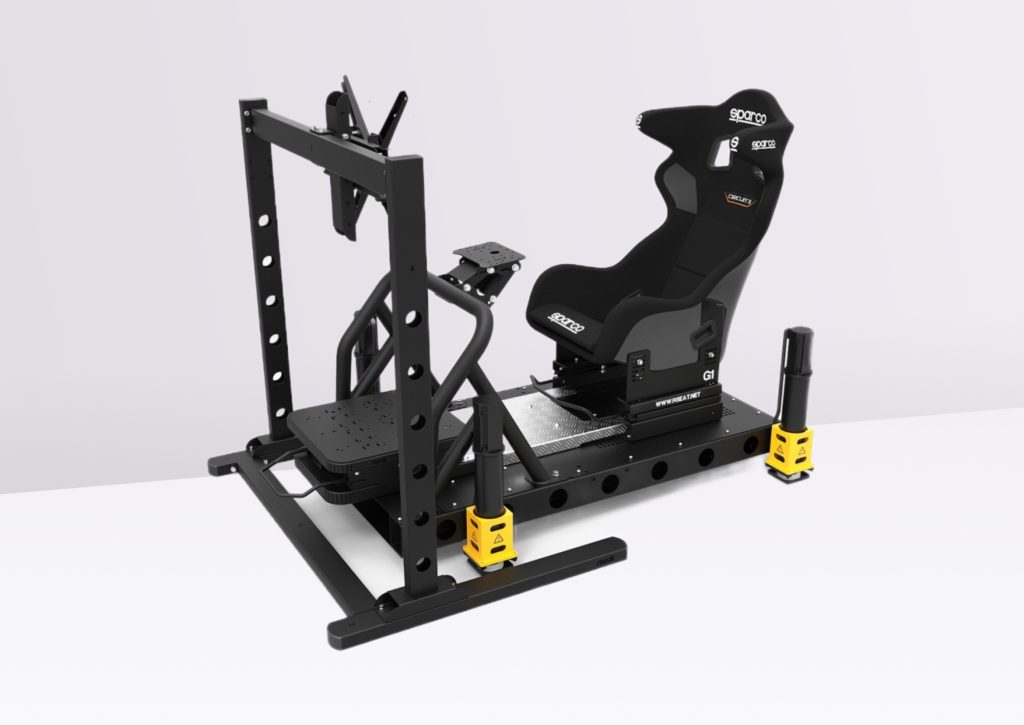 Advantages:
Force feedback with FIA-approved haptic system
Solid chassis with monitor mount
Multi-adjustable seat
Affordable chassis compared to others
Disadvantages :
RSEAT is a major European player in the motorized simulation platform segment. It has a wealth of experience and is arguably the best on the market. For this list, I've chosen another of the manufacturer's models, the RS G1 1500, a relatively complete range with a unique and successful design, yet relatively affordable compared to the others.
Let's start with the chassis. The RS G1 1500 is made entirely of steel, with support for the base, the pedalboard, and the monitor (from 27 to 90 inches). It's excellent for sim racers who want a screen directly attached to their setup. You can also have a shifter or handbrake mount, but that's optional. Well, I'm not complaining too much, but I would have preferred to have it in the box, especially when I see it's available for not even €240.
As for the motorized platform, it's made up of 4 cylinders located at the corner of the base, capable of developing a maximum speed of 100 mm/sec, with a maximum acceleration of 1g. It's like the cabin we saw just before; the same system is used for both products. The stroke of the cylinders is almost 40 mm, which is not bad at all.
I'll pass over the peripherals supported by the RS G1 1500. So you've got virtually all Direct Drive chainstays, whatever their power output. Load Cell pedalboards are also compatible with the RS G1 1500. In terms of brands, everything currently on the market is consistent with this chassis, except for Simucube products, especially the bases. You'll have to pay a small fee (around €70) to buy support for their base… Frankly, it's cheap on the manufacturer's part, especially as this support is inexpensive.
Speaking of expensive, the RS G1 1500 can be bartered for the princely sum of 12 000 €. Of course, it's still a premium price, but below that of the RS1 M4A BLACK.
The RS Formula M4A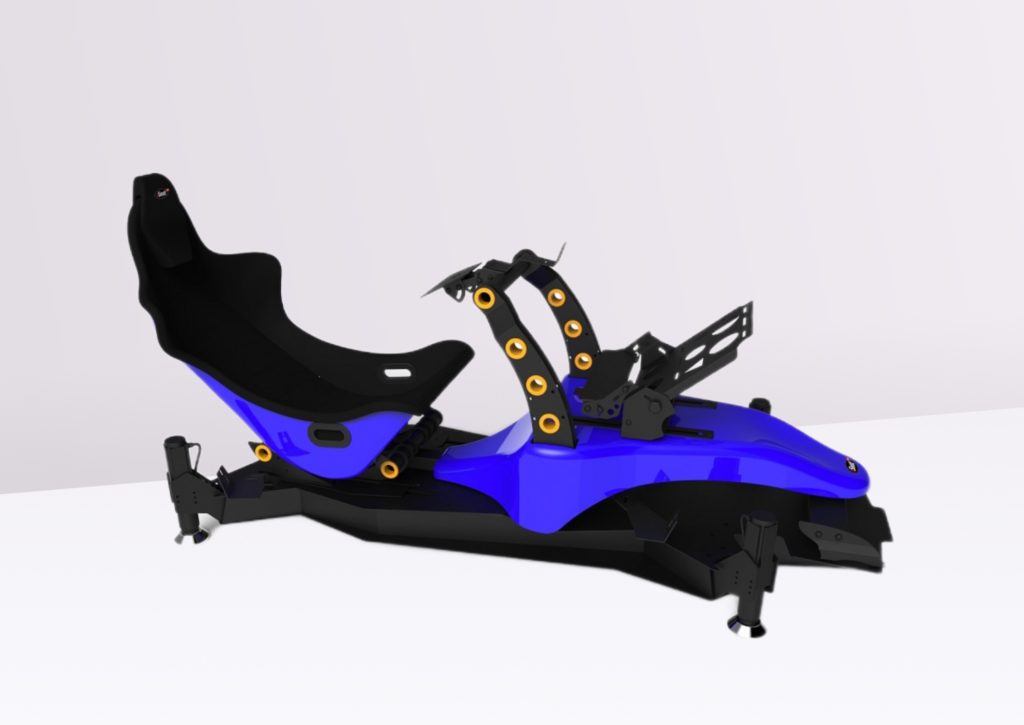 Advantages:
Electric adjustment of surfaces and supports
Incredible simulator sensations
Powerful motorized platform
Disadvantages :
There's no shortage of dynamic simulators on the market, all to our absolute delight. One of the best on the market is the RS Formula M4Aan F1-specific product.
I think the design is a success, especially with its black color. The motorized platform is based on the D-BOX, as for the other RSeat models we've seen, with four cylinders capable of developing a maximum speed of 100 mm/sec, with an acceleration of 1g. I have to say, this is the best there is at the moment, and the difference you'll find will be in the chassis itself.
Unlike the RS GT 1500, the RS Formula M4A doesn't include a monitor mount but uses motorized bottom brackets and chainstay mounts. Well, it's an excellent option, but not necessary. I'd have liked monitor mounts, for example, but you can't have everything, right?
The driving position of the RS Formula M4A is typically F1, with the feet higher than the pelvis. I love cockpits like this, but it should be noted that they are limited to F1 use only.
Now to the price. Priced at almost €19,200, the RS Formula M4A remains costly for the average person. Only a few sim breeders can afford it, and that's how it is.
The RSEAT HF-L4 D-BOX GEN 5 HAPTIC SYSTEM (motorized platform)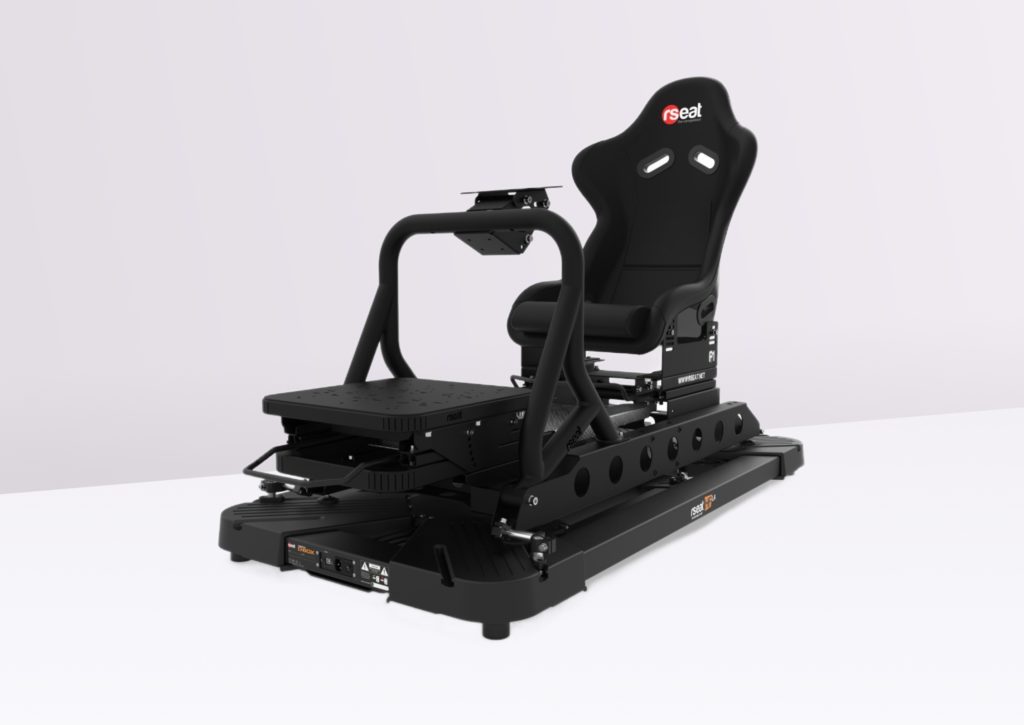 Advantages :
Good build quality
Tubular steel structure
High maximum load
Disadvantages :
High price compared to competitors
The last entry in this list is the RSEAT HF-L4a motorized platform. This simulator incorporates the technologies for which RSeat is renowned, such as D-BOX, four cylinders, acceleration, and more.
The RSEAT HF-L4 platform fits under a compatible cockpit to bring dynamism and feel. With a maximum acceleration of 1g, it's realistic, especially for fast, intense sim-racing sessions.
Regarding weight, the RSEAT HF-L4 supports a maximum load of 400 kg, which is enormous compared to direct competition like the Next Level Racing Motion Platform V3. With it, you'll have a complete setup, including a cockpit, peripherals, and even a monitor if you have that option. Just remember that the 400 kg also includes your body weight.
As for the maximum speed of the RSEAT, the rate is 100 mm/sec, which is the same as all the other products we've seen. Even though this platform is small, it's still one of the most powerful on the market, reflected in its price.
Selling for almost €9500, it's still an expensive product in my opinion. However, if you add a good, compatible cockpit, the price of your setup won't be all that high.
What is a dynamic racing simulator (jack cockpit)?
A dynamic racing simulator is a cockpit mounted on a motorized base with jacks that simulate car behavior. The car moves when you're in a vehicle and accelerating, braking, or cornering. For example, when you take a bend, your body moves to the opposite side. This is perfectly normal, and it's called physics.
A jack-up cockpit tends to reproduce these movements of the car in sim-racing to pass them on to you, who is sitting in the seat of your setup. To achieve this, the dynamic racing simulator must include several elements, including a motorized platform (with jacks), motors for vibration, brackets for sim-racing peripherals, etc. The aim here is to create a cabin that lets you feel everything the car you're driving in sim-racing does as if you were behind the wheel.
What types of dynamic racing simulators are there?
There are currently two types of dynamic racing simulators on the market:
Motorized platforms. This type of dynamic racing simulator takes the form of a platform you place on the ground, onto which you bolt following your cockpit or racing seat. This type is rather fashionable, as these platforms are highly customizable and allow you to build your setup around them, as well as being relatively cheaper.
Motorized cabins. This second type is more geared towards sim-racing professionals, as here you have a complete setup or, "All-in-one." This type includes the motorized base, brackets for sim-racing peripherals, the racing seat, and even shelves for other products such as monitors, and so on. It's undoubtedly complete, but you'll need to adapt your setup to the cabs, and these are relatively bulky, which can be problematic for racers with small parts.
Which one to choose?
Choosing a dynamic racing simulator is like choosing virtually any other sim-racing peripheral in a setup: you must put your needs first and make compromises.
Budget. When choosing a dynamic simulator, the first thing to determine is to set a budget you don't want to exceed. Dynamic racing simulators abound, with various configurations, especially when you have single-platform and full-cab options.
Support for accessories. As with any sim-racing setup, you need room for a base and pedalboard in your dynamic simulator. Complete cabs include brackets for available peripherals, at least those sold to the general public. But it's a good idea to do your research first.
Speed and acceleration. Dynamic simulators are not all the same, and some models are less potent than others. If you opt for a "slow" product, you'll feel a delay between what the car is doing and your simulator, and this kind of product should be avoided.
Maximum weight supported. Every cockpit, like every seat, supports a maximum weight. You need to pay close attention to this, especially for motorized platforms, as you'll have to install them under your cockpit, and the maximum weight can easily be reached and even exceeded in some cases.
Read user reviews. Sometimes, there's nothing better than reading reviews from other riders to get information you won't find anywhere else.
Similar articles