Although sim-racing started on the PC, consoles have played an essential role in its popularity. While PCs offer a more configurable and realistic environment, consoles simplify sim-racing.
Some elitist brands offer peripherals, such as steering wheels, only compatible with PCs. In contrast, others, even premium brands, are aimed at a much broader clientele, enabling them to develop numerous console-compatible products, such as the PS5.
Even if Sony's latest console isn't out until late 2020, it's trendy and hard to get simultaneously. The health crisis and the shortage of semiconductors have hurt the availability of virtually all components for computers and consoles. But that hasn't stopped sim-racing fans from finding some, especially from making setups to set the fastest times and go flat-out on rally stages.
I'm not telling you anything new, but to do sim-racing, you need a setup that includes a steering wheel, base, and pedals, at the very least. Some brands offer these peripherals separately, i.e., the steering wheel alone and the bottom (Fanatec, for example), while others are bundles (Logitech, for instance). This is, in fact, due to brand visions. Fanatec, for example, prefers to offer its customers 100% customizable and, above all, interoperable products. But this comes at a cost, as each product has to be developed to work perfectly with all the others.
Brands such as Logitech prefer to offer "budget-friendly "In the form of a steering wheel + base + crankset, which allows them to reduce R&D costs while passing on the purchase price. I favor a low-cost solution, but only if you're starting in sim racing. If you want to make rapid progress and invest time in this discipline, there's no better solution than custom. At least as far as I'm concerned.
But before you start sim-racing, you first need to choose your peripherals. Yes, you can't drive a racing car without a steering wheel! This article introduces you to the best steering wheels compatible with the PS5, spread over 3 product ranges.
The best entry-level PS5 steering wheels
As you know, sim-racing peripherals are diverse and varied, with three main ranges so that all sim-racers can enjoy themselves, whatever their budget. In what follows, I will introduce two entry-level steering wheels compatible with the PS5. This range is characterized by low-cost peripherals, ideally suited to any sim-racing application.
The Logitech G29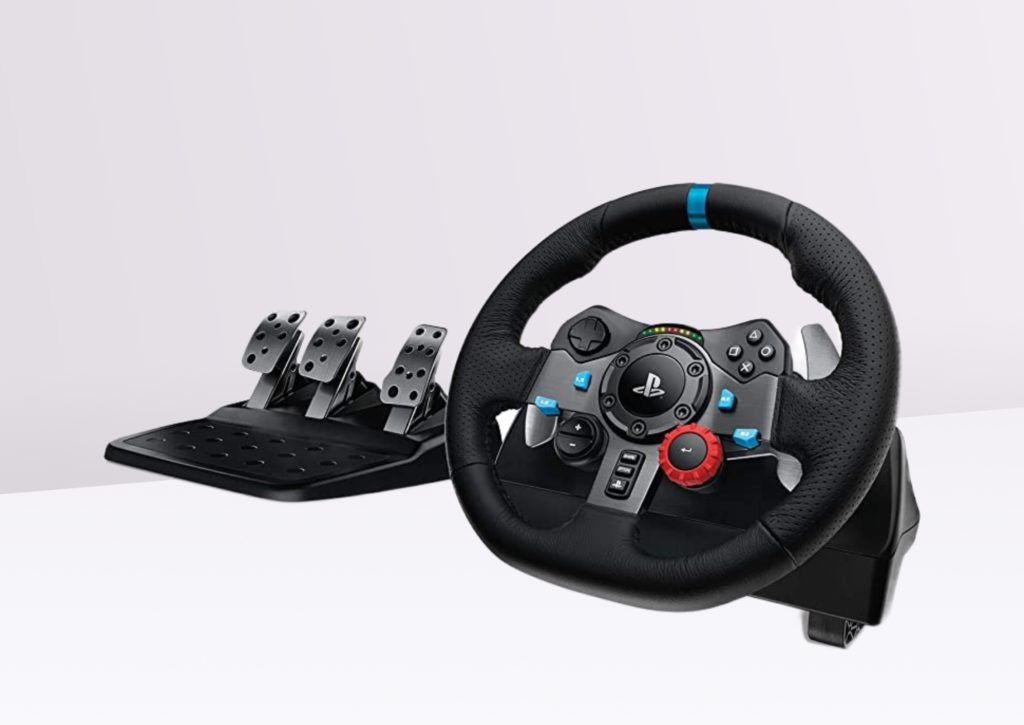 Advantages:
Good value for money
Good build quality
Bundle with pedals
Disadvantages :
Force feedback is sometimes unclear
I'll start with a tried-and-tested steering wheel, the Logitech G29. Although this peripheral predates the PS5, it is still compatible. The G29 is an inexpensive entry-level steering wheel, priced between €250 and €300 depending on the retailer.
The build quality of the G29 is good, using solid materials like metal. If you think you'll blow this steering wheel away in 1 week, I can assure you you won't. The design of this steering wheel is also beautiful, remaining sober. The wheel is black, with just a blue band at the top. I love it.
Ergonomically speaking, the wheel feels good in the hand, whatever your preferred style of play. The paddles are large and easily accessible, as are all the buttons on the wheel. Frankly, Logitech took their time to think through the layout of the buttons on this wheel, and I take my hat off to them.
The G29 is powered by two motors and a gear system to develop force feedback. In absolute terms, it's okay when it works. But sometimes it's a blur; I'll tell you that now. This technology is undoubtedly reliable but, at the same time, somewhat temperamental.
As I said earlier, the G29 has a decent pedalboard but nothing more. It consists of 3 metal pedals with a Load Cell to provide resistance. Overall, the G29 is an excellent bundle for sim-racing beginners or people who want to spend a few hours a week sim-racing.
Please read my full review of the Logitech G29.
The Thrustmaster T248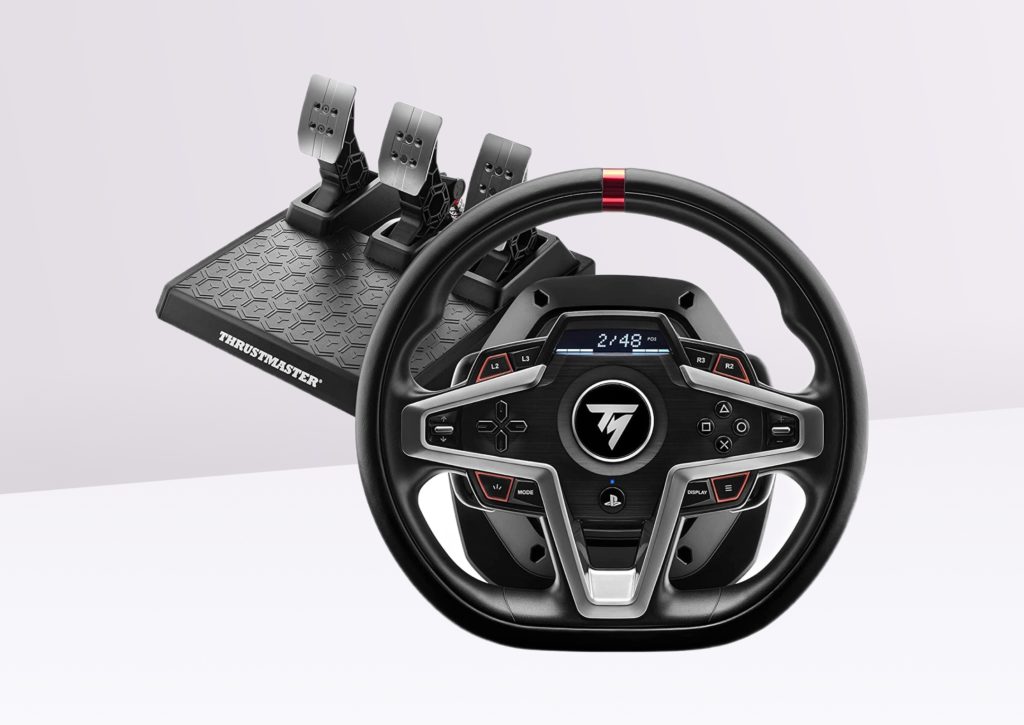 Advantages:
OLED screen
Excellent build quality
Bundle with pedals
Disadvantages :
Thrustmaster is a brand known for offering quality peripherals, and the T248 is one of them. This steering wheel is very recent, having been developed for the PS5, which is a guarantee of longevity if you ask me.
The wheel is 28 cm in diameter, with a leather covering to protect it and give you a premium feel. It's excellent for sim-racing, especially for fans of flat-bottomed wheels. I liked the design.
As for buttons, there are plenty of them, as well as an OLED screen and small paddles on the back. This steering wheel is highly configurable and will enable you to manage your races well, whatever the car discipline.
Let's talk about the base. It's a classic base with two brush motors to provide force feedback. Although this technology is quite simple, manufacturers of sim-racing peripherals often fail to master it, which is not valid with the T248. Frankly, the force feedback is excellent for the price (less than €300 on special offers). It's precise, dynamic, and always there to let you feel what the car is doing.
The T248 is like the Logitech G29, i.e., sold as a bundle. Unlike the G29, Thrustmaster's pedalboard is of good quality. This is the T3PM, which is precise, solid, and provides a good driving feel.
Although I'm still a mid-range sim-racing fan, I must admit that Thrustmaster has hit the nail on the head with the T248. This is an excellent entry-level steering wheel for the PS5 (PS4 and PC, too) that could even overshadow some peripherals from more elitist brands in terms of quality. I highly recommend it to beginners and sim-racing enthusiasts alike.
Please read my full review of the Thrustmaster T248.
The best PS5 mid-range steering wheels
I'm now moving on to the best range regarding peripherals, quality, and customization. In what follows, I will present a steering wheel and a bundle (base + steering wheel) for the PS5.
The Fanatec CSL Elite McLaren GT3 V2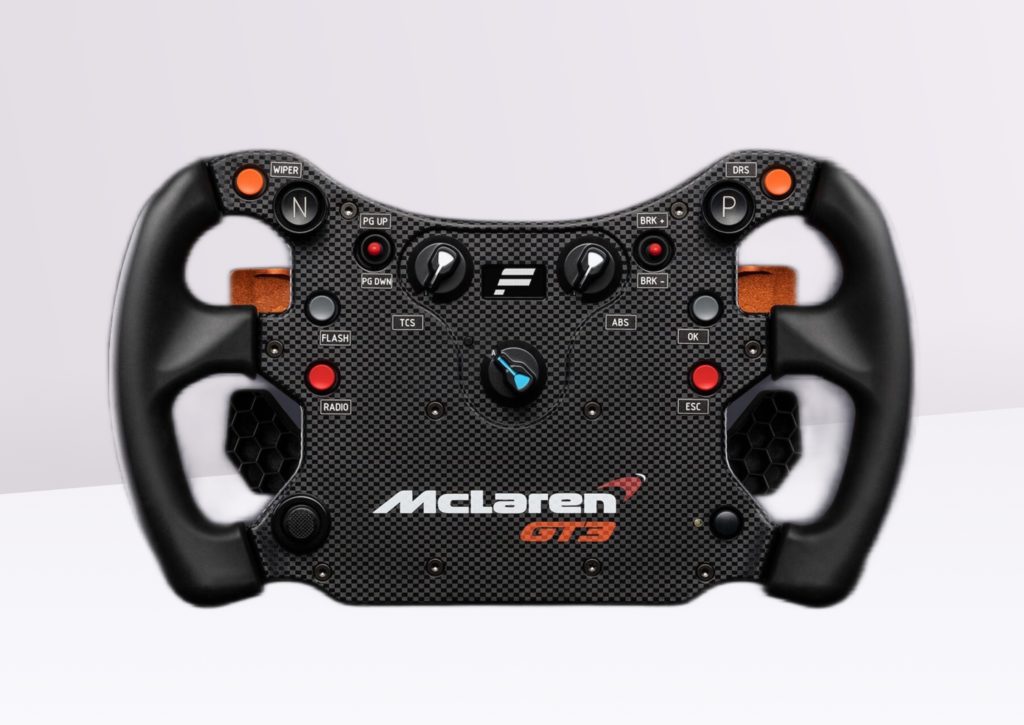 Advantages:
Excellent build quality
Official McLaren license
Disadvantages :
We're off to a great start with a Fanatec steering wheel I love, the CSL Elite McLaren GT3 V2. If you're a fan of the GT category, you'll love this steering wheel.
The CSL Elite McLaren GT3 V2 is technically an entry-level steering wheel, at least according to Fanatec. But let's consider its build quality, functionality, and compatibility with the manufacturer's other products. I can assure you that this little gem is a mid-range steering wheel.
Right away, I'll say the CSL Elite McLaren GT3 V2 is sold independently, without any other peripherals. You won't get a base or pedals.
So, design-wise, the steering wheel is an official replica of the McLaren GT3 wheels. You get four aluminum rear paddles, buttons, a small OLED screen, a carbon-fiber structure, and a 30 cm diameter.
The grip is excellent, as is the immersion. Behind the wheel, you'll feel like you're in a GT3 from the British supercar manufacturer. Its only weak point is the QR supplied with it. The basic CSL Elite McLaren GT3 V2 is sold with the QR 1 Lite, known to have a few degrees' dead zones and disconnections that are a little too regular for my taste.
Even though this steering wheel is officially licensed for Xbox, it's still compatible with the PS5, provided you have a suitable base. By the way, if you will be doing sim-racing regularly, I'd advise you to get the metal QR for this wheel. It'll cost you an extra €100, but at least you'll get the maximum feel.
The choice is quickly made: you take this steering wheel with a DD base from Fanatec, and you're ready for high-level sim-racing, especially at the relatively low price of the steering wheel (€200).
Please read my full review of the Fanatec McLaren GT3 V2.
Fanatec Gran Turismo DD Pro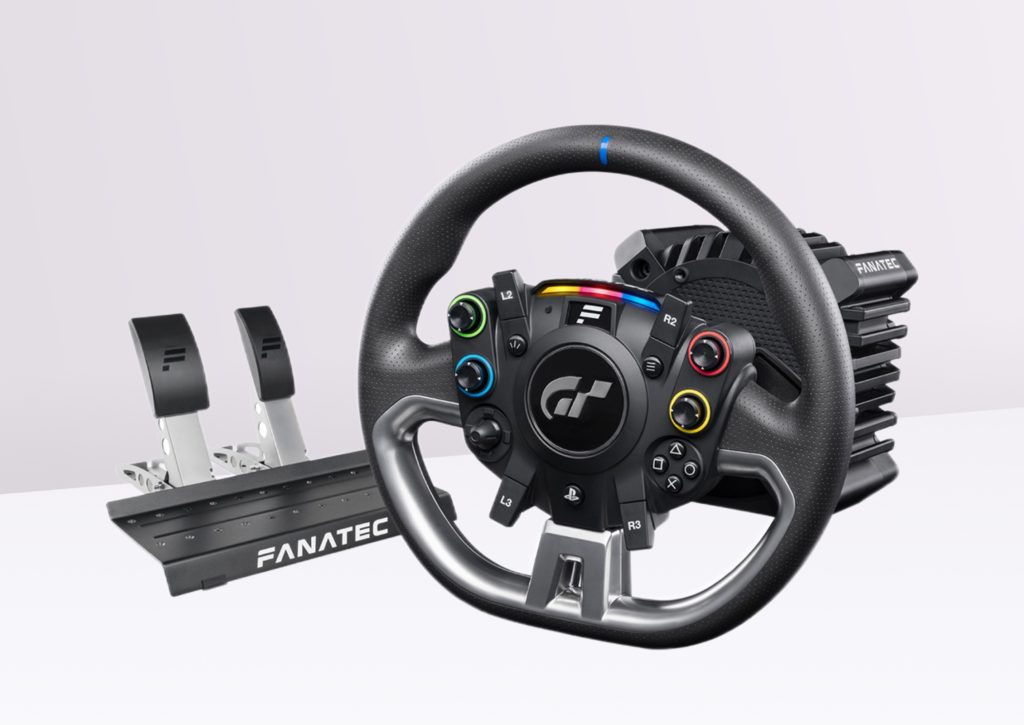 Advantages:
Official Gran Turismo license
Bundle with base, steering wheel, and pedals
Good build quality
Disadvantages :
The Fanatec Gran Turismo DD Pro is a steering wheel from the German brand that I like because it's a complete bundle. You won't have to search for peripherals like the base or pedals, as everything is in the same box.
The base for this steering wheel is the 5 nm CSL DD, with an 8 nm option costing €150 extra. This base uses Direct Drive technology, which connects the motor directly to the flywheel without any intermediary. This ensures maximum feel and sensation since it's a direct connection, and the engine provides 5 nm of force feedback (torque). This technology is widespread in the Fanatec catalog in mid-range and high-end sim-racing peripherals.
As for the steering wheel, I like it. The wheel is 28 cm in diameter and feels very comfortable to hold. You can reach all the buttons with your thumbs, so there's no need to move your hands. The paddles are also well-placed but small, as far as I'm concerned. I would have liked to have more oversized paddles, as the ones on the Gran Turismo DD Pro remind me of a Golf R or an Audi S3.
You have a RevLED and a small OLED display on the steering wheel to provide you with essential information about the car. It's a great addition if you ask me, especially for people who dislike taking their eyes off the road too much. However, there's one thing I don't like about this steering wheel, and that's its Quick Release. The Gran Turismo DD Pro comes with the plastic QR 1 Lite, which is known to be decent at best. There's a dead zone of a few degrees in the center, especially disconnections that are a little too frequent when you give sudden steering wheel strokes. If I were you, I'd use the metal QR (€100 more) for high-level sim racing.
The last point on this bundle is the CSL crankset. It's good quality, with good resistance on the pedals. Incidentally, you only have two, so there's no option for sim-racing in manual mode. It's a bit of a shame, but given the price (€700 in 5nm and €850 in 8nm) and, above all, the quality of the peripherals, it's a perfectly understandable choice.
Please read my full review of the Fanatec Gran Turismo DD Pro.
The best top-of-the-range PS5 steering wheels
It's time for the best PS5 steering wheels at the top of the range. There's nothing better than what I'm about to present (a bundle and a spin on its own).
Fanatec Podium Porsche 911 GT3 R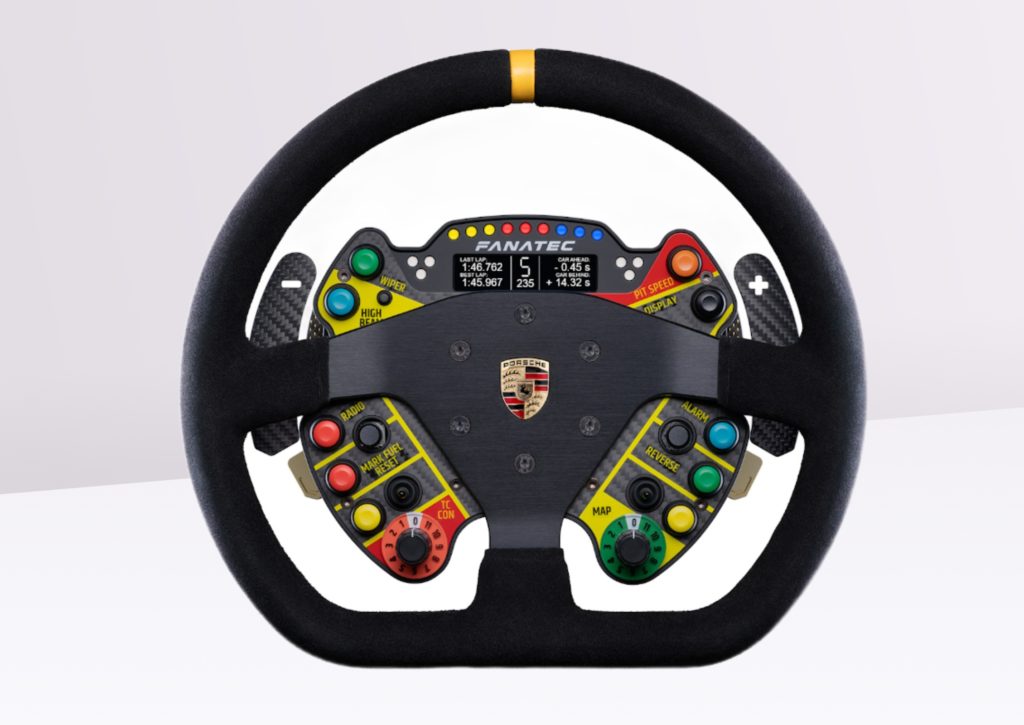 Advantages:
Excellent build quality
Premium Materials
Incredible driving sensations
Official Porsche license
Disadvantages :
So, the Fanatec Podium Porsche 911 GT3 R is part of the German manufacturer's premium range. The name is well chosen because with it, you'll be in the top 3 in sim-racing, provided you apply yourself to the course discipline.
The steering wheel consists of a 32 cm-diameter aluminum wheel, a hub of buttons and paddles, and a metal Quick Release for 650 €. The price stings, but it's German premium, so…
The grip is simply perfect. The steering wheel is top quality, both in feel and immersion. The wheel is minimalist, with just the Porsche logo in the middle, surrounded by suede leather and a headband at the top. It's sublime.
As for functionality, you have a hub that attaches to the back of the wheel, including all the buttons you need. I should point out that this steering wheel and its hub are typically GT3. As a result, you'll have plenty of buttons to control everything on the vehicle and a large screen to display essential information.
There are six paddles, including two analog ones. Magnetic sensors ensure the ideal operation of the paddles, giving you light-speed responsiveness. Analog paddles are helpful for Launch Control, etc.
The Podium Porsche 911 GT3 R is the best official replica steering wheel on the market. It's simple, effective, and, above all, immersive. If you can, put a 20 nm DD base, and you'll be in sim-racing heaven.
The Fanatec Podium Racing Wheel F1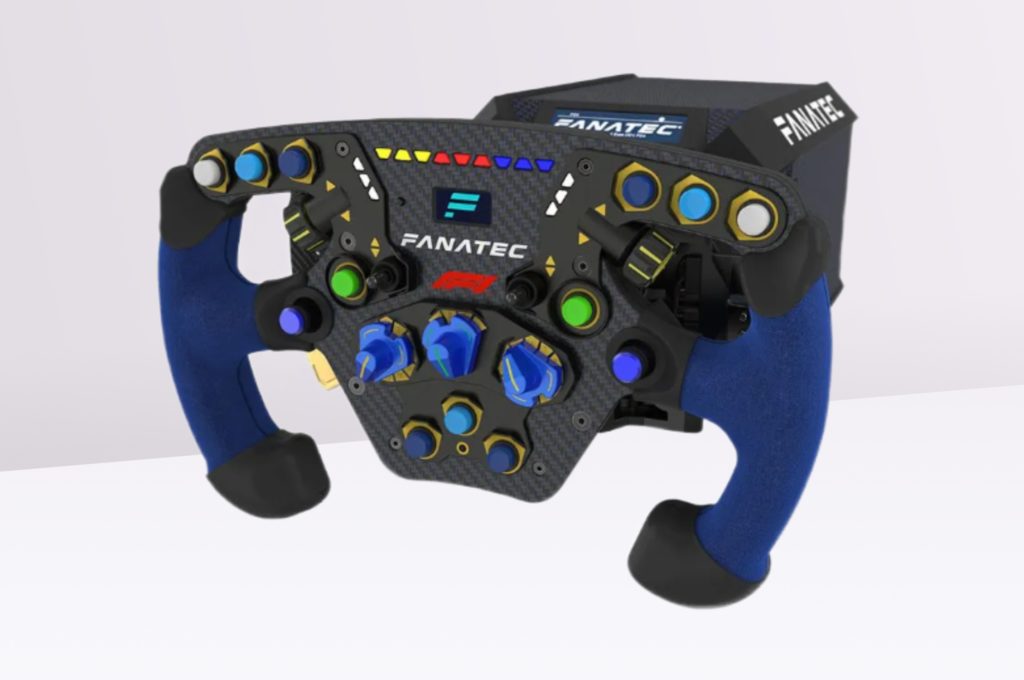 Advantages:
Excellent sim-racing wheel
Use of carbon fiber
Disadvantages :
Difficult to handle
Very premium price
I want to finish with a superb steering wheel that will delight F1 fans, the Fanatec Podium Racing Wheel F1. This wheel is part of Fanatec's top-of-the-range range and has all the options available in the catalog. Carbon fiber, DD base up to 25 nm, OLED screen, several paddles, many buttons, etc. It's all here. It's all there.
The design of the Podium Racing Wheel F1 is a replica of the F1 racing wheels. So, you either like it or you don't. The carbon fiber gives it lightness and strength, even though the wheel weighs just under 1.4 kg. The buttons are well placed to prevent you from taking your hands off the wheel, just like in a racing car. I often say that sim racing isn't just about doing laps on a virtual circuit. Immersion plays an essential role in all this.
As for getting to grips with the game, it's a bit tricky at first. It will take some time to get used to the Podium Racing Wheel F1 unless you already have a typical F1 setup. The power feedback, as is the immersion, is enormous with the 20 nm of engine torque. Add a cockpit and curved screen, and you'll teleport to the Monaco Grand Prix quickly.
I'd easily recommend it to any sim-racer if it weren't for the 1800 I asked for this steering wheel. But its high price and somewhat difficult handling mean that the Podium Racing Wheel F1 will only find takers among hardcore fans of the discipline.
Please read my full review of the Fanatec Podium Racing Wheel F1.
The different steering wheel ranges for PS5.
Overall, manufacturers of sim-racing peripherals offer 3 product ranges: entry-level, mid-range, and high-end. The aim is to have a peripheral for everyone, even if some brands prefer to focus on one of the ranges.
Entry-level. Products in this range are aimed primarily at sim-racers who want to get started in this discipline and don't necessarily have a big budget for their setup. You have players like Logitech and Thrustmaster who have dominated this segment for a long time.
The mid-range. Here, it's all about quality products. Mid-range steering wheels have better quality, functionality, and compatibility than any other peripheral. This range is aimed primarily at sim-racing fans and even professional e-sports or racing drivers. In my opinion, it's Fanatec that dominates this segment on all platforms.
Top of the range. As with smartphones, there will always be high-end products; the same goes for sim racing. These peripherals are aimed at hardcore fans of the discipline and racing drivers who want to train in front of their screens.
I won't hide that each sim-racer has its criteria for choosing a steering wheel. Some make sense, and others are rather personal. For example, I like to have a steering wheel that can accept a hub of buttons/paddles on the back, as this allows me to play Gran Turismo or stroll on NFS. However, there are certain elements that a steering wheel must have, such as :
Good force feedback. Depending on the range, the wheels, or rather the bases, have different force feedbacks, as do the technologies used to achieve them. I prefer bottoms with Direct Drive, a more engaging technology that provides a better feel. But in the entry-level range, this isn't feasible, and you'll have techniques like geared or brushless motors.
Good ergonomics. Ergonomics is a subjective notion. What I consider ergonomic might not be so for you, so I recommend that sim-racers try steering wheels before buying them. For some brands, it's easy enough to do this because their products are sold in stores. But for others, it's not easy, as with Fanatecfor example, which sells its products only through its online store.
Compatibility. With a few exceptions, a PS4-compatible steering wheel will work on PS5. But this should never be an argument for buying this peripheral. It would be best to opt for PS5-compatible steering wheels to benefit from the latest features.
A definite budget. Sim-racing wheels can be expensive, with some fascinating the 2000 €. You need to set a budget for your entire setup (steering wheel, base, crankset, monitor, etc.) and choose the steering wheel that suits you best. Please don't buy a steering wheel costing over €1,000 to pair with a cheap pedalboard because there was no money left in your bank account.
Interesting features. I'm a big fan of Launch Control, so I always choose steering wheels with this feature or several paddles that can be configured. Based on the same principle, I always recommend choosing a steering wheel with as many features as possible within budget,
Availability. Brands like Logitech or Thrustmaster are available everywhere, which is not valid for Fanatec products. If you need to see and touch a steering wheel before you buy, consider its availability (in stores or online).
Ecosystem. Each brand has its ecosystem, and I strongly advise you to stick with one of them. You won't be able to have a Fanatec base and a Thrustmaster steering wheel, for example. So remember to shop from a single manufacturer.
Similar items