Since every person is unique, our passions are not the same. Some like hiking, others marathon series on weekends at home. For you and me, it's sim-racing. This discipline is more or less young, considering the ones I've just presented are a little dated. But then, twenty years isn't so bad.
So, sim-racing is a discipline that emerged towards the end of the 90s with players such as Thrustmaster, Fanatec, Playseat, and Logitech. In reality, the company Logitech was around long before the others but began devoting itself to sim-racing during the same period. Of course, every racer has their setup for sim racing. We have the standard forms with the steering wheel, base, and pedals, which comprise a large part of the worldwide pool of configurations. In this segment, it has to be said that Logitech and Thrustmaster have dominated the game for a very long time and have even made it their focus with products that tend to be mid-range. The high-end segment, meanwhile, is mainly represented by the following brands: Fanatec, for the general public, and Simucube, for everything professional.
As you can probably imagine, standard configs quickly show their limits in terms of immersion, and we have racers who want to push realism even further. This is achieved by adding peripherals to the configs, such as a curved screen, gearshift, handbrake, and cockpit.
In what follows, I will introduce you to the best cockpits available for sim racing. This list will include four chassis, with different price ranges for each product, to satisfy as many racers as possible.
The Playseat Challenge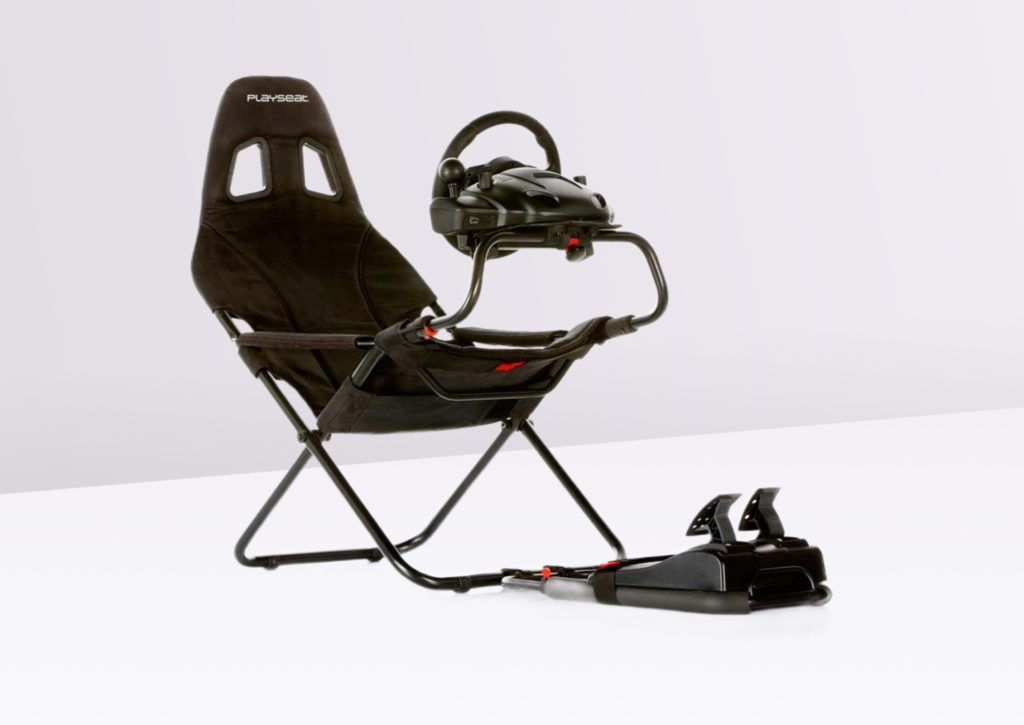 Advantages :
Easy storage
It is a beautiful price for beginners
Compatible with virtually all steering wheels and cranksets
Disadvantages :
The chassis is not very stable
A cockpit is not recommended for Direct Drive bases
So, let's start with a relatively low-end chassis that's perfect for beginner sim racers or Sunday enthusiasts, the Playseat Challenge. Before going any further, you'll be aware that Playseat is a significant player in the sim-racing industry and can be considered the world's best chassis manufacturer, just as Fanatec is for everything peripheral.
However, to dominate such a market, you must offer several product lines, which is why the Playseat Challenge exists. This cockpit is an entry-level product, fundamental but still practical and efficient in what it does. The structure is tubular, very much inspired by folding chairs. This is the selling point of the Playseat Challenge because it's so easy to unfold and fold for storage.
The Playseat Challenge is a light cockpit weighing 8.5 kg but is sturdy and can support up to 122 kg. That's not bad at all. As for the backrest or seat, you have a fabric like a folding chair. The material is top-quality Alcantara with no foam reinforcement. Already, you can see that the Playseat Challenge is not designed for long sim-racing sessions, as you'll almost certainly feel discomfort if you use it long enough.
Now to the heart of the matter: compatibility with sim-racing peripherals. So, the Playseat Challenge supports virtually all Fanatec, Thrustmaster, and Logitech. This leaves you with a wide range of peripherals. However, it would be best to remember that some pedalboards (the fundamental ones) don't provide for cockpit mounting, and you may come across a bone in these cases.
As for stability in play, it's not bad if you don't ask too much of the chassis. Don't forget that the Playseat Challenge is an entry-level cockpit that will work wonderfully well with configs with belt- or gear-driven bases. Don't put a CSL DD from 8 Nm on this cockpit, as you'll introduce a lot of instability.
Even if the Playseat Challenge has a few shortcomings, notably instability, its price quickly erases all that. This cockpit can be found between €210 and €230, depending on the retailer, which is not expensive. If you pair it with a Logitech G920/G29, you'll get an excellent setup for less than €500. If this sample review has whetted your appetite, you can read my full review of the Playseat Challenge here.
The NEXT LEVEL RACING F-GT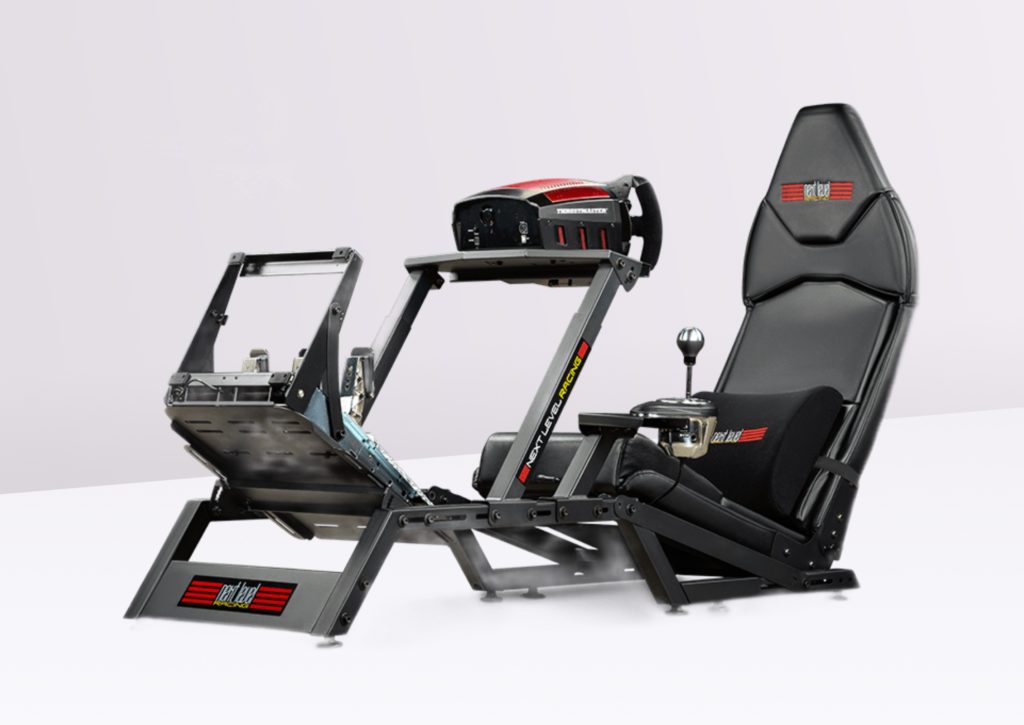 Advantages:
Cockpit with two driving positions (F1 and GT)
Solid, high-end structure
Excellent value for money
Disadvantages :
Challenging to assemble the first time
Next Level Racing is a well-known brand in the sim-racing world for its cockpits, which are both of very high quality and sold at great prices. In this list, I've chosen the F-GTan excellent mid-range chassis that can be configured for two leading disciplines, F1 and GT.
So, the F-GT is an all-steel chassis with a very robust structure. This is expected, given Next Level Racing's many years of service in sim racing. The design is relatively sober, with black dominating most of the chassis. You've only got logos here and there with red accents. I like it, and if you're looking for an all-purpose cockpit, the F-GT, you'll like it, too.
As I've just said, this chassis is made entirely of steel, giving it high stability and weight. The F-GT is not light at 45 kg, which could be a problem when transporting it. Next Level Racing has thought of everything by packing the F-GT castors that make it easy to move around. Except that these introduce a bit of instability, and I advise you to mount it in one place and use the pads so that the F-GT no longer moves. Speaking of assembly, you should know that this operation is rather arduous and will take some time to complete. But at least the manual is very detailed.
As for compatibility with sim-racing peripherals, please note that F-GT supports almost all those available on the market, including cranksets, chainstays, and even shifters. This is a big plus for the F-GT.
Let's talk about comfort. So, this Next Level Racing cockpit has a very comfortable seat, which can be adjusted as you see fit. You have a slide at the bottom to move it forward or back, a little cushion for lumbar support, and two driving positions. As its name suggests, the F-GT allows you to shop from F1 GTw, making it very versatile. Switching from one place to another is easy, leaving more time for sim-racing than cockpit handling.
Let's turn now to the invoice. A chassis like the F-GT is not cheap, as you can imagine. Currently, on Amazon, the F-GT can be had for the princely sum of €549, which isn't outrageously expensive if you ask me. I know of much more costly cockpits that don't offer even half the features of the F-GT. On the market today, it's hard to beat them, especially in this price bracket. You can find less expensive chassis, but only for a specific discipline (F1, etc.). or GT). So, for me, it's an excellent investment for sim-racing enthusiasts. And if you're not convinced, or almost, you can read my full review of Next Level Racing's F-GT cockpit right here.
The Next Level Racing GTTrack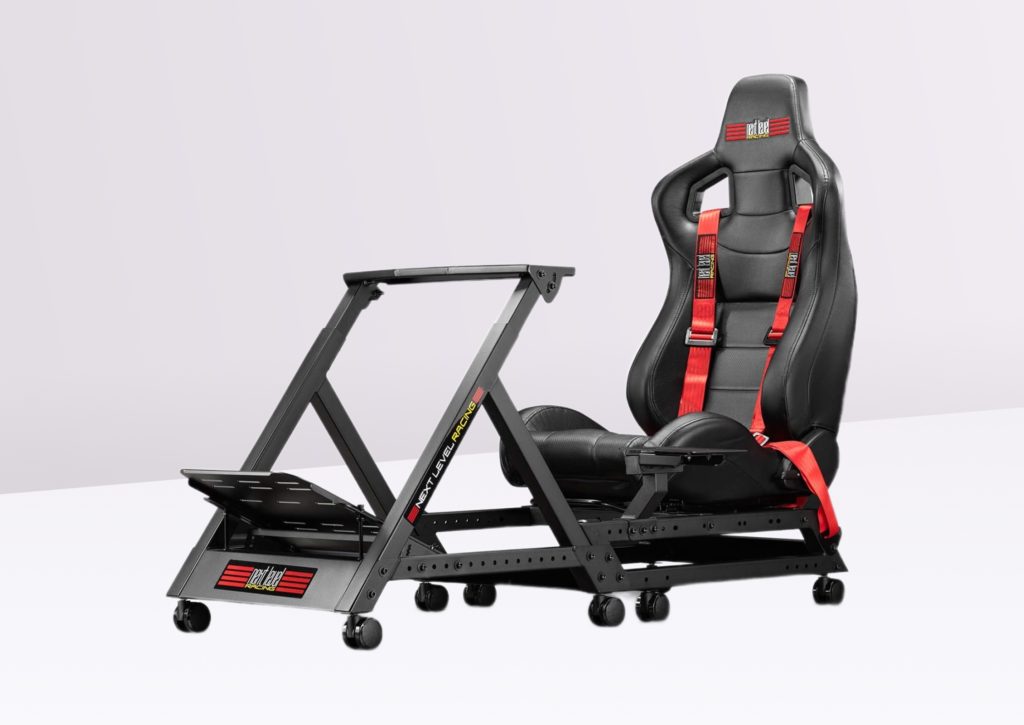 Advantages :
Solid, durable structure
Support for gear lever and handbrake
Excellent build quality
Disadvantages :
Seat not very comfortable after a while
Rather heavyweight
I'm back at it with Next Level Racing, but this time with a much better GTTrack chassis. I indeed like Next Level Racing's products, but my opinion is in no way biased by that.
So, the GTTrack. I'll start with the design. The GTTrack looks a bit like F-GT, which I've just presented to you, but more beautiful as far as I'm concerned. I know any product's design remains a subjective element, but the GTTrack is still beautiful.
The difference begins with GTTrack and the F-GTis materials; the GTTrack uses steel and carbon laser-cut to give it greater strength than its little brother. The entire chassis is perforated, allowing you to adapt the location of the various elements to your liking, and that's a big plus for this cockpit.
Continuing the differences, the GTTrack has a bracket that can accommodate both a shifter and a brake, provided you have the right peripherals. Admittedly, this limits the choice a little, but it's always a plus over the competition. Unlike the F-GTon, the GTTrack is not a hybrid cockpit with two different driving positions. This chassis is aimed primarily at sim-racers with a taste for GT racing, and it's perfect for that.
As for compatibility with sim-racing peripherals, the GTTrack supports all products from brands such as Logitech, Thrustmaster, Fanatec, and others. Moreover, this cockpit will work perfectly with any PC or console platform.
Let's move on to the GTTrack. For a start, it looks great, with a direct take on a bucket racing seat. Wanting to push immersion and realism to the max, Next Level Racing put a harness on the heart that attaches directly to the cockpit structure. It's just gorgeous, especially with the red belts. As for comfort, the seat can be adjusted in several planes, accommodating just about any sim-racer. However, I must admit that it's uncomfortable, especially when you're using the GTTrack for many hours. At first, you won't feel a thing, but after a while, you'll feel pain in several places. In a way, the GTTrack is like the seat of a Super Car: beautiful and comfortable, but only for short distances.
I'll pass quickly over the weight of the beast. At 48 kg on the scales, the GTTrack is rather heavy. You've got castors attached to the chassis's bottom for easy movement. It's handy but introduces a slight instability. If you'd like some advice, the GTTrack is a cockpit that puts itself in one place and stays there for good.
I'll end with the price. A high-end cockpit like the GTTrack pays for itself, and quite expensively. It retails at €899 on the manufacturer's website and online stores. It's expensive, of course, but it's also a top-quality, robust, well-finished product. I highly recommend this cockpit if you're a GT racing fan or can afford the GTTrack.
Playseat F1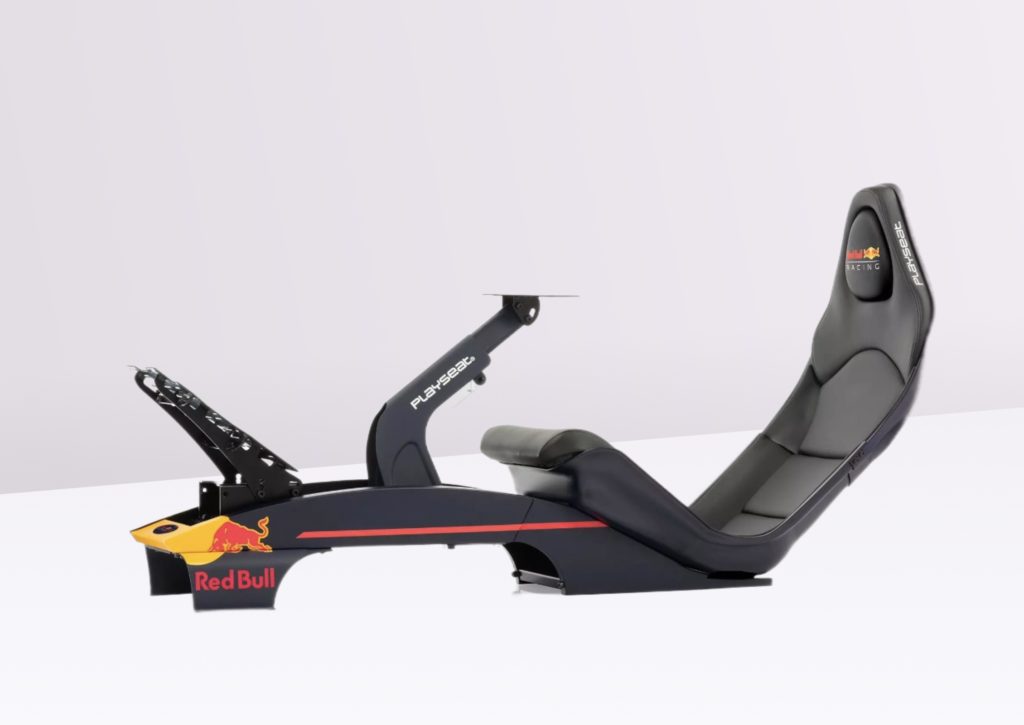 Advantages :
Cockpit specially designed for F1
Excellent build quality
Premium Materials
Total immersion
Disadvantages :
Premium price
For F1, use only
It's not anything if Playseat more or less dominates the sim-racing cockpit market, especially when you see one of its high-end chassis, the F1. I know this is the brand's second entry in this list, but this cockpit is among the best currently available.
Let's start with its design. As its name suggests, the Playseat F1 is a chassis aimed exclusively at sim racers looking to race F1 cars. Its design is unique, primarily inspired by the driving position of single-seaters. The chassis structure comprises three parts, plus the seat, which are bolted together. The primary color of the cockpit is red, except for the seat leather, which is black. However, limited editions are available in other colors, such as all-black.
Regarding compatibility, the Playseat F1 supports all sim-racing peripherals, especially high-end ones such as bases Fanatec Direct Drive. This cockpit was developed with this in mind, and its structure gives it unprecedented stability. It's simple: nothing moves when you're sim-racing.
The driving position is practically on the ground, with your legs higher than your pelvis, just like in an F1 car. The base/steering wheel support is between your legs, which may bother some sim-racers. I've got used to it after a few sim-racing sessions, and it's adjustable as you go, as is the pedal support.
Regarding robustness, you can drive in gruff mode with the most potent DD bases, and the Playseat F1 won't wobble. It's ultra-strong and ultra-stable, whatever you use it for. And since the entire structure is metal, you'll be able to feel the vibrations of the crankset and baseboard all over your body, which is genuinely superb.
Finally, the price. The Playseat F1 is a premium F1 chassis, and so is its price. Priced at €999 for the red version, it's an expensive product that will find takers among fans of motorsport's flagship discipline. Once again, if this summary has made your mouth water, you can read my full review of the Playseat F1 right here.
Which one to choose?
Budget. Defining a not-to-exceed budget for a cockpit that correlates with your setup is essential. You won't buy a €1,000 cockpit if you have entry-level peripherals.
Discipline. We've seen generalist and specialist cockpits. So, if you want to do F1 exclusively, you must go for a cockpit specifically.
Stability. Some chassis are not designed for use with DD bases. So, if you have such a base, you should look for a cockpit that supports it, primarily to ensure stability.
Compatibility. Not all cockpits are compatible with all sim-racing peripherals available on the market, so you'll have to look for a product with your config.
Similar products