Fanatec Clubsport BMW GT2 V2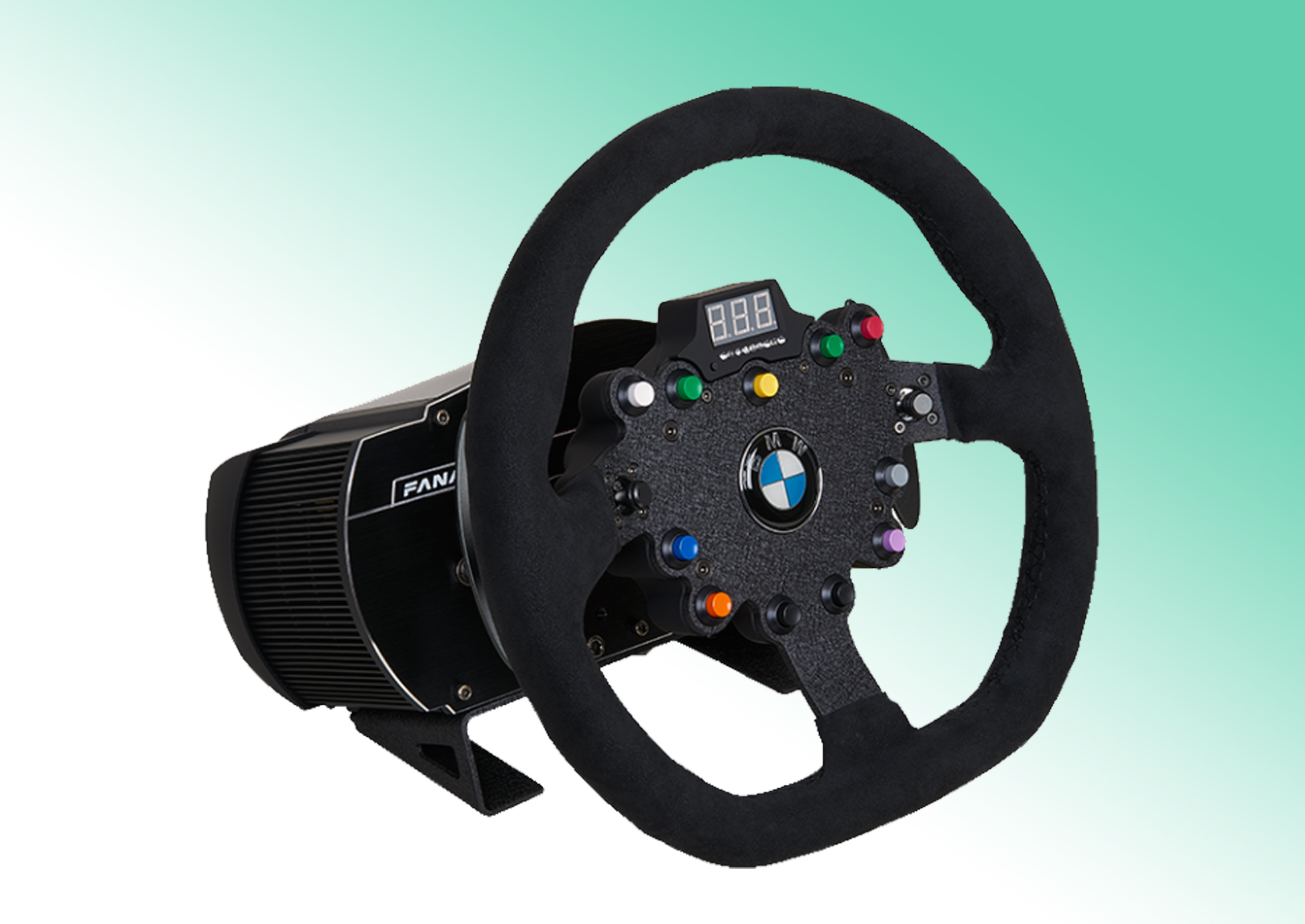 Advantages & Disadvantages
✅ A beautiful design and an official replica of the BMW M3 steering wheel
✅ A good comeback
✅ Quality materials and a host of features
❌ Not a fan of the button positioning.
❌ Not compatible with Xbox.
ㅤ
Have you ever heard of the new and improved version of the BMW GT2 steering wheel from Fanatec? I'd be surprised if this weren't the case, as this model seems to be all the rage in the sim-racing steering wheel market, especially among GT enthusiasts.
This is a steering wheel I'd already had the opportunity to test when it was released, which I've recently had in my hands again. So today, I wanted to share my impressions and everything I thought about.
Main and technical specifications of the Fanatec Clubsport BMW GT2 V2 steering wheel
32 cm diameter.
Under official BMW license.
Two integrated vibration motors
It is equipped with two adjustable magnetic paddles.
It is equipped with LED display and RevLEDs.
Buttons: 11
Compatible with PlayStation 4, PlayStation 5, and PC.
It is equipped with a QR1 system.
Internal memory: 5+1+Auto
Dimensions: 40 cm x 38.5 cm x 20 cm (L x W x H)
Weight: 2,78 kg
Manufacture and features
The Fanatec Clubsport BMW GT V2 steering wheel is not lacking in features. It has the advantage of being equipped with an LED display for all telemetry functions, but also features RevLEDs to display engine speed (although this doesn't work with all games).
This model has 11 buttons, a 7-way FunkySwitch (with right, left, up, and down directional inputs, push-button, and rotary encoder functionality), and an analog joystick.
It also has two adjustable magnetic vanes in machined aluminum to change gears during the race. If you prefer, you can change them for the Podium paddle module.
The Clubsport BMW GT V2 has the QR1 system (ClubSport Quick Release Adapter), but the wheel can be upgraded to the next-generation QR2 if required.
In contrast to the previous model version, its structure has been improved as it is 30% lighter, and its resistance has been increased. It's all a bonus since it makes the force feedback even more powerful and precise.
As for the construction and materials chosen for the ClubSport BMW GT2 V2 steering wheel from Fanatec, I have no criticism. As usual, it's impeccable.
The whole steering wheel exudes quality in both design and materials. It's a robust steering wheel that should last a long time.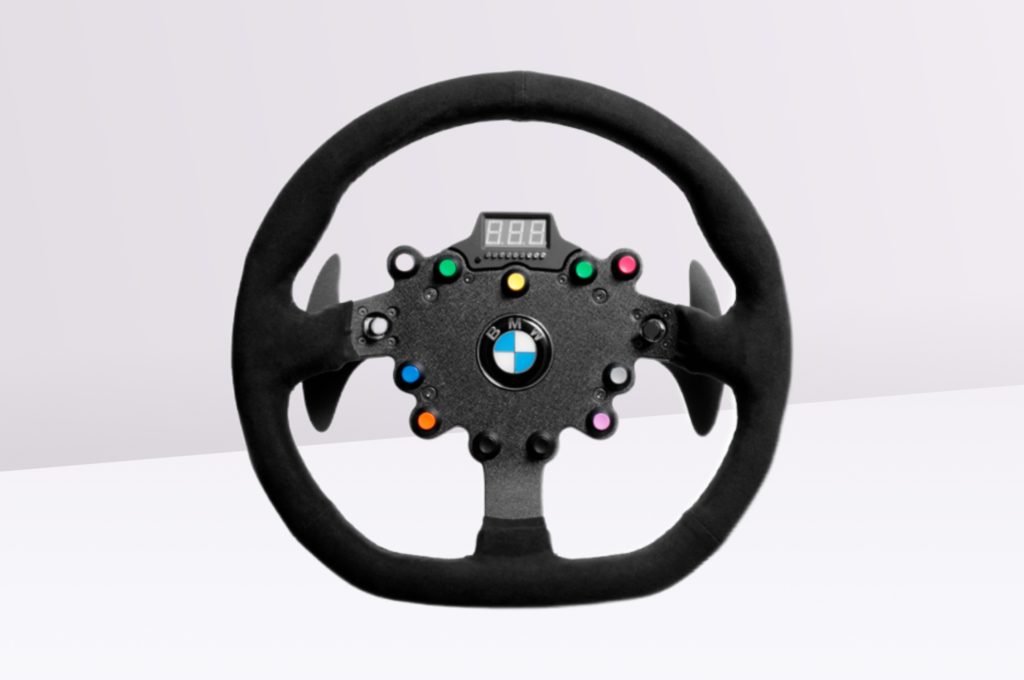 Quality design
I found that the Fanatec Clubsport BMW GT V2 steering wheel design is elegant, and I liked it.
Most certainly because it's a replica of the BMW M3 GT2 steering wheel found in the same models of the brand (thanks to the official BMW license ) and thanks to its 32 cm diameter.
I also enjoyed the beautiful Italian Alcantara handles, which give the steering wheel a luxurious look. What's more, they provide extra grip and are easy to clean. In terms of design, the two aluminum magnetic paddles aren't wrong either.
Sensations during play
I tested the Fanatec BMW GT2 V2 steering wheel on several games, notably iRacing Ass, ghetto Corsa Ultimate, and Assetto Corsa Competizione.
The force feedback is exciting. I appreciated its power and precision, but above all, the two vibration motors that make racing even more realistic. The sensations are multiplied tenfold, and it's delightful.
Compared with a steering wheel like the McLaren GT3, I found the sensations much more realistic and pleasant.
Regarding the paddles, I'd like to say that they're pretty sensitive, and you don't need to press too hard to trigger them, but I wasn't thrilled with them.
I found that the feel of the paddles themselves wasn't quite up to scratch. Those who, like me, have already used higher-end magnetic paddles are likely to be quickly disappointed by the relatively weak feedback felt when shifting gears. While it's true that they're much better than those on the previous model, I was still a little disappointed.
Ergonomics that leave something to be desired
You've heard the expression "too much is better than too little"? Well, I don't always agree with that saying.
Indeed, in the case of Fanatec Clubsport BMW GT2 V2 steering, having so many buttons at our disposal posed particular problems for me. Their placement on the wheel isn't always practical, and not all of them are easily accessible during gameplay.
It's not very pleasant to have to let go of the handles to reach a button! And I'm not even talking about trying to shift gears while trying to press one of the cross or circle buttons.
I find it particularly silly to place the directional cross on the right while the analog stick, which is used much less, occupies the left side of the steering wheel.
This slowed me down several times during the race and made navigating the various menus much more laborious.
Suffice it to say that as far as the ergonomics of this steering wheel are concerned, I found it left a little to be desired…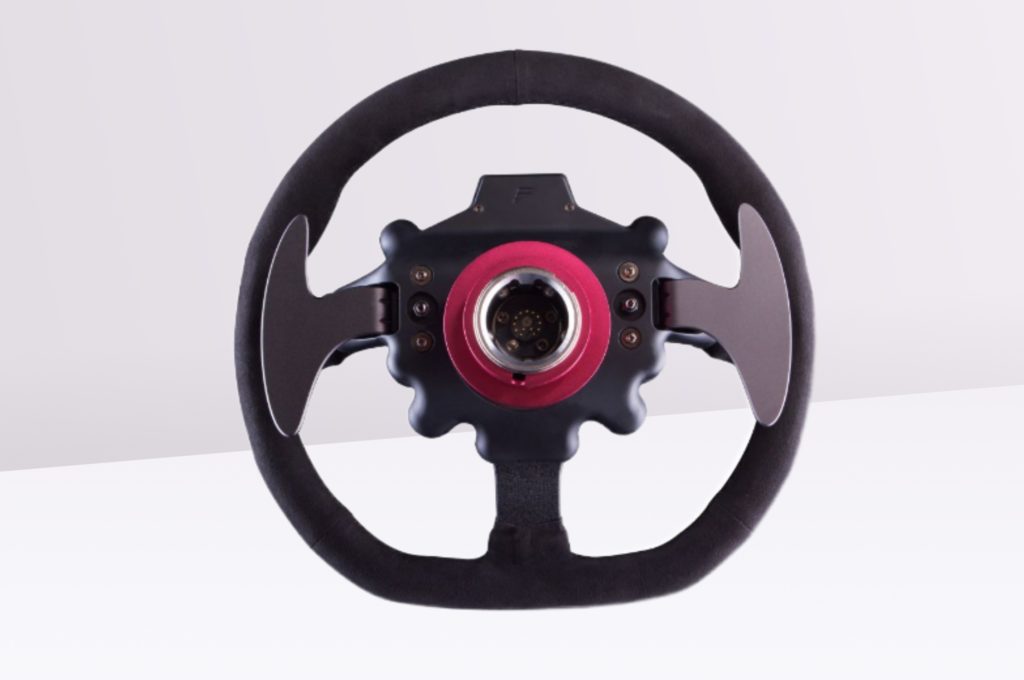 Compatibility
The Clubsport BMW GT2 V2 steering wheel from Fanatec is entirely PC-compatible but also with the PlayStation 4 and PlayStation 5 (please note, however, that some functions may be limited depending on the firmware used). On the other hand, this model does not work at all with the Xbox.
Indeed, Fanatec's ClubSport BMW GT2 V2 model is incompatible with either Xbox One or Xbox Series X. This is a bit disappointing and means that Xbox owners won't be able to enjoy this model. So, if this concerns you, I invite you to find a compatible Xbox steering wheel by clicking here.
Value for money
At almost €400, the Clubsport BMW GT V2 is not the most economical steering wheel on the market. An official BMW steering wheel comes with a hefty price tag!
And when you buy Fanatec, you know you're investing in a product with quality materials and design.
I think you still have to be a BMW fan or a GT enthusiast to invest in this steering wheel because, for the same price, there are other alternatives with more features and better ergonomics. After that, it's a matter of taste and budget…
My verdict
The Clubsport BMW GT2 V2 steering wheel from Fanatec was an excellent mid-range model. modelThe 32 cm diameter is very appreciable, and the design is marvelous.
The design of the steering wheel and the choice of materials are, as usual, a credit to the Fanatec brand, which takes care to offer top-quality products.
But when it comes to the feel and ergonomics of this steering wheel, I find that they leave a little to be desired… Especially for a model that costs almost €400.
Despite everything, the Fanatec Clubsport BMW GT2 V2 should delight inveterate gamers. But if that's not the case, you can always discover my opinion on the 6 Best Steering Wheels for Sim Racing in 2023 by clicking here.
Similar articles