Fanatec ClubSport Formula V2.5 steering wheel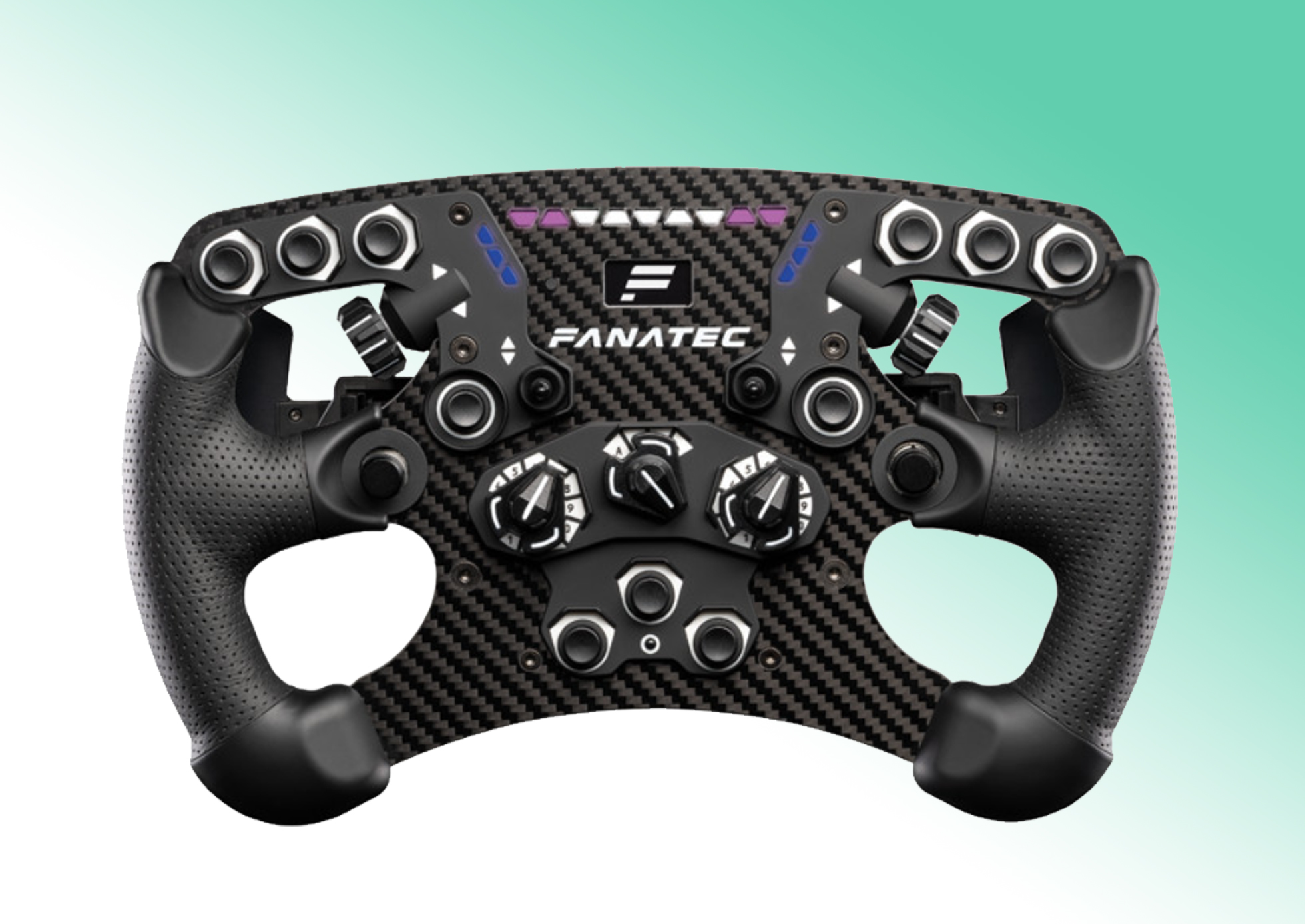 Advantages & Disadvantages
✅ High-quality materials and design
✅ Top-notch, realistic sensations
✅ Highly customizable
❌ Version V2.5 is not compatible with Xbox
❌ Its price is a bit high
ㅤ
I'm continuing my series of tests of products from the Fanatec brand, which I'm particularly fond of, and today, I'm pleased to share my impressions of the ClubSport Formula V2.5 steering wheel.
As the name suggests, this is a new version of the ClubSport Formula steering wheel and one of the manufacturer's iconic models. Did it live up to all my expectations? That's precisely what I'm going to tell you right now.
Main and technical characteristics of the Fanatec ClubSport Formula V2.5 steering wheel
27 cm diameter – Formula style.
Two adjustable magnetic metal paddles.
It is equipped with two vibration motors integrated into the handles.
LED display, rev counter with nine central LEDs for telemetry, and two LED bars.
11 Classic mechanical buttons, two 2-position switches, two 12-position switches, one 7-funky switch, one joystick, two 9-position rotary switches, and one 3-position rotary switch.
Compatible with PC, PlayStation 4, and PlayStation 5. The Formula V2.5X version is compatible with Xbox.
It is equipped with a QR1 system.
Dimensions: 31 cm x 21 cm x 19.5 cm (L x W x H)
Weight : 1.7 kg
Features
The second version of the Fanatec Formula flywheel, which I recently tested, offers many features and a few more than its predecessor.
This model has two vibration motors integrated into the handles, which can be controlled from the steering wheel setup menu or via Fanatec SDK.
It has two adjustable magnetic paddles (ClubSport Paddle) but can be upgraded with Fanatec's Podium Paddle module for even greater realism.
Visit Fanatec ClubSport Formula V2.5, which features an OLED display that displays all telemetry data, such as speed or ratios, and lets you adjust game parameters on the fly during the race.
This steering wheel also features RevLED, which displays engine speed and optimum gearshift, particularly useful when racing in games such as Assetto Corsa and F1 2022. I didn't notice any latency, which I appreciate.
On the button side, there's plenty to do: there are 11 buttons, but also four paddles with ultra-reliable switches that include two 2-way toggle switches, two 12-way multi-position switches that have encoder functionality, a 7-way FunkySwitch, an analog Joystick and also two thumb encoders that you can easily access while driving, without having to release the grips.
Finally, the Fanatec Formula V2.5 features the QR1 (the Clubsport Quick Release Adapter), enabling the steering wheel to be easily upgraded to new-generation QRs such as the QR2.
Manufacturing and Design
The brand Fanatec has accustomed me to quality materials and rather attractive designs, and I have to say I'm not disappointed with the steering wheel. Fanatec Clubsport Formula V2.5.
This model is elegant and solid with a sound Formula style and a 27 cm diameter. As usual, the manufacturers have gone all out, opting for metal, carbon fiber, rubber, and genuine Italian Alcantara for the handles.
All materials chosen are durable and long-lasting. The feel of the handles in your hands is superb, and the entire steering wheel is easy to clean.
Feel during play
The best thing about the Fanatec Formula V2.5 steering wheel and what I liked most was how it felt to drive.
Although it's a reasonably heavy steering wheel, it feels pretty light once on the base, allowing for precise movements in turns.
Moreover, thanks to its diameter and materials, it's enjoyable and easy to handle, and I like the feel of it. Furthermore, everything feels natural because it's easy to access the buttons and paddles.
I could also feel the power of the base motor in the handles, making every moment behind the wheel exhilarating and giving the game an even more realistic feel.
I must also tell you that the luminous diet lights at the top of the steering wheel were great! Indeed, they don't work on console games, but they're fantastic! Perfect for PC racing. They're bright and perfect if you're concentrating on a computer screen during a race. This brightness helps you see shift points in your peripheral vision, enhancing my overall racing experience.
Highly customizable
The Fanatec Formula V2.5 steering wheel is a highly customizable model. and that's something I appreciated.
At the same time, with so many buttons on the wheel, it's still better to be able to set them to your liking!
All 24 buttons al, all of which can be configured with a different function depending on the game. There are also customization options for the gearshift paddles, which can be used F1-style but also as magnetic clutches.
Fanatec's Formula V2.5 offers infinite possibilities, and I found it great to adjust my car with my fingertips. It changed how I could approach the game and the race, as there's no longer any need to go through the settings menu in the game.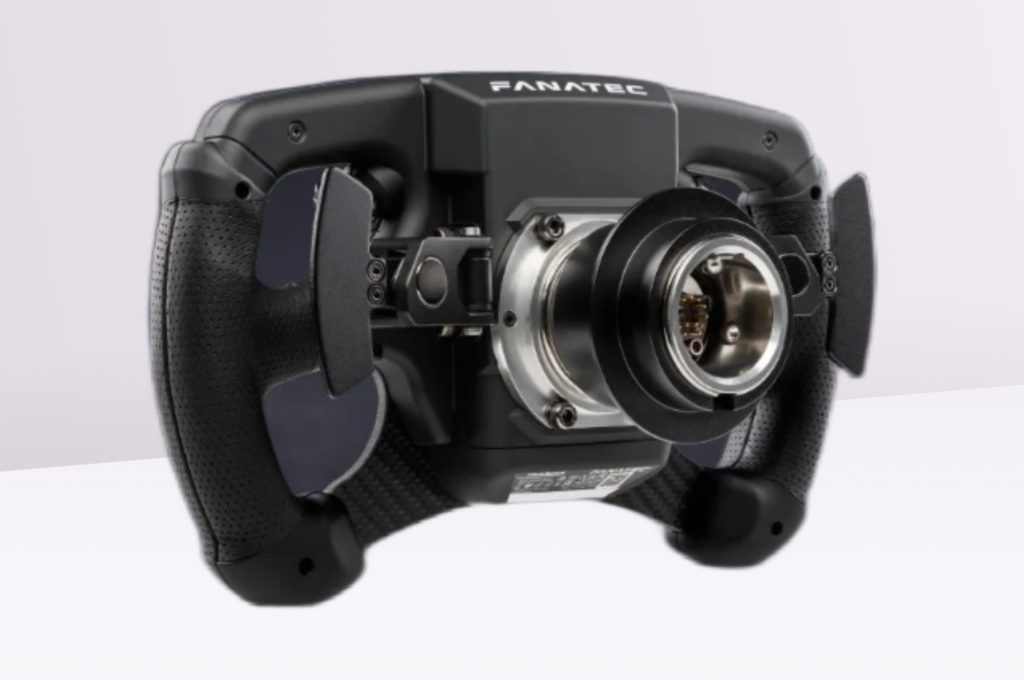 Compatibility
There are two Fanatec ClubSport Formula V2 steering wheel versions for full compatibility with all consoles. The Formula V2.5 is compatible with the PC, PlayStation 4, PlayStation 5, and the version V2.5X with Xbox.
This model is compatible with all Fanatec ecosystem accessories, such as the pedalboards or the gearshifts, and you'll also need a Fanatec base to use this steering wheel.
I found it perfect on F1 22, but it works on earlier versions of the game or other titles such as Assetto Corsa or iRacing.
Value for money
If the Formula V2.5 flywheel from Fanatec is very high quality and offers several advantages, I must admit it's not cheap.
Its price is close to €400, which is high, especially if you compare it with the cost of other competing steering wheels on today's market.
You should also bear in mind that it can't be used on its own and that you're bound to need a base with it, which implies a substantial total budget.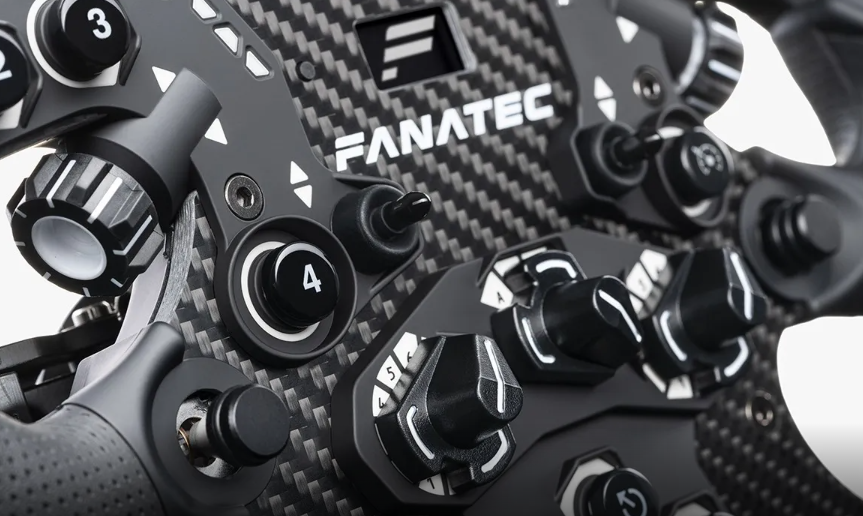 My verdict
The Fanatec ClubSport Formula V2 steering wheel is an excellent option for intermediate Sim-racing players and more experienced players looking for an F1-style experience.
I found that it offered lots of customization possibilities and a great gameplay feel. Like all Fanatec products, its materials are of high quality, and I think this model should be made to last a long time. Although it may be a little expensive and complicated to get to grips with for absolute beginners, I find that an excellent steering wheel.
If you're not convinced, I recommend you read my opinion on the 6 Best Steering Wheels for Sim Racing in 2023 by clicking right here.
Similar articles