Fanatec CSL Elite Pedals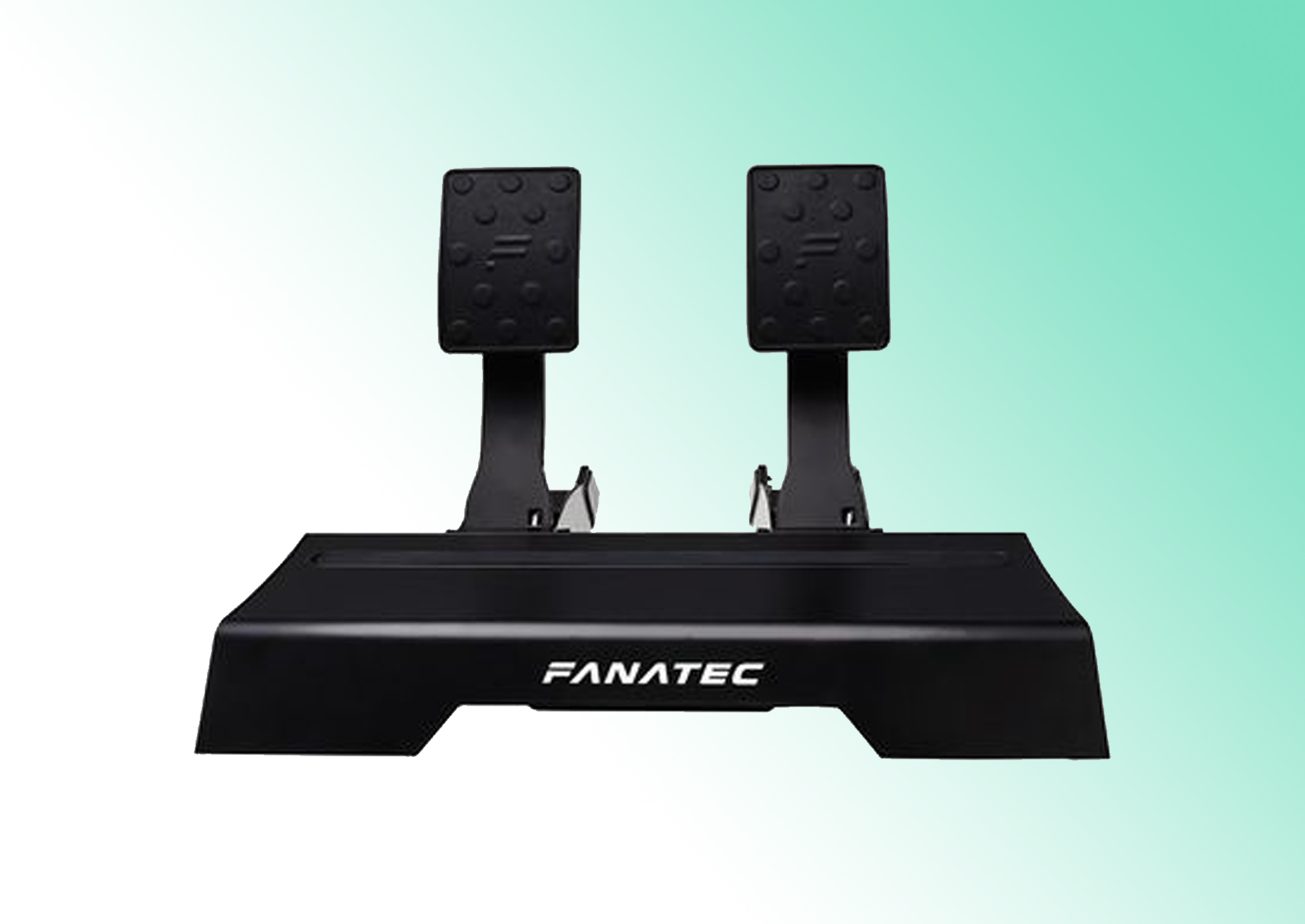 Advantages & Disadvantages
✅ Excellent value for money
✅ Good build quality with durable materials
✅ Adjustable pedals
❌ Requires USB adapter, which is sold separately, to operate on other ecosystems
ㅤ
Fans of sim-racing are undoubtedly familiar with the major players in this discipline, such as Fanatec. This German manufacturer of sim-racing peripherals has been active in the field for some twenty years and has offered us some excellent products.
Although we often associate Fanatec With the most popular sim racers to premium peripherals, the German manufacturer offers 3 product ranges to satisfy the needs of all sim racers. We have the range CSL, aimed primarily at beginners or amateur riders on a limited budget who still want quality products. We have products: ClubSport, which represents the mid-range for fan/semi-pros riders. And finally, the range Podium for riders aiming for the top of the rankings.
Of course, the higher you go, the higher the price. But first things first, and Fanatec knows this very well. To build a sim-racing setup, you need a base, a steering wheel, and a pedalboard. Fanatec has designed the CSL Elite Pedals entry-level pedalboard for smaller budgets to satisfy all beginner riders. In what follows, I will introduce you to this device, tell you its features, strengths, and weaknesses, and give you my opinion.
Main features and technical specifications
Aluminum construction
Two good-sized pedals
RJ12 and USB connection (sold separately)
Compatible with all Fanatec bases and platforms
Horizontally adjustable pedals
Spring-loaded pedal for resistance, but installing a Load Cell kit (sold separately) on the brake pedal is possible.
Dimensions: 47 cm x 31 cm x 18 cm (L x W x H)
Use of potentiometers with 12-bit resolution
Design
When you have more than 20 years of experience in the game of sim-racing peripherals, and you are chosen to equip the steering wheels of the Official BMW GTYou know a thing or two about design, don't you? Well, this is the case for Fanatec and its CSL Elite Pedals. This pedalboard is simply minimalist and, above all, beautiful in black. More straightforward than that, I don't think you'll find another one.
It must be said that the CSL Elite Pedals takes some of the design of the ClubSport V3 (which you can discover here) but without the red accents found on this pedalboard's big brother. However, these two devices are lovely and very simple. The CSL Elite Pedals will find takers among sim-racers looking for products that blend perfectly with any setup.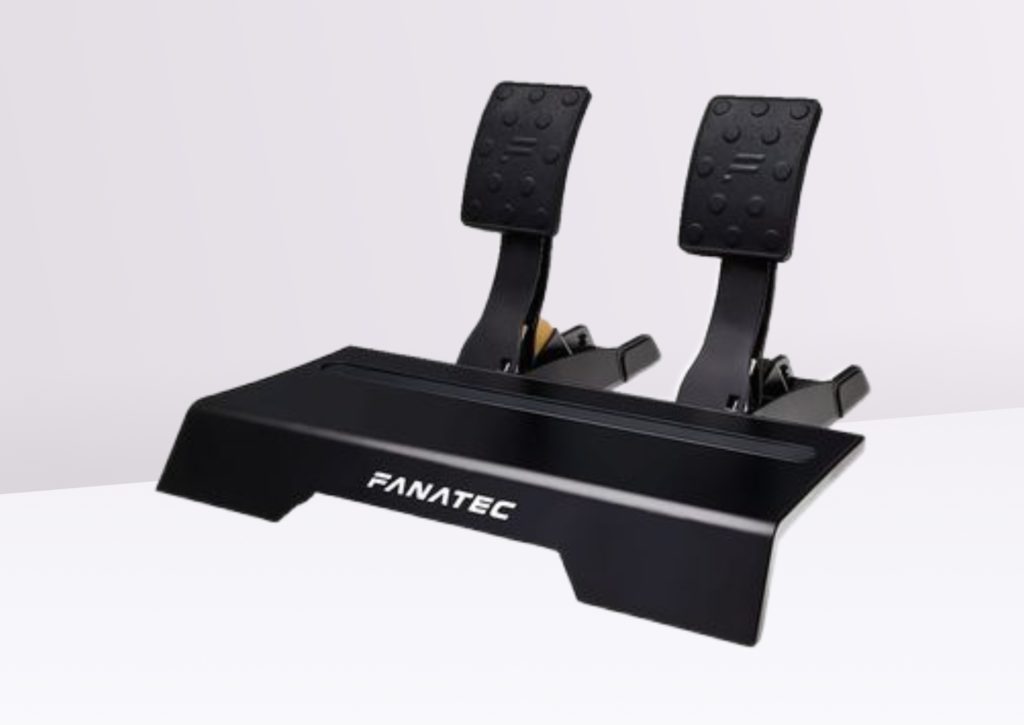 Customized assembly
When designing its products, Fanatec always aims for cockpits. That's why the CSL Elite Pedals is equipped as standard with mounting points that allow it to be installed on virtually any chassis available on the market.
But that doesn't prevent these pedals from being used on the ground, thanks to the rubber pads underneath. These offer good grip on most surfaces, but I'd advise you to glue the bottom bracket in place. CSL Elite Pedals against a wall or heavy object to prevent accidental slipping.
Ah, another point. The CSL Elite Pedals come disassembled in their box, so you must assemble them before using them. This is a rather negative point, but I must say that making the Fanatec pedalboard didn't take me very long and allowed me to adjust the pedal spacing to suit my preferences. So, for me, it's a blessing in disguise.
Manufacture and finish
Fanatec is a far cry from the competition, namely Thrustmaster and LogitechLogitech's strength lies in its products' build quality and finish. Unlike the competition in this segment, the CSL Elite Pedals is made entirely of metal, aluminum to be precise. This choice of materials is a game-changer in every respect.
The build quality is exceptional, with a solid aluminum structure and a meticulously machined finish. The pedals comprise three parts: the frame and the two pedals attached, which are also made of aluminum.
Having inspected it closely, the CSL Elite Pedals is well finished, with no sharp edges or imperfect parts. It's a quality product, even though it's part of Fanatec's entry-level range. And this feeling of quality is even more accentuated when you consider the price at which the CSL Elite Pedals! But we'll have to wait a little longer to find the total cost.
Getting to grips with the pedals
Once you've opened the box, you'll face a challenge: assembling the CSL Elite Pedals. Don't worry; it's straightforward, and in my opinion, Fanatec purposely shipped these pedals in pieces so riders could adjust the spacing between them.
The CSL Elite Pedals are lighter than the competition at 4.5 kg despite being made entirely of aluminum. Thrustmaster should study the CSL Elite Pedals to learn a thing or two about manufacturing lightweight metal products.
Since the structure is made entirely of metal, the CSL Elite Pedals is very sturdy, even though the pedals attach to it with screws. It won't budge a hair, even if you use it roughly or go into gruff mode during your sim-racing sessions. Once again, Fanatec has developed an excellent and well-finished product, as we saw above.
Gameplay sensations
Let's get to the heart of the matter: What does the CSL Elite Pedal underfoot? Frankly, it feels great, especially considering its price. Very affordable. Well, there's a small dead zone on the pedals at the start of the stroke, and I don't think this is a problem with the potentiometers but with the design of the pedalboard. Fanatec has developed a system that allows the pedals to center themselves, and that's why there's no reading at the start of the stroke.
The CSL Elite Pedals are also naturally underfoot, with relatively natural resistance. It's not on the same level as a ClubSport V3, but the CSL Elite Pedals don't come at the same price either. You'll be able to do acceleration and braking properly, and that's already a lot for aluminum pedals costing less than €60.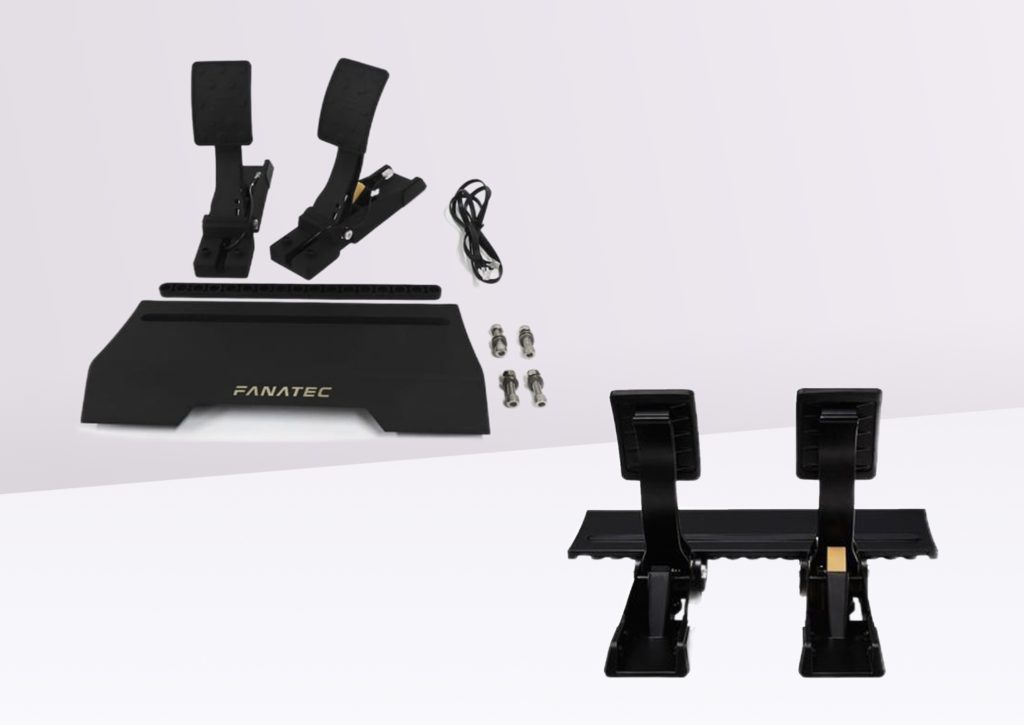 Compatibility
Fanatec obliges; the CSL Elite Pedals are compatible with all the German manufacturer's bases, from entry-level to the most premium, thanks to the RJ12 plug. For other ecosystems, Fanatec offers a USB kit (sold separately for €20), but only for PC use. So, if you're using a Thrustmaster base, for example, you won't be able to take advantage of the CSL Elite Pedals on the computer.
As far as the chassis is concerned, all cockpit manufacturers provide mounting points for the CSL Elite Pedals, and the same goes for sim-racing titles. It has to be said that Fanatec is a significant player in sim racing, and not providing compatibility for its products is a big mistake.
Value for money
For €59.95, you won't find anything better at this price, especially with the level of sensations offered by the CSL Elite Pedals. Even if it has minor faults, these are easily forgivable when considering the selling price, the build quality, the materials used, and the feel provided. The value for money of the CSL Elite Pedals is simply excellent.
My verdict
Even though Fanatec is often seen as a premium brand of sim-racing peripherals, this one proved that it's possible to offer a quality product, providing excellent sensations at a price that defies all competition. From memory, the only pedalboard that can hold its own against the CSL Elite Pedals in terms of feel is the T3PA by Thrustmaster (which you can see here), and the latter costs more than twice as much.
It's simple: if you're looking for inexpensive pedals with a good feel, you'll have to go for the CSL Elite Pedals you should turn, even if you have to pay the extra €20 for the USB kit.
Similar products