Fanatec Podium Racing Wheel F1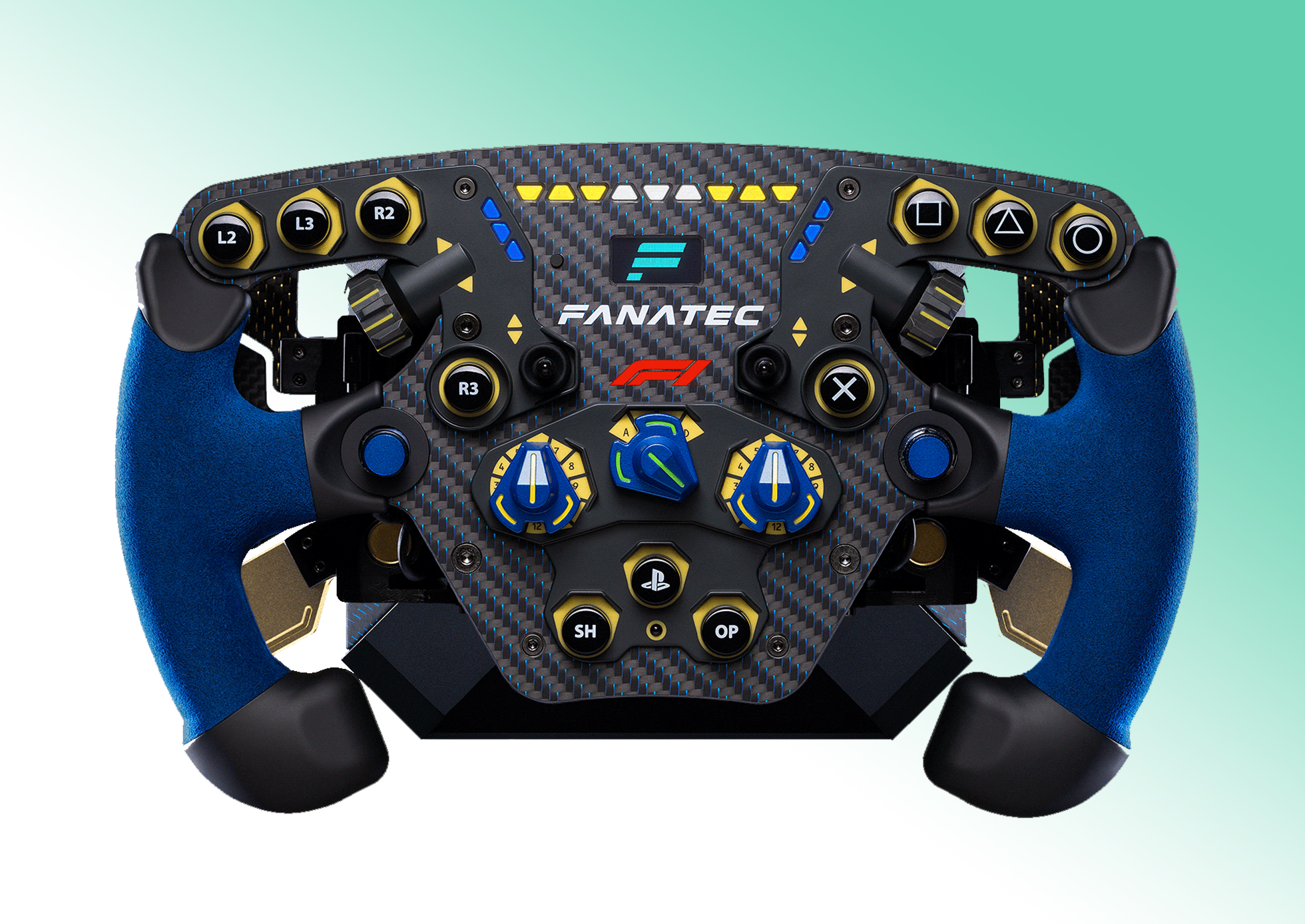 Advantages & Disadvantages
✅ A Direct Drive flywheel with 20 Nm of torque and crazy sensations
✅ Excellent finish and ergonomics
✅ High-quality artistry and materials
❌ Expensive
❌ Doesn't offer true Xbox compatibility
ㅤ
For me, F1 is the pinnacle of excellence in racing, and the same goes for Sim-racing. You can find more and more F1 steering wheels on the market, even if they're not all of the highest quality.
The Podium Racing Wheel F1 from Fanatec is a model whose qualities I never tire of extolling and which is well-known and much appreciated in the Sim-racing community.
I've decided to tell you about it in this article because it's a must-have product if you're a Sim-racing player, and even more so if you're an F1 enthusiast.
Main features and technical specifications of the Fanatec Podium Racing Wheel F1
Direct Drive motor.
Rotation angle from 90° to 1080°.
27 cm diameter.
It is equipped with two F1-type rotating paddles.
Under the official Formula 1 license and the official license for PlayStation 4.
Compatible with PC, PlayStation 4, and 5, but also Xbox One and Xbox Series with a consistent base.
It is equipped with a QuickRelease system.
Dimensions (L x W x H): 53.5 cm x 35 cm x 31 cm
Weight: 16 kg
Features
For information on the steering wheel's features and technical specifications, Fanatec Podium Racing Wheel F1I will not go into all the details but give you an overview of what this magnificent model offers.
First, if you ask me, it's equipped with direct-drive motorized force feedback, the crème de la crème of Direct Drive.
It allows a (configurable) rotation angle of 90° à 1080° and is also equipped with an ABS vibration system that is adjustable and very palpable.
The Fanatec F1 podium is also equipped with an OLED display and a system that shows you speed and rpm live, which is handy for improving in real-time.
This model is equipped with 11 buttons, 12-way multi-position switches, thumb encoders, toggle switches, RevLED with nine multi-colored LEDs indicating engine speed and optimum shift points, two-flag LED bars (FlagLED) with three multi-colored LEDs that can indicate tire slip, fuel level… In short, it's enough to make you dream and feel like you're in a real F1 car!
Its steering wheel offers plug-and-play and low-latency wireless connectivity and can store up to 5 profiles in Internet memory. It is also equipped with the QuickRelease.
We can see that the Fanatec Podium F1 features a wide range of high-end functions, such as extremely quiet active ventilation at the rear of the unit. It's excellent, inaudible, and only runs at full speed for a few moments under extreme loads to keep the motor cool when you're doing sessions that are a little too intense.
What's more, the unit has eight RJ12 ports on the rear, allowing connection of additional devices. Includes a set of pedals, two gearshifts that can be used simultaneously, and a handbrake.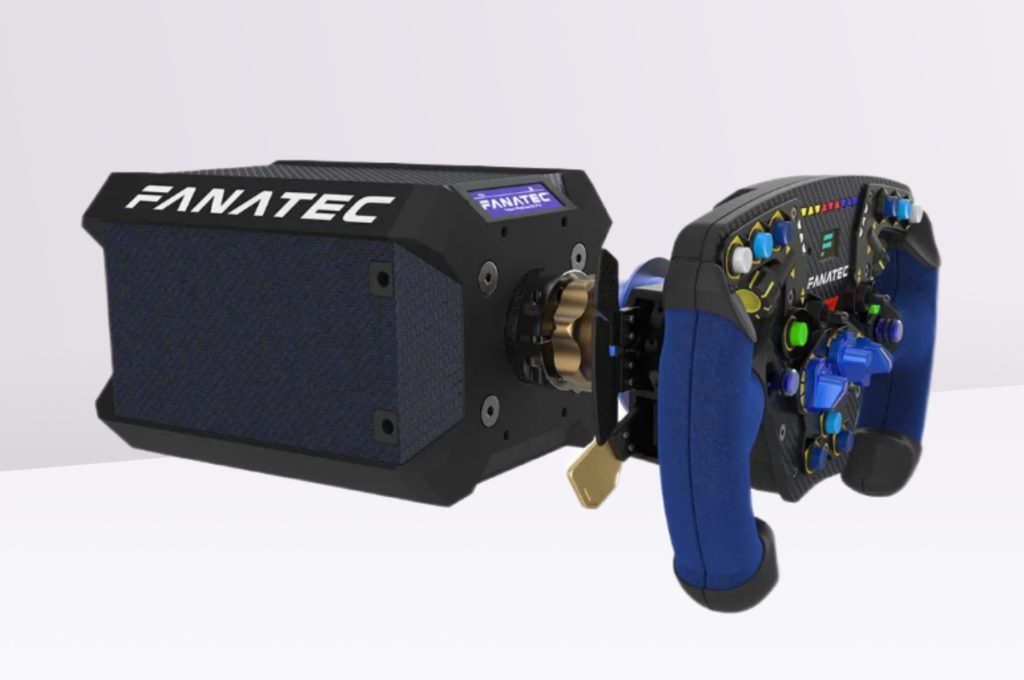 Construction and design
The steering wheel Fanatec Podium F1 has a diameter of 27 cm and two F1-type rotary vanes, which I find fabulous (yes, the official F1 license is there for a reason and offers us a few advantages!).
You can tell at a glance that this model has a high-quality design, and all materials have been carefully selected. The manufacturer has used carbon fiber and metal for the structure and relied on genuine Italian Alcantara for the handles—I think a perfect choice that gives the Fanatec Podium F1 a professional look.
All the finishes are top-notch, and I can also tell you that, having worn it for quite some time now, this model is made to last you a good deal of time!
Game-changing ergonomics
What makes the difference with the steering wheel of Fanatec Podium F1 beyond its incredible design and engine is the ergonomics and the number of settings it offers me.
All are accessible and manageable directly from the steering wheel via Fanatec's Fanalab software.
The display transmits essential information live during the race, enabling you to react and adapt for improved performance.
Of course, I instantly fell in love with the analog clutch paddles, which gave me the impression of using an F1 racing wheel. The sensations are breathtaking, and it's an absolute pleasure to drive—It's an absolute treat for F1 fans like me.
The Fanatec Podium F1 also has many buttons on the steering wheel. You can also assign special functions to the rockers above the switches for a driving experience even more suited to your tastes.
Another aspect that really appealed to me is the ability to store up to 5 different profiles in the internal memory of the steering wheel base. It's convenient if you don't want to waste time re-setting your steering wheel every time you change game or vehicle.
Bluffing game sensations
I'm not exaggerating at all when I say that the Fanatec Podium F1 wheel is the wheel that gave me the most incredible gaming sensations.
Its extremely powerful and responsive Direct Drive made me a better simulator. This steerItsest thing we've got to an actual F Direct Driveeering wheel, and we've recently seen the GP Explorer racers (Squeeze, Amixem, etc.) practicing with it… That says a lot about the realism of the Fanatec Podium F1.
The force feedback is so impressive that the driving experience is simply magical. You feel everything about the race, down to the smallest detail, while remaining aware of any changes in tire grip, which enhances your ability to control and enjoy.
Incredible compatibility
The Fanatec Podium F1 is, of course, compatible with PlayStation 4 and PlayStation 5 but also with the PC,, and it can work with Xbox One and Xbox Series if you use a consistent Fanatec steering wheel base.
This steering wheel is under an official Sony license. It  will continue to work with all future versions of PlayStation racing simulators. It's pretty handy when you invest in a model like this.
You can use it with just about any game on the market, such as iRacing, Assetto Corsa, Forza, GT Sport, and rFactor2,
Value for money
With so many positive points, we had to find a flaw in the F1 podium from Fanatec. And it's its price! At almost €1800, I'd be lying if I told you this is a steering wheel accessible to all players. It's costly, and not everyone can afford it.
I'd still like to say that when you invest in this model, you won't need to buy another one for a good number of years. I know that technology evolves quickly, but I sincerely doubt that the Fanatec Podium F1 will become quickly outdated…
So, for me, it's a worthwhile investment… But it's a matter of personal choice and portfolio, of course.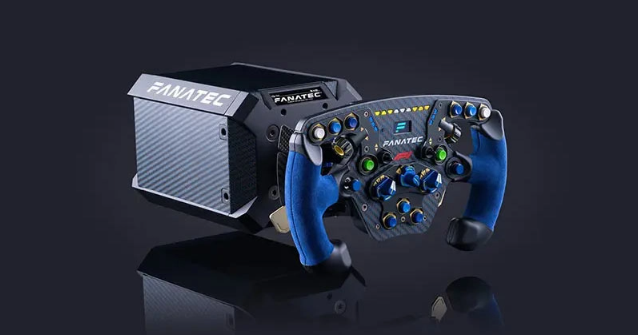 My verdict
The Fanatec Podium F1 flywheel is a model that all serious Sim-racing players should have in their homes. As I said earlier, it's the closest thing you'll find to an actual F1 steering wheel and the closest you'll ever get to one. The sensations it provides are exceptional.
So yes, it's costly and perhaps not the most suitable for players just starting, but if you want to improve your game and you're an F1 enthusiast, you'll, like me, instantly fall in love with this little marvel.
If not, you can always discover my opinion on the 6 Best Steering Wheels for Sim Racing in 2023 by clicking here.
Similar articles