Heusinkveld Sim Pedals Ultimate+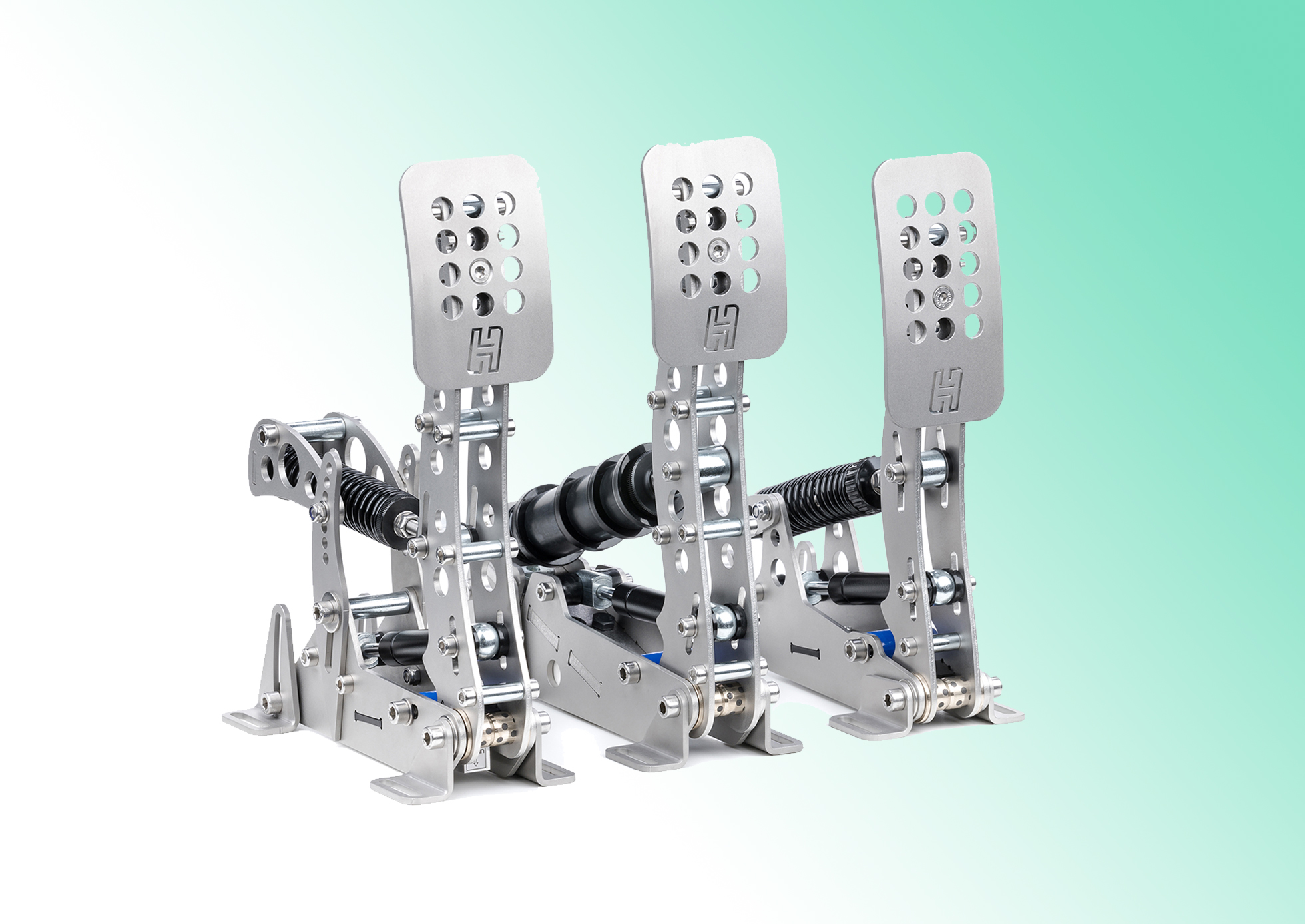 Advantages & Disadvantages
✅ Load Cell and hydraulic crankset
✅ Manufacturing quality to motorsport standards
✅ Premium finish
✅ Total immersion
❌ Premium price
❌ Stand sold separately
ㅤ
Sim-racing fans know the major players there are on the market. Brands like Logitech and Thrustmaster focus on specific segments, such as entry-level and mid-range. Fanatec focuses on everything high-end, with products inspired mainly by motorsports. And then we have players aiming for the very high-end, with products specially designed for e-sport champions and professional drivers. In this latter segment, we have players such as Heusinkveld or Simucube. These two brands dominate the high-end sim-racing market, combining expertise, passion, and manufacturing quality.
Of course, every racer is unique, as is their configuration, closely linked to their bank account. A sim-racing fan with a total budget of €500 for a setup will not have the same peripherals as another racer who can spend ten times as much, and that's perfectly logical.
Heusinkveld is a significant player in sim racing, especially with the pedals it offers. It's worth noting that the Dutch manufacturer is at the top end of sim-racing peripherals, and its following products will introduce you to the pedals Heusinkveld Ultimate, which claims to be the best in its class. I'll tell you about its strengths and weaknesses, and give you my opinion.
Main and technical characteristics of the crankset
Peripherals with three pedals
Load Cell crankset on all pedals, with adjustable hydraulic shock absorber
Entire construction in laser-cut stainless steel
3-pedal shock absorber resistance adjustable to riders' preferences
Load Cell brake pedal for up to 200 kg of force
Clutch pedal with Load Cell up to 45 kg
Compatible only with Windows 10 and Windows 11 platforms
Supported by software SmartControl from Heusinkveld
Design
I've always loved metal sim-racing peripherals. The use of this material gives them a premium feel, as well as adding a big plus in solidity. And it's only natural that I should find the Heusinkveld Ultimate sublime, even if the design is subjective and varies from person to person.
All the pieces in the Heusinkveld Ultimate are made from stainless steel plates that have then been laser-cut. It's simply perfect, especially with this product's attention to detail. The color is very industrial, as is the overall look of the Heusinkveld Ultimate with all the pieces.
The overall design of this crankset is primarily inspired by motorsportsports and the reigning competitions, namely F1 and LMP. Heusinkveld always hits hard when the brand releases a product; the Ultimatemate is the worthy heir to a long line of sublime, superbly finished products.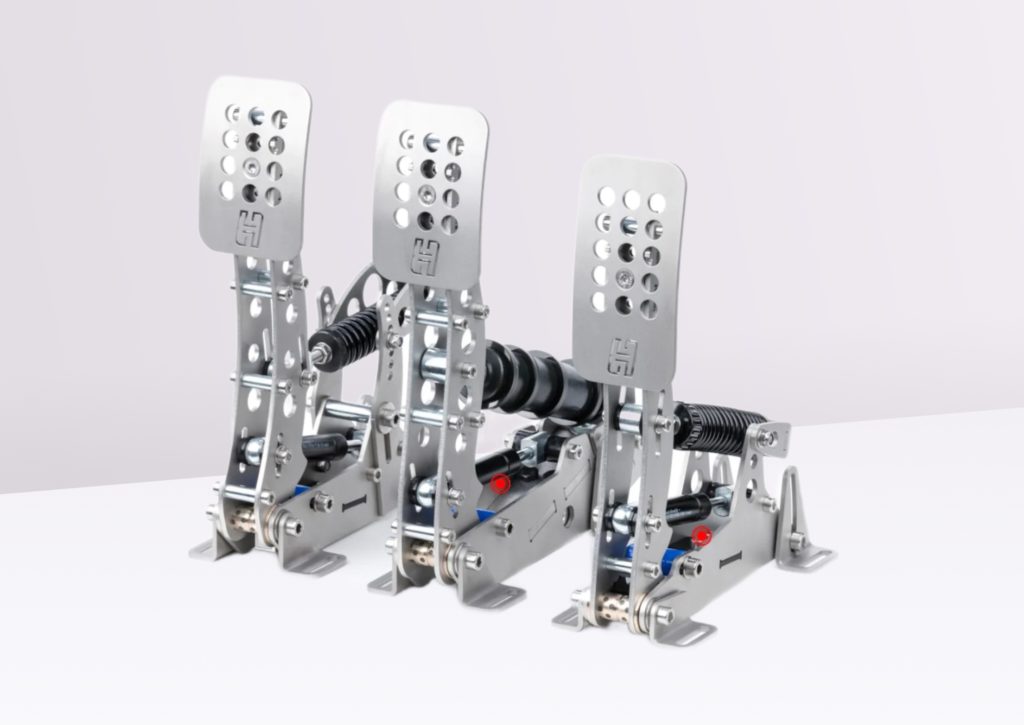 Customized assembly
Please note that the Heusinkveld Ultimate is sold as a kit of 3 pedals without a stand. I'll tell you three individual pedals are in the box, and that's it. As a result, this pedal is mounted directly onto a cockpit using 6-sided screws, or Allen screws as they're commonly known.
On the one hand, this allows you to mount each pedal wherever you like, according to your setup preferences. On the other hand, if your cockpit doesn't allow you to scale each pedal on its own, you're forced to take the pedal bracket from Heusinkveld, sold separately.
Good, Heusinkveld is a very high-end brand, and you won't need the bracket as you'll almost certainly own a high-end cockpit if you can afford this little gem. But I would have preferred to have the stand in the box, just in case.
Manufacture and finish
In a word: perfect. I don't know whether Heusinkveld was primarily inspired by F1/LMP cranksets copied and pasted; the Ultimate is a top-of-the-range, extremely well-finished product.
All parts are made of laser-cut stainless steel. As a result, the finish is second to none, with no burrs or sharp edges. The cuts are made to the millimeter, giving these pedals a premium industrial look.
It has to be said that the brand has years of R&D experience in the field and has mastered manufacturing high-quality products. Everything is perfect, from the Allen screws sed, to the springs, to the steel plates. It's just beautiful, exceptionally well-finished, ed, and very premium.
Handling the crankset
When you open the box, you face three pieces of silverware and a small cardboard box. As soon as you take a pedal in your hands, you'll feel the quality of the Heusinkveld Ultimate, which is incredible. The pedals are heavy, to bust, and designed to last long. This isn't a prod that will explode into a million pieces under heavy braking.
The pedals are fully adjustable and on several levels. Inclination, height, resistance, force, etc., everything can be adjusted with Allen supplied with the bike. Heusinkveld UltimateThe rest (calibration, dead zone, etc.) can be set via the Heusinkveld software. Heusinkveldthe SmartControl.
Sensations during play
Once the Heusinkveld Ultimate With the Heusinkveld Ultimate is installed on the setup, it's time to see what it's not lovely. I found the brake pedal relatively soft, but that's the brand's intention. The ere is to let the sim-racer adjust the pedal according to its preferences. Which is good, given that Heusinkveld thinks a lot about runners.
Once the settings have been made, it's time for the sensations. The throttle is linear, so there's not much little about it. The clutch is degressive, asher high-end cranksets, meaning resistance decreases as pedal travel increases. As for the brake, it's just superbly realistic, with a progressive Load Cell and hydraulic system that's very strong when you set it to be so.
The brake's compression level is just like that of a real car, without having the same stroke as that of the Heusinkveld Ulti, which is shorter. It's smooth, f,luid compellingcing. It's as if your mind is in a minder while your body is in your living room, in front of a sim-racing setup. The sensations provided by the Heusinkveld Ultimate are simply breathtaking and far superior to the best in the industry: Fanatec and the competitor of Simucube.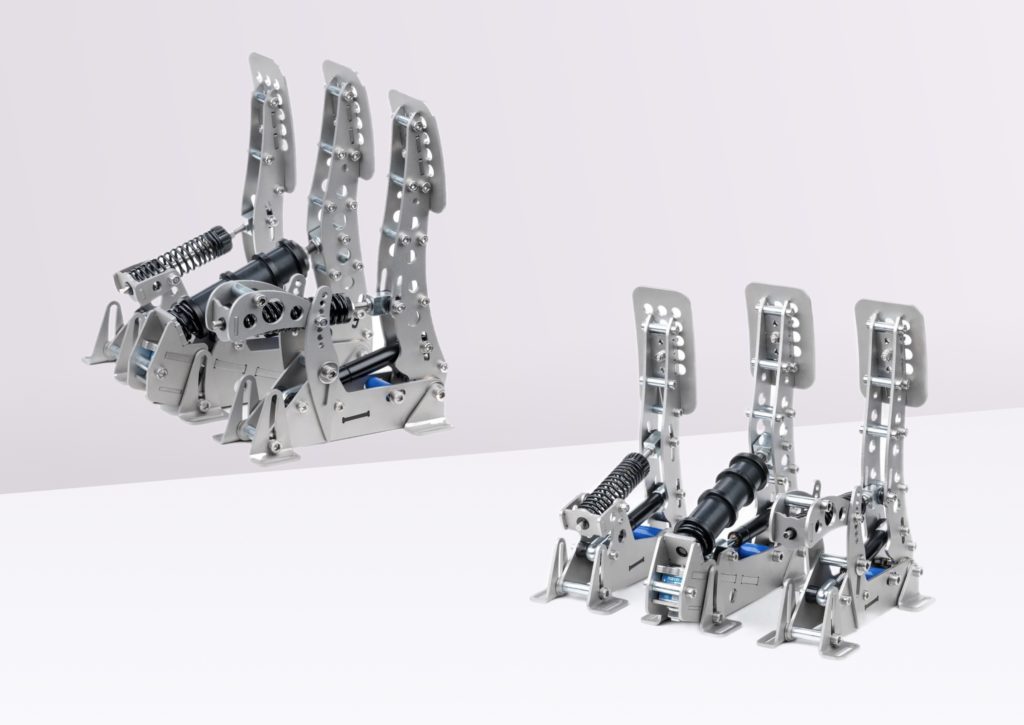 Compatibility
The Heusinkveld Ultimate is a PC-only pedal with Windows 10 and 11 operating systems. The compatibility choice is just, in my opinion, as only a good computer can run sim-racing titles at maximum graphics for even greater realism.
All PCs immediately recognize this pedals as an input peripheral (like joysticks, steering wheels, etc.), and all you need to do is download the appropriate software. Heusinkveld to configure dead zones, calibra,tion, and just about anything else. So, if you're looking for console-compatible pedals, I invite you to find what you're looking for here.
Value for money
Exactly 1350.96 € on tHeusinkvel. Then the Ultimate crankset is very expensive. For comparison, its little brother, the Sprint in 3-pedal configuration (which you can discover here), costs around €600 less.
However, the price is mainly justified in my opinion, as you get a Load Cell crankset on all pedals, a maximum force of 200 kg on the brake with a hydraulic system on that same pedal, an entire structure in laser-cut stainless steel, build quality worthy of Ferrari and other supercar brands, and so on.
This pedal is very expensive, but its value for money is still good for what you get in terms of sensations and, above all, the level of immersion and realism you'll be able to experience. The only negative point of the Heusinkv Ultimate Inte in terms of price is that the pedal support is sold separately, making a product costing almost €1,400 look cheap.
My verdict
It's clear that I loved the Heusinkv Ultimate, and you're hard-pressed to find anything better. It's a crankset I highly recommend to racers who can afford it. Given its price, its clientele is already defined, and it will only find takers among the elite riders with multi-figure bank accounts. And if that's not your case, or you're not convinced,  I'll leave you to your own devices. Discover other cranksets that are sure to please right here.
Similar products