Playseat F1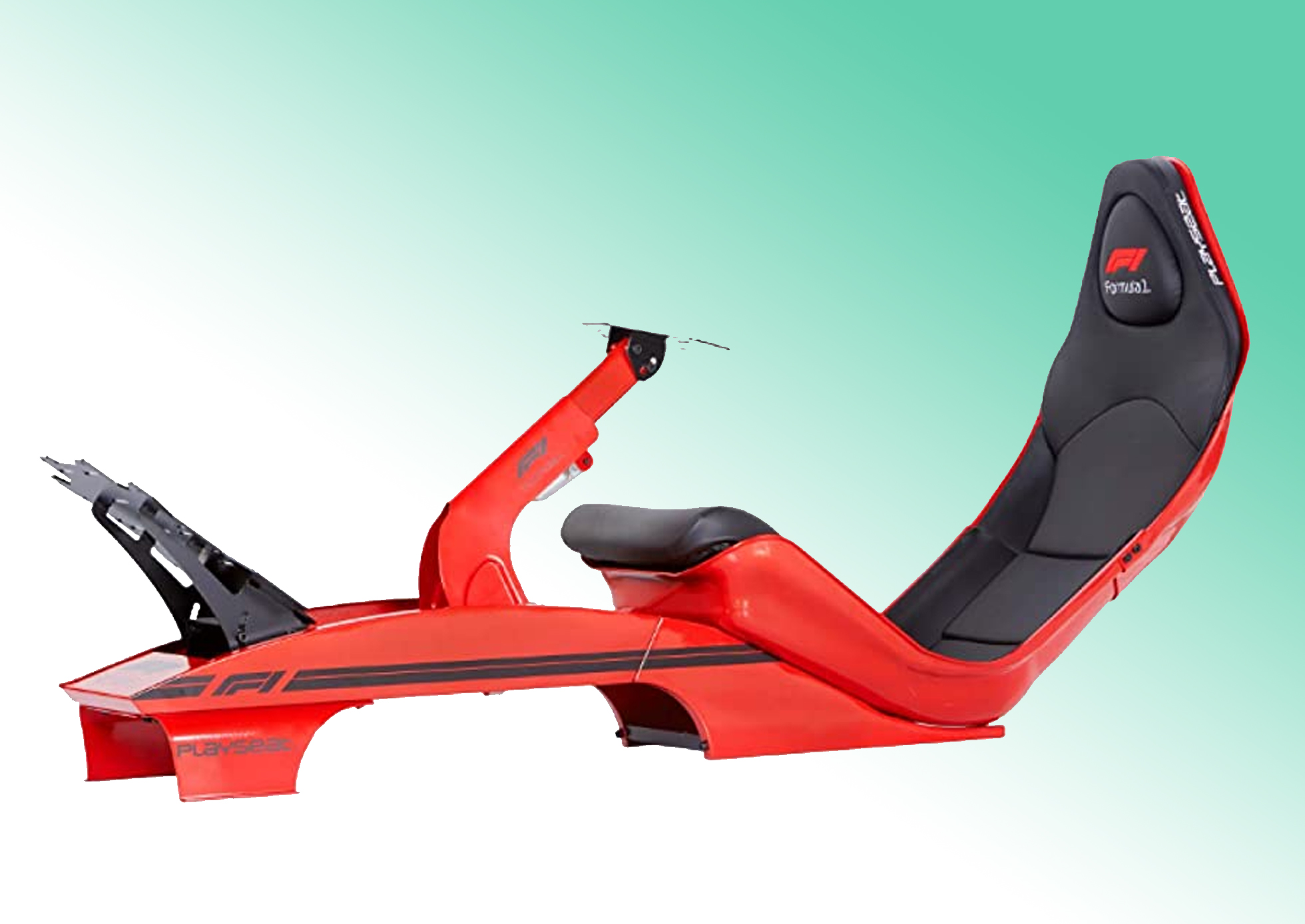 Advantages & Disadvantages
✅ Excellent build quality
✅ Comfortable and adjustable
✅ High compatibility with the big names in sim-racing
✅ Easy to install
❌ Premium price
❌ Takes up space
ㅤ
Game consoles like the PS3 and Xbox 360 democratized video games for everyone, with over 80 million units sold for each console. Since then, it's been a race to the top, and it has to be said that Sony has a relatively comfortable lead over Microsoft.
Today, almost every home has a console, even an older-generation one. Video games are present in all our lives, whether to pass the time, break records on the racetrack, or top the leaderboard on Call of Duty.
It's the same with sim-racing. We have beginners, amateurs, and pros, even real racing drivers who train on Simu. I don't need to tell you that you need a setup to sim-race. The simplest include a steering wheel, base, and pedals, and the most complete take realism a step further with a gearshift lever, sizeable curved screen, and cockpit.
In sim racing, many players are in the cockpit market, and it's undeniable that Playseat is the leader. With over 20 years of experience, this Dutch brand knows what it's doing. In what follows, I will introduce you to one of its products, the Playseat, and highlight its features and what I think of it.
Main features and technical specifications of the Playseat F1
Dimensions: 140 x 50 x 88 cm
Weight: 31 kg
Compatible with Fanatec, Thrustmaster, Logitech
Compatible with consoles and PCs
Multi-plane adjustable cockpit
Sturdy steel and leather-look vinyl construction
Excellent build quality
Design
Cockpit design is essential to me because I have to choose a product that's both beautiful and, above all, practical. The Playseat F1As its name suggests, Playseat F1 is licensed for F1 sim racers. However, that doesn't mean it's useless for rallying or GT3.
The Playseat F1 is beautiful in its design, with its clean lines, and is very typical of a racing seat. You sit low to the ground, with your legs elevated. It's beautiful, but I don't like the bright orange/red color. Please take it as you want, but I prefer the sober chassis.
Manufacture and finish
The Playseat F1 is a premium cockpit, and the build quality is simply outstanding. The structure is unique, with steel for strength and stability, thanks in particular to the patented Forcelock from the brand. You'll spend hours on it doing sim-racing sessions; without the Playseat, F1 doesn't cringe.
As for comfort, it has to be said that the Dutch brand has pulled out all the stops. Inevitably, you might say, given the price of this jewel (I'll come back to this below). You have a very comfortable seat with a leather-look vinyl covering that lets you play on it for hours without feeling tired, pain, or anything else.
As for the finish, it's simply worthy of a luxury car manufacturer. All surfaces are smooth, so you won't hurt yourself by running your fingers or hands all over the place. It has to be said that Playseat has long mastered large-scale manufacturing.
Cockpit use
As mentioned above, this cockpit is compatible with peripherals from the big names in sim racing, such as Fanatec, Thrustmaster, or Logitech. This means you have anchor points directly on the cockpit for everything from the base to the steering wheel and pedals.
Even if the Playseat F1 is more F1-oriented, hence its name, nothing can stop you from using it for any other sim-racing discipline. Its only limitations are :
User weight, which must not exceed 122 kg
User height, which must not exceed 2.2 m
Another strong point of the Playseat F1 is its ease of assembly. However, this point is mitigated by the fact that the beast is rather bulky, with its dimensions of 140 x 50 x 88 cm. All I've got to say is that you'll need plenty of room for your setup and the budget you'll need to buy this cockpit.
Otherwise, for everyday use, the Playseat F1 is simply perfect. Combining comfort and ingenious design taken directly from F1 cockpit configurations, this chassis is designed for long sim-racing sessions, especially if you have peripherals from Fanatec or any other premium manufacturer of sim-racing products.
Sensation in play
Even if a cockpit like the Playseat F1 adds an extra layer of realism, it's no mistake that in-game sensations come mainly from peripherals such as steering wheels and pedals.
However, where the Playseat F1 is immersion. If you're a fan of F1 and want a setup, especially for this discipline, the Playseat cockpit is just what you need. The close-to-the-ground position gives the impression of being in the seat of a single-seater, ready to take Monza by storm.
Moreover, you can adjust the seat to suit your body and driving position perfectly. However, not everything about this seat is perfect.
The pictures show an adjustable support or arm right in the middle, running between your legs. This is where the base and steering wheel and I must say it's a bit awkward to have it there, at least at first. Experienced sim-racers will have no trouble adapting to this, as they've got used to braking with their left foot, something all racing drivers do. But beginners or fans of other sim-racing disciplines will need time to adapt to using the Playseat F1. You'll always have the reflex to brake with your right foot.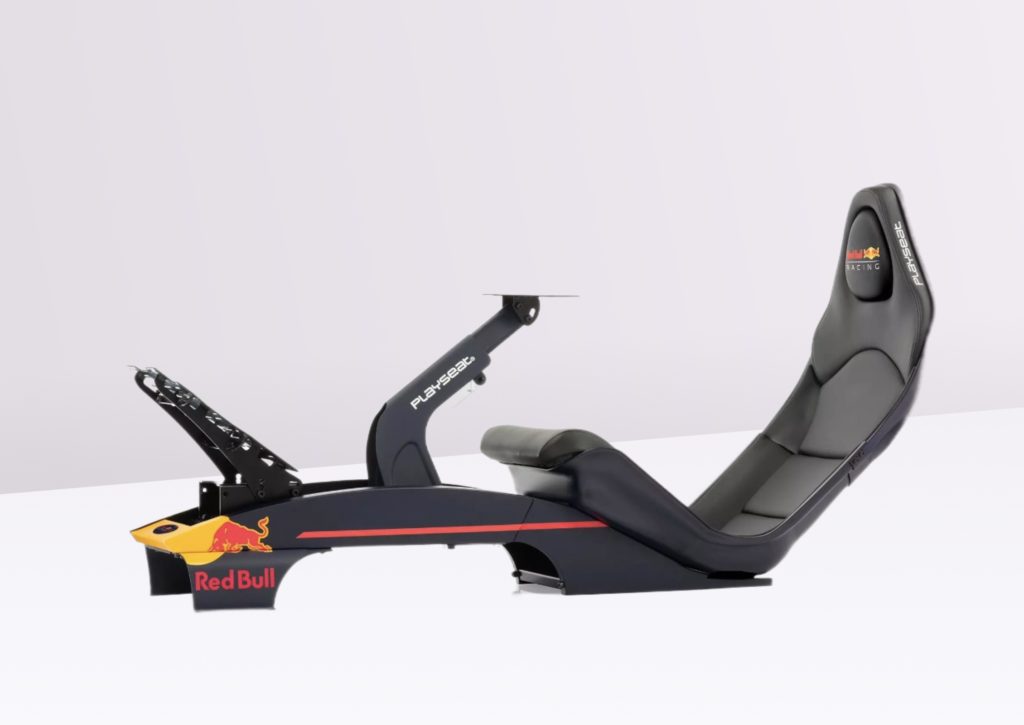 Compatibility
Playseat is a significant player in the cockpit segment, even the leader. To reach this position and maintain it, your products must work and be compatible with the big names in sim-racing. And they do. Visit Playseat F1 is compatible with virtually all sim-racing peripherals from major brands, including Fanatec, Logitech, and Thrustmaster. Whatever the crankset or the flywheel/base you have, you will surely be able to use them with the Playseat F1.
Platform-wise, you're in for a treat too. The Playseat F1 is compatible with all available platforms, including PC and consoles (Xbox and PlayStation). All you need to do is install your peripherals, and you're ready to go.
Value for money
One of the disadvantages of this cockpit is its price. Displayed at 1300 €, This is an expensive product. It's a premium cockpit from the world leader, with quality materials, high compatibility with all significant sim-racing brand peripherals, running on all platforms, and with patented systems to boot, but it's still expensive. Moreover, it's not even the most costly of the Playseat!
As far as value for money is concerned, I have mixed feelings on this point. This cockpit remains an excellent product if you can afford it. However, the Playseat F1 is not looking to find takers among amateur sim racers but instead targets pros and drivers who want the perfect tool for their sim-racing session. And if you look at it from that angle, it's a product worth its price.
My verdict
I must admit that for F1 fans, the Playseat F1 will provide incredible realism during sim-racing sessions. From the driving position on the ground to the raised legs and shoulder-high steering wheel, everything is there to make you believe you're driving a single-seater.
Its only major weakness is its price, which makes it accessible only to a particular audience. If your setup is mainly F1 and you can afford it (which I'm sure you can), I'd recommend this cockpit without hesitation. With its build quality, stability, and premium materials, everything is there to immerse you in a single-seater.
Similar items