Thrustmaster TS PC Racer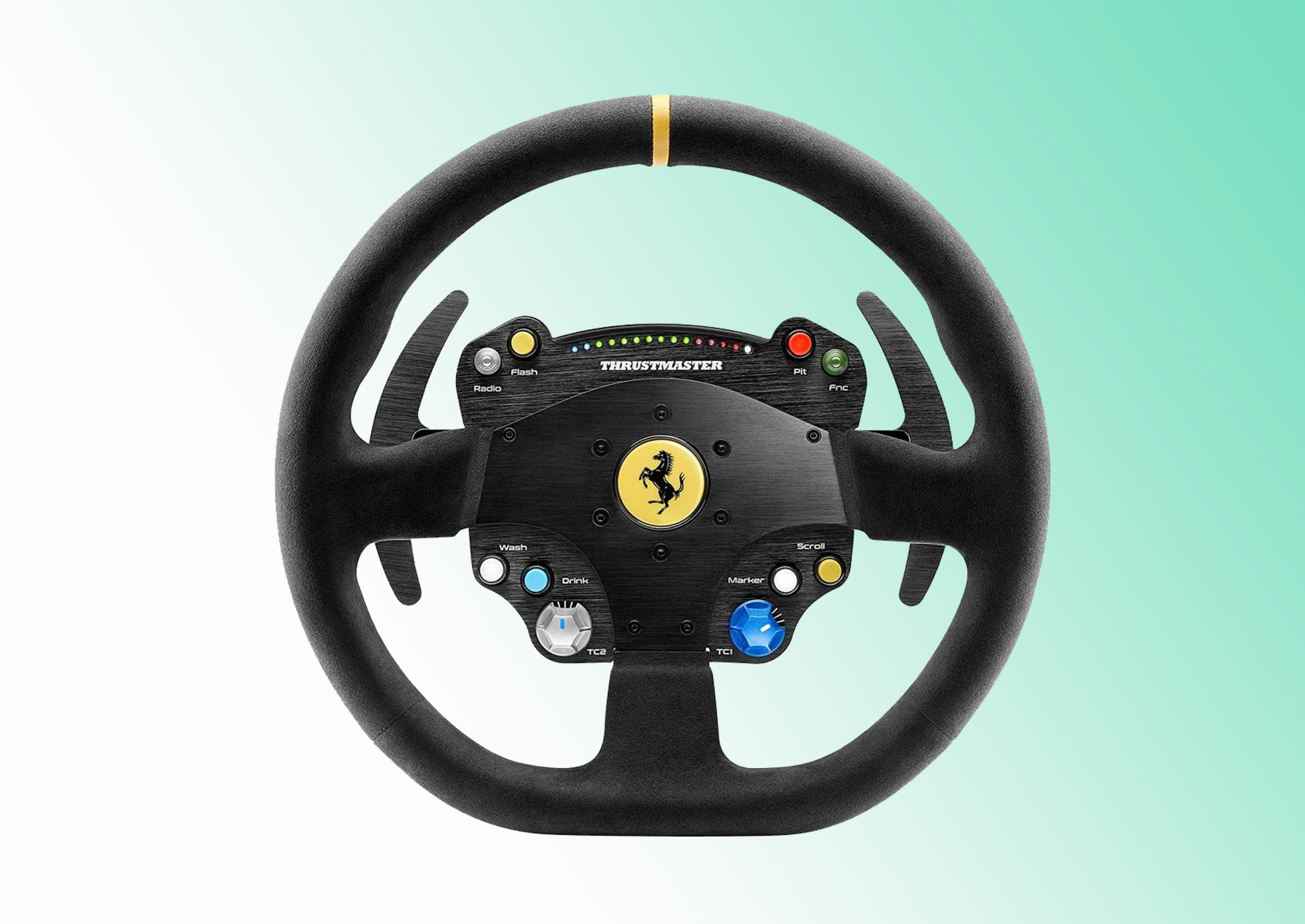 Advantages & Disadvantages
✅ Powerful force feedback
✅ Handy software
✅ Noble materials
✅ Adjustable angle of rotation
❌ PC compatible only
❌ Noisy ventilation system
ㅤ
Since its beginnings during the 90s, sim-racing has come a long way to become what it is today: a trendy discipline with many global players.
I remember the first steering wheels, Thrustmaster or Logitech, which were basic compared to the best on the market today. But that was the technology at the time, and there wasn't much the manufacturers could do about it. Now we've got Direct Drive motors, swappable wheels, and the whole shebang to enjoy our setups.
Of course, a popular discipline also means a specialized peripheral, such as the Thrustmaster TS PC Racer. This is one of the French manufacturer's top-of-the-range steering wheels, and in what follows, I will introduce it to you. I'll tell you about its features, strengths, and weaknesses, and give you my opinion.
Main and technical features of the steering wheel
40-watt brushless motor
Wheel change system
Magnetic sensor on steering wheel
Rotation angle from 270° to 1080
Powerful base cooling system
External turbo power supply
Ferrari-licensed 32 cm-diameter swappable wheel
Design
The brand Thrustmaster is known for offering beautiful products, and the TS PC Racer is part of this list. Its overall design is reminiscent of a Ferrari, which is to be expected given that it's officially licensed.
The wheel is rather minimalist, with its aluminum and Alcantara structure all around, as is the gold band at the top. It's very handsome and, above all, sober. The Ferrari prancing horse emblem is in the center of the wheel, and the buttons and switches are placed in a hub at the back. Fanatec does this on its Podium range, and I think it's a success.
As for the base, it's made of black plastic. It's minimalist, with only the brand logo on the sides and slots for ventilation of the engine and its components. Overall, it remains sober and in line with what Thrustmaster is doing.
Custom mounting
Mounting the Thrustmaster TS PC Racer: As with most of the manufacturer's products, the PC Racer is attached to the base using a clamp. This attachment method is renowned for being solid and very easy to use, enabling rapid mounting on a desk or table. As far as cockpits are concerned, you'll find screw slots (M6) underneath, allowing attachment to popular chassis, such as those of Playseat,
The Thrustmaster TS PC Racer The Thrustmaster TS PC Racer has a system that allows you to swap the wheel on the steering wheel to fit an F1 wheel, for example. Although this system is relatively easy to use, you must take out the screwdriver each time to fix the wheel to the base. It's a real hassle and not at all user-friendly, given that the whole system is made of plastic and will undoubtedly be a problem in terms of longevity. I would have preferred a QR worthy of the name, especially at the price at which this wheel is sold.
Manufacture and finish
Where the Thrustmaster TS PC Racer is its finish, this is the brand's first high-end steering wheel, so the finish and build quality are superb.
The wheel's metal is very smooth, and the Alcantara is extra, too. I've heard that this material is sensitive to moisture, which can compromise it over time. I've yet to see this on a sim-racing wheel, but I've seen it on cars. So…
The base is also well-finished, with parts that fit together well. Again, the surface is smooth, preventing any cuts or injuries when you run your hands over it. We've become accustomed to this level of finish on Thrustmaster products, and the TS PC Racer is no exception.
As far as the paddles are concerned, they're made of aluminum and are a good size, I must say. As the wheel is swappable, the paddles are attached and will rotate with it. In absolute terms, this is not a negative point, but some sim-racers will find it annoying. As for the click when in use, this is powerful, clearly indicating that the gear has been engaged.
Handling the steering wheel
As with many Thrustmaster steering wheels, getting to grips with the TS PC Racer is excellent, as is its ergonomics. The wheel is large (32 cm diameter), giving you a feeling of space and greater freedom of movement.
Alcantara provides excellent grip, preventing your hands from slipping. The main buttons are easy to reach without your hands leaving the steering wheel. However, for the switches, you have to take your hands off the wheel to activate them, as they are almost in the center of the wheel.
Another positive point is that the wheel is screwed to the base. Well, it's a mixed point since it's good for eliminating play in the center, but it's not great for swapping the wheel quickly.
As I said above, the paddles are big and click superbly. Using them to shift gears will significantly increase the realism of your sim-racing sessions.
Sensations during play
You've come to the right place if you're looking for realism and immersion. Visit Thrustmaster TS PC Racer is the perfect steering wheel to transport you into the cockpit of an F1 car during a race in Monaco.
This steering wheel is engaging, responsive, and extremely precise. Even though the motor is brushless, a sim-racing enthusiast wouldn't know the difference between it and a Direct Drive at first glance.
Steering is precise, immersive, and, above all, responsive. As soon as you turn the wheel a degree, the car immediately changes direction, showing just how little play there is in the engine mechanism. It's mind-boggling for such a technology, and I take my hat off to Thrustmaster.
As I said above, you're teleported into a racing car in a few moments, especially if you have a setup with a cockpit and curved screen. And since Thrustmaster TS PC Racer is superb, you'll feel even more immersed in sim-racing.
However, I must confess that one element bothered me during my sessions: the base cooling system. It's downright noisy and kicks in as soon as you put a little strain on the engine. After investigation, it turns out that the base includes two small fans, which have to run at high speeds to compensate for their size. I'd have preferred a large fan running at low speed with the same volume of air released, and it does exist!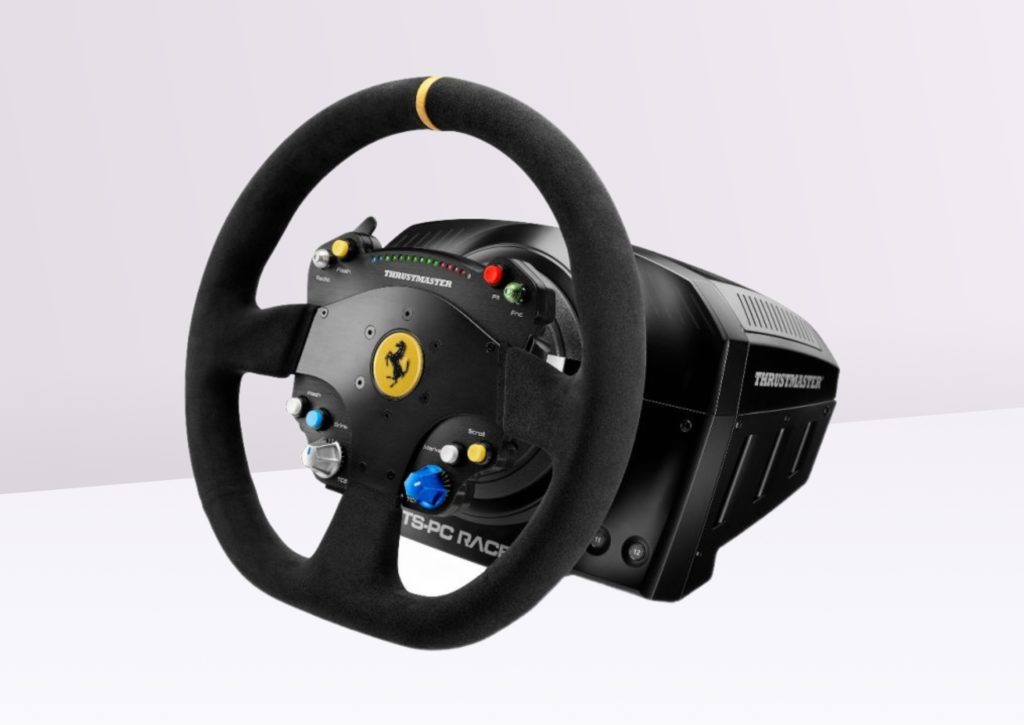 Compatibility
As its name suggests, the Thrustmaster TS PC Racer is compatible only with the PC platform. For fans of sim-racing, especially the pros of the discipline, it's perfectly normal to have such compatibility, as only PCs can push FPS to its limit on Asseto Corsa or Project Cars, for example. As a result, this steering wheel is aimed solely at this audience.
Regarding titles, it should be noted that the Thrustmaster TS PC Racer will work perfectly on virtually all sim-racing titles currently available on the market. So, no worries there.
Value for money
Listed at €599.99 on the manufacturer's website, the Thrustmaster TS PC Racer is still an excellent choice for this price, titillating the Fanatec CSL DD Gran Turismo (which I also tested right here) on its turf, even though the Thrustmaster is not in Direct Drive.
What's more, you can swap the wheel to install one of a fairly extensive catalog, which allows the Thrustmaster TS PC Racer excellent value for money. The only point to remember is that this steering wheel is often cheaper on sites like Amazon.
My verdict
Being a fan of Thrustmaster products, it is without hesitation that I recommend the TS PC Racer for all sim-racers looking for a high-end, powerful, and, above all, immersive steering wheel.
It has to be said that the brand has genuinely mastered belt-driven Burhsless motor technology, and the TS PC Racer is the proof. If you're in the ecosystem, thrustmasterespecially for this price, it's a must-have. If you're interested, I've also done an article on The 6 Best PC Steering Wheels for Sim Racing in 2023which I invite you to discover.
Similar articles