Thrustmaster TX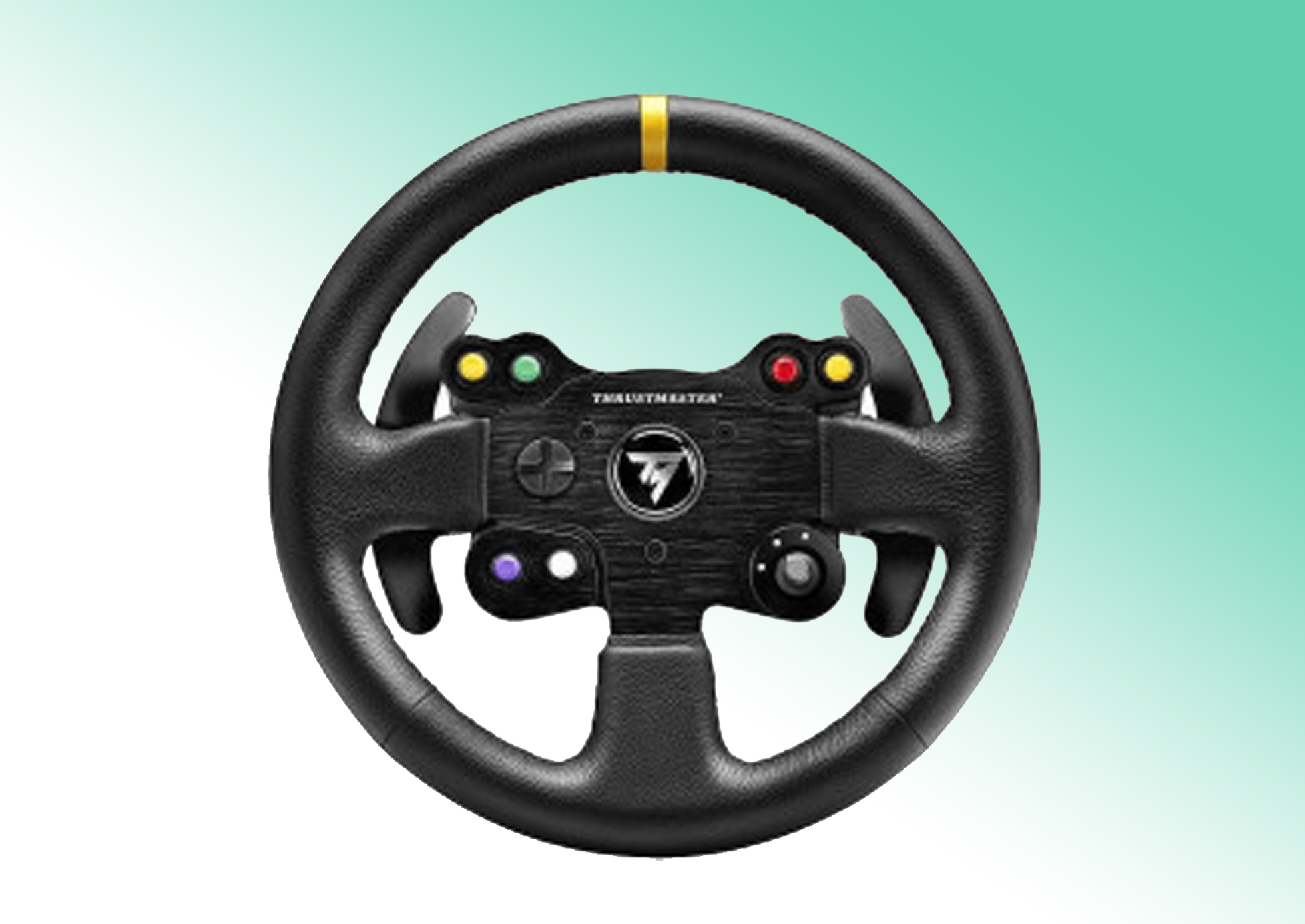 Advantages & Disadvantages
✅ Good value for money
✅ Use of noble and premium materials
✅ Good force feedback
❌ Engine is a little noisy
❌ Model a little old
❌ Basic borderline crankset
ㅤ
Sim-racing began to take off quite a while ago, particularly with the release of consoles such as the PS3 and Xbox 360. On these two platforms, racing game developers have given themselves to offering us titles that are realistic, immersive, and fun.
Naturally, manufacturers of sim-racing peripherals saw the opportunity and jumped at it. From then on, it was a race for innovative, high-performance products that pushed realism to the limit.
Today, we have many sim-racing peripherals, as well as many manufacturers. Game tenors such as Logitech, Thrustmaster, and Fanatec have been in the business for over 20 years and know how to satisfy their customers. In what follows, we look at a famous Xbox and PC steering wheel from Thrustmaster, the TX Racing Wheel Leather Edition. I'll introduce it to you, tell you its strengths and a few weaknesses, and tell you who it's best suited to.
Main and technical features of the steering wheel
Metal, leather, and plastic design
28 cm diameter wheel
3.9 nm torque brushless motor
USB connection
Rotation angle up to 900
Crankset with three pedals in a bundle
Compatible with Xbox (from One) and PC
Design
Let's face it: Thrustmaster knows a thing or two about design, and the TX is a beautiful steering wheel, minimalist to be sure, but very well made. Drawing much of its inspiration from racing wheels, notably from brands like Sparco, the Thrustmaster TX features a central aluminum wheel structure with leather for the rim. It's premium and, above all, durable.
The wheel is 28 cm in diameter, which is small as far as I'm concerned. But then, we're used to this diameter with mid-range Thrustmaster wheels, so… On this one, you've got the Xbox buttons, with a switch on the bottom right. It's superbly realized and, above all, very well laid out.
As for the base, it's pretty much like all the manufacturer's others: plastic with a good size and slots for motor ventilation. It's in black, and I like it. As for the crankset, it's the T3PA also simple in design and structure. There are three metal pedals.
Customized assembly
Given the number of models Thrustmaster offers, it's an understatement to say that the manufacturer has mastered mounting its products. Mounting the Thrustmaster TX As usual, a clamp attaches the steering wheel to the base. The clamp is excellent and easily secures the steering wheel to a table or desk.
As far as cockpits are concerned, most of the models available on the market are fitted with fixing points (with screws) for the steering wheel. Thrustmaster TX. This is logical, given that the brand is not only very famous, but this steering wheel is also trendy among sim-racers. So, on this point, there's nothing to fear.
And the same goes for the crankset. Most chassis will be compatible with it, and if your setup is a desk or table, I advise you, depending on the type of floor, to wedge it against a wall or with a heavy object so that it doesn't move from its position.
Manufacturing and finishing
As with other Thrustmaster steering wheels, the TX is well-finished with excellent build quality. You'd say "normal, considering its price," and yes, I think it's normal, too.
The aluminum steering wheel is anodized, the leather is textured, and the paddles are metal. The base is plastic and rather imposing in size, as are those of the T300, TMXetc. All the base parts fit together very well, leaving no gaps or spaces that could cause staining.
For the crankset, it's the same story, with a primarily plastic peripheral. The footrest is relatively broad, with rubber to prevent slipping. Overall, the T3PA is a good crankset that comes close to mid-range standards.
Thrustmaster has once again come up with a good, well-finished product. This steering wheel proudly represents the brand's commitment to quality.
Handling the steering wheel
Since the Thrustmaster TX is based on the T300, T300RS, or TMX steering wheels, its grip is almost identical to them, if a little better.
Well, the wheel is all the same. Your hands are in a neutral position, and the diameter of the steering wheel (28 cm) may be problematic for some people. However, the overall ergonomics of the steering wheel, and especially the positioning of the buttons, change all that.
On the Thrustmaster TX Racing Wheel Leather EditionAll the buttons are superbly positioned, very close to your fingers. This means you can press them without your hands leaving the wheel. However, you should be aware that the base also includes a few buttons that are not usable "on the fly" in the middle of a race. But then, this is a recurring problem with a good part of the Thrustmaster range for obscure reasons.
The paddles are also very easy to use. Being oversized and close to the wheel, you'll have no trouble using them to shift gears. As for the pedals, if you don't have a cockpit, you'll have to wedge them against a wall. Otherwise, they'll carve away as quickly as you push the accelerator pedal down to explode the lap times.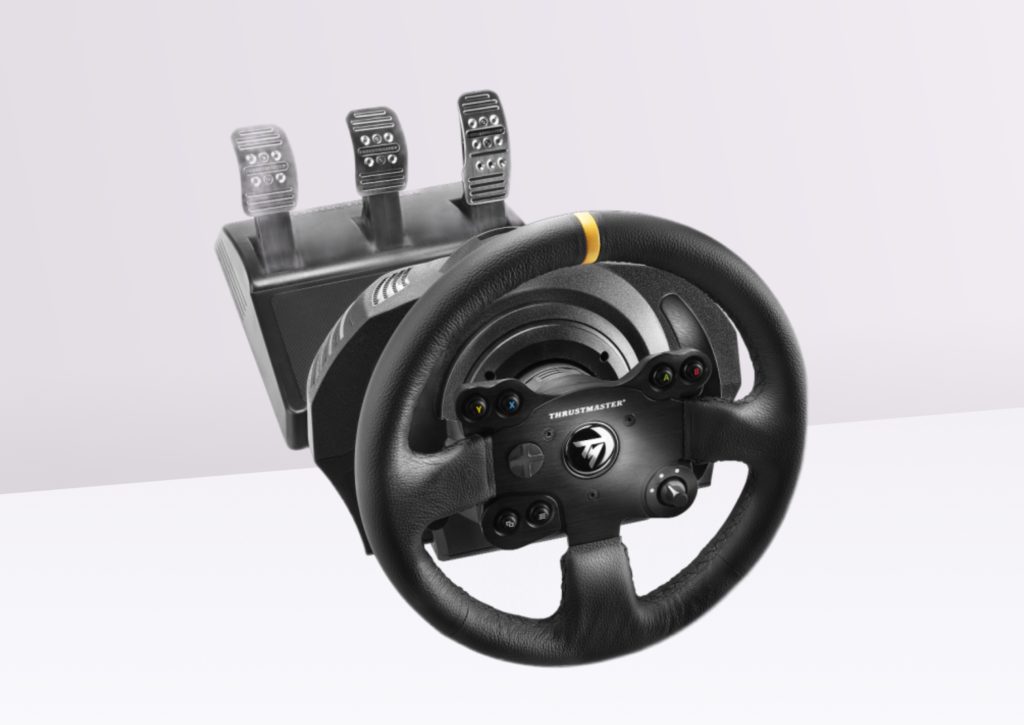 In-game sensations
Although the Thrustmaster TX is very similar to the T300, I've noticed that it has a better feel, especially regarding force feedback.
The 3.9 nm brushless motor is both precise and very generous in feel. Admittedly, the drive is belt-driven, but that's not bad, especially considering this flywheel is celebrating its 8th birthday. And this feeling is accentuated by the excellent grip, which is much better than that of the T300s.
However, not everything is green with the Thrustmaster TX. As I mentioned earlier, the motor on this steering wheel is a little noisy, especially when the wheel moves abruptly. This is normal because the drive is belt-driven, but you get used to it quickly.
Another negative point is the crankset, which is a bit basic for the bundle's price. Admittedly, it's much better than the one supplied with the T300RS, for example, but I was expecting a higher-performance product or at least one with a Load Cell on the brake.
Compatibility
The Thrustmaster TX is, first and foremost, an Xbox-licensed steering wheel, making it compatible with Microsoft platforms. For consoles, you'll need at least an Xbox One to enjoy this little gem, and Uncle Sam's latest consoles are also compatible with it.
As for chassis, if you shop at Playseatalmost, the range from the Dutch manufacturer is compatible with the Thrustmaster TXas and practically all other cockpits on the market.
Value for money
The Thrustmaster TX Racing Wheel Leather Edition is listed at €499.99 on the manufacturer's website, but you can often find it at € 420 on Amazon. This steering wheel remains an excellent choice for this price, especially when compared to a Logitech G920, for example, or even a G923.
Of course, the Thrustmaster TX Racing Wheel Leather Edition The Thrustmaster TX Racing Wheel Leather Edition may be a little old compared to Logitech's latest toy. However, it's still a high-performance machine, putting many other competitors in its price range to shame. In any case, I consider the quality-price ratio of the TX to be excellent.
My verdict
Despite the weight of years, the Thrustmaster TX Racing Wheel Leather Edition remains an excellent wheel today. Its price is ideally in line with the competition, and this wheel will give you many hours of sim-racing pleasure, whether as an amateur or a professional.
It's not perfect, of course, but it ticks as many boxes for a sim-racing wheel as I could consider, and I frankly loved the hours I spent on it. In any case, I recommend the Thrustmaster TX Racing Wheel Leather Edition to all budding drivers. If not, you can always see if you find what you're looking for among the 6 Best Steering Wheels for Sim Racing in 2023 by clicking right here.
Similar articles