Heusinkveld Sim Handbrake V2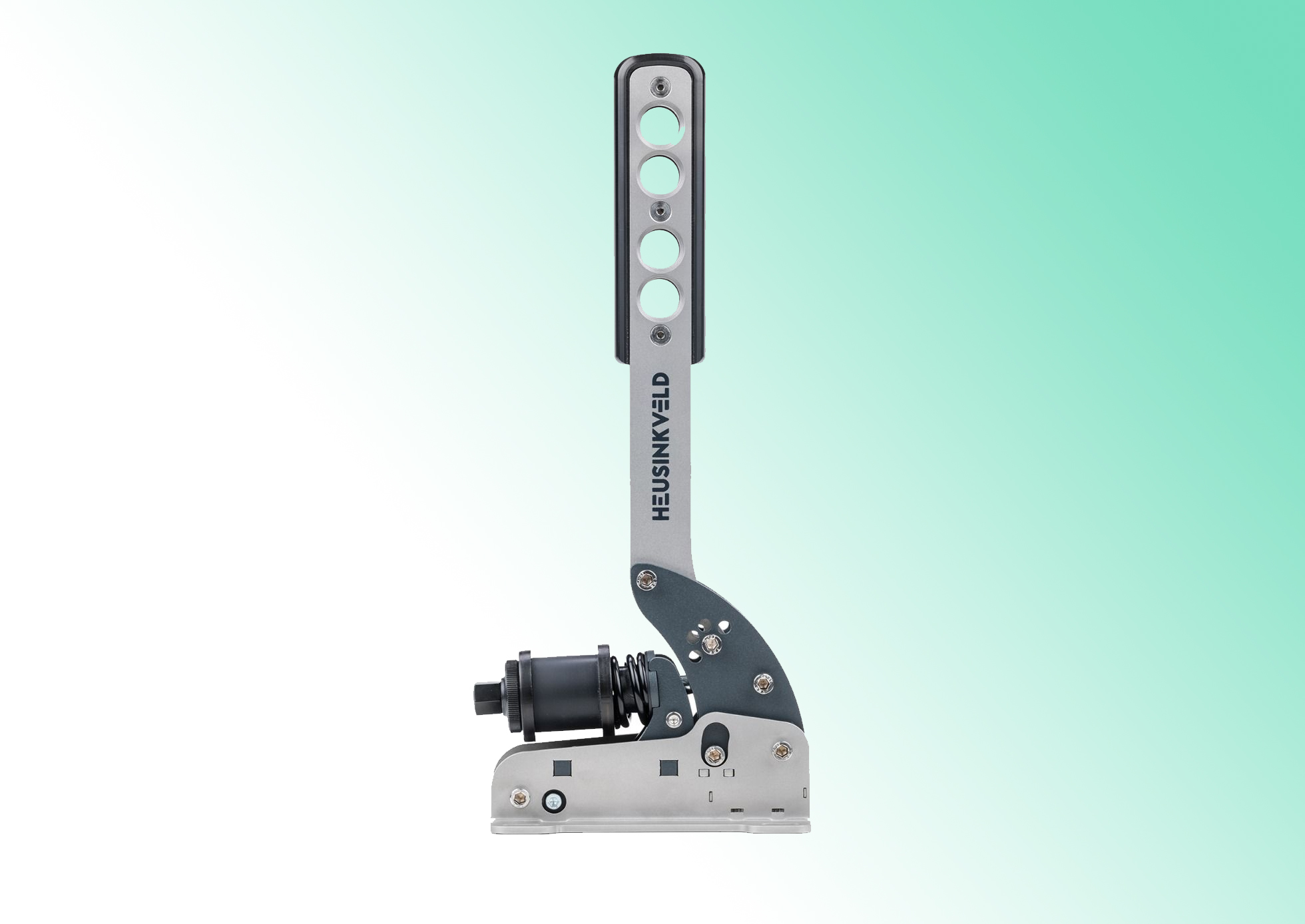 Advantages & Disadvantages
✅ Excellent build quality
✅ Total immersion, with plenty of in-game sensations
✅ Premium materials for the entire handbrake structure
❌ Difficult to get to grips with for sim-racing beginners
❌ Premium price
ㅤ
Sim-racing gamers worldwide have different setups to give free rein to their passion. Sim-racer configs are diverse and varied, with many players focusing on the entry-level or mid-range. This segment is rather juicy for manufacturers of sim-racing peripherals, as they don't need to innovate over the years except perhaps to make their products compatible with new platforms.
Logitech and Thrustmaster are two big names in sim-racing, mainly in the entry and mid-range segments with wheels like the G29on T300etc. Of course, some racers aren't content with entry-level/mid-range products that deliver relatively limited realism. Instead, they are looking for peripherals capable of total immersion, whatever the title they play.
That's why we have players in the high-end and very high-end segments, such as Fanatec or Heusinkveld. These two brands alone more or less dominate the premium part of sim-racing peripherals, especially Fanatec, which offers a wide range of products specifically developed for maximum realism and total immersion.
But in this article, we won't focus on the German manufacturer but on the Dutch one—Heusinkveldand, more precisely, one of its products: its Handbrake. I will tell you about its features, strengths, and weaknesses and give you my opinion.
Main features and technical specifications of the Handbrake
Entire structure in laser-cut stainless steel
Adjustable 2-spring resistance
The braking mechanism is fully adaptable to your preferences
Very progressive braking, just like in a real racing car
The braking system can withstand loads of up to 120 kg
Compatible only with Windows PCs
USB interface to PC platform via in-house controller
Design
The brand Heusinkveld is very well known for offering sim-racing peripherals that are beautiful, with a look strangely similar to what is done in motorsport, and the Handbrake, commonly known as the Handbrake, is no exception to this rule.
Its design closely resembles a real racing handbrake found in a rally car, for example, with an all-stainless steel structure. It's the best-looking sim-racing Handbrake I've seen and tried of anything on the market. The lines are clean, with a frame of steel plates screwed together. It's simply magnificent. What's more, the spring system of this Handbrake reminds me of the hydraulic systems found in the cars of Formula D.
Heusinkveld was a little off in design with its sequential shifter, but its Handbrake is very handsome, worthy of its big brothers: the pedal assemblies Sprint and Ultimate.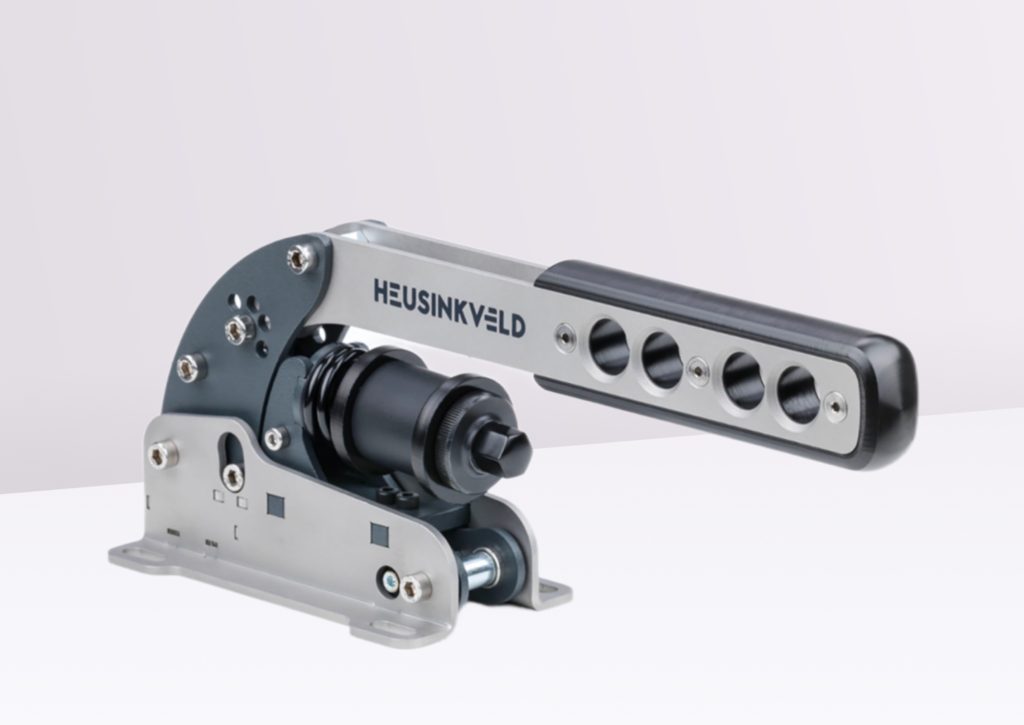 Custom assembly
Like other brand products, HeusinkveldThis Handbrake can easily fit virtually any sim-racing setup, provided you have a cockpit. The Handbrake on the Heusinkveld can only be mounted on a chassis, as its manufacturer believes it will only be used by sim-racing pros with a cockpit setup. That's understandable on the one hand, but I'd still have preferred a mounting system with a clamp-like on the shifter of the same brand. But then, life isn't perfect…
However, it's easy to fit, thanks to a pre-punched plate that can be attached with Allen screws to virtually any cockpit available on the market, which you can do by clicking here. Moreover, this Handbrake features a modular mechanism that lets you change the handle's inclination as you see fit. You'll be able to position the arm/handle as you like on your chassis, and all you need is an Allen key.
Manufacture and finish
As with other Heusinkveld, this Handbrake is made entirely of laser-cut stainless steel. It's very premium, with a build quality worthy of the big names in motorsports.
All surfaces are machined to perfection, and you won't find any sharp edges or parts sticking out too far. It's just perfect, and that's to be expected, given that the brand targets a professional sim-racer audience with a sizeable budget for peripherals.
The Handbrake is very solid, does not move, and requires a certain amount of force to operate. Of course, this can be adjusted to suit your preferences, thanks to the springs used by Heusinkveld. This Handbrake is an actual work of art.
Handbrake grip
The first thing that comes to mind when you take the Handbrake out of its box is its sturdiness. This heavy beast is designed to take whatever you throw at it without flinching a bit.
The arm, or shaft if you prefer, is adjustable in several planes, giving you a wide choice of mounting customization, all thanks to Allen screws. Whatever the orientation of the handbrake base on the cockpit, you'll be able to adjust the arm as you see fit.
Load Cell resistance is adjustable via springs, but handbrake travel is linear. It's much more precise than handbrakes that use potentiometers, and that's what we're looking for in the very high-end segment. However, this Handbrake's picture isn't perfect, as it will be tough to get used to its use if you're an amateur or beginner in sim-racing. Heusinkveld aimed this device at a professional audience.
Sensations during play
Once this Handbrake is placed on the setup, it's time to test it in sim racing. The first impression you'll get is of its linearity. The Heusinkveld is very linear and, above all, compassionate thanks to the Load Cell used in its mechanism.
Brake proportioning is surprisingly precise, far ahead of anything on the market. You can feel the car lowering or squatting at the rear before the wheels lock, initiating the slide. It's ultra-realistic, especially if you're a fan of rally or drift titles.
Another plus point is that this Handbrake is adjustable to accommodate the braking styles of sim-racers. You can adjust the handlebar's force, resistance, and inclination. Heusinkveld Handbrakeall with incredible ease. It's simply ultra-immersive to have this level of configuration and parameterization on a sim-racing device.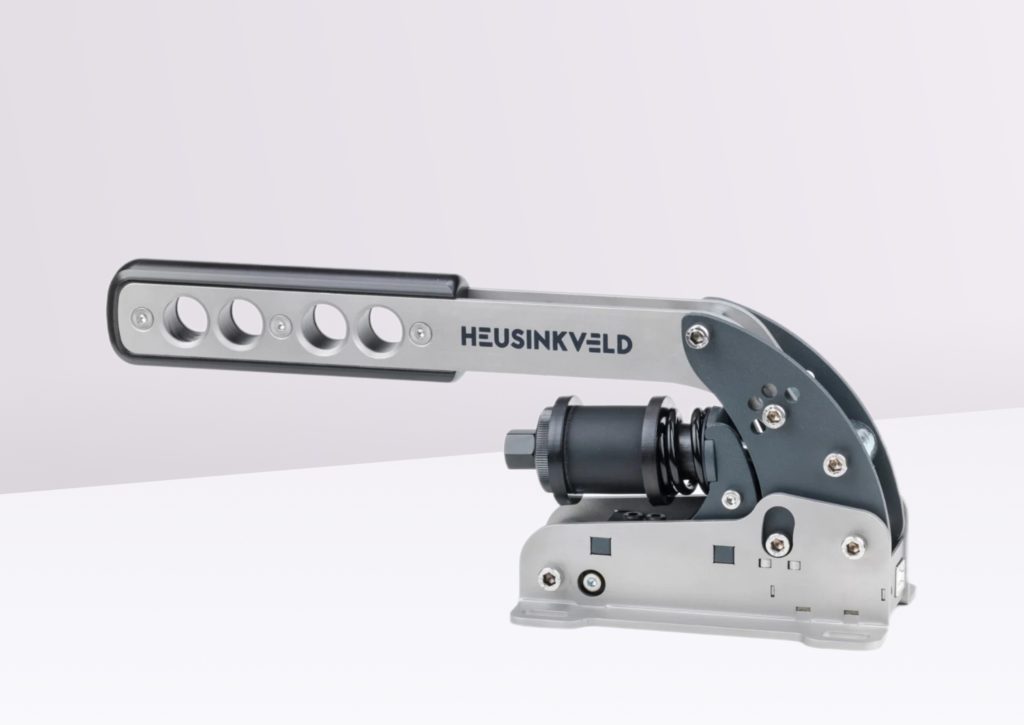 Compatibility
As with all products from the Dutch manufacturer Heusinkveld, this Handbrake is only compatible with Windows PCs. I'm not a fan of this, as I've seen some good sim racing on consoles, but there you go. By the way, if this is your case, I recommend discovering other console-compatible handbrakes right here.
This Handbrake has an in-house controller and a USB interface to connect it to the PC. It's Plug-&-Play, and you'll need to do virtually nothing except create braking profiles with the software—SmartControl from the brand. I highly recommend using it, as it allows you to customize this Handbrake extensively.
Value for money
Retailgreatly ing at €290, the Handbrake from Heusin is a premium device with a superior price tag. Nevertheless, its value for money remains excellent if we consider all the positive points this Handbrake offers.
The build quality is exceptional, as are the sensations this sim-racing peripheral will give you. Even if I'm not a big fan of the bartering required to get this product, I must admit that you'll be hard-pressed to find anything better on the market, at least in this price bracket.
My verdict
My experience with Heusinkveld has always been perfect, and this Handbrake is no exception. Admittedly, it's a rather expensive product, mainly when its target segment is somewhat restricted (rally and drift essentially, with sim-arcade). Still, if you can afford this peripheral, I highly recommend it. It's the best Handbrake on the market, pushing realism to the limit. I'm all for it.
Similar articles