Next Level Racing F-GT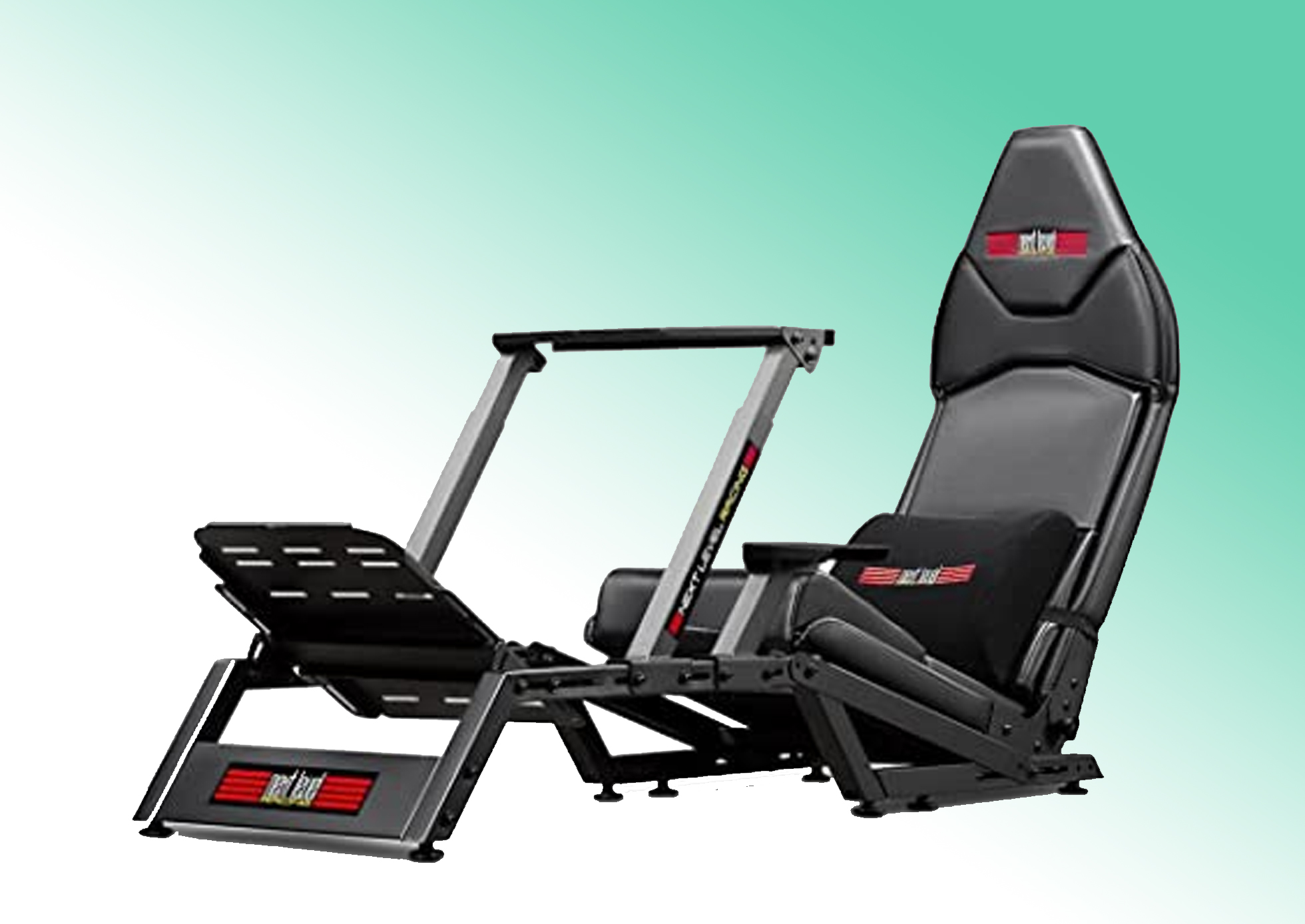 Advantages & Disadvantages
✅ Versatile Cockpit with two driving positions
✅ Excellent value for money
✅ Comfortable seat for long sim-racing sessions
✅ Beautiful price
❌ High weight
❌ Cockpit difficult to assemble for the first time
ㅤ
Since its inception, sim-racing has always aimed to immerse virtual drivers in their favorite time by providing maximum realism. With its steering wheel, base, pedals, and shifter, this discipline has come a long way in 20 years. Gone are the days when all you had to race on screen were steering wheels and a table. Today, sim-racing fans swear by their setup with steering wheel, base, pedals, and Cockpit.
Undeniably, such a product (Cockpit) is a medium that considerably boosts realism and driver immersion. Over the years, several players have capitalized on the sim-racing community's enthusiasm, offering top-quality products that provide maximum feedback. Regarding sim-racing peripherals, we're all familiar with brands such as Fanatec or Logitech, who dominate the game to some extent, even if new competitors have emerged. For cockpits, it's mainly Playseat that reigns in this segment. But new brands, such as Next Level Racing.
In what follows, I will introduce you to one of the brand's flagship products, the F-GT. It's a cockpit with a hybrid design that can accommodate fans of F1 and GT at the same time.
Next Level Racing F-GT main and technical specifications
Hybrid driving position for the F1 or the GT
Durable, solid structure
Compatible with all major brands of sim-racing peripherals
Adaptable system with the addition of a monitor support
Fully adjustable chassis
Gear lever bracket
Dimensions: 170 x 60 x 100 cm
Weight: 45 kg
Design
In the world of cockpits, there's more than just Playseat, who knows how to make beautiful products, and the Next Level Racing F-GT is the proof. It's gorgeous, with its tubular chassis painted entirely in black. Moreover, the brand logos are pretty subtle, positioned in places that aren't too obvious.
The watchword in the Next Level Racing F-GT design was "modularity." Throughout the chassis, you have passages that allow all the cockpit structures to change position, giving it a high level of customizability. The cockpit design offers two driving configurations:
A typical F1 configuration for single-seater fans.
A GT model for fans of this discipline.
This is one of the best selling points a sim-racing cockpit can have because fans can enjoy several disciplines simultaneously. And that's where the Next Level Racing F-GT shines compared to the competition, which struggles to develop such ingenious and adaptable designs.
Manufacture and finish
The Next Level Racing F-GT uses steel tubes for its chassis to achieve the most robust possible structure. These tubes run the entire frame length, from the seat to the bottom bracket. The parts are laser-cut to ensure perfect assembly, with no brackets protruding from the edge.
The choice of steel results from the modular design of the Next Level Racing F-GT for both F1 and GT sim-racers. Having tried several cockpits, I can tell you that it's hard to get a stable and, above all, adaptable product. Well, it is, but not at reasonable prices.
Such a choice of materials and design has drawbacks, and weight is the main one. Weighing in at 45 kg, the Next Level Racing F-GT is far from a light, easy-to-handle Cockpit. However, the manufacturer did come up with the idea of adding wheels. Except that, I'm not a fan of such a system, as it implies instability, and I advise you to make do with the support legs and leave the Next Level Racing F-GT in a sim-racing corner.
As for the finish, the entire Cockpit is painted black (and I love that color), with no burrs or sharp parts to hurt you. This not only makes the beast easier to assemble but also to use daily.
As for the seat, it's very well made, both comfortable and beautifully finished. Moreover, the Next Level Racing F-GT comes with a lumbar support cushion. If you like to spend hours sim-racing, this is the Cockpit.
Using the Cockpit
Competing with leaders such as Playseat is not easy. Not only do you have to stand out with a unique, attractive design, but you also have to offer a product compatible with the big names in sim-racing peripherals.
On the subject of design, I'm pleased to announce that the Next Level Racing F-GT has made a name for itself. Its hybrid design gives it a driving position, F1 GT, which will delight sim-racers who love both disciplines.
Even if assembly will take some time, as the beast has many parts and a not very user-friendly design, the Next Level Racing F-GT is still easy enough to use and to switch from one position to another with a wrench. Okay, it'll involve removing some screws and then putting them back in, but it's easy enough. Bear in mind, however, that this Cockpit weighs around 45 kg, so you'll need to assemble it where you will use it. Don't even think of making it in one place and then moving the monster to another unless you want to damage the paintwork and get backaches.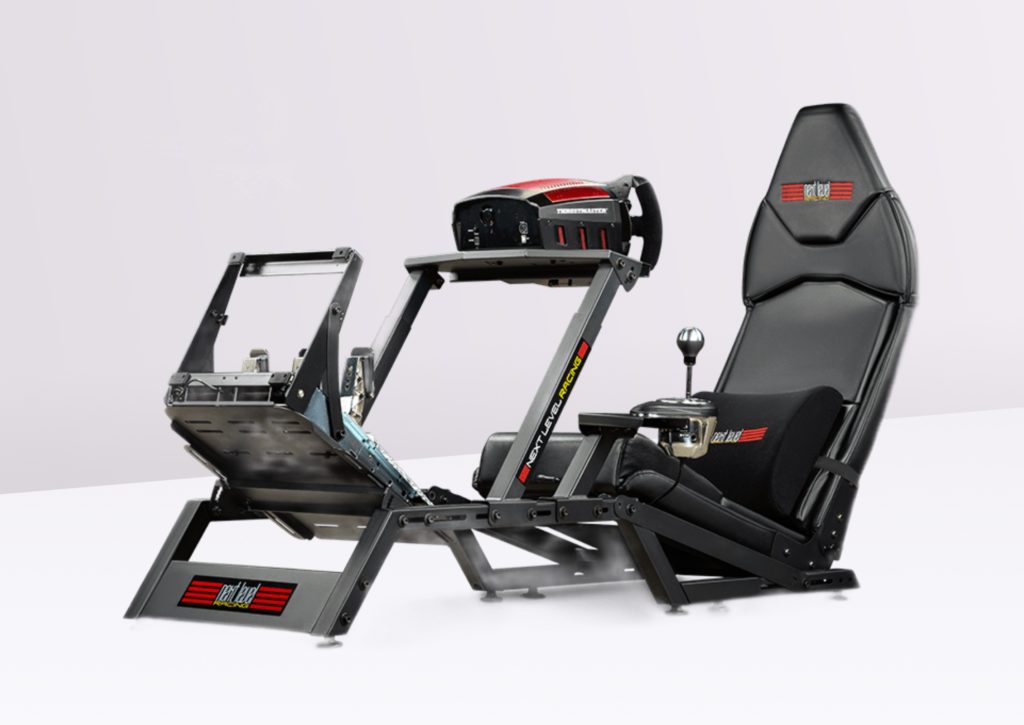 Sensation in play
As far as sensations are concerned, I have to say I was delighted. This Cockpit is immersive, whether in F1 or GT position, even if the seat isn't a bucket. The center is low, with a shoulder-level steering wheel and a pedal unit that can be raised and moved away.
The two driving positions are just about perfect as far as I'm concerned. You'll dive into your sim-racing sessions and think you're one of the Mercedes drivers in the F1 position. For the GT position, choose a Porsche GT3, and you're all set to adjust the Cockpit to the correct position,
The chassis is stable, and you don't have a support that goes between your legs, which is a problem on some cockpits, Especially for setups with a gear lever and three pedals. Frankly, my hat's off to Next Level Racing and its teams of engineers and designers.
The seat is also adjustable in several planes, making it easier to use and immerse yourself in. I didn't expect this on a cockpit costing less than €600. It's a masterpiece.
Compatibility
It goes without saying that to get a share of the sim-racing cockpit market, Next Level Racing was to offer a product compatible with the biggest names in the game. And the F-GT. This Cockpit will easily accommodate Fanatec (like the CSL ranges, ClubSport, or Podium), Logitech (the G29on G923 or the G Pro Wheel), and also products from Thrustmaster.
Also, the Next Level Racing F-GT is compatible with a wide range of sim-racing pedals and shifters, bringing even greater realism to some drivers.
As for platforms, they're all supported. PC, Playstation, or Xbox will all run on the Next Level Racing F-GT without a hitch.
Value for money
For an average of €550 from major retailers, you won't find anything better in this price bracket. This is the best 2-position Cockpit on the market. The brand has hit hard and is aiming directly at Playseat and domination.
Even if you're not a fan of either sim-racing discipline, the Next Level Racing F-GT remains an excellent cockpit for non-stop racing.
My verdict
My verdict is simple: buy this Cockpit! Admittedly, the weight is problematic, as are the dimensions. But if you already have a corner for sim-racing, the Next Level Racing F-GT is, in my opinion, the best choice regarding value for money. It's solid, versatile, and, above all, beautiful. I can't say enough about it. But if you're not convinced, look at the four best cockpits for Sim Racing in 2023 by clicking here.
Similar articles