Playseat Challenge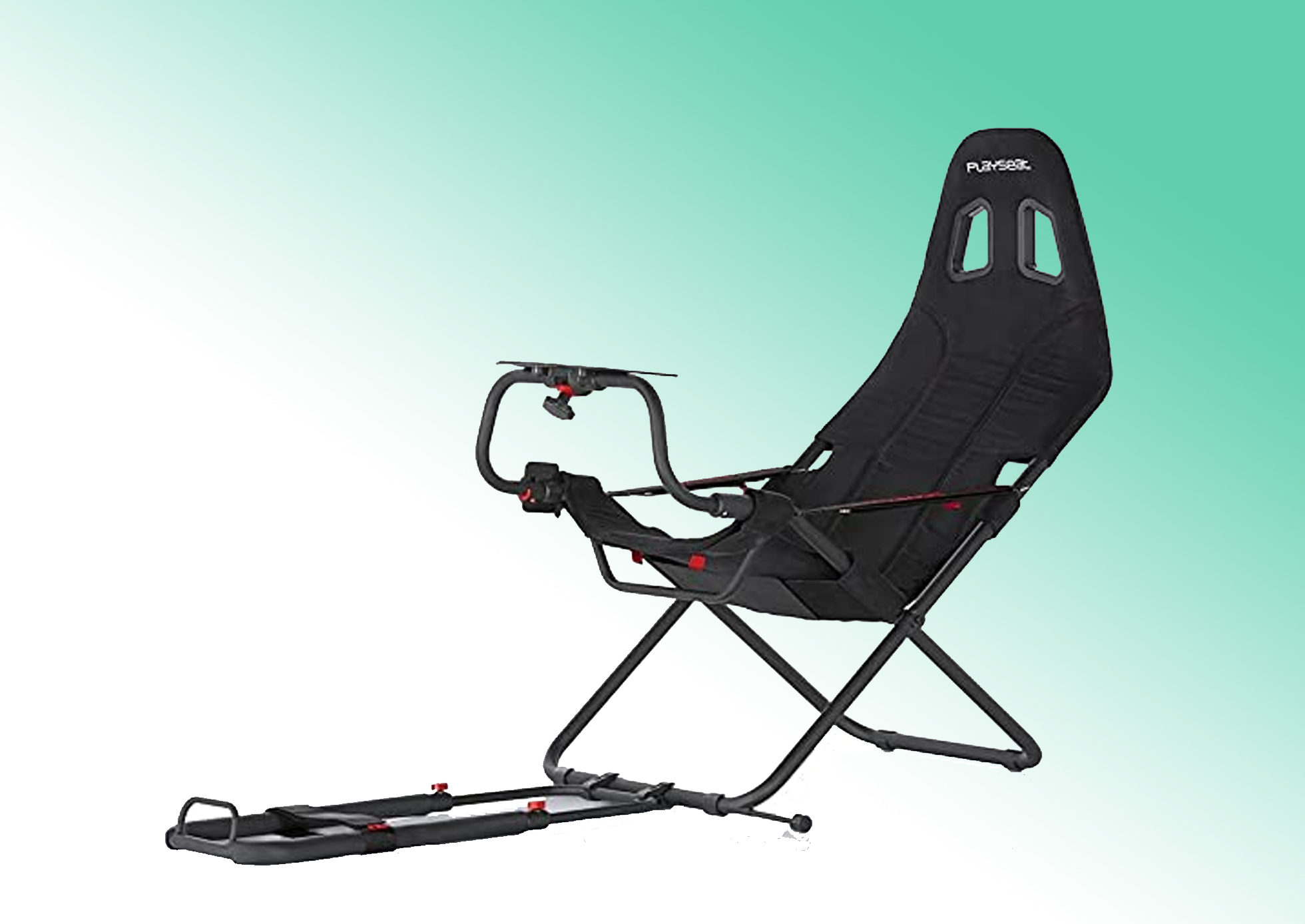 Advantages & Disadvantages
✅ Good build quality
✅ Good value for money
✅ Compatible with many cranksets and flywheels/bases
❌ Difficult seat adjustments
❌ Lack of stability
ㅤ
If you're a sim-racing fan, I do no need to introduce you to the brand Playseat and its cockpits. Otherwise, to put it simply, the Dutch manufacturer has dominated the market virtually since its inception, and I don't see that changing any time soon.
Sim-racing is a discipline that has gained much momentum in recent years, mainly with the democratization of games such as Forza Motorsport or Gran Turismo but also Asseto Corsa, to name a few.
As you can probably imagine, every sim racer or driver has their setup, which necessarily includes a steering wheel, base, and pedals. But fans and pros of the discipline push the realism further by adding a cockpit, even a cheap one, to feel like you're in a racing car.
Like sim-racing peripherals, cockpits are different and aim to satisfy the needs of virtually all drivers by offering products in different ranges. You have entry-level, mid-range, and high-end products. In the following, I will introduce you to an entry-level cockpit from Playseaton Challenge. I'll talk about its strengths, what I think of it, and who it's for.
Main features and technical specifications of the Playseat Challenge
Unique folding design
Multiple riding positions
Dimensions: 27 x 54 x 124 cm
Weight: 8.5 kg
Support system for most sim-racing peripherals
Compatible with PCs and consoles, as well as the big names in the industry
Multi-axis seat position adjustment
Design
The Playseat Challenge is a cockpit whose design is both simple and beautiful. It's unlike the brand's other high-end cockpits (Playseat F1, for example), but it remains a beautiful and straightforward product.
The main aim of the Playseat Challenge is to enhance sim-racing immersion with an inexpensive product suitable for amateurs and beginners alike. The tubular structure, which takes its design from a folding chair, is undoubtedly famous but very beneficial for accommodating many sim-racers. In any case, I like it because it's a cockpit that can be tucked away in a corner and reassembled in just a few minutes (counting the time needed to attach all the peripherals). For people who don't have a lot of space at home, it's the perfect cockpit.
Manufacture and finish
Even if Playseat Challenge is not a premium cockpit by any stretch of the imagination, it's a quality product nonetheless. The structure is tubular, just like a folding or camping chair. This is what makes it so popular with sim-racing enthusiasts and beginners.
The straps are of good quality and can accommodate a maximum weight of 122 kg, with a maximum height of 2.2 m. This is not the kind of product that collapses in on itself when you sit in it.
The structure provides support for bases/wheels, as well as for a pedalboard. For the latter, there's a kind of stopper at the end of the frame to keep the pedalboard in place and a strap at the back to keep it in place. The system is very rudimentary but adequate for inexpensive setups.
The structure is black, and the "seat" is blue. I think it's beautiful and relatively sober, unlike the Playseat F1 and its bright orange/red color.
Cockpit use
So, to use Playseat Challenge, this cockpit is compatible with a good proportion of sim-racing peripherals, especially those in the entry-level or mid-range range. Given its price, it's clear that Playseat is aimed at beginners and even sim-racing enthusiasts. If you're an experienced pilot or pro, you won't use the Playseat Challenge as your main chassis. You can even have it as an additional cockpit.
Where the Playseat Challenge is that it's foldable, taking up almost no space. As I said earlier, its design is similar to that of a folding chair but much more solid and stable. It only takes a few seconds to fold and unfold, making it easy to store in a cupboard or behind a cabinet.
Bear in mind that this cockpit is not intended for prominent people. The maximum weight supported is 122 kg, and the height is 2.2 m. If you exceed these two limits, I advise you to look for another cockpit.
The steering wheel/base support is a wide plate, accommodating many sim-racing peripherals such as the Logitech G29, G920, Fanatec CSL ( à discover right here), etc. As for the crankset, it's the same, with a fastening system with a stopper. It's basic, but it does the job.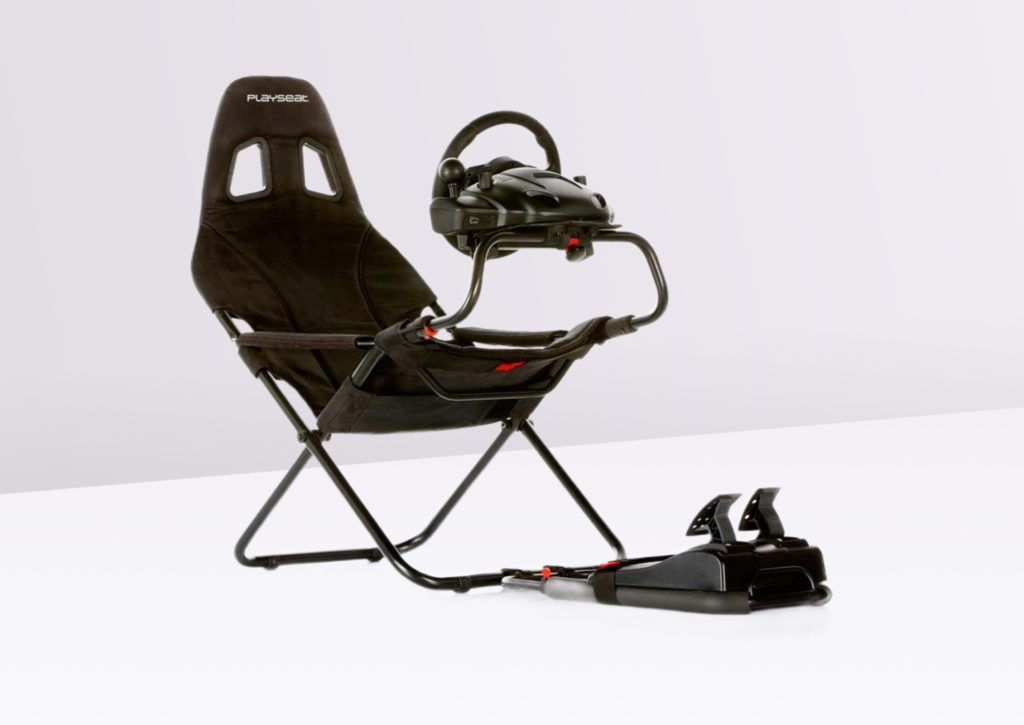 Sensation in play
The Dutch brand targets a beginner audience with the Challenge, and this translates into a rather basic in-game feel. Even if you can adjust the seat, it's still limited, impacting your driving style. For example, you won't be able to have an F1-style driving position, as the cockpit doesn't allow it.
Also, when using the Playseat Challenge, I noticed a certain instability during my sim-racing sessions. The "anchoring" points are limited to just two tubes below you, and that's not precisely top-notch in terms of stability. If you ride hard enough, you'll feel the whole chassis moving, giving you a feeling of insecurity.
But considering its price of €230, it's a problem that's easily forgiven. And I'm telling you, you won't find a better one on the market for this price.
Attaching peripherals is convenient and quick, thanks to the plate in front of you. The driving position is good, with a shoulder-height steering wheel. I feel comfortable in it, but for sim-racing sessions that aren't long. If you're doing a lot of running for hours on end, expect to feel some discomfort after a while. But I repeat, the Playseat Challenge is designed for beginners, not initiates and sim-race pros.
Compatibility
Playseat This cockpit is compatible with practically all sim-racing peripherals available on the market, including those from Fanatec, Thrustmaster, or Logitech. However, this compatibility instead focuses on entry-level products, which makes sense. You won't buy a cockpit for less than €250 to put in products that cost more than €2,000. It just doesn't make sense.
For small budgets and beginners, the Playseat Challenge is the perfect choice regarding quality, sturdiness, and compatibility with peripherals and platforms.
Value for money
Playseat is the leading manufacturer of cockpits, and quality is often the order of the day with its products. For its price, Visit Challenge is a good cockpit that will delight many players wishing to embark on a sim-racing adventure.
The structure is metal, basic, but also quite solid. The material used for the backrest is of good quality, relatively so, although I don't think it will last long with daily use. But for €230, you can't ask too much either, can you?
My verdict
I am convinced that the Playseat Challenge will find takers, especially among sim-racing beginners and even among pros, but only as a secondary cockpit, like for two-up games.
Between selling price, ease of use, and wide accommodation of sim-racing peripherals, the Playseat Challenge remains an excellent product for its range and target audience. What's more, this cockpit is available on the manufacturer's store and on Amazon, which is a big plus for me.
In any case, I'd recommend this cockpit if you'd like to try sim-racing as a pilot, amateur or beginner. If not, you can discover the four best cockpits for Sim Racing in 2023 by clicking here.
Similar articles