Playseat Evolution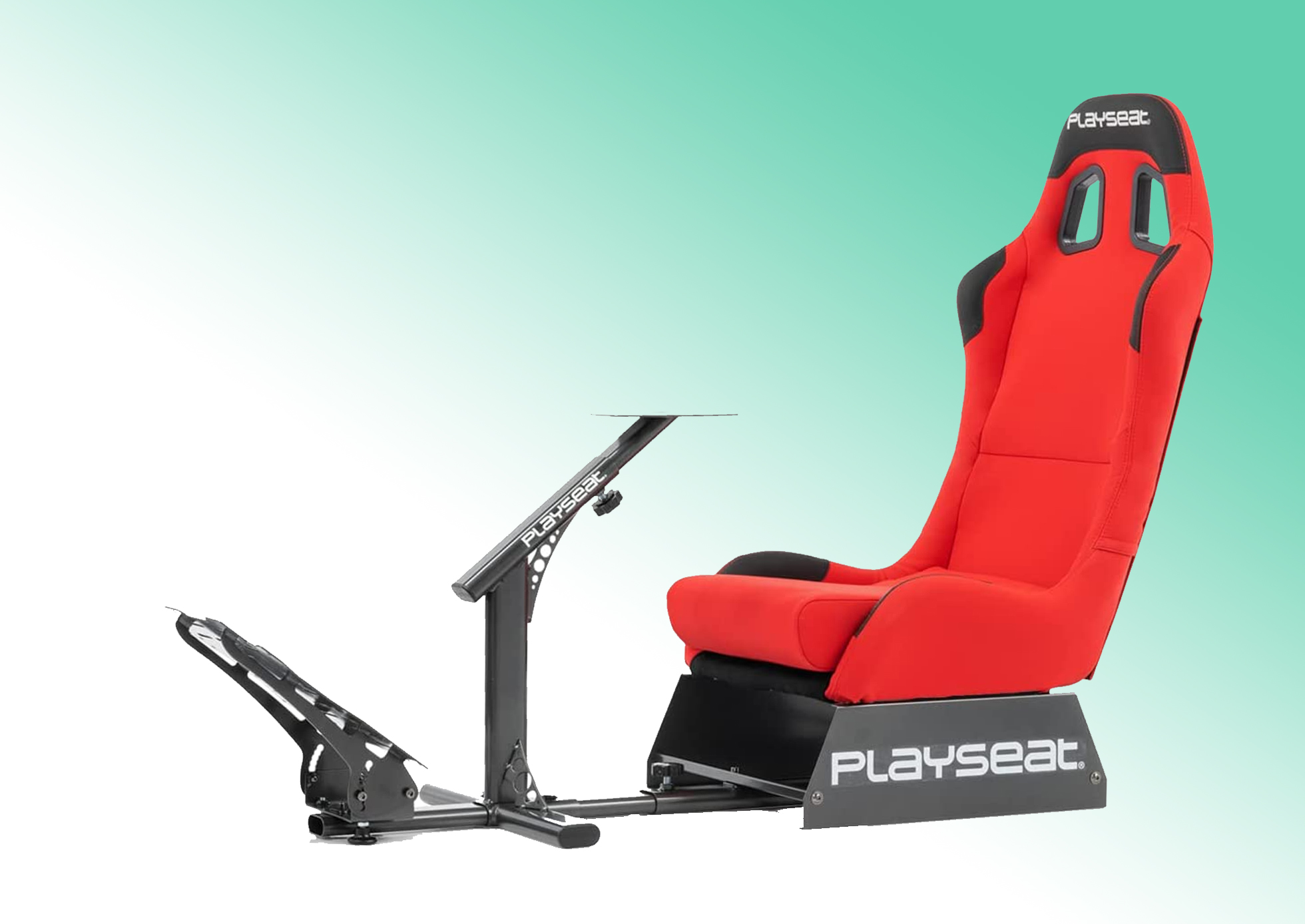 Advantages & Disadvantages
✅ Excellent build quality
✅ Comfortable seat for long sim-racing sessions
✅ Good value for money
❌ Chassis is not very stable, with some configurations
❌ Backrest not adjustable
ㅤ
For fans of sim-racing, I don't need to introduce you to the brand Playseat, which has been in the business for over 20 years. With so much experience, its products are of the highest quality, well-designed, and, above all, suitable for everyone.
Some sim-racers swear by steering wheels/bases and pedals, insisting that these peripherals provide the most realism. In my opinion, these people are right insofar as the force feedback from a command will make you feel what the car is doing, as will the vibrations from the pedals in the event of ABS intervention. But let's not forget that the cockpit, or Chassis, adds a touch of immersion, sometimes essential to certain simus. The most obvious example is using an F1-style cockpit for sim-racing in F1 2022: immersion will be less if you use a standard chassis.
As I've just said, the Playseat has over 20 years of experience in cockpit design and manufacture and offers several exciting models, such as the Evolution. In what follows, I'll introduce it, tell you its strengths and weaknesses, and give you my opinion.
Main features and technical specifications of the Playseat Evolution
Chassis designed in collaboration with racing drivers
Quick and easy assembly
Foldable design for easy storage
Compatible with all platforms
Dimensions: 130 x 50 x 98 cm
Weight: 19.8 kg
Good build quality
Design
The design of a cockpit is a somewhat subjective point in that what I find beautiful is not necessarily so for you. But as far as I'm concerned, the Playseat Evolution is a lovely cockpit. Its design is reminiscent of a bucket racing seat like those on the, although, as far as I know, the Playseat Evolution was not conceived as a collaboration between the two brands.
The chassis structure is underneath, and the seat is bolted to it. As I've just said, it's very similar to a racing heart. The material used for this is Alcantara, and it's pretty beautiful, especially for the price at which this cockpit is being advertised.
As for the rest of the Chassis, it's tubular with plates for attaching bases/steering wheels and pedals, all painted black. Overall, it's very handsome and, above all, very sober.
Manufacture and finish
Over the years, Playseat has mastered the art of large-scale manufacturing, and it shows in Evolution. Made from steel for the structure and Alcantara for the seat, this cockpit is beautifully finished, with no burrs. You can quickly run your hand over any surface without fear of cutting yourself.
As far as comfort is concerned, it's well up to scratch. You'll be able to put in hours of sim-racing without feeling fatigued or discomfort, provided the seat position suits you.
As you probably know, some racing seats are not adjustable, so you must make do with the default backrest position. The Playseat Evolution is the same: it fits or doesn't. Although the seat was very comfortable during my sim-racing sessions, I couldn't ensure this for everyone because of its fixed position.
Using the cockpit
As with many of the manufacturer's cockpits, the Playseat Evolution chassis will work perfectly with any Fanatec, Thrustmaster, or Logitech peripheral. This translates into brackets for the steering wheel/base and pedalboard, which can accommodate different product ranges.
In addition, the Playseat Evolution is compatible with all platforms, namely PC, Xbox, and PlayStation. Whatever kind of sim-racing you prefer, this Chassis will suit you perfectly, especially considering its price.
The only limitations I can think of are:
Maximum user weight of 122 kg
Maximum user height: 2.2 m
Minimum user age: 8 years
The Playseat Evolution is a good cockpit that doesn't take up much space when used or stored in a cupboard. Its dimensions are relatively small, but its weight is substantial (almost 20 kg). As a result, I'd recommend putting it in a similar corner and leaving it there.
In-game sensation
Even if most of the sensations come from peripherals such as the base, steering wheel, or pedals, there's no denying that a cockpit brings immersion. A sim-racing session in a racing seat will make your brain believe you're actually in a GT3 or Supercar.
Visit Playseat Evolution is a cockpit for everyone. In other words, it's perfect for any sim-racing: GT3, drifting, rallying, etc. F1 fans will be more interested in a Playseat F1 (see my opinion on the Playseat F1 ), which offers a driving position identical to a single-seater.
However, this entry-level cockpit from Playseat has its faults, not least the central structure that supports the base/flight. For sim-racers accustomed to braking with the right foot, this will pose a problem, as it interferes with your legs. If your crankset has two pedals, you'll need time to adapt. If it has three, well, you'll still have this problem.
After that, as I've just said, the Playseat Evolution is a cockpit designed primarily for use with entry-level peripherals, especially bases. The Logitech G29 or G920 are perfect for this Chassis, as their low force feedback won't cause any stability problems. However, if you attach a Fanatec CSL here, the structure can move, inducing instability, especially on the 8 nm version of the base.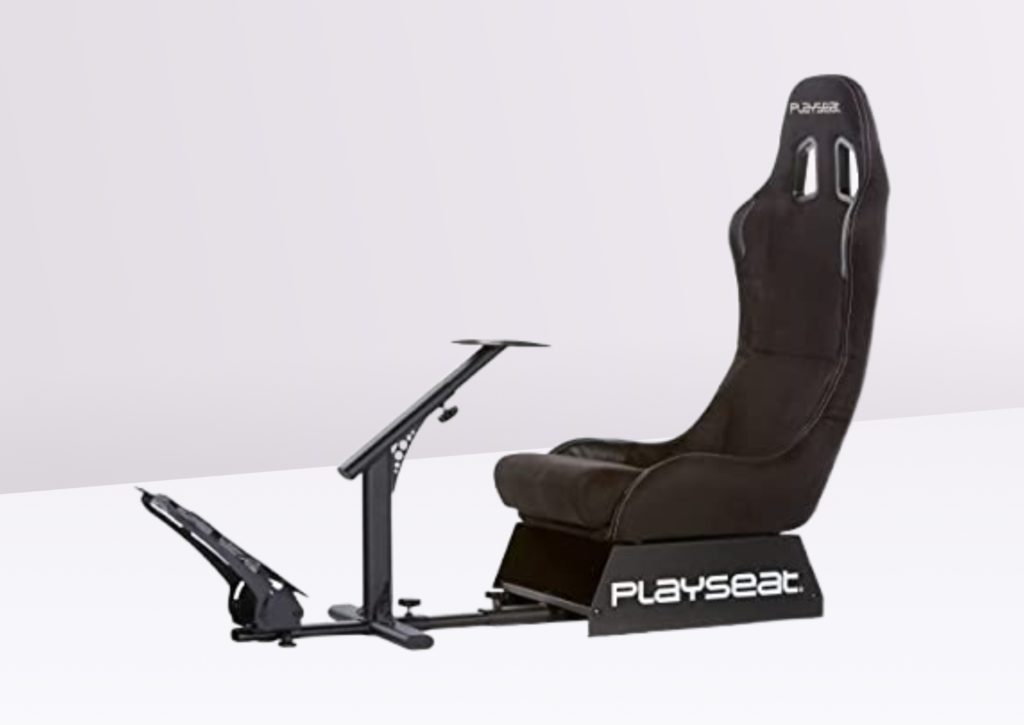 Compatibility
As with many other Playseat, l'Evolution is compatible with most sim-racing peripherals, such as those from Fanatec (CSL range), Thrustmaster (T150 and T300), Logitech (G29 and G920), and much more. The central support includes a plate with anchoring points for attaching these peripherals. Also, the Playseat Evolution has a plate for pedalboards, including fixing issues.
Overall, this conciseness is perfect for just about any sim-racing peripheral you've got, and the same goes for the platforms. The Playseat Evolution is compatible with all platforms, including PC, Xbox, and PlayStation. In that respect, you're covered with this cockpit.
Value for money
For just €300, the Playseat Evolution is an excellent cockpit for low-budget setups. It's the best in its price range today between build quality, finish, comfort, and compatibility.
This cockpit offers numerous anchoring points for sim-racing peripherals widely available on the market, and this is frankly a big plus point for this Chassis. I find the Playseat Evolution offers excellent value for money. Even if the structure isn't stable, mainly if you use a base with powerful force feedback or drive aggressively, it's still a good cockpit for the money, primarily aimed at beginners.
My verdict
I love Playseat cockpits, and the Evolution is a worthy product of the Dutch manufacturer. Comfort is the order of the day, even if the seating position won't be perfect for every sim-racer. But this is perfect for you if you like sim racing with a fixed position.
The Playseat Evolution will provide great sim-racing immersion, whatever discipline you like. This cockpit is versatile, affordable, and adaptable to all setups. I highly recommend it for beginners and sim-racing enthusiasts. If you're an advanced or pro pilot, this isn't necessarily the product for you, and I'd advise you to upgrade for that. I've already written an article on the four best cockpits for Sim Racing in 2023.
Similar articles