Thrustmaster T3PA
Advantages & Disadvantages
✅ Good build quality
✅ 3 adjustable pedals
✅ Compatible with multiple platforms (PC and consoles)
✅ Competitive price
✅ Excellent value for money
❌ Limited brake feel and realism
ㅤ
For many years now, I've noticed that more and more people are getting into sim-racing. This is an excellent thing, as we'll almost certainly have better products and cheaper peripherals.
Anyone wishing to embark on this magnificent adventure should know that a sim-racing setup consists of 3 essential elements: a base, a steering wheel, and a pedal. With these three peripherals, you can race at full throttle on rally stages or chase other F1 drivers on the world's Grand Prix circuit.
Overall, we have four manufacturers of sim-racing peripherals offering products for everyone, namely Fanatec, Thrustmaster, Logitech, and Monza. These brands certainly make affordable products, but some also provide premium peripherals. Since every rider is unique, what I consider ideal is probably not ideal for you. As a result, manufacturers make available products that are sold separately, such as a crankset or steering wheel. The aim here is to offer solutions for the specific needs of different riders.
In what follows, I will introduce you to the crankset T3PA by Thrustmaster. It's a device aimed more or less at the mid-range segment. I'll tell you about its features, strengths and weaknesses, and what I think.
Main features and technical specifications
Crankset with three metal and plastic pedals
Large, textured footrest
2-axis adjustable pedals
A rubber stop can be installed on the brake for up to 25 kg of pressure.
Different resistance from one pedal to another
Compatible with Playstation, Xbox and PC
Dimensions: 24 cm x 36 cm x 42 cm
Weight: 3,46 kg
Design
Regarding design, let's face it: the cranksets all look the same. The most significant changes are in the number of pedals and materials. The T3PAI finds its design sober, with mainly black and chrome pedals. It's a device that will go well with any setup, whatever your ecosystem.
The significant footrest has textured rubber to prevent your feet from slipping during a sim-racing session. The design of the T3PA is the fact that the Rj45 cable comes out on the side (left or right), which is excellent for putting the pedal against a wall or desk.
Apart from that, the T3PA is a crankset like any other in its segment, and there's not much more to say about its design.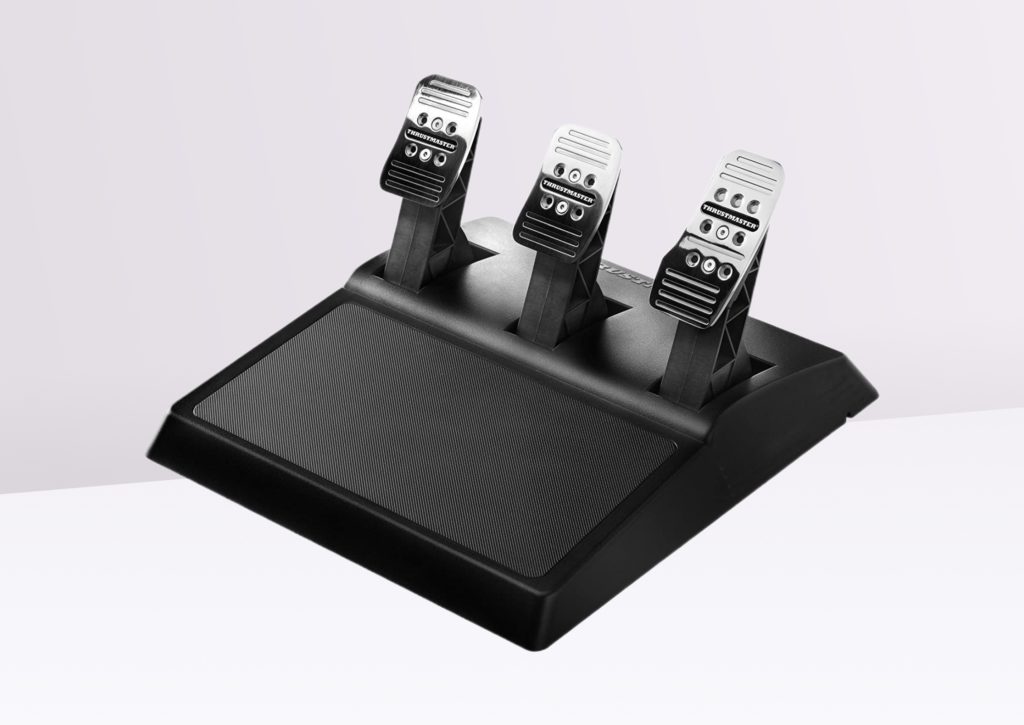 Custom assembly
The T3PA is a relatively mid-range crankset and will be used mainly on the ground. To ensure a good grip, Thrustmaster has added rubber pads (3 on top and three on bottom), which give it a good grip on virtually any surface (parquet, carpet, flagstone, etc.). However, I'm all for putting it up against a wall or desk so it doesn't move a muscle.
For cockpit installation, please note that the T3PA offers mounting points (4). However, Thrustmaster didn't supply the screws to attach this pedal to the chassis. That's cheap, especially when you consider that screws cost nothing for such a manufacturer. Otherwise, almost all cockpits available on the market support the T3PA, so there is no problem there.
Manufacturing and finishing
Even though Thrustmaster emphasizes the use of metal in the T3PA, it's worth noting that this crankset is mainly made of plastic. Metal is found on the pedal paddles, which are chrome-plated. Metal is also found in the pedal mechanism, giving it added strength.
Apart from this little clarification, the rest of the T3PA is well-finished. Weighing close to 3.5 kilos, it's pretty heavy but not intrusive at the same time. The plastic is well-spent, with no burrs or protruding parts. Admittedly, the T3PA is aimed at the mid-range, but it's still well made for a product that's not expensive (under €200).
Thrustmaster has thought of everything with this pedal and has included a channel or groove underneath that allows the cable of the T3PA to be either on the left or right side. I appreciate this little addition, and it will enable the pedal to be mounted against a wall without any problem.
Getting to grips with the crankset
As soon as you unpack, the T3PAYou're about to test the resistance of the pedals. First impressions: The gas pedal and clutch are relatively soft, and that's to be expected. The gas pedal has a resistance of 2.5 kg, the clutch 5 kg, and the brake can go up to 25 kg with the stop. For the price, it's pretty realistic, as long as you don't ask too much of the pedals.
As for the footrest, it's pretty broad and should provide a good surface to put your feet on. Another positive point is the metal pedals. Well, they're partly metal, but they're chromed, and they're pleasant on the feet. I appreciate this, as I do most of my sim-racing sessions without shoes.
Sensations during play
Even though the T3PA from Thrustmaster is a mid-range sim-racing peripheral that uses potentiometers to indicate the status of the pedals, roughly speaking, it works like joysticks or joystick triggers. It works pretty well, but it's nowhere near the level of a Load Cell, for example.
In absolute terms, the T3PA provides good sensations on the track or the racetrack, allowing you to control the vehicle you're driving reasonably well. The gas pedal is as light as a feather as in real cars, as is the more challenging clutch pedal. As for the brake pedal, it's complex and adjustable, too, but the pressure remains the same over the entire distance covered in the standard configuration. With the brake stop, you can adjust the hardness as you wish, but it's still a long way from a pedal in Load Cell or hydraulics, where resistance changes according to the force applied to the pedal.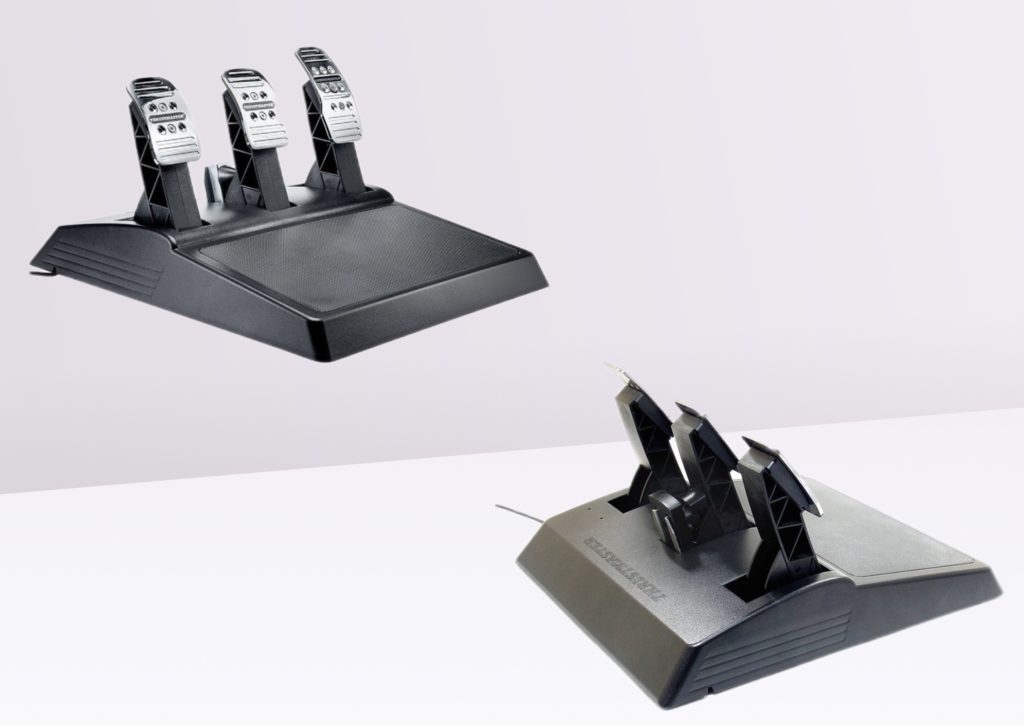 Compatibility
Aiming to be a pedal for everyone, the T3PA is compatible with the entire flywheel/base range T Series from Thrustmaster, which gives you a wide range of products, whether on Xbox, Playstation, or PC. For sim-racing titles or racing games, virtually all will support it, with native compatibility.
As far as cockpits are concerned, most of the chassis available today feature a slot for attaching the T3PA. However, as these are not supplied, you'll need your own M6 screws to mount this pedal to any chassis. It's cheap for Thrustmaster not to include screws in the box, but we can do nothing about it.
Value for money
Displayed at €139.99, the T3PA is not expensive for what you get in return. Sure, the pedals work with potentiometers, but it's not bad for the price, especially for the sensations you'll get.
Its value for money is excellent, considering what's currently on the market, which gives it an edge over the competition. However, you should be aware that this crankset is often out of stock at Thrustmaster since it's pretty old. You can find it on marketplaces at around €175and even at that price, I think it's worth it.
My verdict
A little old, admittedly, the T3PA still offers an excellent in-game feel for a crankset priced initially at less than €140. The brake stop adds good resistance to a very linear brake pedal, giving you more feel in play.
If you want to replace a basic crankset or get into sim racing, I'd recommend the T3PA from Thrustmaster. It has its faults, but the value for money, feel, and ergonomics make it a must-have in its price range. But if you're not convinced or are simply curious, I invite you to read my review on the 4 Best Cranksets for Sim Racing in 2023.
Similar articles