Logitech G Driving Force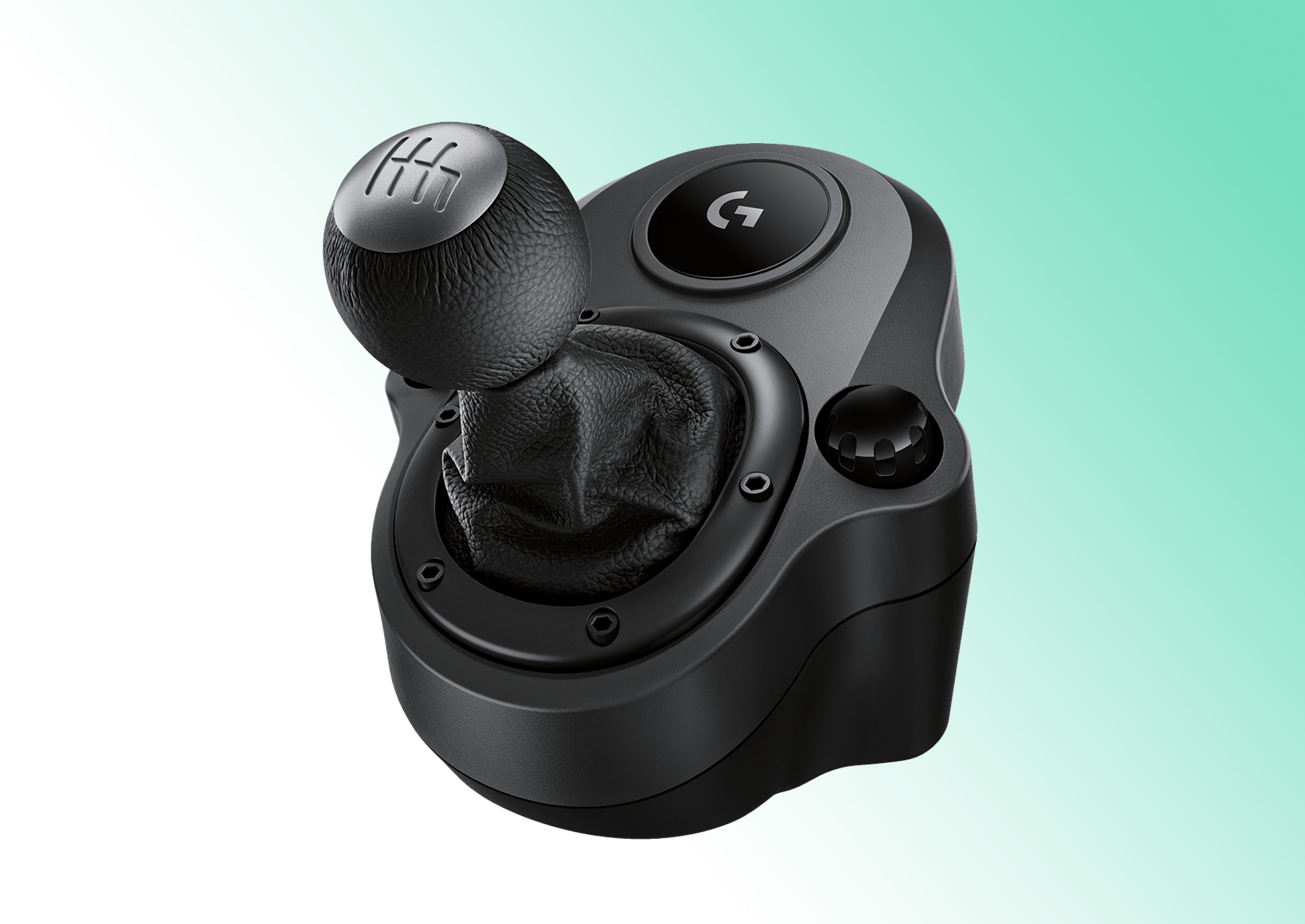 Advantages & Disadvantages
✅ Good value for money
✅ 6-speed gearshift + reverse gear
✅ Excellent for sim-racing beginners on a budget
❌ The materials used are cheapskates
❌ Gears are not engaging
ㅤ
Sim-racing is a discipline we all love, and we'd also like to have the best possible configs. This is quite possible for some racers, especially for those with a sizeable budget. And for others, the task is rather tricky, especially when you see peripherals that cheerfully exceed €1,000.
Since there are several players in the sim-racing world, peripheral manufacturers can afford to focus on a specific market segment, such as entry-level or mid-range. Logitech, a manufacturer with decades of experience in the game, offers products aimed mainly at the mid-range, with its range of steering wheels G.
But the Swiss manufacturer doesn't stop at the steering wheel and offers a shifter, the G Driving Force Shifter. Unlike its cousins (steering wheels, pedals, bases), Logitech's driving force shifter is more entry-level. The aim is to offer a reasonably convincing product that enhances realism and immersion. In what follows, I will introduce you to this shifter, tell you its strengths and weaknesses, and give you my opinion.
Main features and technical specifications of the shifter
Shift lever with six gears and reverse gear
Non-contact magnetic sensor
H-Pattern gearbox only
Connection with a 9-pin plug and optional USB adapter
Leather finish
Compatible with Playstation, Xbox and PC
Design
The G Driving Force Shifter from Logitech clearly announces its intentions: to be an inexpensive shifter perfect for hobbyists and sim-racing beginners. You'll see this shifter in a new light once you've got that in mind.
The exterior design of the G Driving Force Shifter is quite beautiful and reminds me of the gearshift on a Dodge Viper. The lever is short, with a round pommel and no markings except for the "H." I like its appearance, but the overall quality leaves something to be desired. To achieve the aggressive price at which it is sold, the G Driving Force Shifter uses plastic for virtually everything.
However, the leather slightly enhances the device's look by making it a little premium, and the gearshift is relatively successful in design. In any case, I find the design sober and successful. As for the quality and nobility of the materials, it's not the same story, given that this is an entry-level product.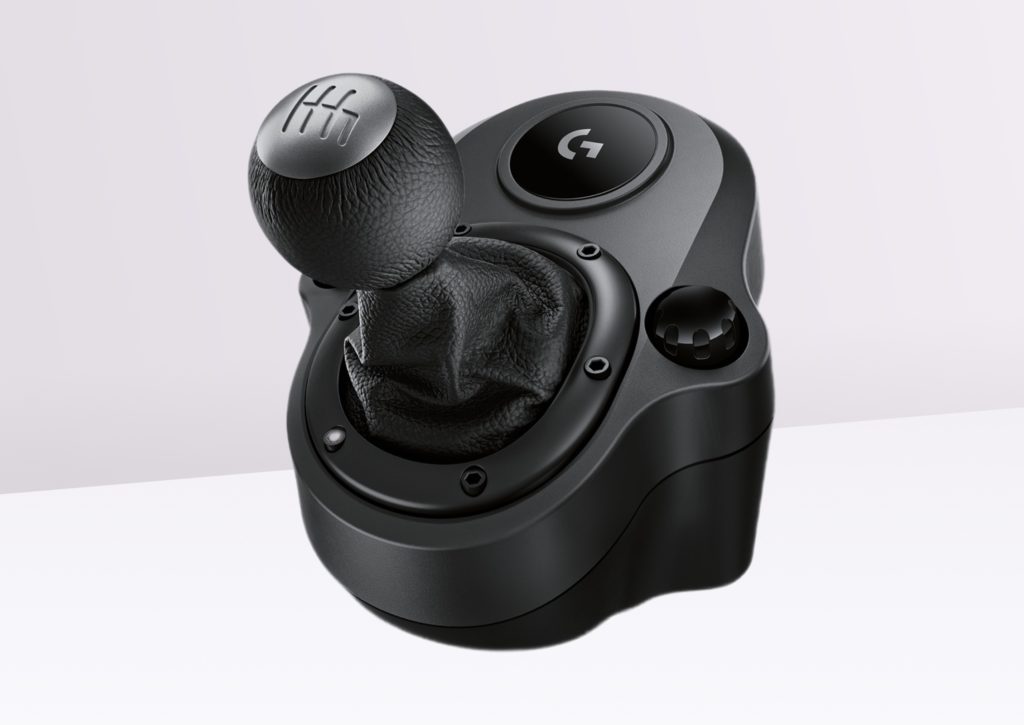 Custom mounting
Assembly of the G Driving Force Shifter is done with the help of clamps, characteristic of Logitech's fastening systems. In addition, the manufacturer includes a screw in the box to secure the shifter better when installed on a table or desk. In any case, it won't budge in everyday use, and it's pretty solid when you're going for grunt mode, too.
For cockpits, Logitech has provided fixing points with M6 screws. This is a relatively standard fastening system, and almost all chassis available on the market are compatible with the G Driving Force Shifter. I wouldn't take this shifter and put it on a cockpit, but I can see how some might consider it. So….
Manufacture and finish
Ah, the finish now! Well, it's cheap. The G Driving Force Shifter uses plastic and lots of it. This is expected, given Logitech's non-promotional price for this shifter. But all in all, it's pretty well finished.
There's plastic, of course, but the joints between the parts are flush, which gives me a good feel for the finish. The lever moves too much for my taste, and the whole shifter is ultra-light, not even touching 800g on the scale.
However, don't be fooled by appearances! This shifter is well made, especially considering that Logitech has an excellent reputation for quality products. As for the shifter mechanism, it's made of metal to ensure a reasonably long life. I have to say that after several years of use, the G Driving Force Shifter still holds its ground.
Handling the gearshift
The first thing you notice when you pick up this shifter is how light it is. It doesn't even weigh 800g, and the lever moves too much for my taste. It reminds me of the gear shifts on really cheap cars.
Apart from that sensation, the grip is pretty good, and I enjoyed my sim-racing sessions with it. The lever movement is relatively short, which enhances realism and driving trends.
Given that this shifter is in H Pattern, you'll only use it with games that feature mechanical gearboxes and a clutch pedal. Incidentally, I'd advise you to stick with Logitech's ecosystem, as this is where the G Driving Force Shifter works best.
Another positive point regarding handling is the excellent fastening system of the Logitech. The two clamps and the screw ensure that the shifter doesn't move from its place on your setup, whether on a desk or a table.
Sensations during play
Unpacking the G Driving Force Shifter and you're about to install it in your setup, you'll notice one thing: it only works with Logitech if you don't have the USB adapter. The first negative point before you even try it.
Then, when I picked up the shifter, the second thing I noticed was that the handle moved a little too much. However, you need to see the G Driving Force Shifter as a shifter for sim-racing beginners, and the feel of it, with that in mind, is pretty good. The six gears shift smoothly and lightly, even with minimal effort on your part. This shifter indeed pales compared to the TH8A from Thrustmaster (which you can see by clicking here). Still, the two devices target different sim-racer audiences: one is aimed at amateur and pro drivers (TH8A), and the other is the ideal choice for beginners.
Nevertheless, I must confess that the G Driving Force Shifter gave me a tremendous in-game feel throughout all my sim-racing sessions, adding considerable realism and immersion.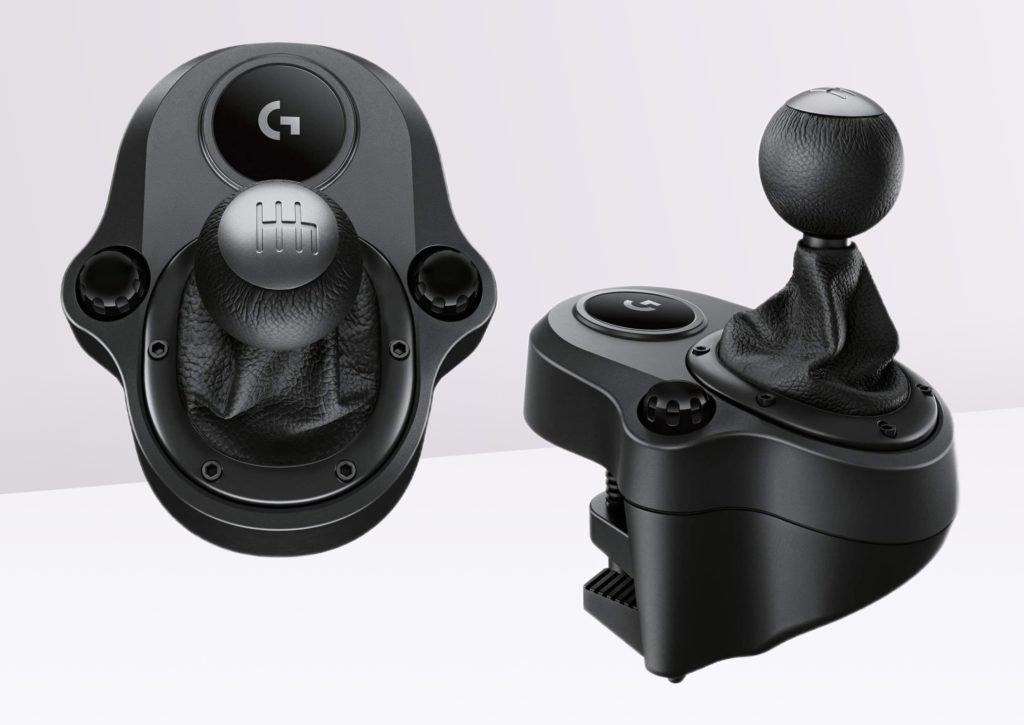 Compatibility
On paper, the G Driving Force Shifter is compatible with PlayStation, Xbox, and the PC. However, it is imperative to have a base Logitech (G29, G920) to use this device properly. If you have a competitor's base, you need a separately sold USB adapter to connect the G Driving Force Shifter only on a PC.
As far as titles are concerned, virtually all games support the shifter from Logitech natively. You won't have any problems with this or with cockpit compatibility.
Value for money
Listed at €59.99 on the Logitech website, the G Driving Force Shifter is €45 on Amazon. At this price, it's unbeatable, especially if you already own a steering wheel/base unit from the Swiss manufacturer, and the G Driving Force Shifter is your shifter of choice in this situation.
By choosing this shifter and a Logitech steering wheel, you will end up with a bill of less than €300, and frankly, that's excellent for what you get in terms of feel, realism, and immersion. The value for money of the G Driving Force Shifter is impressive, even if the peripheral has its little flaws.
My verdict
Logitech has struck hard with the G Driving Force Shifter, which has an unbeatable price, especially for beginner sim racers. Undeniably, those who want to get started in the discipline do their shopping at Logitech, so it makes sense to complete your setup in the same ecosystem.
The G Driving Force Shifter is no match for the TH8A, but at the same time, these two shifters are not in the same segment. If you're on a tight budget and already have a Logitech base, the G Driving Force Shifter is a must-have. I recommend this shifter for all sim-racers who want to dramatically increase realism and immersion in racing for very little money. But if you have a larger budget and want to treat yourself, then I highly recommend you check out my review of the Thrustmaster TH8A Shifter or, better yet, my review of the Fanatec Clubsport Shifter SQ V 1.5
Similar products