Sim-racing is a fast-growing discipline, and it's far from over. Every year, we see a new opus of a racing video game, simulation or arcade. We've all grown up with Need For Speed, Gran Turismo, Colin McRae Rally, and many other video game licenses. Each of these licenses specializes in a particular mode of play. For example, NFS is more arcade-oriented, while Gran Turismo is more simulation-oriented. And then some know how to mix the two.
I love sim-racing. I've been doing it for many years and tried everything in terms of time. I don't have a preferred driving style, which can sometimes cause problems with my setup. Like many of you, I've opted for a cockpit setup to avoid losing a crumb of immersion. This kind of setup is unique, realistic, not necessarily expensive, and with several players in the game.
Just as with sim-racing peripherals, there are several manufacturers in the cockpit market, and Playseat is one of them. With over 20 years of experience in the industry, this brand knows a thing or two about cockpits.
Today, I will introduce you to the brand's history and some of its best products and also tell you why a cockpit is a must-have in sim racing.
The Playseat product range
Once again, the big names in sim racing offer several product ranges, mainly entry-level, mid-range, and high-end. You'd think that the higher you go, the better the quality, the finer the materials, the more unique the designs, and so on. At Playseat, it's the same thing.
The cockpit range Playseat can be broadly divided into three categories: products Challenge and Evolution, which constitute the entry-level range; the Trophy, which is in the mid-range; and the Formula and Sensation, the top of the field.
However, you have other cockpits, Playseat, which are not part of these three ranges, such as the Air Force, which may confuse beginners looking for a quality product. It's like Thrustmaster: you have many products that aren't necessarily part of a peripheral range.
The good thing about the Dutch brand is that you can easily find a cockpit to suit your needs and budget. Playseat doesn't focus solely on the high-end but reaches out to all pockets with products that can be both cheap and quite good while also being ultra-premium and costing an arm and a leg. This vision is unique to Playseat, and frankly, I love the fact of having several options in a product catalog.
In what follows, I'm going to show you a cockpit for each of the Playseat ranges. Playseat and these choices are personal while remaining as objective as possible.
The Playseat Evolution Alcantara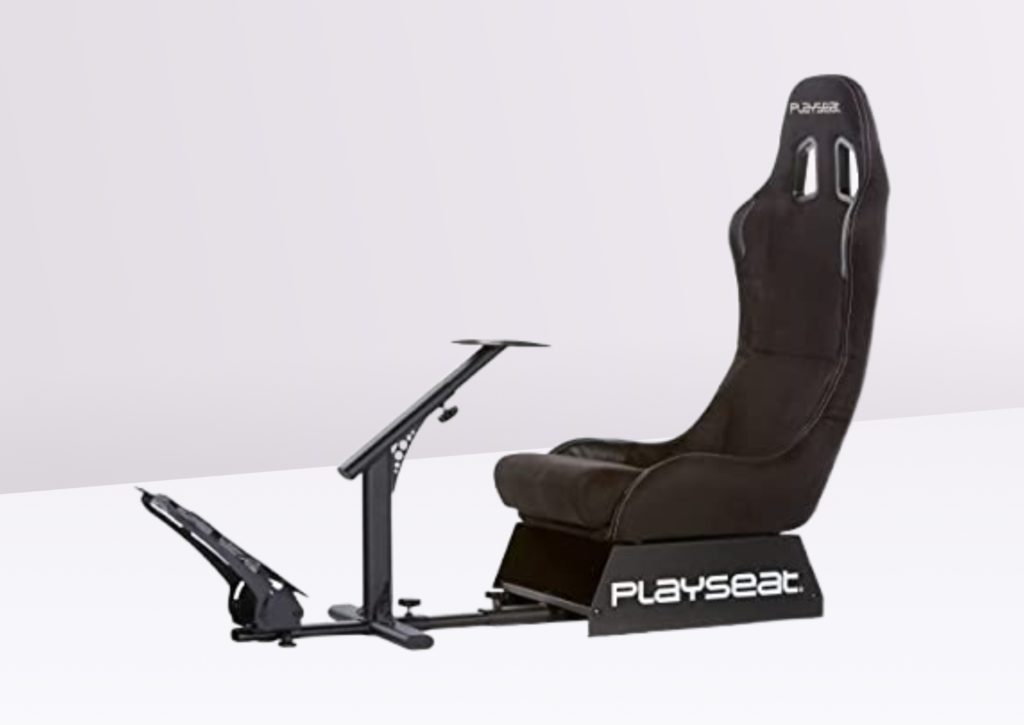 Advantages:
Excellent value for money
Bucket seat
Solid structure
Disadvantages :
The seat does not adjust in inclination
I'm starting with a cockpit that will please small pockets, the Playseat Evolution Alcantara. This cockpit is the best for its price (in the €300 range), whether you're just starting in sim racing or doing it regularly.
The structure uses noble materials, giving it beauty, stability, and sturdiness. This solid cockpit can support a person weighing up to 122 kg, is compatible with the peripherals of leading sim-racing (Fanatec, Logitech, and Thrustmaster), and weighs almost 20 kg dry. It's not heavy, and it's easy to store.
Unlike competitors in the same segment, the Playseat Evolution Alcantara uses a bucket seat to increase immersion in sim-racing. This is one of the reasons why I recommend this cockpit to beginners and enthusiasts alike. The center, like the steering wheel support, is adjustable but only on a single axis (front-to-rear). However, as in many racing car bucket seats, you can't adjust the seat's inclination. This is a minor drawback but understandable given the product's price.
Also, the material used on the seat is Alcantara. It's premium stuff, worthy of a place in the options catalog of brands like BMW or Mercedes AMG. I think it's beautiful.
Please read my full review of the Playseat Evolution Alcantara.
The Playseat Trophy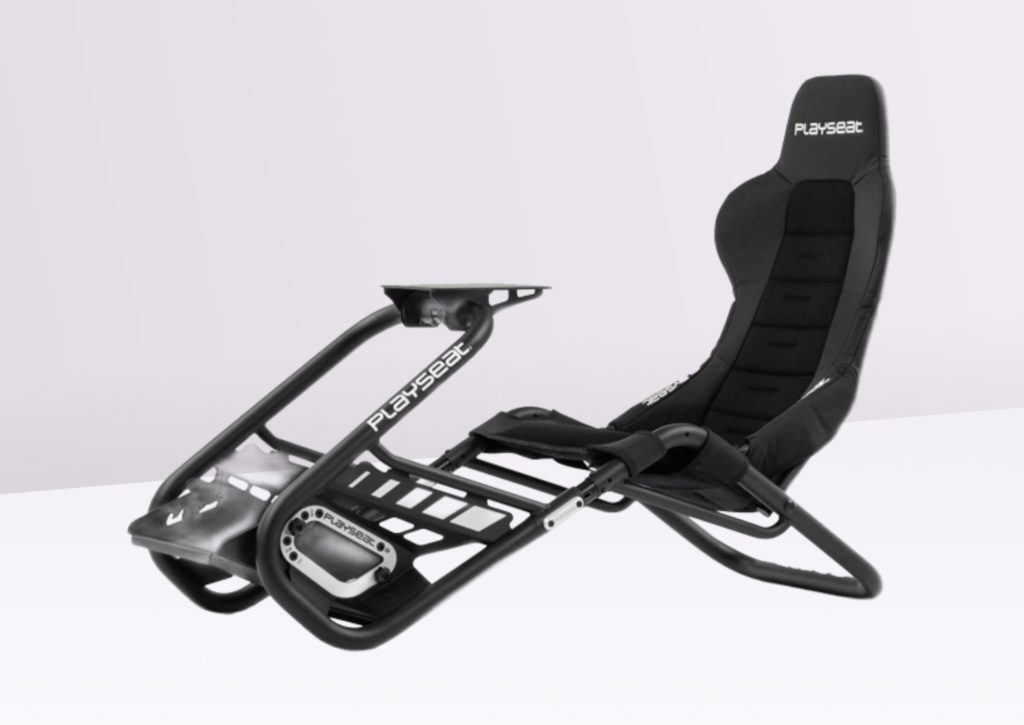 Advantages :
Adjustable and comfortable
Solid construction and materials
Compatible with DD bases
Small dimensions (80 x 60 x 29 cm)
Disadvantages :
The second entry in my ranking of the best cockpits of the PlayStation Trophy. For less than €600, it doesn't get any better than this. Everything about this cockpit is perfect; I find it has no weak points.
Let me start with the construction. It's tubular, metal, and, above all, excellent. This cockpit is designed to give you years of sim-racing pleasure. You won't have to worry about a shaky or unstable product when you're in it.
This cockpit doesn't have a frame, unlike other Playseat products. Instead, you have a tubular structure with a seat that adapts perfectly to your body. This gives it stability, comfort (for you), and, above all, immersion. Admittedly, the heart isn't bucket-shaped, which certainly won't please everyone. Still, if you're looking for such a seat, you've got the Playseat Gran Turismo, which is, in my opinion, just an improvement on the Evolution Alcantara for twice the price. But this is still an excellent option, too.
Compatibility-wise, we're well served. This cockpit is compatible with all sim-racing peripherals from well-known brands such as Fanatec and Logitech. Moreover, the steering wheel support is consistent with Direct Drivelike the Fanatec CSL DD. It's perfectly normal to include such compatibility, given the range in which this cockpit is found.
Frankly, for €600, there's nothing better on the market, and I recommend it to sim-racing fans and those who are pros in this discipline.
The Playseat Sensation PRO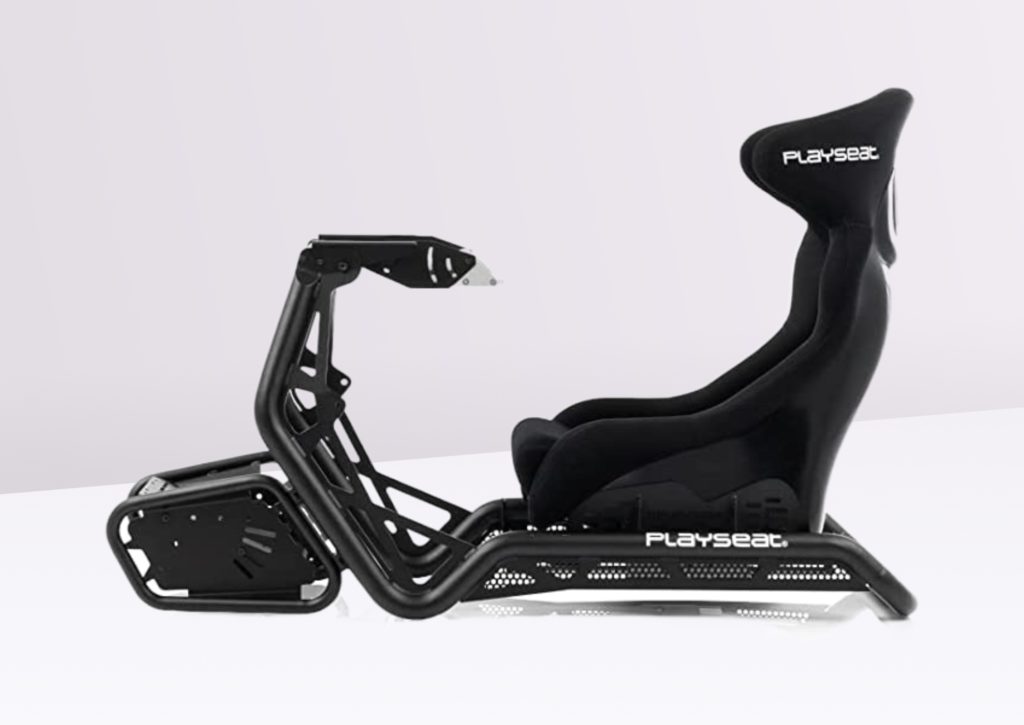 Advantages:
Ultra-premium materials
Solid, well-thought-out design
Monitor stand
Disadvantages :
Now it's time for the brand's top-of-the-range Playseat Sensation PRO. This is the best cockpit Playseat offers, with no entry into the motorized range. This range also includes the Playseat Formula PRObut this cockpit is much more aimed at F1 fans than other motorsport disciplines.
It doesn't get much better for those looking for versatility than the Playseat Sensation PRO. Let's talk about its construction. The Sensation Pro uses industrial-grade steel, giving it unique strength, lightness, and a sensational look. It's very handsome, especially in lacquered black.
On this cockpit, Playseat has integrated a monitor mount capable of accommodating screens up to 55″ diagonal in flat and 48" in curved. This is a big plus for people who don't necessarily have a lot of room for their setup. Leave enough room for the cockpit (150 x 63 x 94 cm), and you're done.
The seat position can be adjusted with bolts, making it adaptable to all sizes. The steering wheel support is also adjustable but hydraulically. The seat uses Alcantara and polyester, making it beautiful, comfortable, and durable. You'll be able to spend hours sitting on it sim-racing without feeling discomfort or anything else.
Let me now turn to the price of the Playseat Sensation PRO. You can expect an equally premium price as the manufacturer's top-of-the-range product. You'll have to pay around 1900 € for this cockpit to take pride of place in your living room.
The Playseat story
It all began in the late 90s, and more precisely in 1997—the founder of Playseat Company and its CEO, Dr. Fernando Smitis, is a racing fan. During the 1997 and 1998 seasons, the Doctor competed in the Dutch karting championship in the 125 cm class and was exceptionally gifted.
To improve and win more races, Dr. Smit had the idea of bolting his old racing seat, complete with steering wheel and pedals, to a structure and in front of a TV to see what it would do. And then, surprise! His first sim-racing cockpit was born. Many PC/console peripheral manufacturers, such as Thrustmaster or Logitech, existed at the time. But none of them had the idea of making a configuration like Dr. Smit's.
Of course, Dr. Smit's first product was only a prototype since he had virtually no means of mass-producing it. Over the years, until 2002, the company, through the hands of its founder, built numerous cockpits with car seats and a metal frame to make sim-racing setups. In addition, many of his friends volunteered to help him with the adventure.
At first, cockpits Playseat were made exclusively in the Netherlands, but that was about to change. Where do you go if you want to make mass-produced products cheaply? China! This is how Playseat relocated from the Netherlands to China to take advantage of large-scale manufacturing.
Over time, the company established itself in the field of sim-racing, and more specifically in cockpits. Playseat not only innovates in the industry but also holds several patents for its immersive products, which take up no space and give you incredible simulator sensations. If you're a sim racing fan, you'll know there's nothing better than a cockpit! Playseat.
Why use a cockpit?
Sim-racing can be done anywhere: on a dining table, a desk, a cockpit, or even on your lap. However, the degree of immersion differs from one surface to another. As you know, every racing-inspired sim-racing element adds a layer of immersion. Shifting gears with a gearshift lever is not the same as letting the gearbox do all the work for you. Sure, it's faster in a car but less immersive.
Drift fans prefer to have a handbrake to make sublime sideways glides instead of using a simple button to lock the rear wheels. In sim-racing, everything must be done to maximize immersion and realism.
If you're using a desk or table to support your setup, you'll necessarily be sitting on a chair, gaming or otherwise. You're already taking away some of the immersion because racing drivers don't sit like we do on our chairs. Race car seats are unique, with a particular seating position. If you've noticed, drivers sit low enough in their cars to lower their center of gravity. And you'll never get that with a table, desk, or chair unless you use a coffee table and sit on the floor.
So, based on this principle, a cockpit is a must for people who want maximum immersion during their sim-racing sessions. Between the shallow seating position, legs higher than your pelvis, body intertwined in the bucket seat, and steering wheel right next to you, it's the perfect recipe for forgetting you're in front of a screen playing a racing sim. And that's why hardcore sim-racing fans swear by cockpits, specifically those of Playseat.
What should a cockpit have?
As with any peripheral, a cockpit must have several points to buy. For example, a steering wheel must have good force feedback, a Direct Drive base, a Quick Release system, a button/paddle hub, etc. That's what I'm looking for in a good-quality steering wheel.
For cockpits, it's precisely the same principle. You must choose one that ticks several of your requirements, and we'll look at the most important ones.
Easy storage. Although I'm all for having a fixed setup, i.e., one that's always in place, this isn't always feasible due to lack of space or using the computer/console for something other than sim-racing. However, a good cockpit should be able to adapt to your lifestyle by having an easy folding system that allows it to be stored without taking up too much space. The cockpit should also be easy to unfold so you can set it up quickly.
Sturdiness. Sim-racing can sometimes be hard on equipment such as the cockpit. You make sudden movements, ask too much of the equipment, and sometimes end up with broken parts. A good cockpit needs to be solid and well-built. As soon as there are manufacturing defects, holes that don't line up, or claims under too much stress, it's a recipe for disaster.
Comfort. Let's face it: sim-racing can be unpleasant, especially if you have long play sessions. That's why a cockpit needs to be comfortable so you don't feel the time passing. The more comfortable you are in your setup, the better your sim-racing performance will be.
Improved performance. The operation's aim (acquiring quality peripherals) is to enhance sim-racing performance. And if you spend thousands of euros on a setup without getting better lap times, it's no use. And so, the cockpit has to be able to improve your racing performance in any way it can.
You are improving the gaming experience. The gaming experience comprises several points, such as immersion, feel, etc. A cockpit should give you a good gaming experience or at least enhance the one you have. It would be best to feel like you were in a real racing car, very low down, with the steering wheel close to you. If the cockpit doesn't give you that, there's no point in having one.
Playseat cockpits
So, let's talk about Playseat. The Dutch brand is very well known in sim-racing because its products are the best. At least, that's what I think.
As I said above, the brand has relocated from the Netherlands to China to take advantage of larger manufacturing units and on the cheap. The motto of Playseat is to offer the best cockpits in the world for sim racing, whether at an amateur or professional level. As a result, the manufacturer's cockpit range is wide enough to accommodate everyone.
At PlayseatYou've got entry-level, mid-range, and high-end. Unlike Fanatec, which differentiates its range with names (CSL, ClubSport, and Podium), Playseat does things its way. For sim-racing enthusiasts, there are options for under €400. These are relatively basic, with just enough for Sunday games. Up a notch, for an extra €200, you'll get higher-quality products with official licenses, such as Gran Turismo, for example. And then there are the big daddies, with cockpits costing over €1,000 that can even accommodate monitors, for example.
What are the criteria for choosing a cockpit?
I went through this stage during my sim-racing trip, and, like you, I asked myself several questions about how to choose a cockpit. Should I go for the cheapest or perhaps the most expensive? Should I consider compatibility with other peripherals or shop from a single manufacturer?
Many questions went through my head, and I didn't know what to do. But as time went by, I came up with my little list of essential elements that a cockpit must have.
The materials used. A quality cockpit must use noble materials and have a solid, stable structure—attention the joints, arms, feet, and overall design. The cockpit mustn't move an inch when assembled. It would be best if you felt secure and stable inside. Also, look for cockpits that use steel and aluminum in their structure. If plastic in a structural element or metal that doesn't look very solid, pass.
Price. Cockpits can be very expensive, especially motorized ones. I'm all for a balanced setup in terms of peripherals. Shopping in the mid-range is excellent, as you'll get quality, features, compatibility, and a relatively affordable price. I say somewhat because the mid-range of some sim-racing brands is still quite expensive, as is the case with Fanatec.
Compatibility with peripherals, platforms, and monitors. Not all cockpits are the same, which also goes for their compatibility. It makes no sense to buy a cockpit if you can't install your peripherals (steering wheel, base, pedals, shifter, etc.), your console/PC, or your monitor. If you choose particular brands, such as Playseat, you'll have excellent compatibility with peripherals and monitors. But nothing is certain if you opt for cheap products, especially regarding monitors. You could, for example, have a 32″ monitor, while the cockpit you plan to buy only supports 27″ max. This is just an example to illustrate the concept.
Availability. Knowing that a cockpit should be tried out before you buy it is essential. You won't buy a car without getting behind the wheel and taking it for a spin. Playseat is a brand that is pretty well available on the market. This means you'll find its products in its store and at other retailers such as Fnac. I'd advise you to visit a physical retailer and try out the cockpits before choosing.
Plus points. For the pluses, I consider them additions that can still be quite important. Example: seat recline. Some cockpits allow you to recline the seat for a more natural driving position, while others do not. On this point, deciding which model suits you best is up to you.
Conclusion
Playseat is a significant player in the sim-racing industry. Its products are world-renowned and are compatible with the leading manufacturers of sim-racing peripherals, such as Fanatec and Thrustmaster.
Although cockpits have remained elitist products for many years, the situation is slowly changing with players like Playseat. The company has a global vision of the market and offers products that will not only please you but will also be adapted to your needs.
Similar products