Thrustmaster TH8A Shifter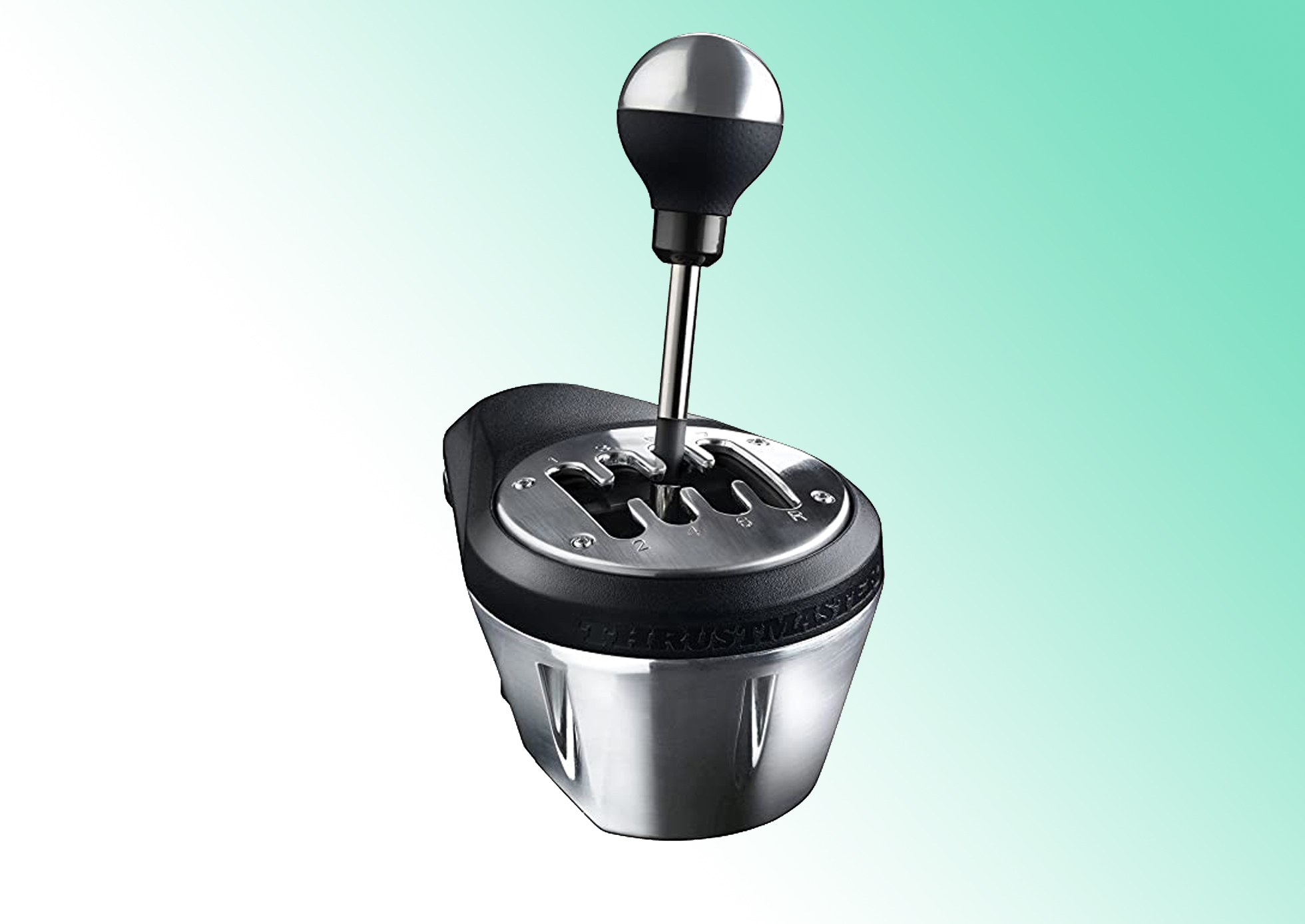 Advantages & Disadvantages
✅ Hybrid H Pattern and sequential lever
✅ Good build quality
✅ Good price compared to competitors
❌ 7ème gear is sometimes difficult to shift, as is the reverse gear
❌ Switching from sequential mode to H Pattern is done by replacing a grid
ㅤ
Sim-racing configs are diverse and varied, with many peripherals available on the market. The essential, indeed, is to have a steering wheel, a base, and a pedalboard for proper racing, but adding other peripherals allows for even greater immersion and sensations.
With a view to greater realism, the significant players in sim racing have started to develop specific peripherals, such as cockpits, hand brakes, gearshifts, etc. All these products aim to increase the realism of the sim-racing experience. All these products aim to increase realism, enhance immersion, and quadruple sensations. The most typical example is the addition of a gearshift lever to a sim-racing setup, giving you the natural feeling of being in a rally car as it jumps up and down the stages.
Many manufacturers offer gearshifts to broaden their customer portfolio, and Thrustmaster is one of them. In what follows, I will introduce you to the TH8A ShifterA mid-range shifter that works with virtually all the brand's sim-racing peripherals. I will introduce you to this shifter, tell you about its strengths and weaknesses, and give you my opinion on it.
Main and technical features of the shifter
Hybrid H-pattern and sequential shifter
Compatible with PC, Playstation, and Xbox
Seven speeds and reverse
Non-contact magnetic sensors
Turns into a handbrake on PCs
USB/DIN connection
Height 13 cm
Replaceable knob
Weight 2.3 kg
Design
Even if product design is somewhat subjective, let's face it: the TH8A Shifter is beautiful. At first glance, connoisseurs of Italian sports cars will immediately notice the resemblance between this shifter and a gearshift lever from the old models. Ferrari or Lamborghini, and it's magnificent.
The TH8A Shifter is made almost entirely of metal, which says a lot about the quality of the product. I love metal sim-racing peripherals, as they often rhyme with durability. In fact, among mid-range shifters, only Thrustmaster and Fanatec offer quality metal products. Logitech has a strong presence in this segment, but its Driving Force Shifter pales compared to the competition.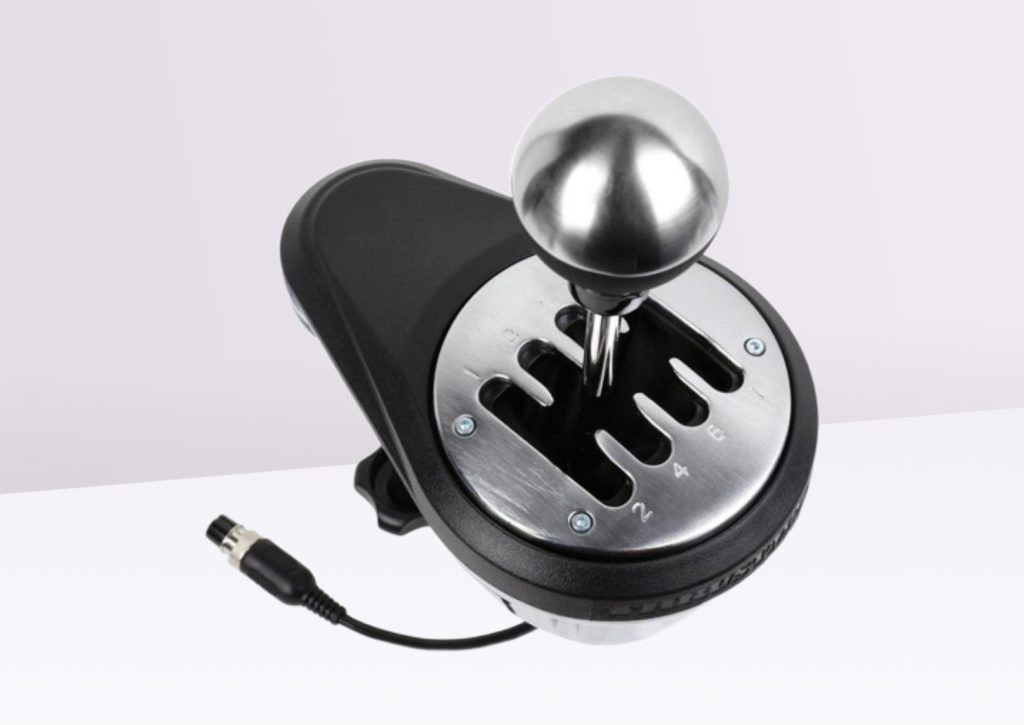 Custom mounting
The TH8A Shifter is supplied with a clamp that acts as a fastening system. This allows the shifter to be installed on a table or desk without the slightest problem. Moreover, the clamp can quickly change direction thanks to an ingenious removable system, making it easy to use the shifter and, above all, to set it up in a setup.
For sim racers with a cockpit, don't worry; Thrustmaster has thought of you. Remove the clamp, and you'll find 4 M6 screws for mounting the shifter. TH8A Shifter directly on a chassis. This allows it to be welded in place, boosting realism even further.
Manufacturing and finishing
Regarding manufacturing, Thrustmaster has chosen metal and put it everywhere. Visit TH8A Shifter is made almost entirely of steel, giving it exceptional strength, durability, and breathtaking good looks. It's superbly well-finished, with no manufacturing or assembly defects.
The only metal parts on the TH8A Shifter are mainly aesthetic parts that won't wear out. Moreover, you can swap the shift knob for another sold by Thrustmaster or any product designed for use on a car. And even the knobs sold by Thrustmaster are of excellent quality, with a finish combining metal and plastic to significant effect. It's just beautiful, as far as I'm concerned.
Handling the gearshift
Handling the TH8A Shifter is available in H Pattern and sequential modes. Where we begin to see the difference between this shifter and a ClubSport Shifter SQ from Fanatec (read my opinion on this shifter) is that you don't use a switch to switch between sequential and H mode, but instead have to replace the gates, using screws, to switch from one way to another. Not very user-friendly, especially for those who want to change methods "on the fly" during their sim-racing session. But then, it's not a very restrictive negative point.
Apart from that, the TH8A Shifter is very easy to handle. The round knob is perfect for shifting gears in H Pattern, and you can also use it for sequential mode, although Thrustmaster would instead encourage you to buy the knob. Knob. Moreover, the sequential method is identical to a race car, with the gears shifting as you pull the lever towards you (the bottom).
PC-based sim-racers can also adjust gearshift speed, enabling them to adapt their driving style to the driver's needs. TH8A Shifter to their driving style mode. Having tried it, I can tell you that it works very well, and I hope this adjustment will one day be brought to sim racers on consoles.
In-game sensations
The picture I have just painted of the TH8A Shifter should seem excellent to you, and its in-game feel is no different. The H Pattern is intuitive if you've ever driven a car. Gears shift pleasantly, smoothly, and quickly. The gap in quality and sensations is just immense if you compare the TH8A Shifter to the Logitech.
For the sequential mode, it's worthy of a rally car. The grid limits the shifter's movements, so it's impossible to make mistakes, and I love that. The only weak point I can find in the TH8A Shifter is the transition from the 7th, which is a bit complicated and will take some getting used to. It's as if Thrustmaster has intentionally done this to encourage you to use the sequential mode when your car has seven gears. And at the same time, there aren't that many vehicles with a 7-speed mechanical gearbox, apart from C7 Corvettes, a few Porsches, and then that's it.
Nevertheless, this problem does not detract from the sensations provided by the TH8A Shifterfor sim-racers using the H Pattern mode.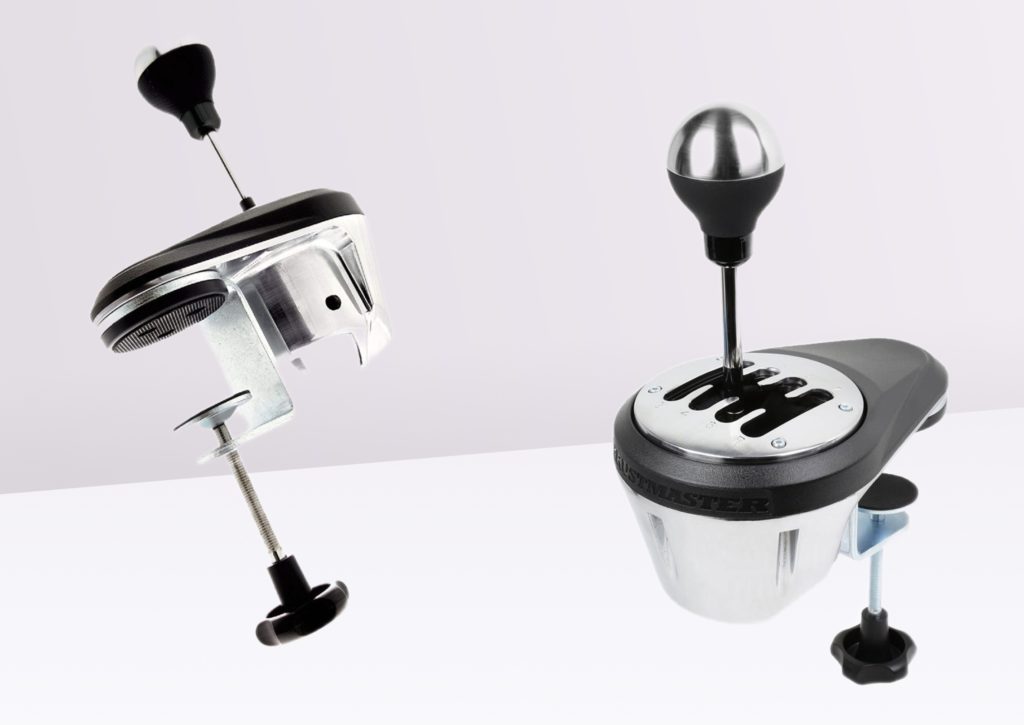 Compatibility
The TH8A Shifter is a shifter designed for use on multiple platforms and with all titles available on the market. This shifter will work on consoles, including PS3, PS4, PS5, Xbox, and PC. So you're covered, whatever platform you use.
Regarding chassis, the TH8A Shifter allows it to be installed on virtually all cockpits with or without a gearshift slot. And on those with a specific place, you have screws underneath to literally bolt it to the chassis.
Value for money
The TH8A Shifter is sold on the Thrustmaster website at 199.99 €. However, it is around 160 on Amazon or other online sales platforms. At this price, there's nothing that can compete with it, especially when you consider the build quality, immersion, and realism provided by the TH8A Shifter.
The value for money of this shifter is simply outstanding, and only the Fanatec ClubSport Shifter SQ can overshadow it with its simplicity of use. But then, Fanatics shifter is undoubtedly better, more expensive, and above all, aimed at a sim-racer public who are fans of the German brand.
My verdict
The TH8A Shifter is an excellent shifter that every budding sim racer must have in his setup. Between a price that puts it way ahead of the competition, build quality worthy of a premium brand of sim-racing peripherals, and its high level of compatibility, whether with platforms or titles, the TH8A Shifter is by far the best shifter you can get for 170 €. This is a product that I highly recommend to all sim racers who wish to complete their setup. But if you want to indulge yourself and your budget allows, I highly recommend reading my Fanatec Clubsport Shifter SQ V 1.5 review.
Similar articles