Fanatec McLaren GT3 V2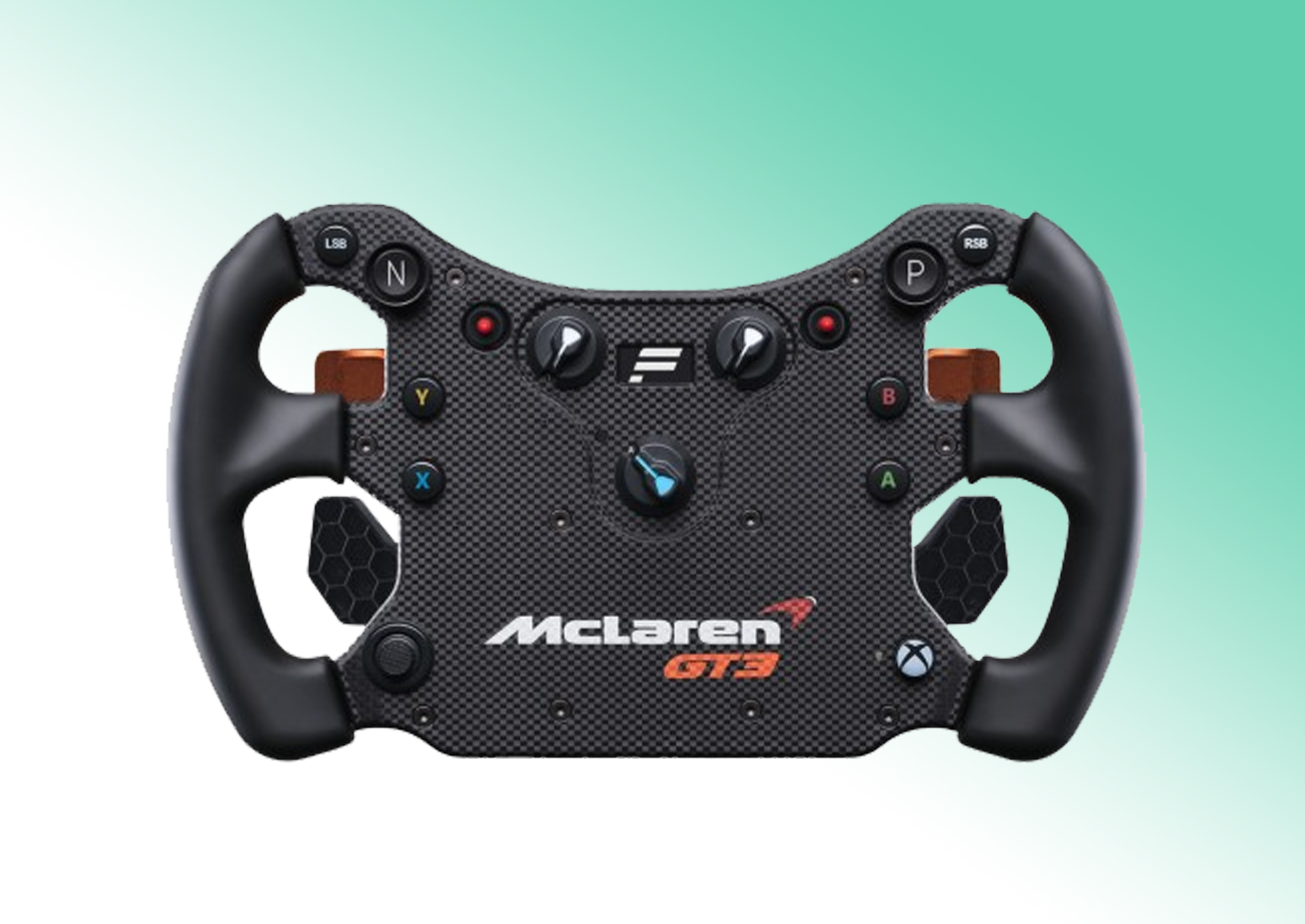 Advantages & Disadvantages
✅ Official McLaren GT3 steering wheel replica
✅ Beautiful price
✅ Supplied with Quick-Release
❌ Plastic Quick Release
Sim-racing enthusiasts have been over the moon since Fanatec took out the steering wheel of the McLaren GT3 V2. It must be said that the V1 had set the bar pretty high for an officially licensed GT3 steering wheel, and the V2 is well on its way to taking its place.
Unlike other Fanatecon, the McLaren GT3 V2 has an entry-level steering wheel. This means that people who want realism but don't have a fat wallet to back them up won't have to spend astronomical sums to complete their setup with quality peripherals.
I tested it in 2021 when it first came out and was lucky enough to get my hands on it again to write these lines.
Main features and technical specifications of the Fanatec McLaren GT3 V2 steering wheel
Diameter: 30 cm
Materials: plastic, aluminum, and rubber
Two magnetic paddles
Nine buttons, two rotary encoders with 12 positions, two switches with two posts, one click and a rotary switch with four positions
One-inch OLED display
Quick Release Fanatec QR 1 Lite
1.1 kg
No vibration
No lap counter
Design
Under the official license GT3, the McLaren GT3 V2 is a true carbon copy of the racing steering wheels used by the British supercar brand. The materials used are of the highest quality, with aluminum, rubber, and plastic. Some might think the wheel is made of carbon fiber, but unfortunately, this is not the case for obvious reasons.
Custom mounting
The McLaren GT3 V2 is equipped with a Quick Release system that allows it to be quickly removed from its base, as in a race car or with JDM tuning fans. Before ordering this steering wheel, I must tell you a few things about its assembly.
Since all you get with your purchase is the steering wheel, you'll need a base to attach it to. Bases Fanatec is certainly not lacking, and there's something for everyone here. I use the Fanatec CSL DD to test the brand's flywheels. It's an excellent quality base with a relatively decent strength of 8 nm. I've already posted an article on the subject, which you can read here. Here.
This steering wheel's assembly, or installation, is child's play: place the wheel on the base and turn the Quick Release to the "locked" position. That's all there is to it.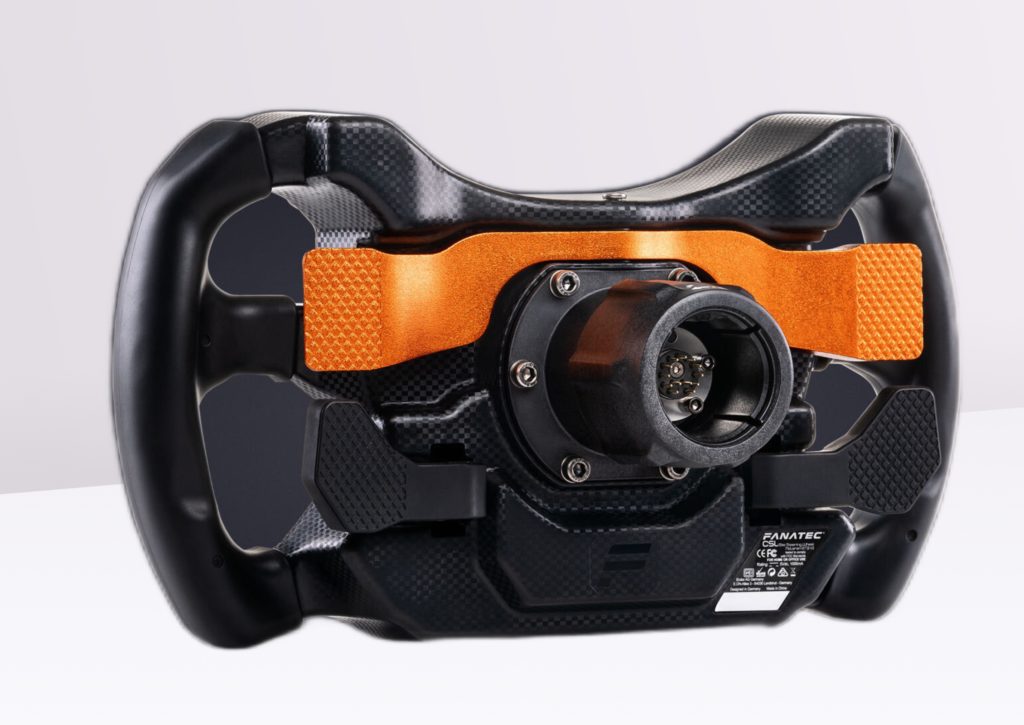 Artistry and finish
Like all other Fanatecthe steering wheels, the McLaren GT3 V2 is premium. The finish is worthy of a German luxury car steering wheel. When I first picked it up, I knew this was a top-quality steering wheel that would stand the test of time.
The paddles work magnetically and are made of aluminum. This means that even if you go crazy on the shift, nothing will happen to them. That's what I like about Fanatec Fanatec: they're not afraid to use quality materials on their products, even if it means offering a higher purchase price than the competition. They know very well that their peripherals will always find takers.
Another positive point is that the steering wheel is easy to grip thanks to its 30 cm diameter, especially if you're a GT3 fan.
Steering wheel grip
Handling the McLaren GT3 V2 is excellent. The paddles are positioned naturally under your hands, and you won't make any awkward movements to reach them. The same goes for the buttons and switches on the steering wheel: everything is designed to be in the right place. It has to be said that partnering with McLaren makes a perfect GT3 steering wheel, whether for GT3 fans or gamers who want to use it for something else. By the way, I tested this steering wheel on a Formula 1 car, and it's almost perfect. It just needs a few additions, like a lap counter.
Sensations during play
I'd now like to talk about how it feels to play a sim-racing game. With the Quick Release supplied with the McLaren GT3 with the QR 1 Lite, I immediately felt a few degrees of play between turning the steering wheel and the car's change of direction. This isn't lag for the record because as soon as I changed the QR for the aluminum one, there was no more play. Fanatec currently offers two QRs in its catalog:
One in plastic, the QR 1 Lite
One in aluminum, the QR 1
Hardcore sim-racing fans using this wheel in "stock" configuration with the QR 1 Lite will be very disappointed, as I was. Admittedly, this problem can be solved by fitting another Quick Release from Fanatecbut you still have to pay no less than €100. The manufacturer should be offering two models of the McLaren GT3 V2 :
One with a plastic QR for people who just want to have fun
Another is with the aluminum QR for those who wish for uncompromise realism while adjusting the price,
I also noticed something happening during my sessions with the QR 1 Lite: from time to time, the steering wheel would lose connection with the base. As a result, even if I turned the steering wheel, nothing happened in the car. This only happened with the QR 1 Lite, which makes me doubt whether a good connection can be maintained over the long run and how long this part will last. If you exert a force close to 8 nm, the Quick Release disengages just a little to cut the connection.
Compatibility
Fanatec obliges; the McLaren GT3 V2 is compatible with all the brand's 8 nm bases with the Quick Release sold with it. If you have a command over 8 nm, I recommend you opt for the aluminum QR 1 to take full advantage of force feedback without damaging your device.
On the platform side, the McLaren GT3 V2 will work on PC, Xbox, and PlayStation. However, this only applies if the steering wheel is connected to a Fanatec.
On PC, you can access the software FanaLab, which allows you to configure the buttons and switches of the McLaren GT3 V2. I found it very convenient to reconfigure specific keys, and the software works very well.
If you're on a console, don't worry, Fanatec has thought of you. Thanks to the small display on the steering wheel, you can map the keys as you wish.
Value for money
For just €200, you won't find anything better on the market if you're a fan of sim-racing, and more specifically, GT3. Between the build quality, the official McLaren license, and the near-perfect ergonomics of the steering wheel, this is the device for you.
The only negative point I noticed, other than the Quick Release, is that the steering wheel tends to get slippery if you sweat a lot with your hands. For 30-60 minute sessions, there shouldn't be too many problems. But if you're using it longer, I'd recommend wearing gloves.
My verdict
I was seduced by the McLaren GT3 V2 as soon as it came out, and I still am today. The only downside to this steering wheel is its Quick Release. I do not favor a plastic QR, and the one on the McLaren GT3 V2 is one of them. It's the part that limits this steering wheel's performance, and you'll need to pay almost €100 more for an aluminum QR to get the most out of it.
Similar items