Oplite GTR S3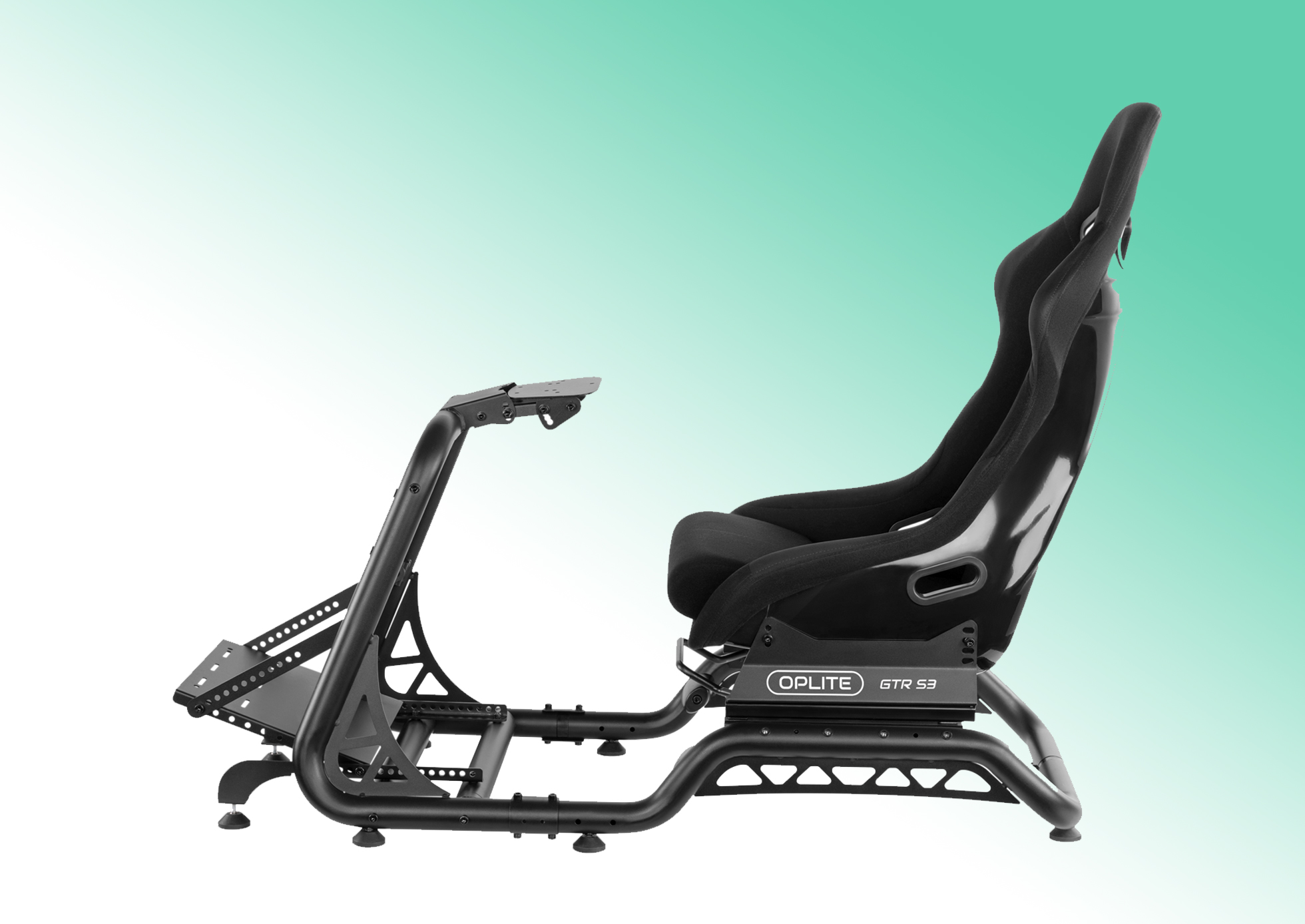 Advantages & Disadvantages
✅ Good build quality
✅ Sturdy tubular structure
✅ Excellent value for money
✅ Multi-plane adjustable seat
❌ High weight
ㅤ
Even though Playseat mainly dominates the sim-racing cockpit market. However, there are many other players who share sales, such as Oplite. The French brand specializes in e-sports products and peripherals, particularly sim-racing. Despite the brand's young age (founded in 2019), its products have quickly gained momentum and a sizeable market share, at least in the sim-racing segment.
To do this discipline, you need several peripherals, including a steering wheel, a base and a pedalboard. If you don't have this trio, you might as well race with a joystick and that's that. But budding pilots know that a cockpit is a must-have in their setup for maximum immersion, and fortunately there are dozens of them on the market.
Even if Oplite has only a few years' experience in the game, its products are nonetheless of good quality and unbeatable value for money. In what follows, I'm going to introduce you to one of their cockpits, the GTR. I'm going to tell you about its design, its qualities and a few shortcomings, and give you my opinion on it.
Oplite GTR main and technical features
Cockpit designed for sim-racing professionals
Excellent build quality
Multi-plane adjustable seat
Comfortable for hours of sim-racing
Tubular chassis for maximum stability and strength
Dimensions: 95.5 × 62 × 50 cm
Weight : 33 kg
Design
In life, I find that simplicity is best for the products we use every day. The more minimalist it is, the more I love it.Oplite GTR is a cockpit that's both simple and minimalist, as well as beautiful.
The structure is tubular with a fairly large diameter to ensure stability and, above all, solidity. The seat, meanwhile, is made of microfiber to ensure durability. Overall, it's very handsome and all black. All you need are a few logos on the frame to show that it's a product fromOplite.
As for the rest of the cockpit, it's all tube, with brackets for chainstays/wheels and pedals. What's more, the manufacturer has added a bracket for a shifter, but this is sold separately. If it's for a low purchase price, I'm in. If it's for anything else, I'm not a fan.
Manufacture and finish
Although the Oplite has only a few years' experience in the game of e-sports peripherals (less than 4 years), it must be said that R&D has been well done. The GTR is a very well-designed chassis, with excellent build quality. When you have leaders like the Playseat in the segment you're targeting, you're obliged to offer a product that surpasses them in every respect in order to hope for sales and get sim-racing fans to take notice.
The seat is very well made. Its structure is made of fiberglass to save weight, even though theOplite GTR is not exactly a lightweight cockpit. As well as being bucket-shaped, the seat has passages for a 3- or 4-point harness, which further enhances realism. In absolute terms, whether you wear a harness or not has no impact on the driving experience, but having one and strapping yourself in makes sim-racing sessions even more realistic.
Also, I noticed that the seat is comfortable, making it easy to string hours together without feeling tired or anything. The manufacturer's collaboration with e-sports pilots has paid off, whether in terms of this cockpit's design, comfort or usefulness.
Using the cockpit
As you probably know, a cockpit is specially designed for sim-racing in certain automotive disciplines. You've got those that do a bit of everything and specialize in a particular motor sport, such as F1.
L'Oplite GTR is a cockpit that does a bit of everything, including GT3, rally, NASCAR and even F1. It's easy to use, and easy to assemble. Oplite used lasers to cut the chassis parts, ensuring precision assembly. And speaking of which, I'd advise you to assemble it in a sim-racing corner and not touch it again, given the beast's weight of 33 kg. That's heavy, even if the dimensions are rather compact.
As for the sim-racing peripherals themselves, theOplite GTR is designed to accommodate all products from leading manufacturers (Fanatec, Thurstmaster, Logitech). Mounting points are provided for base/steering wheel and pedalboard mounts, and are located on chassis plates. These are very well made, and allow the attachment of virtually all the peripherals available on the market, with the exception of the Thrustmaster T150 and TMX. Why is this? Well, I don't know. Maybe because these are entry-level products… Who knows.
Let's talk about the backrest, or seat. It is comfortable and can also be adjusted in several planes. This means that finding the right driving position is very easy with theOplite GTRwhatever your discipline.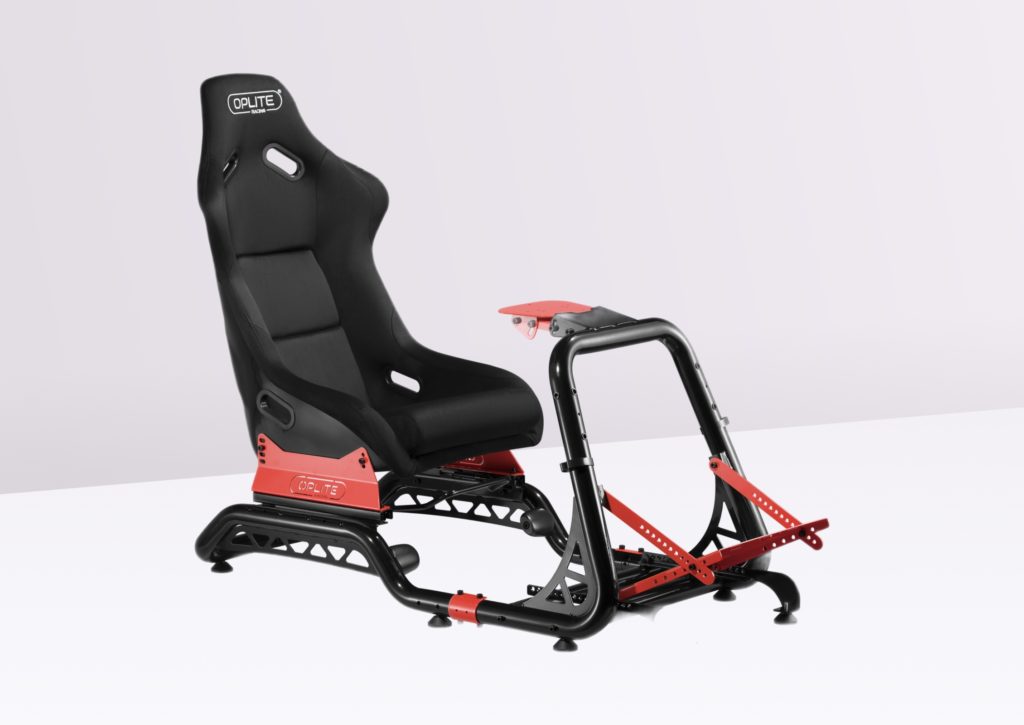 Sensation in play
As far as sensations are concerned, I can assure you that you're in for a treat. Immersion is total, especially if you strap yourself in with a harness. The driving position is ideal and, above all, adjustable, further enhancing in-game sensations.
This cockpit is specially designed for setups with fairly high force feedback and drivers with fairly abrupt steering inputs. The chassis rests on supports (feet) that give it great in-game stability, whether you're rallying or endurance racing.
As for the driving position, it's excellent. You're quite low in the seat, with your pelvis practically level with your feet. This adds to the immersion and sensations of the game. What's more, you don't have a base/flight support that goes between your legs, as is the case on other cockpits. This means you can sim-rac with a 3-pedal crankset without the slightest problem. It's ideal for people who want to take realism a step further by adding a gearshift, whose bracket is available for theOplite GTR.
Compatibility
If you want to compete Playseat on its turf, you need excellent compatibility with sim-racing peripherals, which is the case for theOplite GTR. This cockpit is equipped with mounting points to accommodate all products from Fanatec (CSL, ClubSport range), Thrustmaster or Logitech (G29, G923, G Pro Wheel to click here to discover), and other brands. And you also have the option of adding a gearshift lever to your setup, like the Logitech G Driving Force Shifter or the Thrustmaster TH8A Shifter. The only drawback is the cockpit support, which is sold separately.
As far as platforms are concerned, this chassis is perfect for accommodating all those available on the market. Whether you have a PC or a console, it doesn't matter, as theOplite GTR is designed to work on anything you have in bulk.
Value for money
For €500, frankly, there's nothing better on the market. The value for money is so excellent that theOplite GTR easily topples challengers such as the Playseat Gran Turismo.
With its excellent build quality, choice of materials and solid chassis, it's all there to make your sim-racing sessions more immersive than ever. Couple this with an aggressive price tag and the brand's willingness to titillate the big names in the game, and you've got one of the best cockpits for the money.
My verdict
I loved spending hours on theOplite GTR. This is one of the best cockpits in its range, if not the best, for around €500. I've had no trouble with it, either in assembly or use.
It's clear that Oplite has done its homework by taking inspiration from the best and adding a personal layer. The only weak point I find in theOplite GTR is that it weighs a good 10 kilos more than the others. However, I see this as an asset, as it brings solidity and stability when sim-racing.
In any case, theOplite GTR is a cockpit I'd recommend to any sim-racer. What's more, it's available from several retailers. What more could you ask for?
But if by any chance you want more, then I recommend you take a look at the 4 best cockpits for Sim Racing in 2023 by clicking right here.
Similar articles