Thrustmaster T-LCM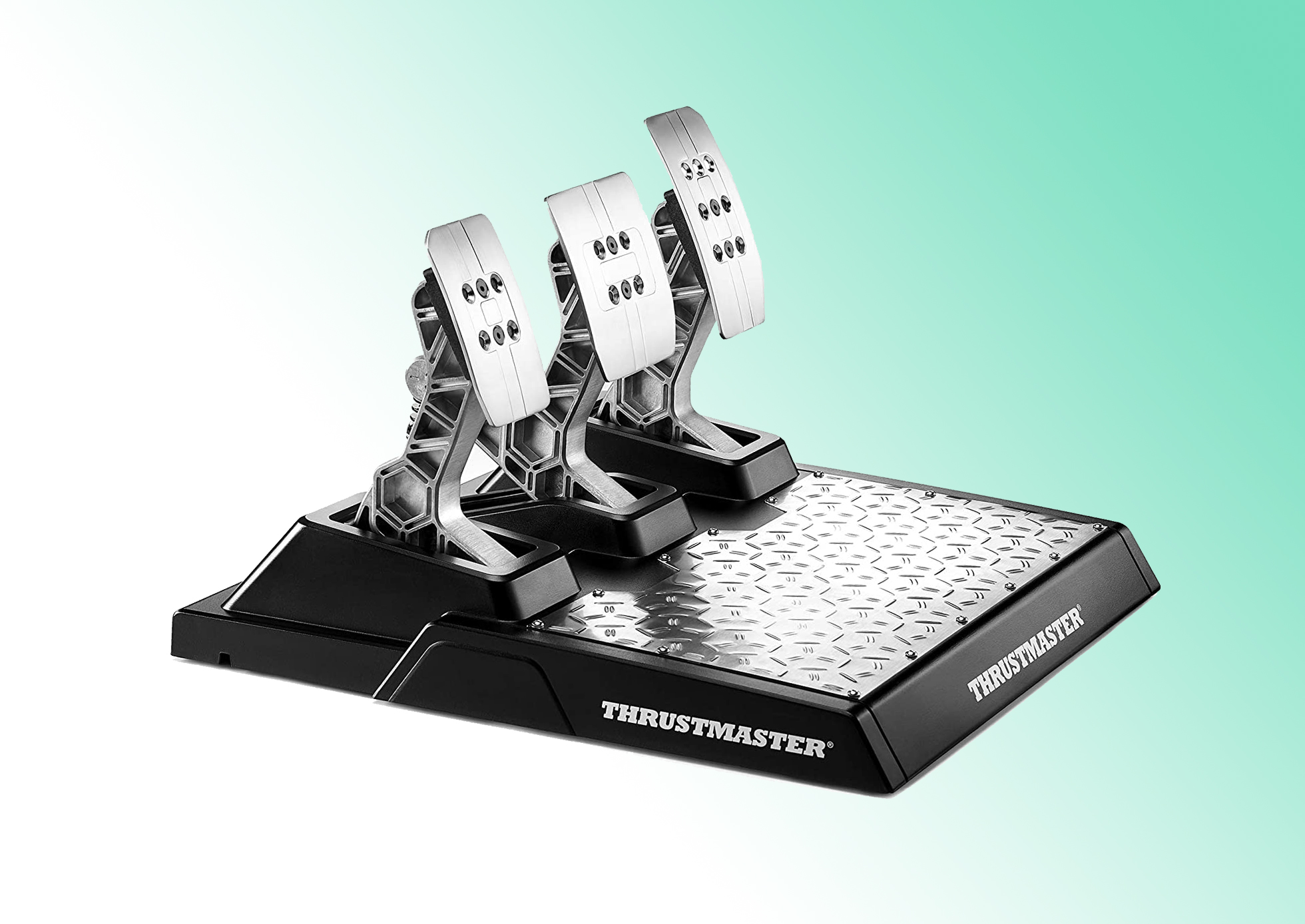 Advantages & Disadvantages
✅ Good brake pedal feel
✅ Good build quality
✅ Magnetic sensors on pedals
✅ Compatible with Playstation, Xbox and P.C.
✅ Brake pedal with Load Cell up to 100 kg
❌ Slides a little if installed on the floor
❌ Mainly plastic construction
ㅤ
Many brands are active in sim-racing for at least 20 years. If you're a fan of the discipline or video games at all, you're almost certainly familiar with names like Logitech or Thrustmaster. These two manufacturers have made a name for themselves in the gaming peripherals segment, whether sim-racing, steering, joysticks, etc.
All good racers, at least those who devote part of their time to running and improving, will tell you that a sim-racing setup consists mainly of a steering wheel, a base, and a pedals, although some might say that the last peripheral is optional. However, the pedals is just as crucial to sim-racing as the steering wheel, and a good pedals will make the difference in any race.
With over 20 years of experience, Thrustmaster can manufacture sim-racing peripherals for virtually all gamers. In what follows, I will introduce you to the T-LCMa Load Cell, which supports the steering wheel TS-PC Racer to complete the range racing from the manufacturer. I'll tell you about its features, strengths, and weaknesses and give you my opinion.
Main features and technical specifications of the crankset
Load Cell brake pedal with max. pressure of 100 kg
Three metal pedals
Plastic and metal structure
RJ12 and USB connection
Compatible with all platforms (Xbox, PC, Playstation), whatever the ecosystem
Works with Thrustmaster T-Series base range
3-axis pedal adjustment
Brake calibration using Thrustmaster software
Magnetic sensors with H.E.A.R.T. technology.
Design
We all know that Thrustmaster is a brand that mainly offers mid-range sim-racing peripherals. As a result, the manufacturer uses plastic extensively to reduce production costs and thus remain competitive in the segment.
The T-LCM is no exception to this rule, and I think its design is quite successful. The pedals are in brushed metal, and the footrest is also in metal but with a more chromed look. It depends on the angle you look at it, but it's nice. In absolute terms, the T-LCM looks like the brand's other pedals, and you'll immediately recognize it when you come across it on the web.
I think it's sober, even if the color combination isn't the best. Black with chrome can go with many setups, but it's shiny. Nevertheless, it's well executed, and the T-LCM remains beautiful.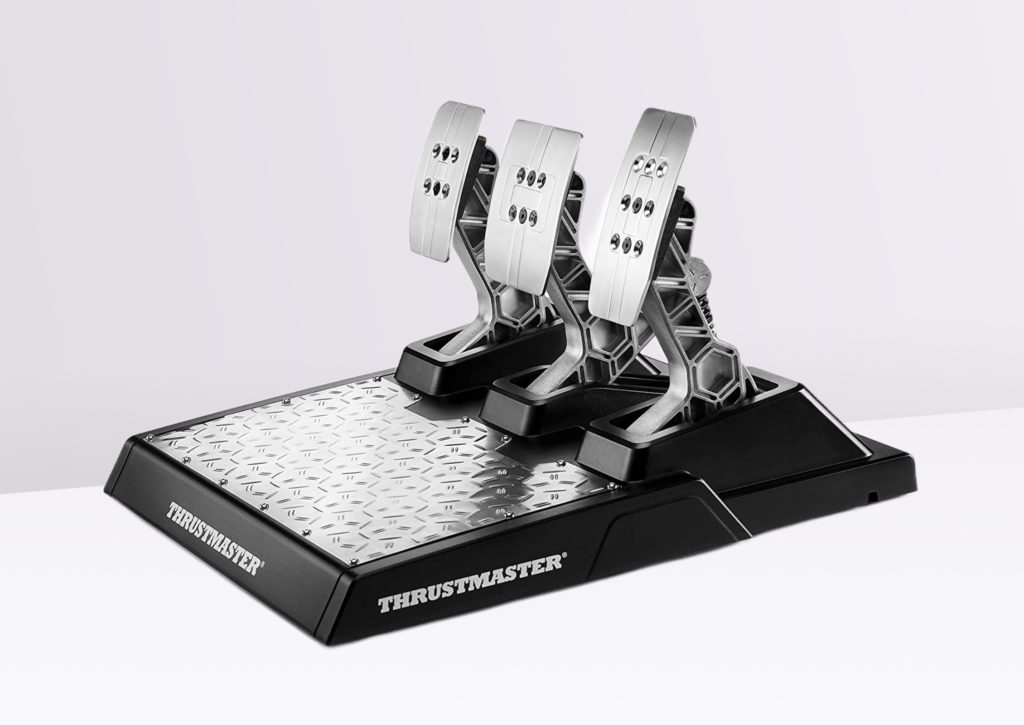 Customized assembly
Thrustmaster has developed the T-LCM to thrill Fanatec on its turf. So, it's only to be expected that priority was given to mounting the pedals on a cockpit. However, there are five pads underneath, allowing the T-LCM. The weight (5.3 kg) also adds a dose of grip.
Thrustmaster has provided four screws for the chassis to bolt the T-LCM to a cockpit. Once in place, the pedals won't move a muscle, even if you're running sim-racing sessions lasting several hours. If you'll be playing for long periods, I'd recommend using a cockpit or sticking the T-LCM against a wall to prevent slippage. If you're interested, I've already given my opinion on some of them—cockpits, which you can find by clicking here.
Manufacturing and finishing
Although Thrustmaster is targeting Fanatec with the T-LCMThe quality of manufacture is not yet sufficient to compete with the German manufacturer. But make no mistake! The T-LCM is very well designed, with a good finish, but it's not up to the same level as Fanatec.
Thrustmaster has used two materials for its pedals: plastic and metal. Plastic represents almost the entire structure of the T-LCM, and metal on the pedals and footrest. Some might think it's flimsy, but I can assure you that the T-LCM is substantial and, above all, well-finished.
Having meticulously inspected it when I took it out of its box, I was happy to find Thrustmaster's manufacturing quality again. All parts are well machined, with no burrs. The structure of the T-LCM consists of two removable parts, the lower of which is reinforced with a metal plate to withstand braking. It's well made and, above all, designed to last long. Admittedly, the plastic isn't premium, but I can live with it as long as the device can withstand the vagaries of everyday sim-racer life without plugging in.
Getting to grips with the pedals
First impression out of the box: the T-LCM is quite heavy at 5.3 kg. It's not as serious as a Fanatec ClubSport V3, and it's 8 kilograms (about which I have already given my opinion right here), but it's still serious. The pedals are solidly anchored to the bottom bracket structure and move well on their axles. The gas and clutch pedals have relatively soft springs with magnetic sensors. As for the brake pedal, this is where the fun begins. It uses a Load Cell to enhance driving immersion.
In terms of ergonomics, the T-LCM is a good student and offers the possibility of adjusting the pedals on three axes, as well as the resistance of the springs. Six more are supplied with the crankset to accommodate as many riders as possible. Having used it on the ground and a cockpit, I must admit that the T-LCM slips a little on wooden floors, mainly if you use the brake hard. On a cockpit, it's bolted to the chassis.
Sensations during play
Make way for the sensations of T-LCM. As I said before, this pedals uses a Load Cell for the brake pedal, and it's finally good to see it from Thrustmaster. This technology uses a pressure sensor that provides actual data according to the force you exert on the pedal. Simply put, the harder you push on the pedal, the more influential the braking, just like in a real car, and frankly, that makes all the difference compared to potentiometers.
In the play, it's realistic; that's the word, especially for heavy braking. Magnetic sensors are used to register the rider's inputs for the other pedals, namely the clutch and gas pedal. Not only does this make for more accurate readings, but it also considerably increases the reliability of the T-LCM, as there is no contact between the parts.
The gas pedal is relatively soft, and the clutch is a hair harder. As for the brake, you can have a formidable pedal with the correct spring, requiring 100 kg of pressure to depress it if you're used to a potentiometer crankset (T3PA, for example; I have already given my opinion right here).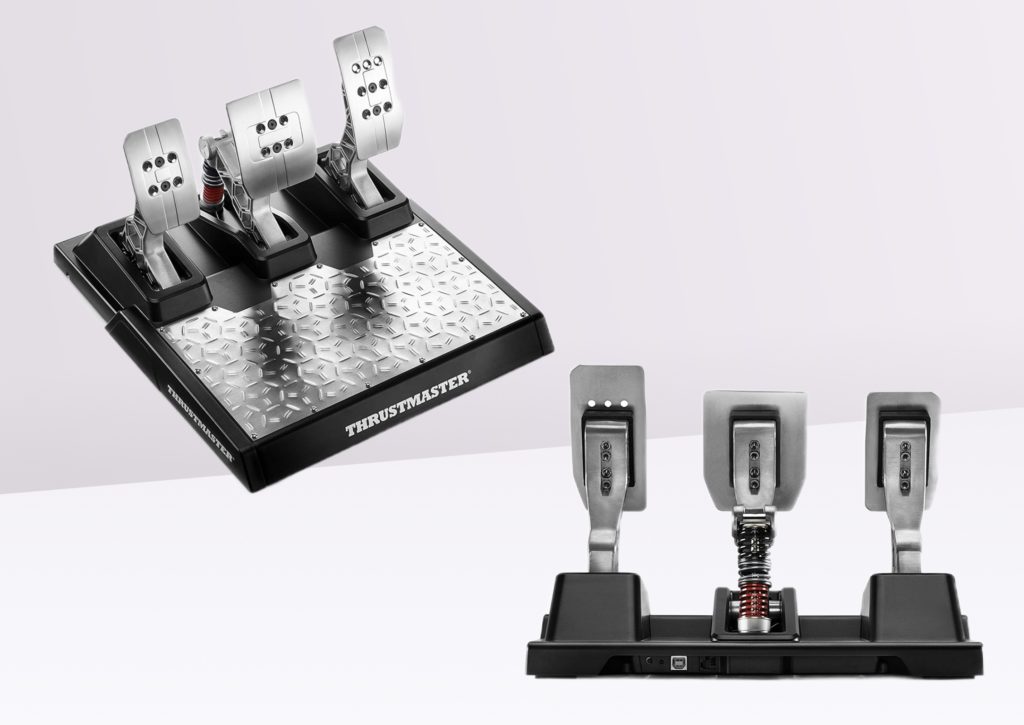 Compatibility
The T-LCM is compatible with Thrustmaster's entire T-Series base/flight range, giving you an annsive range of products ifyou useg the RJ12 connection. And if you have products from other brands, the USB cable will do the trick on all platforms.
Chassis-wise, it's the same story: the T-LCM is supported by virtually all cockpits available on the market, including those from Playseat. The same goes for titles, with compatibility on all sim-racing games.
Value for money
Listed at €229.99 on the Thrustmaster website, the T-LCM can easily be found for €200 on Amazon and other online retailers. It's an excellent product for this price, with excellent value for money. Admittedly, it's not on the same level as a ClubSport V3, but it's still an excellent alternative to the German sim-racing giant.
My verdict
Thrustmaster surprised me with its first Load Cell pedals for very little money. Well, the use of plastic indeed looks cheap, and it's terrifying to use the pedal to its full potential. T-LCM, but I was surprised that this crankset is nonetheless robust and well-designed.
Honestly, for €200, I think it's an excellent choice, especially for sim-racers new to the discipline or those who want to improve without squandering their savings. Of course, it's not at the same level as a ClubSport V3, but don't forget that Fanatec's jewel costs twice as much. If I have a limited budget for a Load Cell, the choice is quickly made: Thrustmaster T-LCM! But if that's not the case, and you want to invest in a nugget, I urge you to look at my opinion on the Fanatec Clubsport v3.
Similar articles