Thrustmaster T.S.S. Handbrake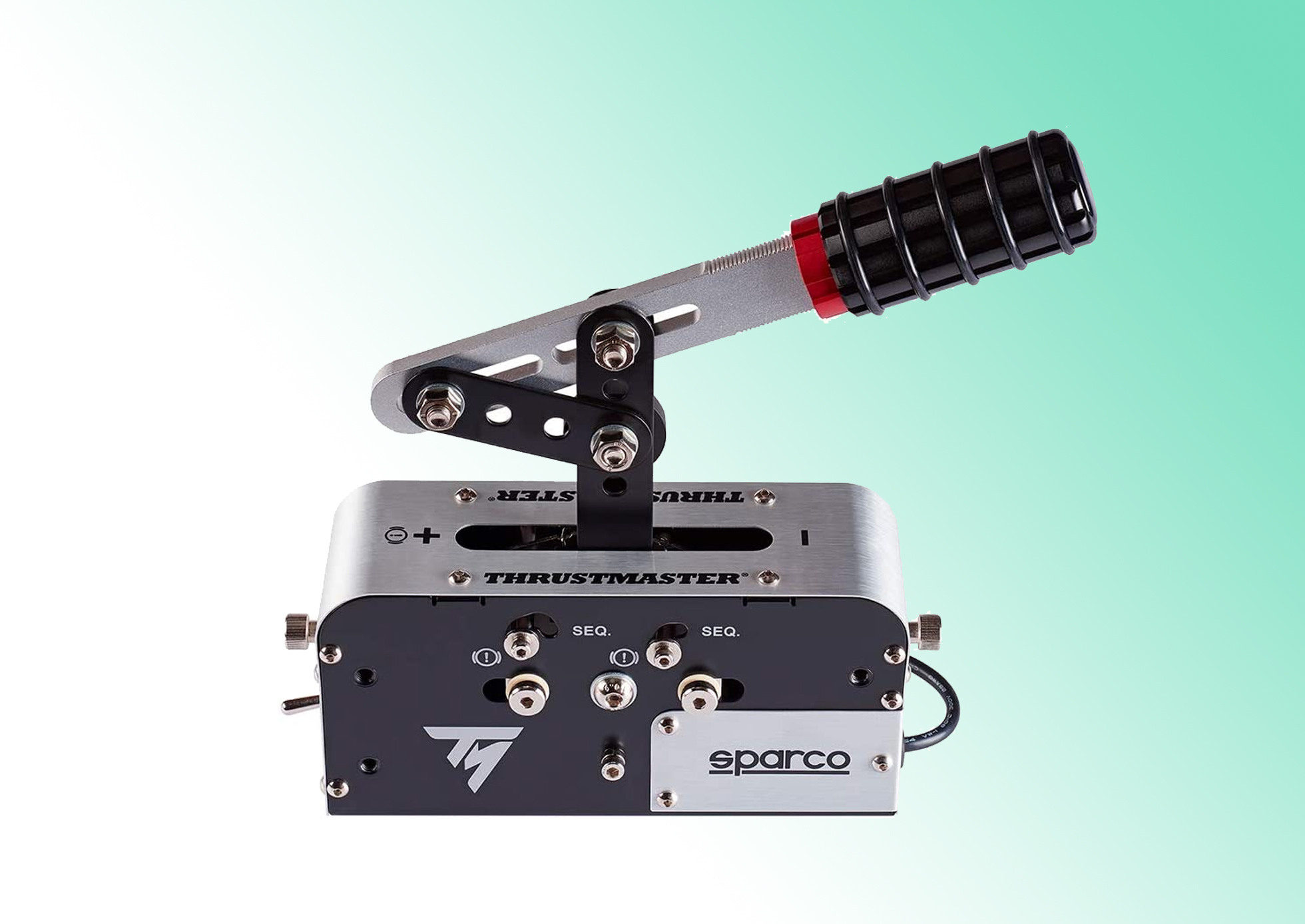 Advantages & Disadvantages
✅ Two-mode operation: handbrake and sequential shifter
✅ Excellent build quality
✅ Adjustable for a perfect fit
✅ Official Sparco handbrake replica
❌ Premium price
❌ Desk/table mounting system sold separately
ㅤ
The sim-racingOver the years, sim-racing has become a discipline in its own right and is even used as a training ground for professional pilots. Fanateca, a manufacturer of sim-racing peripherals, is an equipment supplier for BMW for the steering wheels used by the German firm in its G.T. cars. This speaks volumes about Fanatec's weight in the game.
As a sim-racer, each person has their setup with specific peripherals. A good design includes a steering wheel with its base and pedals. But some racers want to push realism to the limit by adding a gear lever, handbrake, etc.
Seeing this as a new market segment, sim-racing peripheral manufacturers jumped at the chance to offer quality products that aim to satisfy the needs of specific customers. That's how we got the T.S.S. Handbrake from Thrustmastera handbrake, developed in close collaboration with Sparco. In what follows, I will introduce you to this handbrake, explain its advantages and disadvantages, and give you my opinion.
Main features and technical specifications of the handbrake
The structure is almost entirely of steel and aluminum
Official Sparco scale replica handbrake
Two operating modes: hand brake and sequential shifter
Compatible with PlayStation, Xbox, and P.C.
Handbrake with H.E.A.R.T. technology for unrivalled precision in use
Dimensions: 25.8 x 32.7 x 13.6 cm
Design
Over the years, Thrustmaster has fine-tuned the design of its products and has practically always offered us beautiful and very well-finished peripherals. The T.S.S. Handbrake is a superbly crafted with a clean, minimalist design. It's logical, given that it's a scale replica of a handbrake. Sparco and this automotive equipment manufacturer also know something about product design.
The basis of the T.S.S. Handbrake is all metal, as is the handle. The visible screws give this handbrake an industrial look, which is genuinely successful. The machined aluminum looks excellent, and the angle of the handbrake can be adjusted to suit all sim-racers. Thrustmaster offers a version with an acrylic "hood" that lets you see how the handbrake works. T.S.S. Handbrake and it's magnificent. The design of this handbrake is successful and worthy of the great names in motorsport.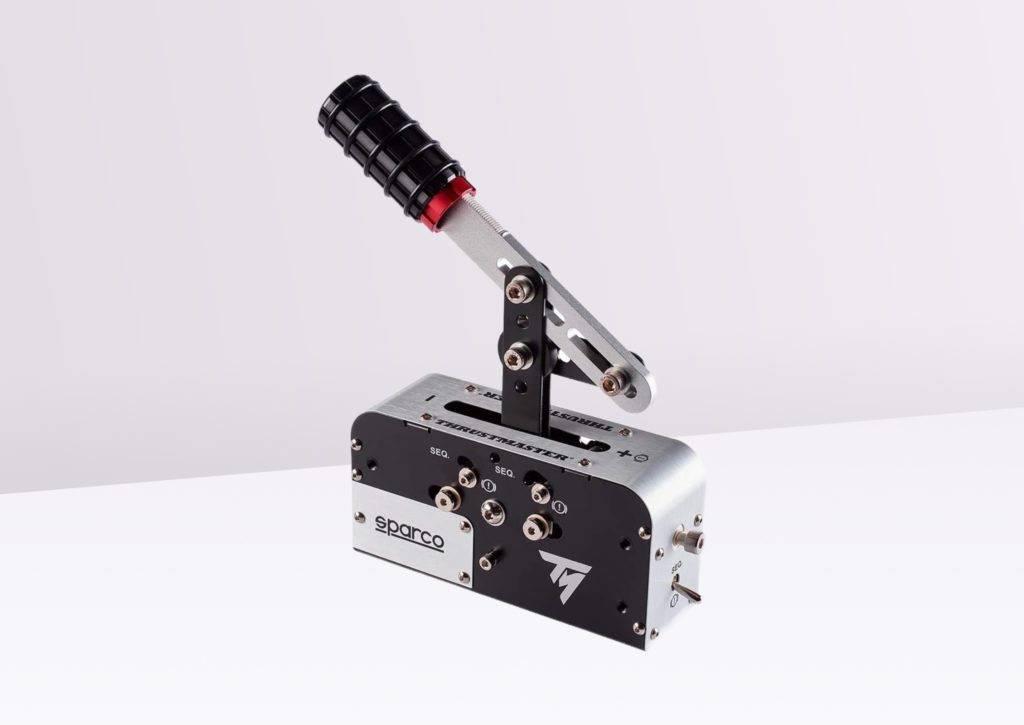 Custom mounting
So, the negative points have already begun. The assembly of the T.S.S. HandbrakeThe T.S.S. Handbrake can only be mounted on a cockpit using 4 M6 screws, at least by default, with the components supplied in the box. Thrustmaster developing this handbrake had only cockpit racers in mind and skipped the others, or else it's a strategic operation to force you to buy a desktop mounting system that is sold separately,
On chassis, just four screws, and you're done. The T.S.S. Handbrake won't budge from its position, no matter how aggressively you ride. On the table/desk, you'll need a specific bracket, like a clamp that attaches to the handbrake with screws and on the edge of the table. Note that the peripheral will be underneath and shouldn't bother you.
Manufacturing and finishing
After Thrustmaster's first faux pas in terms of assembly, the manufacturer quickly made up for it in terms of finish and build quality. The T.S.S. Handbrake is a masterpiece, using almost exclusively metal for its structure and parts.
Many parts, such as the knob and handbrake lever, are machined from metal blocks (steel/aluminum) to provide high strength and exceptional durability. All surfaces of the T.S.S. Handbrake are very well finished, with no burrs to be found, and I took my time examining this product thoroughly.
At the same time, I think this is to be expected given the price at which this sim-racing peripheral is sold. I'll come back to this subject below, but Thrustmaster wants to compete with Fanatec, which should give you an idea of the selling price of the T.S.S. Handbrake.
Hand brake grip
Once I'd settled into the cockpit, I immediately noticed that the T.S.S. Handbrake is easy to handle, whatever position you prefer. Moreover, this device has two operating modes: handbrake or sequential shifter, both of which feel great in the hand.
Thrustmaster's software allows exact adjustment of the T.S.S. Handbrake. It's ideal for sim-racers who want greater control over handbrake dosage, significantly drift and rally fans.
Another positive point regarding handling is that this product isn't bulky. I think it's pretty compact for such a high-quality device and shouldn't take up too much space when installed on a desk or cockpit.
Sensations during play
Now, let's talk about the sensations provided by T.S.S. Handbrake. Well, it's perfect! Having used it mainly on Dirt, I must admit that I enjoyed the feelings it gave me. In handbrake mode, the T.S.S. Handbrake is firm while still able to control rear-wheel braking.
What I liked was that, unlike a button, the T.S.S. Handbrake allows you to brake the wheels at the start, and if you go for it, you'll lock the rear wheels and thus initiate a drift or a slide. Frankly, it's compelling, especially for fans of rally games.
As for the sequential gearbox mode, it's practically on the same level as the Thrustmaster TH8A (which you can discover here). The lever stroke is relatively short, and the magnetic sensor is exact. The only weak point of the T.S.S. Handbrake in sequential shifter mode is that the handle lacks firmness. I'm not saying it's soft; no, not at all. But I am saying that by changing the spring, this problem will become a thing of the past.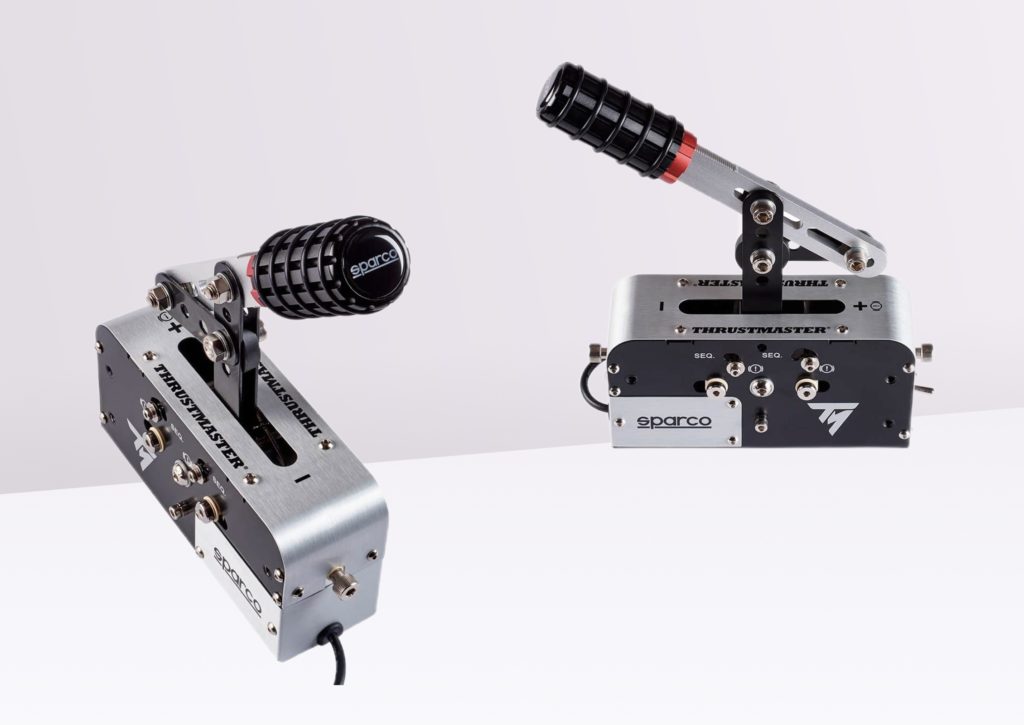 Compatibility
The T.S.S. Handbrake is supplied with a 9-pin connection, which allows it to be connected to virtually all Thrustmaster steering wheels/bases, such as the T.M.X., T300, T500, TX series (which you can discover here), etc. The manufacturer's entire product range is available, and I love it. Moreover, the T.S.S. Handbrake is not limited to use with the Thrustmaster ecosystem, as it also includes a USB connection that enables it to work on P.C.s with competitors' products.
As for titles, virtually all recent ones support it. And it's the same story with cockpits with a handbrake slot.
Value for money
The T.S.S. Handbrake costs €279.99 on the Thrustmaster website but is available at less than €250 on other online stores such as Amazon. Before you say anything, I know it's still expensive for a handbrake. It's a premium product with quality materials. That's the way it is.
For sim-racing pros and enthusiasts alike, it's well worth the purchase price and has no competition in its segment. But its value for money isn't great, especially when it doesn't come with a table or desk mount. The pill doesn't go down well at 250 bucks.
My verdict
For fans of drifting, rallying, and complete sim-racing setups, the T.S.S. Handbrake is a must-have, especially for those with large wallets. Its build quality, the sensations it provides, and its hybrid operating mode make it an excellent product to acquire and exploit in sim racing.
But, on the other hand, only a few can afford such an investment. If you can afford it, I recommend the T.S.S. Handbrake. If your budget is limited and you really must have this handbrake, I can recommend the second-hand market, but at your own risk! And if you're not convinced, I invite you to read my review of the Fanatec ClubSport Handbrake V1.5.
Similar articles