Fanatec Clubsport Shifter SQ V 1.5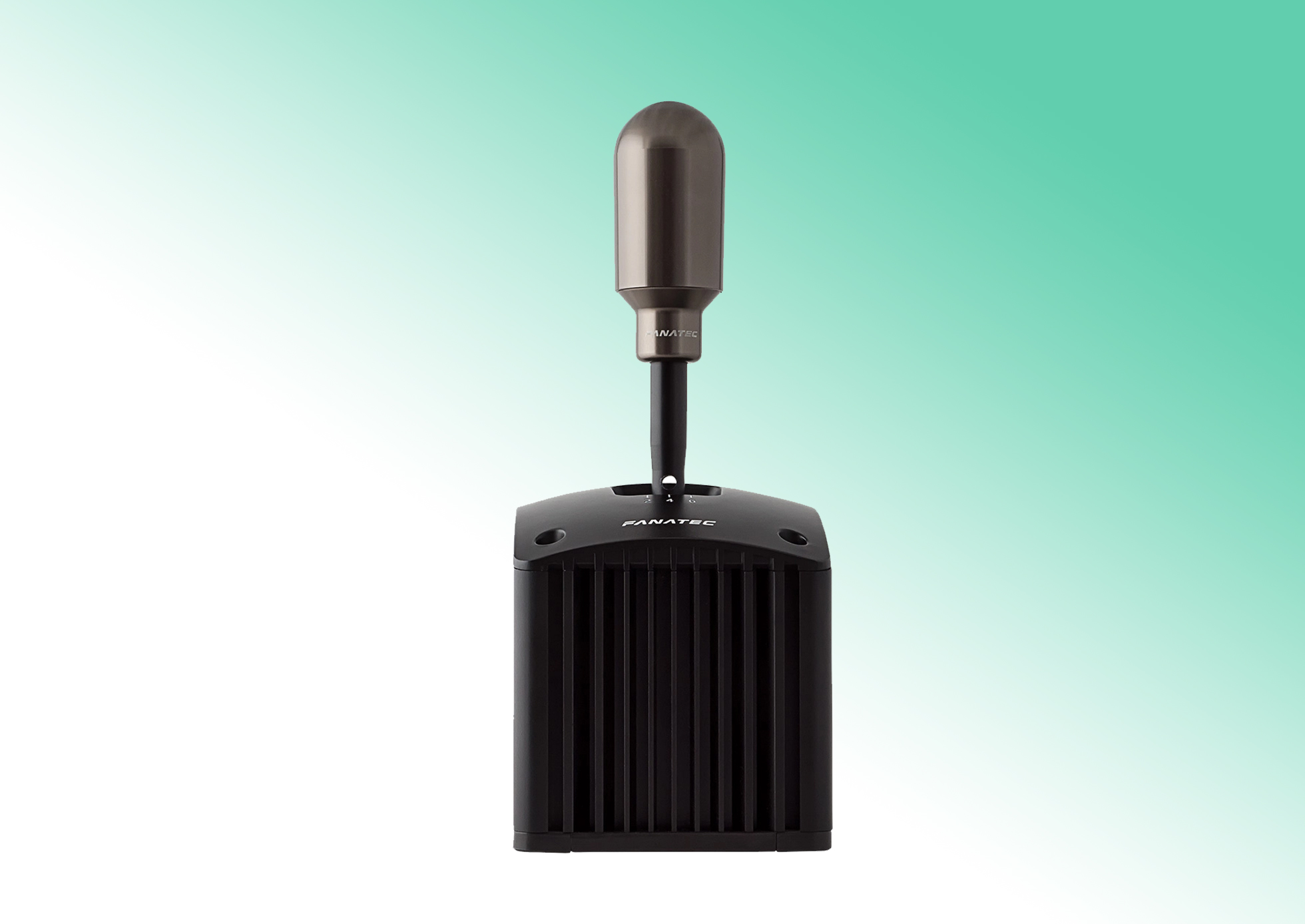 Advantages & Disadvantages
✅ Excellent build quality in metal and aluminum
✅ Operates in H Pattern and sequential modes
✅ Porsche 911 gearshift replica
❌ Bulky template
❌ Requires some adaptation time for H Pattern
ㅤ
Creating a sim-racing setup requires the use, and also the purchase, of several peripherals. You've got the steering wheel and pedalboard, which are indispensable. Otherwise, there's no point in making a setup if you've only got those two.
But true sim-racing fans want to take immersion even further by adding a gearshift lever so they can shift gears themselves. Fanatec, a famous brand in the field of sim-racing peripherals, saw an opportunity and proposed the Clubsport Shifter SQ V 1.5A quality product that will appeal to customers looking for immersion.
Released several years ago, the Shifter SQ V1.5 is still a must-have in any sim-racing setup, and today, I'm going to give you a full review of this device.
Main features and technical specifications of the steering wheel
Compatible with PC, Xbox, and PlayStation
Metal and aluminum construction
H Pattern (H-box) and sequential levers
Weight 3.2 kg
Eight gears (including reverse)
Reverse inhibitor to prevent accidental shifting
Magnetic sensor
Optional USB connection
Porsche 911 gearshift replica
Features
Fanatec is a brand that needs no further introduction in the field of sim-racing peripherals. With over 20 years of experience in the game, it has to be said that they've mastered a thing or two about sim-racing, and it shows on the Clubsport Shifter SQ V 1.5.
This gear lever is a replica of a Porsche 911. Fanatec is a German company, and they didn't look very far for inspiration. Honestly, I don't mind because Porsches are undoubtedly the best sports cars in the world.
The gearshift has eight gears, including the reverse. Fanatec has added a reverse gear inhibitor to avoid accidentally engaging this gear during a race. The brand has also considered everyone with an H Pattern (H box) and sequential.
Another highlight of the Clubsport Shifter SQ V 1.5 is the ability to adjust the hardness of gearshifts. A 5 mm Allen key, supplied with the shifter, can be inserted into a hole at the top of the housing to make the adjustments. However, this will only allow you to adjust the hardness of the stick's front-to-back movement, not on the sides. You can have either "soft" or "hard" passages when the speed is engaged. Training on the neutral axis, i.e., right-left, cannot be adjusted on this device.
Custom mounting
The Clubsport Shifter SQ V 1.5 is a large piece of metal weighing almost 3.3 kg, which is one of its drawbacks. Using the Shifter SQ V 1.5 will be a problem if your setup is on a table. As a replica of an actual Porsche shifter, its size is rather imposing, and it will almost certainly protrude beyond your steering wheel. This will get in the way during races and considerably reduce immersion.
The best way to get the most out of this shifter is to mount it in a setup cockpit where it will easily find its place. Fanatec is famous in the sim-racing industry, and all cockpit manufacturers offer products compatible with Fanatec peripherals.
However, not everyone can afford this kind of (cockpit) setup, and Fanatec also knows this, as the brand offers a table piece for the Shifter SQ V 1.5. Connoisseurs know very well that this accessory is not cheap, although it is of excellent quality. At almost €40, I think it's pretty expensive for a U-shaped part with two clamping screws. Thanks to this part, you'll find it easy to assemble the Shifter SQ V 1.5 at your table, especially at the right height, to avoid tiring your arms.
Manufacture and finish
Constructed entirely of metal with aluminum knobs (you get two to go with it), the Clubsport Shifter SQ V 1.5 The Clubsport Shifter SQ V is a goldsmith's artistry that clearly shows its quality. This is evident and can also be felt when you hold it in your hand, with its weight of over 3 kg.
Fanatec has generously included two cylindrical and spherical aluminum knobs with the Clubsport Shifter SQ V 1.5. It's even possible to fit a car gear knob, which will delight tuning enthusiasts. These little details and touches make Fanatec a premium brand in the sim-racing industry that thinks of its customers, and that's what I love about it.
Getting started
It's premium, worthy of Fanatec. And that's it. I'll repeat it: products from this brand are simply premium. It's excellent, and you feel it from the first touch of the shifter. The immersion is further enhanced by a selector that allows you to switch between the following modes: H Pattern and sequential. There is no need to restart the game, unplug the peripheral, or do anything else. Just change the position of a switch, and you're done. It's genius.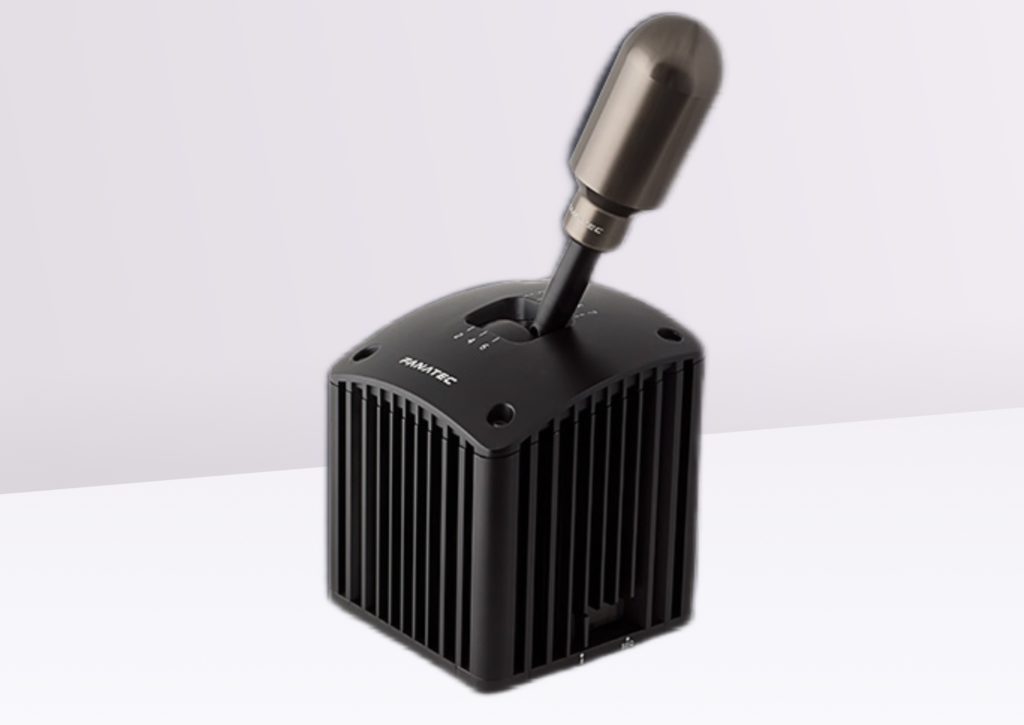 Feel during play
I'll now move on to using the Clubsport Shifter SQ V 1.5. But it's like shifting a real car. The all-metal construction means you can feel every movement of the shifter. It's just perfect.
I've tried many shifters, like the ones from Thrustmaster, and there's no connection between the two brands. And the most confusing part is that the Clubsport Shifter SQ V 1.5 is a mid-range device! That means there's even better out there! Fanatec.
Also, I loved the addition of an inhibitor on the reverse gear to prevent accidental shifts. You must press it to shift, just like the 7. th report. On the other hand, I wouldn't say I liked it, and it took me a long time to get used to it.
As for the sequential mode, it's okay, but the lever travel isn't very long for my taste. I'm not a fan of using a gearshift sequentially. I prefer paddle shifters because they're quicker and more convenient. But the addition of this feature is still a plus for fans.
Compatibility
Level Compatibility: The gearshift lever works with all other Fanatec. Just connect it to a base or a steering wheel brand via cable RJ12, which is supplied in the box.
If you own another base or steering wheel brand, you'll still need to get out of your wallet to buy a USB adapter. This is a recurring theme with Fanatec…
Otherwise, for platforms, this shifter will work on consoles only via a base Fanatecand on PC via a bottom of the same or another brand using a USB adapter.
Value for money
As I said earlier, the Clubsport Shifter SQ V 1.5 is a mid-range shifter. For a price of €259.95, you won't find anything better on the market regarding build quality, functionality, and feel.
This is the best mid-range shifter on the market. You can see that Fanatec had to make a few compromises to reach this price, but this product's weak points pale before its strong points and all it has to offer in terms of feel and immersion.
My verdict
Honestly, I'd still recommend the Clubsport Shifter SQ V 1.5 for fans who want to buy a quality shifter for not too much money. If you have a cockpit, go for it. But if your setup is on a table, I'd advise you to weigh up the pros and cons because you'll end up shelling out around €300 for a mid-range shifter, and at that price, frankly, it doesn't sound too appealing. And if that's your case, I invite you to read my review of the 3 Best Shifters for Sim Racing in 2023.
Similar articles